Musician, composer, performer Steve Smith continues his eclectic musical pathway with the release of his latest recording Desert Night. The recording reflects Smith's many influences in composition and performance and multi-instrumental prowess ranging from bluegrass and old-time, to jazz, chamber, celtic and new age music.
The new recording includes the chamber sounds of mandolin quartets with percussion on the tunes Desert Night/Starlight Canyon and the duo Allemande in E minor to old-time fiddletune styles in the selections Bacon and Bread and Swayback Horse. Fingerstyle selections include Travelers Lament/Mr. Jefferson's Oak, Colorado Farewell on steel string and nylon string guitars to the unique sounds of fingerstyle mandola on Frozen Lake and mandocello on When Small Children Sleep. The reflective Orchard Music and the swinging Grackle and the Hamster round out the recording along with the neo-celtic tune The Queen Anne's Revenge.
Smith has performed professionally for over twenty years and has toured in forty states, seven European countries, Cuba, and the U.S. Virgin Islands. He has appeared in the national touring company cast of the Harry Chapin musical "Cotton Patch Gospel" as an actor and multi-instrumentalist and appeared in the off-Broadway production hit "The Robber Bridegroom". Steve appeared in the movie "Via Con Dios" and most recently composed and performed the music for a production of the Sam Sheppard play "Curse of the Starving Class" with Joseph Mancilla. Smith can now be heard every week on KRWG-FM-90.7 in Las Cruces from 6-8pm on Sunday evenings doing the Back Porch. On his show he plays traditional Bluegrass, Oldtime, Celtic, Blues, Singer Songwriter, and folk music of the world.
Smith's tune Ocotillos can be heard on the Butch Baldassari Trio's American Portraits (Sound Art Recordings), and Whisker Head's Ride to Lenningrad (co-wrote with Missy Raines and Jim Hurst) on Raines' My place in the Sun. As the Crow Flies and In the Shadow of the Past has been featured on the Weather Channel and Delta and America Airlines and music he composed can be heard on a number of commercials and jingles.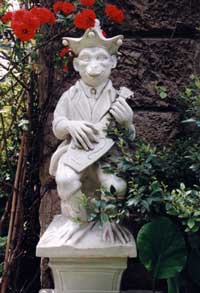 In addition to his regular groups Steve has shared the stage with Robin and Linda Williams, Jim Hurst and Missy Raines, Stephen Bennett, Bill Evans, Charlie Provenza, Nosostros, Eliza Gilkyson, Anna Egge, Peter Rowan, Tony Rice, Joe Carr and Alan Munde, Tony Trischka, Eddie and Martha Adcock, Hot Rize, New grass Revival, Allison Krauss, Ed Gerhardt, Bill Monroe, Curt Warren. He is a former member of the group Cloud Valley and the Nothin' Doin' band. Steve is also on the board of directors for the Chamizal Festival in El Paso, is a founding member of the Southern New Mexico Music and Dance Society and teaches at Camp Bluegrass in Levelland TX. Along with a busy performance schedule Smith maintains a regular teaching studio for mandolin, guitar and 5-string banjo and does session work on guitar and mandolin.
Steve currently performs solo or with a number of different groups:
A duo with Tom Espinola (everything from old-time to tango)
The Steve Smith Quintet, his instrumental group (original and jazz standards)
a vocal duo with Robin Russell (traditional and original)
Ballyheigue trio (Irish)
Junior Hot Cell (celtic world fusion)
with children's entertainer Dan Crow
Steve's links