I will keep working on this little wonder as a matter of choice. It is the ultimate in "bare bones" radios. By all accounts, it is about as minimal as you can go and still have something that works. It is a great Club builders project. Most of the parts can be scrounged from defunct consumer electronics such as VCR's, Telephones, Computer Modems, Boom Boxes, and the like. It is simple to build Manhattan Style which eliminates the need for a Printed Circuit board. About the only parts that you really have to buy are the crystal, the LM386 Audio Amplifier and the core to wind the output filter inductor on. It is about as close to a "FREE" radio as you can get. Here is a picture of my complete PIXIE station that I take with me when I travel. The power supply in the black block is 8 AA penlite batteries in two 4 battery holders hooked in series to give me 12 volts. The headphnes are a pair of Walkman type made by Koss that I got at Walmart for $5.99 and has a small volume control mounted in the cord. The Key is an old Radio Shack Hand Key that I have had for years. If you don't have a hand key there is a number of ways to make one. (one design uses a large paper clip and works great). The PIXIE is set to operate at 7040Khz and my normal antenna is the simple dipole strung up as best I can where ever I am visiting. A modified PAC-12 antenna for 40 meters has also been tried but the dipole just seemed to work better, even at low altitudes.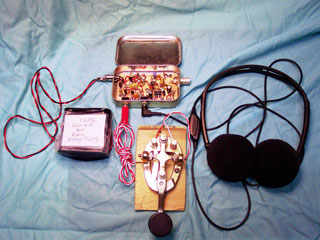 Here are the links to the information that I studied on the PIXIE Transceiver concepts that I used to make my PIXIE's.

http://www.al7fs.us/AL7FS2.html this link to Jim's site explains how his adaptation of the PIXIE works and pictures and information on how his was built.
http://www.qsl.net/we6w/text/pixie.html This link has a wealth of information on the PIXIE and the PIXIE II and should give you more information for building your PIXIE.
http://www.qsl.net/wa4chq/radio.html#Pixie2. The model of this PIXIE is called the
DIXIE PIXIE. It is another adaptation of the PIXIE theme. More ideas and thoughts on how you should build your PIXIE.
http://www.qrpp-i.com/ This site is the mother load of articles on the PIXIE transceiver.
It contains many links to sites with building tips, available kits, and operating hints in building and using the PIXIE.
If you need additional information on My PIXIE Experiments, feel free to email me, I would be glad to hear from you. You can email me at: dhassall@zianet.com