** Click this link to see information about the recently published hard copy (soft cover) book **
(If you order the book, you will also receive the updated CD)
(CD information below)

The growth of spherulites, thundereggs, and Star-Shaped Cavities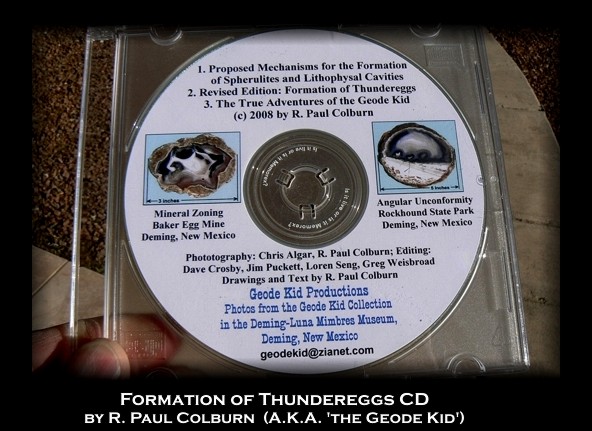 A comprehensive new approach to the evolution of thundereggs, how they were deposited and filled. Written not only for geologists to analyze, but also to be interesting and useful for collectors, laymen, lapidary artisans & rockhounds. Amidst the science, there are the more user-friendly adventures and lessons from the field, & features such as:
75 Locations given from topographic maps

400 Color photos and diagrams, most with referenced captions

How to find thunderegg deposits

How to dig or mine a deposit successfully

How to get and read topographic maps

How to orientate and cut nodules properly

Location appendix, tables and index are cross-referenced with photos and figures.

A glossary of terms

© 2008 by Robert Colburn Photos by Thomas Herbert & Chris Algar
The book is now ready in CD-ROM format. It is in PDF format, which is Windows and Macintosh compatible. It comes with simple instructions. All photos and diagrams print excellently. This CD-ROM format is proving to be quite popular, with hundreds of orders being filled. The full price is $47.00 which includes insured first-class postage. Send only check or money-order made out to 'Geolapidary Museum'. Our mailing address is: Geolapidary Museum, 6235 Stirrup Rd, S.E. , Deming, N.M. 88030.

There are many tested methods herein, such as how to find deposits and how to cut the agates from them. There are some controversial issues I am quite sure of, and others that need the testing to prove or discard. As one ventures into unexplored areas of thought, what one day produces an idea to write down, the next may find for it an answer worthy of changing it to a statement. This is why good books have updated editions (this latest edition is current as of 2008).
It is in the interest of science to approach new ideas truthfully and it is in my interest to share what I have discovered with my customers, among you, the professional geologist, the layman, the collector, the lapidary artisan, and the rockhound.

See examples of photos and introduction on the next page.
Updated Jan 2009