Lady Shayla's Dinosaur Emporium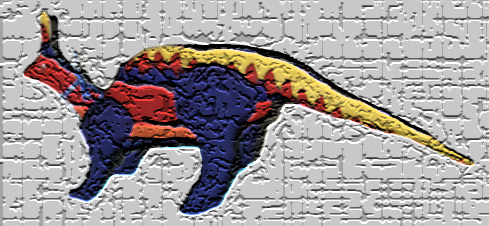 Lady Shayla, keeper of the wild and colorful dinosaurs, invites you to puruse her herd. These wild and exciting creatures can only be ordered from Hadrosaur. She has stegosaurs, apatosaurs, tyranosaurs, pteranodons and, of course hadrosaurs. Click on the images to see a larger view.




Tyranosaur and apatosaurs

Stegosaur


Myranda with stegosaur, hadrosaur, tyranosaur and apatosaur.

Tyranosaur jamboree

Hadrosaur

Pteranodon
---
The dinosaurs are priced by size:
Small: $6.00
Medium: $11.00
Large: $16.00
Extra Large: $25.00
The dinosaurs can be made to order. As you can see, bodies and legs are typically different colors. In the case of the pteranodons, the wings are different from the bodies. Just specify the colors you want. E-mail kumie@zianet.com for current shipping prices.
Important Notes: The dinosaurs are handmade according to patterns. Kumie is willing to work with you on variations. For all dinosaurs allow at least six weeks for manufacture and shipping. For custom dinosaurs please allow at least two full months for construction and shipping.
---
To order, simply print the convenient order form and mail it to:



Hadrosaur Productions
c/o Kumie Wise
P.O. Box 2194
Mesilla Park, NM 88047-2194



Send inquiries to: kumie@zianet.com
---
Take me back to: