Agriculture Biotechnology
Introduction


Agriculture biotechnology is a growing concept in New Mexico. Biotechnology is genetically altering plants which contributes in the defence of insects and disease. Helping children foster an awareness and apprecation for the connection between agriculture and the dinner table is an educational goal for us all.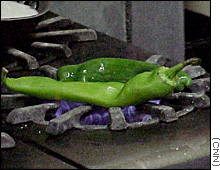 Genetically altered chile created at NMSU.
Classroom Integration


Growing plants has always intrigued children from planting a mother's day gift to growing a garden. Visit Cyberspace Farm to discover why wheat is called the Super Seed. Discover science fair projects that involve agriculture at the homepage of Agricuture is a Science. These sites provide support for educators in the task of helping elementary students develop and foster an understanding for agriculture and how technology plays a part.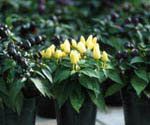 Ornamental chile take on Poinsettias developed at NMSU.
Links for Teachers
General Internet Resources
In the News
Additional Information
Sites for kids!
Author's Information
This resource page was created by Ruby Mestas. I am currently teaching Kindergarten at the Chama Valley Schools.