NanoTechnology "A Step to the Future"
Introduction


Nanotechnology is a new and exciting field of technology. In a recent conference at New Mexico Tech in Socorro, New Mexico several scientists and engineers explain how close they are to entering another world the "nano world." As a Science and Technology teacher, I could only try to understand what theses people were discussing. What I understood was what they now know: everything on earth is basically a mechanical device. Even the human body is driven by gears, motors, pumps and electrons - everything is interconnected. This means that Biology, Chemistry, Geology, Physics are interconnected to one big Physical Science world.

These are tiny dust mites on top of silicon. Watch a movie of the "World's Smallest Mite-Go-Round" at the Sandia National Laboratories' website.
Classroom Integration


Investigating the "nanotechnology world" integrates all the Sciences along with Technology. The student will "oh and ah" as they dive into beyond the microscopic micromachines that are currently being researched. Students can be introduced to the micro world by viewing Andromeda Strain and Fantastic Voyage. Both are science fiction movies of the '60s. These movies will get them thinking "small."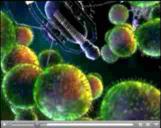 Could nanobots fight off infections? Take a look at this conceptual animation of nanobots taking on bacteria at the Hybrid Medical Animation site.
Links for Teachers
General Internet Resources
In the News
Author's Information
This resource page was created by Robert Quintana. I am a Technology Teacher in a middle school setting. I use "nanotechnology" to introduce Internet instruction, MS Word for writing the research paper, Publisher for Web design, and MS Power Point for oral presentations.