As you may recall, in the previous Andy Hardy episode Andy Hardy's Double Life, Andy is forced to have a man-to-man talk with Judge Hardy to prevent his father from escorting him to Wainright College, the Judge's alma mater. As the film ends Andy meets Susan Peters on the train and learns that Wainright has just become a coeducational institution. Woo! Woo!

"Blonde Trouble" picks up the story with Andy on the train recalling his father's parting words. His rather gloomy mood vanishes immediately when he meets the coed - this time played by Bonita Granville. Wainright's dean and Andy's faculty advisor Dr. Standish is also on the train, though his identity is not revealed to Andy until the next day when he registers for classes.

Andy's problems begin almost immediately as he learns his father forgot to give him his railway ticket. Lyn and Lee are also on the train in a private cabin. They are on their way to Wainright too, though their father thinks Lee is on her way to spend some time with her aunt. But the girls can't handle the idea of being separated, so they travel together to Wainright in hopes that they can pass themselves off as one girl. On the train - and later at Wainright - the girls pull the switcheroo on Andy leaving him completely befuddled with this mysterious blonde's fast-changing behavior.

The destitute twins manage to coax Andy into forking over a total of $37.95 cash before he wakes up to the fact that he's being taken for a ride. Once classes begin Andy's problems continue to build until he's ready to chuck the whole thing and return home. But not before he bails the twins out of their trouble.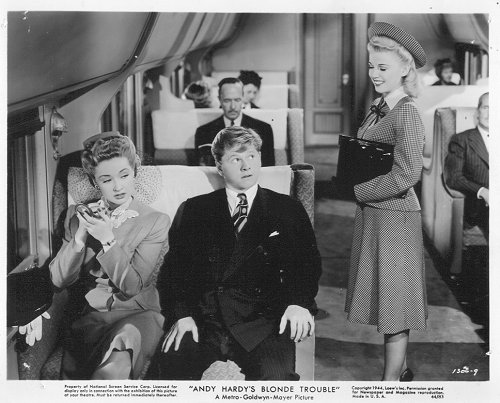 Bonita Granville, Mickey Rooney, Lee Wilde
(from the collection of Jim Johnson)
Credits

MGM, 1944 [B/W, 107min.]
Director: George B. Seitz
Screen Play by Harry Ruskin, William Ludwig and Agnes Christine Johnston
Based upon the characters created by Aurania Rouverol
Director of Photography: Lester White, A.S.C.
Musical Score: David Snell
Recording Director: Douglas Shearer
Art Director: Cedric Gibbons
Associate: Harry McAfee
Set Decorations: Edwin B. Willis
Associate: Helen Conway
Costumer Supervision: Irene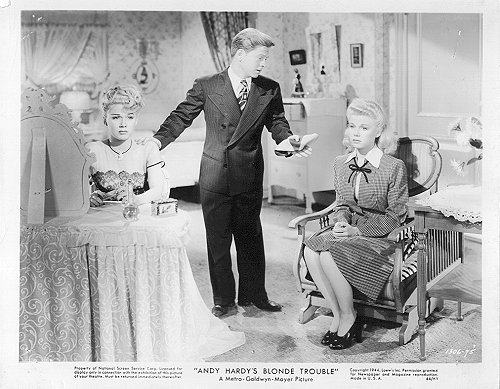 Lyn Wilde, Mickey Rooney, Lee Wilde
(from the collection of Jim Johnson)



Cast

Lewis Stone ... Judge Hardy
Mickey Rooney ... Andy Hardy
Fay Holden ... Mrs. Hardy
Sara Haden ... Aunt Milly
Herbert Marshall ... Dr. M.J. Standish
Bonita Granville ... Kay Wilson
Jean Porter ... Katy Anderson
Keye Luke ... Dr. Lee
Lee Wilde ... Lee Walker
Lyn Wilde ... Lyn Walker
Marta Linden ... Mrs. Townsend
Connie Gilchrist ... Boarding House Owner (uncredited)



Musical Program

[1:11] "Easy to Love" sung by Lee Wilde




courtesy of Lyn Wilde Oberlink

Commentary

Definitely one of the better Andy Hardy entries. Herbert Marshall is always a treat, as is Bonita Granville. But, in my mind, the twins steal the show with their bright and bubbly personalities and contemporary jive. Though never released on videotape, the film is shown occasionally on Turner Classic Movies (TCM). Don't miss it!

For more information on the Andy Hardy films, see the Andy Hardy Series page on Class Act!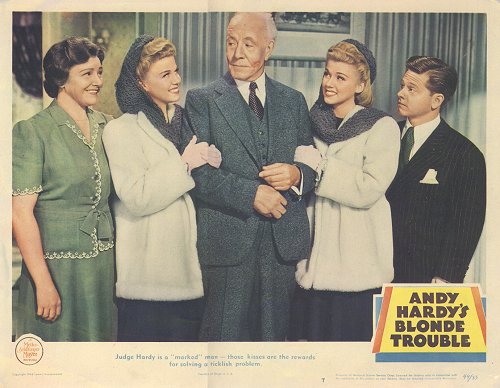 Fay Holden, Lee Wilde, Lewis Stone, Lyn Wilde, Mickey Rooney
(from the collection of Jim Johnson)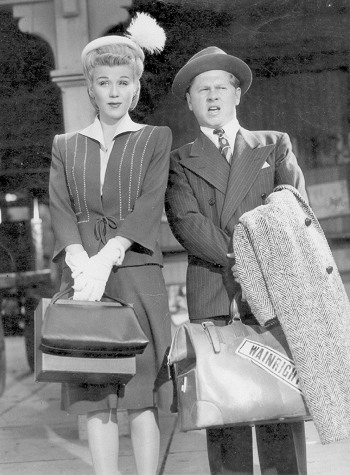 Lee Wilde and Mickey Rooney
(photo courtesy Lee Wilde Cathcart)