Being a twin has been a blessing for Lyn Wilde Oberlink.

She and her sister, Lee, were known as the Wilde Twins and made nine films together while under contract with MGM studios between 1942 and 1949. Lyn went on to appear in another six films through 1953.

"Being twins got us into it because we were unusual, but they couldn't write enough stories for us," Lyn explained. "We did the first 'Parent Trap,' called 'Twice Blessed,' and would take each other's parts if we didn't feel good."

The Wilde Twins starred with Mickey Rooney in "Andy Hardy's Blonde Trouble" and other films such as "Two Girls and a Sailor," "Presenting Lily Mars" and "Reveille with Beverly," where they performed "Big Noise from Winetka" with Bob Crosby and His Band.

Oberlink, who at age 78 still is a striking beauty, sat down with The News Dispatch for an interview at her Michigan City apartment to reflect on a career in show business she found most exciting.

Oberlink moved to Michigan City during the 1950s to follow her husband, Jim Cathcart, the musician, when they decided to move away from show business and start a family.

"The Cathcart brothers grew up here. He was a musician and we met with Ray Noble's orchestra. We had been married for 11 years and he hadn't wanted children and I did," Oberlink explained. "He came back and went to work for Pullman in Chicago and I told him if he could stand it for five or six months, I'd come back and we'll have children. And he did and I did.

During the ensuing years, Lyn worked with the Miss Indiana Pageant and The Long Beach Theatre, and modeled in Chicago and South Bend. Jim Cathcart died in 1970 and in 1973 she married Dwight Oberlink, who died in 1996.

Of her two husbands, she said, "They were both great, but so different."

Lee Wilde married another of the Cathcart brothers, Tom, and the couple now live in Oregon. The other Cathcart brothers, Jack and Dick, also married show-business entertainers: Judy Garland's sister, Susie, and Peggy Lennon of the Lennon Sisters, respectively.

That the sisters made it to Hollywood came as no surprise to them. They had planned for success since they were young and worked in radio in their hometown of East St. Louis, Ill., and in St. Louis, MO.

"We planned the whole thing," Lyn remembered. "When we were little, we had our own radio show and we loved to sing and couldn't wait to get out of East St. Louis. You know how you do when you are young.

"And step by step, it just opened up. You can do anything you want if you plan it, think about it and go over it in your mind. That's all we talked about."

The twins traveled to Chicago to meet with talent agencies and make contacts. While there, they met the drummer and manager of Ray Noble's big band while sitting in the waiting room of the William Morris Agency.

"They said, 'What do you do?' and we said 'Sing.' So, we signed a contract with Ray Noble and toured with that band for 11 months," Lyn said. "We lived out of our suitcases all over the country, back and forth. We played all of the theaters on the way to New York and then, on the way back, the band played all the college proms. "It was such fun. That was the most exciting time, I think: The movies couldn't compare to that."

Soon afterward, they arrived in Hollywood and left the band to pursue other interests. They hooked up with Bob Crosby and His Band and sang in the Judy Garland film "Presenting Lily Mars." The two ended up signing a seven-year contract with MGM, debuting in "Andy Hardy's Blonde Trouble" in 1944.

"When you're under contract with the studio, you go work where they tell you to and you get to sing and dance and do all those things. It was great," Lyn recalled. "You got to see everybody: Clark Gable, Lana Turner, Esther Williams, June Allyson, Gloria DeHaven, Van Johnson. We were all under contract together. It was like one big family.

"That was really interesting, but it wasn't as much fun as the big band. It was just a different atmosphere."

Eventually it became apparent to the twins they were being typecast, and the studios didn't need real twins once film technology allowed for split-screen technology to present one actor as twins.

"The Studio bought 'Stolen Life' and 'Dark Mirror,' but we were too young and Betty [sic] Davis did it, but with a split screen," she said. "It's different today. Twins have a much better image and they treat them as people instead of as a joke. It was hard for the studios to find things for us to do that weren't a joke."

Lee Wilde walked away from the system first, starting her family in 1949, but Lyn stayed on and appeared in a few more films, including "Showboat" [sic] in 1951. But with Lee gone, it wasn't the same.

"When we were in a scene together, they would try to have us spin around so the audience knew there were two of us. But, then Lee started having her children and I went on and worked for a while, but it just wasn't fun anymore," Lyn said.

Through her years in show business and raising her family - a son, Carter Cathcart, who is a professional musician and composer, and a daughter, Lee Ann - Lyn has maintained a positive attitude about life and is sincere in her belief people can achieve whatever they put their mind to.

"We just went to Chicago to get a better job, we sang for our meals and toured all of the big talent agencies," she said. "It just happened. We were there and it happened. We went before Christmas and we opened at the Palmer House on New Year's Eve 1940. Then we started touring. But we were never surprised."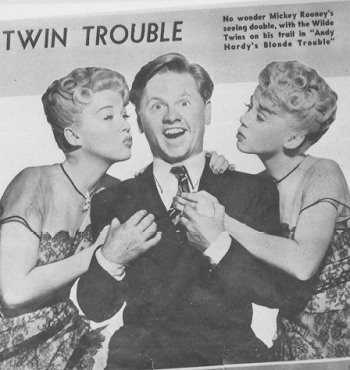 This advertisement for "Andy Hardy's Blonde Trouble"
keeps it a secret as to which Wilde twin is which.