The Cathcart Family: Twice Blessed to Pokemon
by Paula McHugh



Virtuoso: n, a person having great technical skill in some fine art, especially in the performance of music.*

Webster's New World Dictionary* definition fits well the profiles of the Cathcart family. Jim Cathcart, a Michigan City native, had formed his own band in his student days at I.U., played violin with the Ray Noble and Stan Kenton orchestras and fell in love with another musical talent, Lyn Wilde.

Along with Lyn's twin, Lee, the Wilde Twins sang their way across America in the '40's, landed in Hollywood, signed with MGM, and performed on the silver screen with many a luminary, including Mickey Rooney and Judy Garland. And each of the twins married a Cathcart-Lyn to Jim and Lee to Tom, who played drums with Alvino Rey's Orchestra.

Secretly married, Lyn stayed on at MGM a few more years after Lee and Tom left to pursue home and family. Admitting that "it was just not the same" performing without her sister, Lyn too, gave up her movie career and retumed with Jim in 1953 to his familiar home ground and settling in Michigan City. A few years after their return, the Wilde-Cathcart virtuoso genes were passed to son Carter and daughter Lee Ann.

"(Jimmy) won his first music competition when he was 5½," Lyn said. "He is such a good musician."

The Classics Meet the Beatles

Carter credits his music teacher Mary Jane Lucas for prepping him in classical piano prior to attending Interlochen Arts Academy at age 14.

"I was completely in love with classical and jazz, thanks to my mom and dad," Carter said. "Then, Mrs. Lucas' daughter Jane played me "Meet the Beatles" in 1964, and that was it ... I started playing guitar as well."

While still in his teens, Carter was a member of Chris Brubeck's jazz-rock group, New Heavenly Blue, when he cut two records under the Atlantic label, and he later played piano in "Gerry Mulligan's Age of Steam". Later, he toured nationally as a founding member of the Laughing Dogs, and he produced and co-wrote "Tour de France," the 1988 critically acclaimed instrumental album by John Tesh. His list of credits as a composer, producer and musician go on. And on.

Today, the graduate of the Interlochen Arts Academy is founder of his own musical producion company, Wild Twin Productions, with its own recording studio, based in New York. Carter has recently released two CD's under the Wild Twin label: "I Do," which includes his original title composition and another, "Until I Dreamed With You." The second CD is a tribute to one of his favorite groups, The Beach Boys. "Do it Again" is a compilation of ten of their surfing tunes from the 60's and 70's. Carter's CD offerings are available through the Internet, where a website with lots of information on the Wilde Twins and Cathcarts can be found. For those with Internet access, the site can be found at www.zianet.com/jjohnson/wilde2.htm. Lyn said that neither she nor Lee personally knew the creator of the web page, but the twins are both thrilled that he has put together such an extensive biography of the family, and with a direct link to Carter too.

Back Together Once Again

In 1989, Carter was ahem - instrumental - in reuniting Lyn and Lee for a recording in New York of "Back Together Once Again." Carter wrote the title song, and another, "I Was Just About to Say That Too," especially for the twins. One year later, Lyn and Lee completed a singing tour along the West Coast, including a performance at the Sacramento Jazz Festival.

"We've been talking about another reunion sometime soon, "Lyn said. Lee lives in Oregon, so the two sisters do not have as much contact today as they did in their big band days. "We were together every moment of our lives," Lyn said of the twins' singing career. The Wilde Twins have attended the annual "Jivin' Jacks and Jills" reunion party at Universal Studios, where Man About Town columnist Lee Graham described the duo as "stealing the show."



Lyn and Lee with Debbie Reynolds at the "Jivin' Jacks and Jills"
Reunion party, where they were accused of stealing the show.



Meanwhile, back in New York, Carter has kept very busy at his Wild Twin Productions, performing songs by him and other artists, as well as being involved in lots of TV, film and commercial work. Carter said he stumbled upon a completely new opportunity while doing the theme music for a kids' show, the ABC Weekend Special.

"I was asked if I knew anyone who might be able to do the voice of the host, a cartoon cat named O.G. Readmore. I said yes -- ME!" Carter said that first voice gig went on for several years, and then he started working with several agents.

"Pretty soon I was doing voices for lots of commercials, as well as singing on lots as well."

Looking back at his early years, Carter said that he imagines "all the thousands of hours of watching Bugs Bunny and the Flintstones, as well as my channel 9 faves -- Garfield Goose, the 3 stooges with Andy Starr, Here's Geraldine with Jimmy Stewart, Bozo, Lunch Time Little Theater -- got my cartoon voice work in gear!"

Pokemon Has a Michigan City Connection

His success doing voice-overs, Carter said, led him to do several Japanese animation cartoons, which "led to a certain cartoon called Pokemon."

"I don't think any of us imagined that it would be so popular!" Carter said.

Carter told us that he has been doing "quite a few" promos for Pokemon on the WB network. He performs the voice of Gary Oak (Professor Oak's grandson) on the Pokemon TV cartoon.

"They've been showing a lot of episodes with Gary lately, with the Pokemon League games going on. If you don't know what any of that is, don't worry. I wouldn't know any of this either if I wasn't working on the series and if I didn't have a son who was crazy about Pokemon."

When the New York premiere of the Pokemon movie opened at the Ziegfield Theatre, Carter took six-year-old CJ along.

"As soon as we walked up [to] the theater, I saw Veronica Lake (who does the voice of Ash) and she waved us past the line ... and all of us voice folks got in first," Carter said. "CJ met everyone who does voices, and we all sat together.

"I think he (CJ) was in a bit of shock, because he kept pretty quiet, until we were back in the car ... and I know he won't forget that night."

As with most of us adults, Lyn said she doesn't know much about Pokemon. But she added that she has no trouble recognizing whose voice Gary Oak's really belongs to.

The Power of the Positive
And so, a new talent in the Cathcart family has emerged, leading Lyn and this writer to a discussion about spirituality and how things unfold. Lyn said that when she and sister Lee began singing in their hometown of East St. Louis, they already had their plan to eventually make it to Hollywood and "make a movie with Mickey Rooney."

"There was absolutely no doubt in our minds that we could do it. We had our plan, and we followed it," Lyn said. As far back as their radio days, where the twins sang hymns daily at 6 a.m., they knew that one day they were going to be in the movies, according to Lyn.

"Twice Blessed," a movie and script penned just for the twins in 1945, re-emerged years later as the foundation for "The Parent Trap." And the twins' dream of being in a movie with Mickey Rooney came true, when they starred in "Andy Hardy's Blonde Trouble." While under a nine-year contract with MGM, the twins were able to take advantage of classes in ballet, tap, opera and jazz singing, all with the best in the business, according to Lyn. Lee and Lyn made nine films together, and Lyn stayed on to complete six more films after Lee left to focus on starting a family.

When things just weren't as much fun working without sister Lee, Lyn and Jim returned to Michigan City. Lyn continued sharing her talents by becoming a charm school and interior design instructor at Sears, and as a choreographer for the annual Miss Indiana Pageant. Jim worked for Pullman-Standard and conducted the local symphony.

One of Carter's favorite memories growing up in MC was of listening to his dad play violin in The Messiah at the Presbyterian Church every year, and "just being blessed with such a great town to grow up in."


The wall behind Lyn is covered with the many publicity clips from life in Hollywood.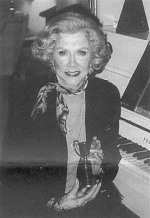 Lyn holds the trophy she and Lee won for being the "most identical twins" in the St. Louis International Twins Convention of 1940. The Wilde Twins were just beginning their journey to stardom at the time.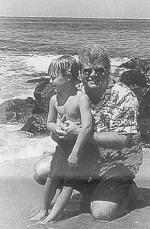 Carter with son CJ at the beach. This photo, taken by his wife, Jeanne, is also on the "Do It Again" CD.











Memories are made of this. Lyn looks at the MGM silver screen history, in which she and her sister Lee lived their earlier dream.