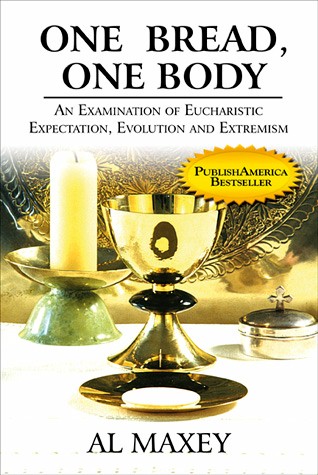 To get your very own personal copy of my new book One Bread, One Body (ISBN -- 978-1-4512-3486-2), or to order several copies for friends, family, members of your congregation or the church library, it may be ordered through your local bookstore by giving them the name of the author, publisher, book (and ISBN). You can also order copies on Amazon.com, as well as on your Kindle device. For many centuries Christians have been fascinated by the memorial feast known as the Lord's Supper. The bread and wine at the table of the Lord are a part of their religious experience. Few, however, are aware of the rich history of the Eucharist, and the mystery and intrigue that surround it. One Bread, One Body is a journey of discovery in which both the beauty, as well as the dark side, of this Communion are examined. You will be moved as its purposes are examined, and stunned as you read of the excesses. What famous religious leader threw his Communion token? What happens if a mouse eats the bread? If you spill the contents of the cup may it be refilled? This work will also help us all realize the importance of the biblical appeal for unity: "Since there is one bread, we who are many are one body."
Dr. Dallas Burdette, from Montgomery, Alabama, who wrote the Foreword for this new book, declared: "Al Maxey is one of the most insightful writers today within the Stone/Campbell Movement, and this particular study surrounding the Lord's Supper is one of the most provocative studies yet to be published in this area. Al has provided us with a great many challenging studies surrounding this often misunderstood Meal, which studies should serve to help us eliminate division within the Christian community. He sets forth a fresh and liberating interpretation of various passages of Scripture that have long been abused by countless sincere and devout, but unenlightened, followers of Christ. He seeks to bring new light to bear on how to hear afresh familiar Scriptures in order to appropriate the truths of God's Word in such a way that it will bring liberation for those in bondage to legalism. By bringing the original setting of this Meal to life, Al helps us to discard twenty-first century bifocals. This book is a needed work, and I pray to God that He will give Al Maxey many more years to work for genuine unity among His people." Edward Fudge, an attorney and author from Houston, Texas, wrote: "One Bread, One Body is a book I have recently read and recommend to you. It is a fascinating survey of controversies related to the Lord's Supper, especially among Churches of Christ. This book is thorough and fascinating. In short -- Al Maxey at his best!!" Dr. Donald Givens, a dear friend and best-selling author (whose new book "Storms of Life" has the Foreword written by country star Randy Travis), wrote, "One Bread, One Body is an interesting book that gives a good summary of different perceptions and practices of the Lord's Memorial Meal down through the ages. This book will make you THINK, and that is good for us all. In my view, Al Maxey exhibits true scholarship by always seeking Truth, rather than simply using Scripture to 'prove' what one already believes."
SIGNED COPIES OF THIS BOOK
may also be purchased directly from the
author by sending a check for $20 (shipping
costs included within the price) made out to
"Al Maxey" to the following mailing address:

Al Maxey
P.O. Box 135
Alamogordo, NM 88311
It is my hope and prayer that you will be edified and encouraged by this study, and that you will freely and widely recommend it to those you know. Please keep this book in your prayers that it may touch many people's hearts and lives, and that it may help the Lord's children, as they surround the Table of their Father, to do so with greater love for one another and with greater appreciation for the fact that we are ONE BODY.