Wladyslaw Szpilman
Dec. 5, 1911 - July 6, 2000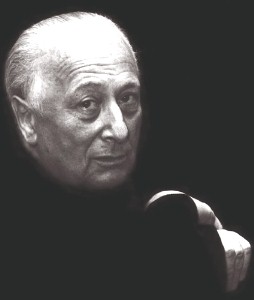 Exactly four years ago today (on July 6, 2000) a great man passed quietly from this life at the age of 88. He lived most of his life in the city of Warsaw, Poland, but was known and loved throughout the rest of the world by those who shared his passion for great classical music. Szpilman was a pianist, one of the world's best. He was also a composer, with hundreds of compositions to his credit. He performed in concerts on virtually every continent on earth, and received countless awards and tributes for his contributions to the world of music.
What has touched me most about this man's life, however, was his personal struggle for survival during a time of unbelievable oppression against the Jews. His love of music, and his passion for freedom, kept him alive during the horrors of the Warsaw Ghetto from 1939 to 1945, during which time he lost his entire family, and lived in hiding from the German occupying forces. He recounted this incredible story in a book titled Death of a City, which was published in 1946 while the events were still fresh on his mind. It has more recently been published in English (as well as many other languages) under the title The Pianist. A couple of years ago, the director Roman Polanski (himself a holocaust survivor from Poland) made the memoirs of Szpilman into a movie. This film -- The Pianist -- was nominated for seven Academy Awards (including Best Picture), and won three Oscars: Best Actor (Adrien Brody), Best Director (Roman Polanski), and Best Screenplay, adapted from a book (Ronald Harwood). I own the DVD, and consider it one of my prized possessions.
If you have never watched this film, you owe it to yourself to do so! It is a story of hope amidst horror that will leave you physically and emotionally drained .... but which will also strengthen your conviction that some things are worth fighting and dying for -- specifically: the freedom to simply live and to pursue one's passion in life, free from the affliction of those who may view you as different. There are many applications one can make to those in spiritual bondage to the oppressive forces of evil, and the simple yearning within a man's heart for liberty.
Today I honor the memory of Wladyslaw Szpilman, a man whose love liberated him from the depths of a living hell into which history cast him; a man's whose passion enabled him to endure the nightmare of the Nazi reign of terror; a man who refused to sink to the same depths of depravity as those who persecuted him. May God help us to be equally noble in our quest for liberty in the face of oppression.