Our 2005 Vacation
"Oh, that I had wings like a dove! I would
fly away and be at rest." -- Psalm 55:6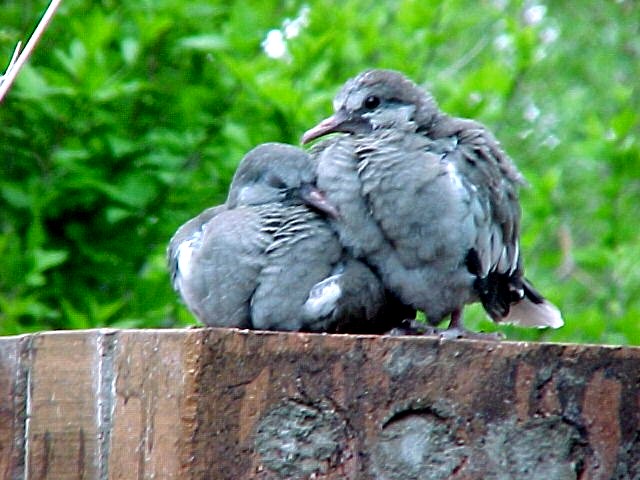 Priscilla & Aquila -- May, 2005
Meet the "love birds." Their names are Priscilla and Aquila, and they make their home in the tree just outside our bedroom window. These little turtledoves, who mate for life, have lived there for quite some time, and we always wake in the morning to their contented cooing. I just happened to capture the above "loving moment" last month out our den window as they sat upon the neighbor's fence. Here are two of God's most precious creatures (mentioned several times within the inspired Scriptures) who enjoy one another's company, and who are facing life together under the umbrella of His divine care. "O my dove, your voice is sweet and your face is lovely" (Song of Solomon 2:14).
We can all learn so much from His marvelous creation, can't we? Our heavenly Father loves us and cares for us; He wants us to be contented and at peace as we journey together through life. Just as Aquila looks confidently to the day ahead, while his little companion rests her head trustingly upon his chest, so God has blessed me with a loving companion with whom I confidently face the challenges that lie ahead of us. Praise God for His grace!!
These past twelve months have been very good ones; our Lord has blessed us greatly. Shelly and I have now completed seven years of ministry with the Cuba Avenue Church of Christ, and we look ahead with excitement as we begin our eighth year ... and to the many more years, God-willing, here in this high desert valley nestled at the foot of the Sacramento Mountains. We love the area and we love the people; God has truly blessed us with a supportive and grace-centered congregation of believers. We couldn't be happier.
Part of our joy at the present time is in the fact that it is vacation time!! We will be leaving on the 16th for Missouri, taking a couple of days to drive through New Mexico, Texas, Oklahoma and Missouri. We look forward to a nice long visit with our middle son, David, and his family, and also to seeing my younger sister, Rosemary, and her family. They all live just a few miles from one another just north of Branson, MO. If you are in the Nixa area on Sunday, June 19, we will be attending at the Union Hill Church of Christ. We would love to meet you. We also look forward to spoiling our five-year-old granddaughter Katelynn Maxey.
I will not be back from vacation until Sunday, July 10. Therefore, I want to alert the many faithful Reflections readers that there will most likely be only an article or two sent during this period of several weeks. They WILL begin again on a more regular basis upon our return from vacation, however. I appreciate so much your prayerful support of this ministry, and pray you will always find these reflective studies uplifting and challenging. Also, my book on divorce and remarriage -- Down, But Not Out -- is in the final stages of production with a large publishing firm, and it should be released shortly. I will inform you all as to how to purchase a copy as soon as it is available, although I understand it will be offered through such places as Borders ... Barnes & Noble ... Amazon.com ... just to name a few, and most likely through your local Christian bookstore as well. This work is not a tedious rehashing of the traditional errors of legalism, but a fresh appraisal of the subject in light of God's healing GRACE. It examines in some depth every passage in the Bible dealing with the breakdown of these covenants of marriage and God's gracious provision. The Foreword was written by a dear friend and colleague, Olan Hicks. I believe it will give hope to many who have been oppressed by the harsh teachings of the traditional view.
Please keep us in your prayers as we travel these next few weeks. Perhaps we'll be blessed to meet some of you along the way. May our Father richly bless each of you, and may He open to you countless doors of opportunity to share His matchless grace!