The Mesilla Valley Flyfishers
A Federation of Fly Fishers Club
Tale Waters
October 2002
---
Table Of Contents
From the FFF ClubWire: WONDER WINGS
---
Scheduled Activities
October 4-6 San Juan Club Trip
October 14 George Sanders Fly Fishing in New Zealand
October 19 or 26 Penasco Stream Work Project See details inside
October21 Board of Directors Meeting
Our next meeting will be October 14 a the NM Game and Fish Office in Las Cruces. Our guest speaker will be George Sanders who will talk about his trip to New Zealand this summer. You'll note that we rearranged the meeting schedule a little from August newsletter. George and his family spent a month fishing in New Zealand. He'll have some great slides. Come see what the fish "down under" look like and also get some great travel tips on how to make a trip of a lifetime affordable. In addition, we'll probably have some slides to show after George's presentation, highlighting this year's annual San Juan trip on October 3, 4, and 5th.
From the weather, it looks like fall is upon us. In my opinion, October is absolutely the best time of the year to be on the water in New Mexico. The air feels fresh and the summer temperatures have finally surrendered to the coolness of autumn. The autumn sky has the most piercing blue color, the leaves of the cottonwood and aspen trees begin to turn to gold, and the sunsets are gorgeous. October is the month that always reminds me of why I decided to move to here. Take some time to go out and enjoy yourself.
There have been some heavy rains in the Sacramento Mountains in the last 2 or 3 weeks which have changed the stream pattern at the lease and else where on the Rio Penasco.
On special occasions we ask for your help. This is one of those situations. We have planned for sometime to start a long-term stream improvement project at the leased waters on the Runyan Ranch. Now that the weather is better, we need your help for a stream improvement project at the lease.
Last spring, we had a stream consultant survey the stream to make recommendations for improvements. Ron Smorynski, Paul Turner, and Jeff Arterburn have taken a course on stream improvement techniques. Our long-term goal is to re-establish the natural meandering process of the Rio Penasco at the lease. The benefits would be
Improving the conditions of the stream banks
Slowing the water flow so that water can better penetrate the soil along the stream banks and help to rejuvenate stream side vegetation
Improving the holding water for fish
Minimizing washouts caused by the heavy summertime rains
Improving the overall grazing conditions at the Runyan Ranch
This is what we'll do. We need to cut a large number of cedar or juniper stakes from the tress on the ranch. The stakes need to be about 30 or 40 inches long. We'll sharpen one end of the stakes and pound them into the stream bed in measured pattern. We also need to cut a large number of long willows shoots which we'll weave between the stakes. This will form a porous barrier in the stream that will trap sediments as water flows through the stakes and shoots. By placing these barriers alternately at measured locations on either side of the stream, the flow of the stream will be begin to be forced to meander back and forth between the barriers. During high water flow, more and more debris will be trapped and eventually these barriers will become permanent structures of the stream helping to re-create the natural stream flow pattern.
This has been a very successful stream improvement technique used in other locations in New Mexico and it makes use of natural materials found near the stream so that there is minimal cost to make the improvements that are necessary.
Date: We'd like to kick the project off either October 19 or 26th. Pick a date and please call the Board, send an email to the website. www.mvff.org or see us at the October meeting on the 14th
Equipment to Bring:
Leather and rubber gloves
Chainsaws
Axes, shovels, and small sledge hammers
Long steel bars to makes holes in the stream bed
Brush trimmers
Waders or hip boots
Lunch and water to drink
Too, if we can get some trout, we make this a combined trout stocking project as well. We need your help so please pick either October 19th or the 26th.

October 14th General Club Meeting

"

Flyfishing in New Zealand" by George Sanders

Doors open at 7:00 P.M., presentation starts at 7:30 P.M.

Club Meetings are held the 2nd Monday of the month, at the New Mexico Game and Fish Conference Room which is located on 566 N. Telshor Blvd

Special Thanks to Milagro Coffee y Espresso, 1733 E. University Ave for supplying our meetings with a great pot of coffee

www.mvff.org

Current fishing and club information, pictures, links to fly fishing sites, info on the club's Penasco Work Project, and more! contact: Jim Hulsey, 505) 524-1880, jim@hulsey.org

This month we are going to cover a neat wing concept that looks much more difficult than it actually is. This particular style, sometimes called "Wonder Wings," has been around for a few years but in the history of fly tying is relatively new. The wings that we will cover are made with common neck hackles or saddle hackles. The only prerequisite is that they should have relatively long fibers.

After laying down the thread base select two hackles of approximately the same size. Cut off the fuzzy butts and place the two feathers back-to-back, glossy sides together. Align the butt tips of the stems and determine the length of the wing you want. Now stroke down the fibers on both feathers at the butt and only for a length of stem equal to the length of the wing. Hold the fibers in that position with your left hand and place them in position on top of the hook, with the butt of the feather pointing to the rear. Now comes the tricky part. You want to tie the wings in short on top of the hook with three turns of thread. By tying in short, I mean that you want to tie in part of the hackle stem with these three wraps. Now without turning loose at the pinch point, carefully pull the feathers forward until the stems clear the three wraps of thread. You should be able to feel when the stems clear the wraps. Don't pull too far or you'll have to start all over. The newly formed wings should be long enough that the hackle stems are not tied to the shank. Now wrap four or five more turns of thread to hold them in place. Don't wrap to the rear of the hook yet.

The reason for tying the wings in short and pulling them through to proper length is that it is the easiest way to control the hackle fibers. If you try to do otherwise the thread torque will cause the fibers to twist over one another and you'll have a mess. The reason for tying the wings in by the fibers and not the stems is to keep the wings flexible. Stiff wings can cause the fly to spin resulting in twisted leaders

At this point if we are lucky we will have enough fibers of proper length pointing to the rear to form the tail. Trim out those that are too long or too short. Wrap the thread to the rear of the hook and back to the wings. Elevate and divide the wings and trim off the excess feather. Keep the excess you trimmed off as you can usually get several flies out of each pair of feathers. Your wings should have a somewhat teardrop shape with the fibers forming the outline of the wings.

Complete the fly by dubbing the body of your choice and adding the hackle. You have another quick and easy fly to add to you collection.

(by Jim Cramer of the Russian River Flycasters of Santa Rosa, CA for the FFF ClubWire Email NewsWire)

One of the joys that experienced fly fishermen seem to hold dear to their heart is a familiar pond, lake, bay or stretch of water that is their "home water." Home waters are usually near by. The fish are usually small. The scenery is familiar. The place is comfortable.

We typically go to our home water not to catch fish, but more to see an old friend. Like humans, home waters change over time. A new snag promises to hold larger than average bass. A recent flood washed out a deep hole where one had been fifteen years ago. A new gravel bar offers a great lunch site under a tall oak.

You know your home water like the back of your hand. You know what to expect. You know the moods of the water and the change of the seasons. You have probably gone fishless. And you have witnessed frenzies when any fly would work.

Home waters are important because they fill an emotional need. They give us a place to recharge and recover from the chaos of life. And they give us a place to build both our understanding of nature and our fishing skills. Our frequent visits builds understanding as we watch the water cycle through the seasons and mature over time. We build our skills as familiarity leads us to be more selective and thoughtful in our approach to fishing.

We know there are larger bass in the deep hole by the big elm, but small fish seem to be all we can catch. Stopping, sitting, watching, eating lunch, and more watching offers opportunities for insight into the activities of the pool. And, over time, we try different flies, different approaches, and possibly different lines, trying to unravel the code. And when we do, we have a new answer that may work elsewhere under similar conditions.

We also use home waters to build skills. Stretching our casting distance (even when we don't need to) in preparation for the day when a longer cast is necessary. Spotting fish and sight casting. Mending line. Hitting our target. Testing new flies and methods.

Home waters are like an old friend. Comfortable and familiar. A safe place to try new ideas. A home water can be as close as a neighborhood pond. A place to hone your skills. And as important as anywhere you ever fish.

(by Jay Forrest of the Alamo Fly Fishers of San Antonio, Texas)
---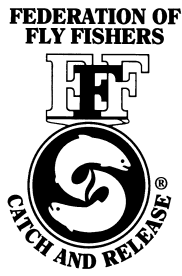 FEDERATION OF FLY FISHERS
EASTERN ROCKY MOUNTAIN COUNCIL
NEWSLETTER
VOLUME 1, ISSUE 1 WINTER 2002
---
Greetings from New ERMC President

Hi Folks,

As the new president of the ERMC, I am looking forward to meeting all of you. Perhaps we will meet at the ISE show in Phoenix or 4th Annual Western Colorado Fly Fishing Exposition to be held at

in Grand Junction Colorado.

The folks in the Denver area just did a great job recruiting new members for the FFF at the two shows they had January. See article by Don Gibbs.

The FFF International Fly Fishing show will be held this summer in Livingston, Montana. It begins Tuesday, August 6th and runs through Saturday, August 10th. To date there are 64 workshops planned. Check the FFF Flyfisher magazine or contact (406) 585-7592 for details. Several of our members in the ERMC will be involved in fly tying demonstrations, workshops, casting games and other programs. This is a great way to spend a week with friends from all over the country and from other countries as well.

Take care. I hope to meet you out on the stream or at one of the shows.

Ken Sylvia
---
Fifty-eight join FFF at Denver Shows
By Don Gibbs, ERMC Membership VP
The result of a 3 club effort working the FFF recruitment booth at the Denver Fly Fishing Show & the International Sportsman's Expo (ISE) is 58 new FFF members. Their residence ranged from Alaska to Arkansas with the majority, of course from Colorado. High Plans Drifters & Front Range Fly Fishers, both from Denver and Pikes Peak Flyfishers, from Colorado Springs, all took a turn in the booth. Mr. Dan Turner former ERMC President demonstrated his continued commitment to FFF by working every day of both shows. Dan recruited his share of the new members.
The applicants joining FFF at the Fly Fishing Show drew for one of FFF's incentive Thomas & Thomas fly rods earned by the Council for last year's recruitment effort. A gentleman from the Denver area, Mr. Gary Gibbons, was the successful person in the drawing. Applicants that joined FFF at the ISE were each given an ERMC fly box with a ½ dozen flies tied by local club members. Such incentives were offered as a "Show Special" for those joining FFF at the show.
Indication from FFF National is that a rod incentive program similar to last year's is possible for 2002. It's likely that, again, 15 referrals for new FFF members would result in an award. All ERMC clubs should watch for an announcement of any 2002 rod incentive program and consider doing some serious recruiting from within their organization or their community. A fine fly rod is an attractive raffle or auction item for your annual fund raising event!
By Richard Brown, ERMC Conservation VP
The Eastern Rocky Mountain Council area which stretches from the Canadian border to the Mexican border prevents me from providing FFF clubs with the individual attention you deserve. So I do the best I can with less personal methods of communication.
FFF believes strongly in Grass Roots Conservation with local clubs taking care of local fisheries. We owe it our fellow flyfishers, our children and grandchildren to be good stewards of the fisheries we enjoy.
In my nearly 15 years of working on fishery conservation I've not seen one fishery improvement project on public land that has not been initiated by a local fishing group.
I encourage all clubs to have an active conservation committee and program. Local fisheries are always in need of improvements. Projects might range from simply picking up trash on a stream bank to a multi year million dollar native fish restoration project.
If you presently do not have a conservation program you may want to start by joining a nearby FFF or TU club in an existing project. If you need information and a contact for a club in your area with a conservation program let me know and I'll be glad to help.
Small financial grants are available from FFF for worthy projects although this year FFF will favor projects that involve Endangered Fisheries or Native Fish.
I have mailed an FFF Endangered Fisheries Initiative submission form and instructions to each club. The mailing also included a copy of FFF's Native Fish policy. All clubs especially those working with native fish should review our newly developed policy.
---
Gunnison Gorge Anglers
By Pat Oglesby, National Director
Gunnison Gorge Anglers members are preparing for the upcoming 4th Annual Western Colorado Fly Fishing Exposition to be held at the Adam's Mark Hotel in Grand Junction, CO., March 22-23. Fly tying classes will be held Friday afternoon with Brad Befus, Jack Dennis, Chris Helm and Shane Stalcup instructing. Tours to Ross Reels, Scott Fly Rod Company, Whiting Farms and local wineries will be available Friday afternoon. During the evening a slide program will be shown along with a meet the tiers social and cash bar. On Saturday 75-100 tiers will demonstrate their skills. Hourly slide programs will be available along with casting demonstrations and instruction, raffles and vendor booths. With the exception of the banquet, there is no charge and the public is welcome. On Saturday evening a buffet banquet will be held with a program by fly fishing celebrity Jack Dennis. Live and silent auctions and a raffle conclude the evening. Banquet tickets are $25 and must be paid in advance. For more information contact: Pat Oglesby 970-434-3912. email oglesby@gj.net or Gale Doudy 970-835-3993, email donnasgallery@tds.net.
Gunnison Gorge is evaluating a stream rehabilitation project on the Uncompahgre River through the town of Montrose. Although it does hold trout, some major channel work needs to be completed to have a viable fishery. This will be a joint project with other agencies, one being the Town of Montrose.
Gunnison Gorge Anglers, after being resurrected a few years ago, continues to increase membership and meeting attendance due to the leadership.
---
The San Juan Fly Fishing Federation in Farmington, NM is hosting a Conclave on the 6th of April and they want to get some fly tiers to demonstrate. There will be programs and casting classes and contests. If you are interested in tying or putting on a program or workshop or interested in attending call Tim Jimerson at 1-800-669-3566. The Best Western is offering rates for four people at $55 a night.