---
---
Norm Mabie Memorial Scholarship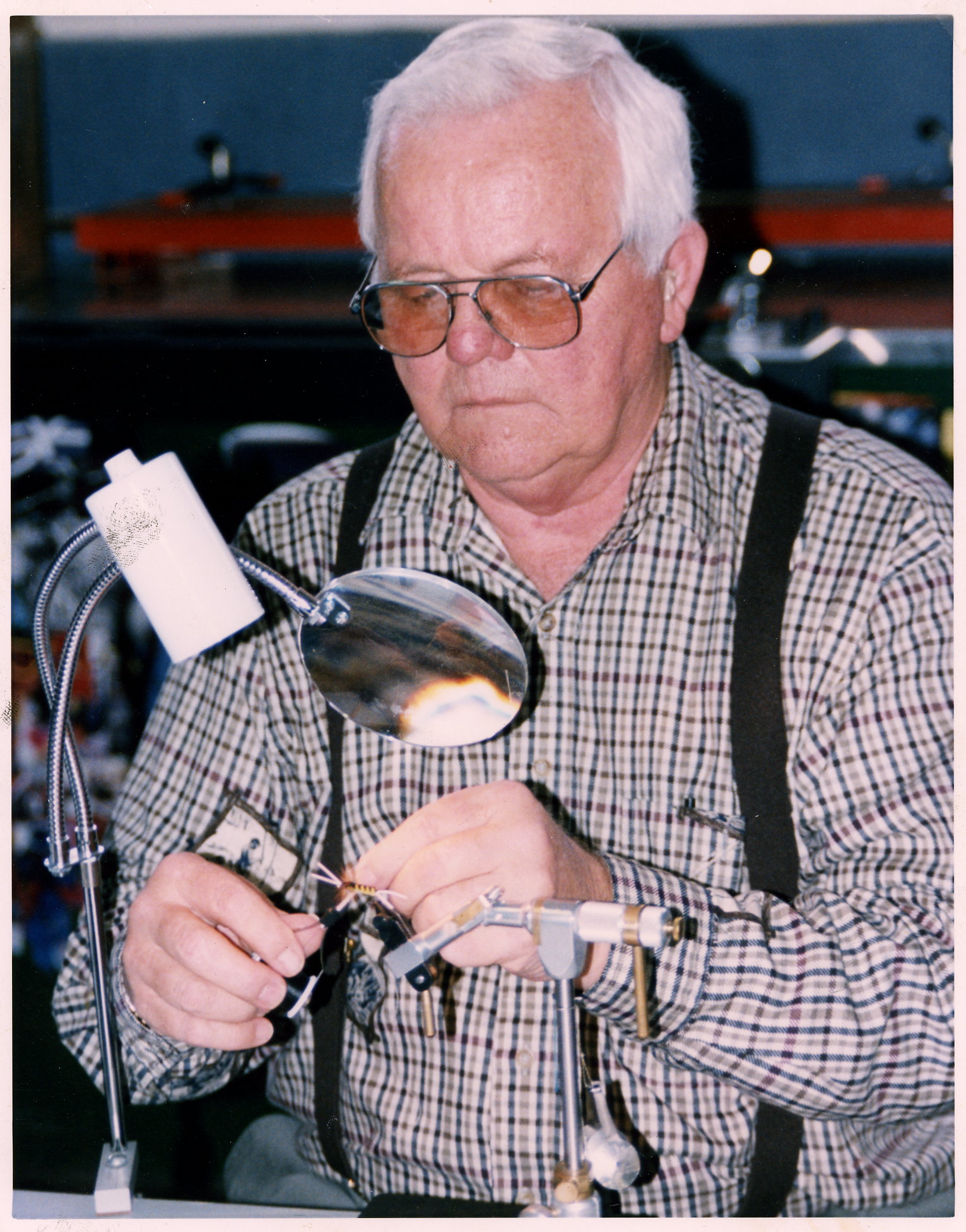 The Mesilla Valley Flyfishers club was founded in April of 1987 and incorporated in 1991. One of the primary founders was Norm Mabie, who with a group of others, put all the pieces together and served as the club's first president.
Through the years Norm served as mentor for the club. He operated a fly shop, The Anglers Nook, from his home which was about the only place to obtain flyfishing and tieing materials in Las Cruces. He was a talented and accomplished fly tier and rod builder and over the years he taught many club members to tie flys and build rods through his "hands on" classes. He taught casting classes and was always ready to teach a neophyte the "ropes" of flyfishing.
At the annual club banquet on 1/24/04, Norm was presented a plaque, seen here, in recognition of his many contributions to Mesilla Valley Flyfishers. Unfortunately, Norm passed away a few days later. Wayne Suggs gave a very nice eulogy, presented here, at Norm Mabie's funeral on 2/06/04.
For some years MVFF has awarded a scholarship to a student majoring in fisheries or related fields at New Mexico State University (NMSU). MVFF officers and board of directors decided at their meeting on 5/17/04 to name that scholarship the "Norm Mabie Memorial Scholarship". It was also decided that rather than funding the scholarship directly from club funds each year an endowed scholarship would be established at NMSU. This has been done. Enough money has been raised to endow the scholarship and the fund continues to grow. The money is managed by the University with part of the earnings each year going to the scholarship. The club continues specifing the recipient. The more money in the fund the more earnings it will generate for future scholarships.
Anyone wishing to donate may do so by making a check out to the NMSU Foundation and on the "for" line of the check identify "Norm Mabie Memorial Scholarship Fund". Mail to Mesilla Valley Flyfishers, % Scholarship Fund, PO Box 2222, Las Cruces, NM 88004-2222. All donations are tax deductable.
Recent winners of the scholarship:
| | | | | | |
| --- | --- | --- | --- | --- | --- |
| | YEAR | | RECIPIENT | | Qualifications |
| | 2008 | | Mike Anderson | | Mike is a fisheries graduate student at NMSU and is working on the impacts of cattle and elk grazing on the brown trout populations of the Valles Caldera National Preserve in the Jemez Mountains northwest of Albuquerque. Mike is a MVFF member and gave a presentation on his research at the March 2008 meeting. He also led the October 2007 electrofishing survey on the Rio Penasco and manned the Aquatic Insects station at the Kid's Fishing Clinic in April 2008. His undergraduate degree is from Northern Arizona University and he has worked several summers for the Montana Fish and Game Department. |
| | 2007 | | Justin Mapula | | Justin is a senior in the Dept. of Fishery and Wildlife Sciences at NMSU. He is president of the NMSU Chapter of the American Fisheries Society and has assisted MVFF on several kids' fishing clinics and has helped with the city Cookies for Kids and Dress-a-Child programs. He is a graduate of Coronado High School and his parents live in Santa Teresa, NM. He works part-time as a fisheries laboratory assistant for the NM Cooperative Fish and Wildlife Research Unit at NMSU and has worked during the summer for the U.S. Forest Service. He Plans to continue his education by obtaining a graduate degree and hopes to work with a government agency like the U.S. Fish and Wildlife Service or the U.S. Geological Survey. |
| | | | | | |
| | 2006 | | Stephanie Coleman | | Ms. Coleman is a graduate student in the Department of Fishery and Wildlife Sciences at NMSU. Her graduate research relates to evaluating the impact of forest fires on the population ecology of Gila trout in the Gila National Forest. She has worked as a fishery biologist with the U. S. Fish and Wildlife Service in New Mexico since 2001 and has extensive field experience working with the biological and water resources of the San Juan, Rio Grande, Pecos, and Gila rivers. Previous full-time work includes stints as a wildlife technician with the U.S. Forest Service and Arizona Game and Fish Department, maintenance worker at San Bernadino National Wildlife Refuge and as a research specialist and lab manager with Arizona State University. |
| | | | | | |
| | 2005 | | Justin Mapula | | Justin is the incoming vice-president of the NMSU Chapter of the American Fisheries Society and has a 3.90 GPA in the Department of Fishery and Wildlife Sciences. He also runs on NMSU's Cross Country Team and works for Dr. Wiebke Boeing, the new Fisheries faculty member at NMSU. |
| | | | | | |
---
General Club Info. | Officers/Committees | Coming Events
Flys | Permits | Fishing Rules | Flyfishing Links
Guest Book/Membership | Photo Gallery
---