Friday nite, October 30, 2015
The day before Halloween
Local sundown until Midnight
2015 Official Rules
The Famous Zombie Badge
Click on badge to download your own Zombie Badge
(and Area 51 Badge)
TIDBITS:
ELVIS STATIONS: If you'd like to be an Elvis station this year, email
n0qt@arrl.net
No need if you're one of our "regular" Elviis.
CQ BOO
is the time tested CQ for the Zombie Shuffle.
REBIRTH RULE:
You may work the same station on a band every two hours
so you don't get bored.
CODE SPEED: This is not a 35wpm event. It's a fun event regardless of your code speed nor how rusty you may be. We want to work you as bad as you want to work us.

SCORING: Basically, your score is going to be the sum of all Zombie numbers and Area Codes worked per band (add them all up for a big number), plus Elvis bonus points per band, times the number of QSOs worked per band. Add up the bands. This can be a fairly large score, larger than your SS score!
It is an .xls Excel file. Fill in the blanks and score will be calculated

BONUS STATIONS – BONUS POINTS
You receive 666 bonus points for working the following stations:
ELVIS – For each Elvis station worked, add 666 points
ELVIRA – For each YL Elvira station worked, add 666 points
CRUMMY BAND CONDITIONS is worth 666 points
(every station qualifies for this)
Thus, you get 666 points even if you worked no Zombies. You do have to turn
on your radio for at least 37 seconds to qualify.

The 2014 winner was Dave AB9CA with 191,850 points and 28 QSOs
(band conditions were especially lousy last year)
The 2013 winner was Todd N9NE with 2,236,753 points and 92 QSOs
The 2012 winner was Bob K8IA with 2,368,704 points and 72 QSOs.
The 2011 winner was Ken WA8REI with 565,938 points and 28 QSOs.
The 2010 winner was Hank N8XX with 635,175 points and 39 QSOs.

SCORE SUBMISSIONS:
Download the
Summary Sheet
from this website (in .xls Excel format) and submit to:
na5n@zianet.com
with Zombie in the subject by December 15, 2015.
If you prefer mail, send to Paul Harden, P.O. Box 757, Socorro, NM 87801

LOGS: You do not need to submit your log – just the summary sheet. We trust you (though you may be asked for your log in event of dispute). QRP Zombies may be at the bottom of the gene pool - but at least we're honest!
PHOTOS: Feel free to send a photo or two along with your summary sheet of your station, you, or anything that follows the stringent standards of the Zombie Shuffle.




If any questions or comments, please
email me
This website powered by: electricity
WHEN: FRIDAY Nite, OCTOBER 30, 2015
The day before Halloween
TIME: From local sundown (about 6 p.m.) to local midnight. Participate an hour or two, or whatever you can spare, or all 6-hours if you have the stomach for it.
WHERE: 20, 40, and 80 meters -- Somewhere in the vicinity of the QRP watering holes: 14.060, 7.030, 7.040, 7.106, 3.560, 3.710, or anything else that works

MODE: CW only, QRP (5W or less)

EXCHANGE: RST, SPC, Zombie Number , Name
RST – Signal report (like 599, though honest reports are appreciated)
SPC – State/Province/Country (ex. CA, TX, BC, Transylvania, etc.)
ZOMBIE NUMBER - Your assigned Zombie number or
your telephone 3-digit Area Code
If you don't have a Zombie number, email Jan
n0qt@arrl.net
to request
one (or if you've forgotten yours). If you've been issued a Zombie Number,
it is good for life, or death, whichever comes first.
NOTE: Some Zombie numbers are now 4 digits (1000 and higher)
Send only the last three numbers in the exchange.
Example: Zombie #1234 . . . send "234" in your exchange

NAME – Your name (as shown on your birth, death or other certificate)
Some select stations will be sending ELVIS or ELVIRA for their name
for 666 extra points for each Elvis or Elvira station worked.
YLs can send "Elvira" if you'd like - worth 666 points just like an Elvis

Examples:
599 KS 827 TOM (Some Zombie named Tom in KS, Zombie number is 827)
599 MI 911 ELVIS (Zombie #911 in MI, and an Elvis worth 666 extra points)


CONTEST PHILOSOPHY: There is no point to the Zombie Shuffle whatsoever except to get on the air and have fun with fellow Zombies and QRPers. Even with only 2-3 QSOs, you can earn a fairly large score to brag to your co-workers and QRO buddies. If you haven't been on the air for awhile, or you are a new CW ham, your fist is "rusty," or your code speed is slow, this is the "contest" to put a few contacts in the log. Note that the scoring is based on SERENDIPITY rather than operating skill. Band conditions and propagation are not the best at night, so most operators are not cracking out 35wpm. Around 13-18 wpm is typical. Don't be afraid to ask a station to QRS (slow down) or to repeat their exchange if you miss it. He wants to work you as much as you want to work him. And remember, he's a Zombie too! We want you to stay on the air and have fun in spite of crummy bands – so you can work the same station on a band after a two hour wait (every 2 hours if you wish). So get out your straight key, keyer, bug, or spark gap and do your CW thing.
Every year, we get a couple of summary sheets with 2-3 QSOs that says "These were my first CW QSOs ever," or "my first CW contacts in 20 years." That's what it's all about. Get on the air.


72, Paul NA5N and Jan NØQT
GRAND ZOMBIE GRAND WITCHESS & CONTEST CORONER
Countdown to the 18th annual . . .
Zombie Shuffle
A unique on-the-air event exclusively for QRP-L Zombies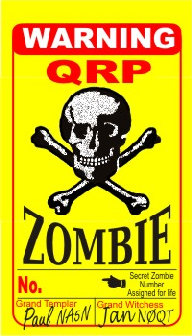 Since becoming a QRP Zombie, N9NE just hasn't been the same
Our perennial Elvis WB3AAL.
Up standing, too.
Zombie K8IA hasn't moved since this 2012 pose.
Doctors are baffled.
NO4GA & others - almost disqualified for taking this thing way too serious! Nice setup.
The whole world seems to be getting full of zombies. But - we're the originals!!! QRP Zombies since 1998. Doesn't get any scarier than this ...
WHY ZOMBIE SHUFFLE?:
Because Zombies don't sprint.
THE ZOMBIE SHUFFLE is an annual event for QRPers to get on the air, have some fun, and rack up a really big score in spite of what your CW or operating skills may be. It is normally held on the Friday nearest Halloween, which this year happens to be the day before, and to avoid the CW SS contest. The Zombie Shuffle is administered strictly through the QRP-L mailing list.
The First Zombie Shuffle was held on Oct. 30, 1998
W3BBO seen waiting for the Shuffle since last Christmas
QRP ZOMBIE
Hall of Fame
VE3CBK seems to be having way too much fun!
W2LJ clearly in the
QRP Zombie spirit.
One of our Elviis, N8XX.
A dead-ringer for the King.
Super rare (and treasured)
QRP Zombie Lapel Pin
Click photo to enlarge

The first Zombie Shuffle was in October 1998. The following year, 1999, Doug Hendricks and Jim Cates (SK) had Zombie Shuffle lapel pins made and given to all participants submitting a log for an SASE. The pins may also have been partially funded by NorCal (my apologies - I just don't fully remember).

About 100 pins were given out. They were seen on the ball caps of many QRPers for years ... and a few still to this day (like my NA5N hamfest ball cap).
I had almost forgotten about these treasured pins. True Zombie trivia. And for those that have one, they are the original QRP Zombies.
Do you still have yours?

NEWS UPDATES:
Work WA3WSJ for a special Zombie
Zombie numbers are good
for life. If you need a Zombie