The Famous Zombie Badge
Click on badge to download your own Zombie Badge
(and Area 51 Badge)
If any questions, comments, or changes, please
email NA5N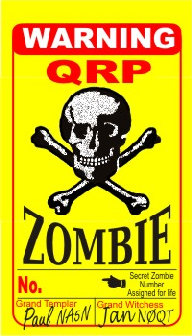 2021 Zombie Shuffle
because Zombies don't Sprint!
LINKS:
Updated 10 NOV 2021 m
PRELIMINARY
Based on Summary Sheets received by 11/10/2021
Deadline to submit Summary Sheet is November 15, 2021
(Logs not required)
and Summary Sheet
Photo Gallery page
QSY to
Soapbox page
Photo Gallery
Coming soon
SYNOPSIS. The solar flux (SFI) last year was 63; this year's Shuffle an early morning solar flare boosted the SFI to 112 making 20M "wide open" in many areas for those who got an early start. Even a few 15M contacts. A hint of what the bands are like QRP when the sun wakes up. The flare also showered the Earth with protons making for noisy and unsettled conditions on 40M and 80M. Still, Zombies endured for many successful QRP contacts on all bands, with 20M the work horse band.
Over 100 new Zombie numbers were assigned this year from mid-1500 to upper 1600, mostly from SKCC members. Many participated. Several stated they made their CW QSO ever. I worked one of them. A few others said "Tried QRP for the first time -- and it was fun!" Thanks to all who accommodated these new CW and QRP ops. Almost every summary sheet stated how much fun it was copying all the goofy names. That was a hit. Some said they didn't read the rules until AFTER the Shuffle so missed out on that.
All in all, a nice Shuffle with lots of activity, especially on 20M. Thanks to all who participated. Next year will be the 25th anniversary of the Zombie Shuffle. Who knew such a goofy QRP event would last so long???