Held: Friday nite, October 21, 2016
1600 local until Midnight
The Famous Zombie Badge
Click on badge to download your own Zombie Badge
(and Area 51 Badge)
2016 SUMMARY SHEET (.xls file)
If any questions or comments, please
email me
This website powered by: electricity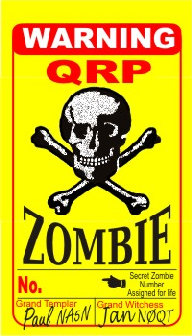 Updated 24 NOV 2016
Zombie Shuffle
because Zombies don't Sprint!
James KAØIQT
made the mistake
of starting out on 40
Steve KI4EZL
Zombie ... or "Monster from the
Black Lagoon?" (aka 40M)
Malachi, N2QFD
Zombie badge and glass of embalming fluid
Mad scientist Nick WA5BDU managed 144,678 points with his homebrew spark gap transmitter
and flux-capacitor
Richard KI4FW
"looking at ya" after most of his
Zombie Q's were on 80M
Summary Sheets
accepted through Sat. Dec. 3
Send in yours now.
Still some time to submit your summary sheet to
na5n
A few Zombie Shuffle photos rejected by Face Book