Radiant Gemstones

Welcome to Radiant Gemstones. We offer a wide selection of fine jewelry including earrings, pendants and rings, featuring traditional and unusual faceted gemstones set in 14K gold or sterling silver. We are happy to make a special piece just for you; we specialize in individualized service.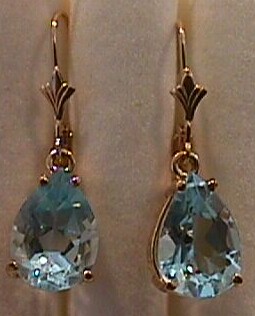 We are perhaps best known for our earrings, which are available in 14 karat gold or sterling silver, as posts or as leverbacks. The stones are available in round, oval, rectangular (emerald cut), pear, or triangle shapes. The sizes range from 2mm up to 10mm depending on the stone. The stones are listed by birthstone month, although most people now feel comfortable wearing their favorite stone regardless of the month designation. Listings on individual pages are only examples; we have or can get pretty much any size and shape. We can also make pendants to match. Please note that the earrings are made with commercially faceted stones, but most stones have a higher quality of cutting (and thus more brilliance) than is usually seen. Click here to browse our large selection of earrings.
We have hundreds of silver rings set with stones (mostly faceted but some cabachons too) in stock, ranging from size 2 up to size 9. Since we have dozens of designs to choose from, if you give us an idea of kind and size of stone, we can send you pictures of possible choices by e-mail. Most of these rings can also be done in 14K gold.
We are very excited about our newest products, Zandrite and Purple Zandrite, which are man-made color change stones. Zandrite is a beautiful pink in incandescent light and changes to a striking green in fluorescent light. This is the same color-change seen in natural alexandrite, but more intense and available at a fraction of the cost. Purple Zandrite changes from a lovely purple (in incandescent light) to a beautiful blue (in fluorescent light). We have both Zandrites as earrings, pendants, and rings, in sterling silver or 14K gold settings.
Another new product is our two-stone rings to celebrate your relationship with a very special person. Click here for more information.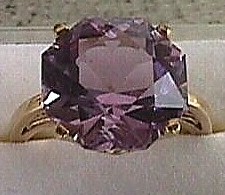 Our most special pieces are made with custom-faceted stones. These stones are cut for brilliance and beauty by an American cutter (me). The design of the stone and angles of the facets are carefully controlled to produe stones much brighter than the average commercially cut stones produced overseas. Our beautiful faceted stones are set in 14 karat gold rings or pendants. Chains to enhance your pendant are available separately. All of our pieces with custom faceted stones are one-of-a-kind. We can also help you design your own one-of-a-kind ring or pendant.

E-mail to Karen,



Webdesign by
Russ Kleinman