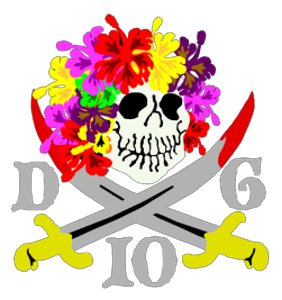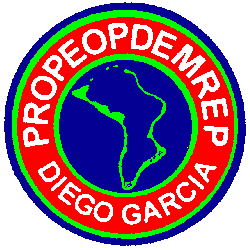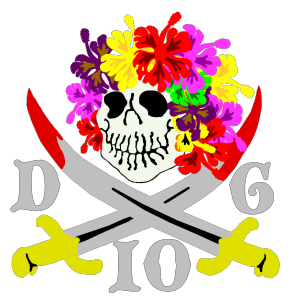 DIEGO GARCIA 1988
ROGUES' GALLERY
Detachment 1

374th Tactical Airlift Wing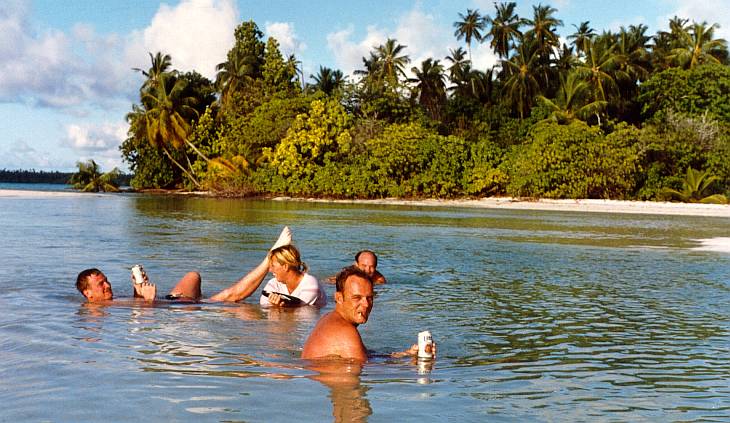 This was the crew at Det. 1 most of the year I was there. They are:
Staff Sergeant Delane Shoemacher
Staff Sergeant Janice Meeth
Master Sergeant Harold LaPorte
Technical Sergeant Garry Hedrick.

The photos that follow are sort of in chronological order: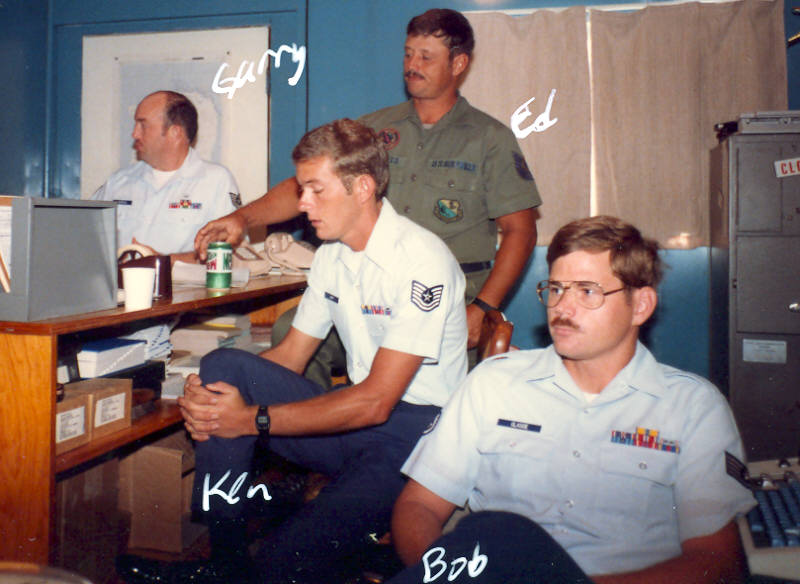 The two guys in the foreground are Technical Sergeant Ken Alsip, and Staff Sergeant Bob Glasoe. Ken was the Aircraft Maintenance QAE, and Bob was the Materials Handling Equipement (MHE) QAE. Both were there for EARNEST WILL in August 1987, and instrumental in the success of that operation. The guy in fatigues is SMSGT Ed McCants, and the guy in blues in the background is Garry Hedrick, who replaced Ken.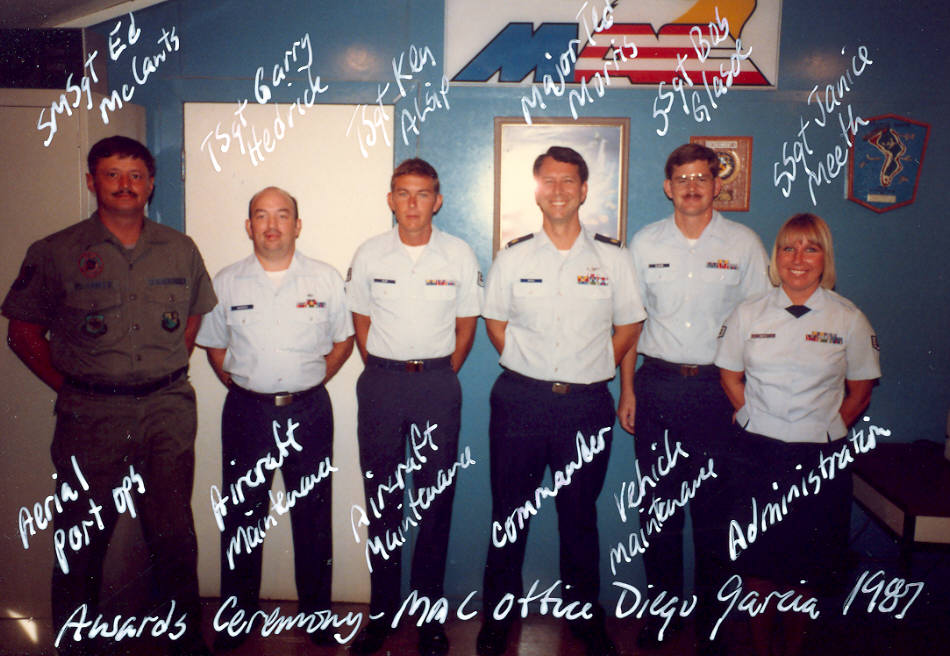 The woman on the right is SSgt Janice Meeth, the "702" (Clerk-typist) for the Detachment. Janice, MSgt LaPorte and I all graduated from High School in 1969. Janice also was aboard for ERNEST WILL, and handled all the aircrew support issues in an outstanding manner. Janice, if you read this, let me know what you've been doing these last 20 years, and how your grand-daughter is doing.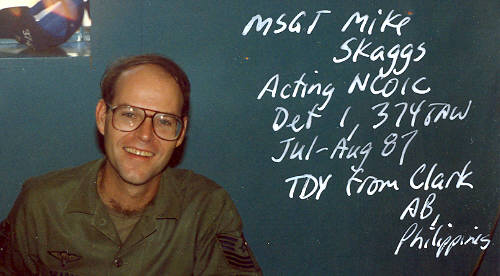 This is MSgt Mike Skaggs. The Det. was without an NCOIC for the first 5 months or so I was there, and Mike filled in on TDY (Temporary Duty) from Clark AB, in the Philippines. He was replaced by Senior Master Sergeant Ed McCants (his photo is below).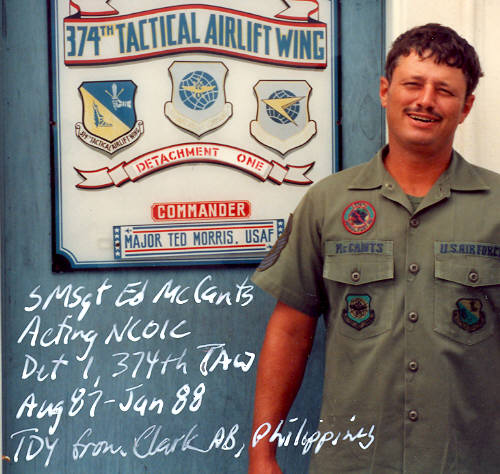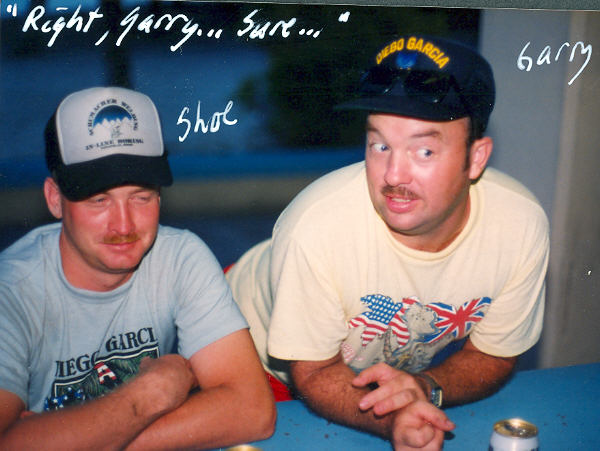 This is SSgt "Shoe" Schumacher and TSgt Garry Hedrick. They took Glasoe and Alsips' places, respectively. Garry retired to West Virginia; Shoe got out after Desert Storm, and lives in Idaho.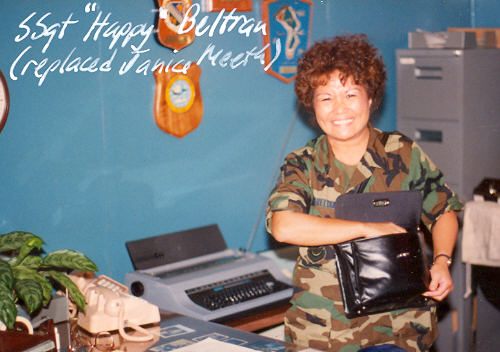 This is SSgt Ligaya Beltran, who took Janice's place. Ligaya means "happy" in Tagalog, and that's what she went by, Happy Beltran. She retired in San Diego.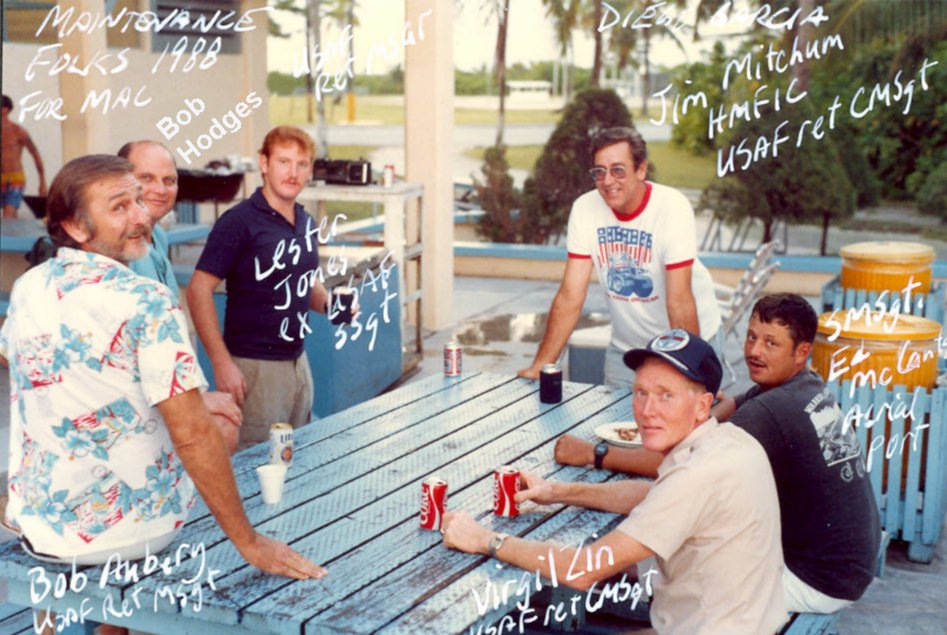 These are the FEBROE aircraft maintenance people who kept our airplanes moving through the station. These guys could fix anything. Sadly, Lester died shortly after this picture was taken.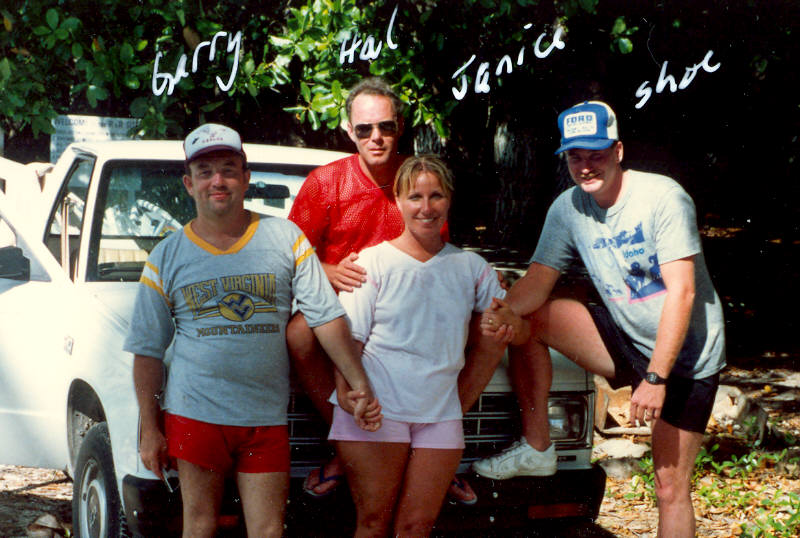 Here's one more picture of the people who kept me out of trouble, and made the Detachment work!
Thanks, guys. It was a good time, both professionally and personally.

Here's some photos Ken Alsip sent in 2007: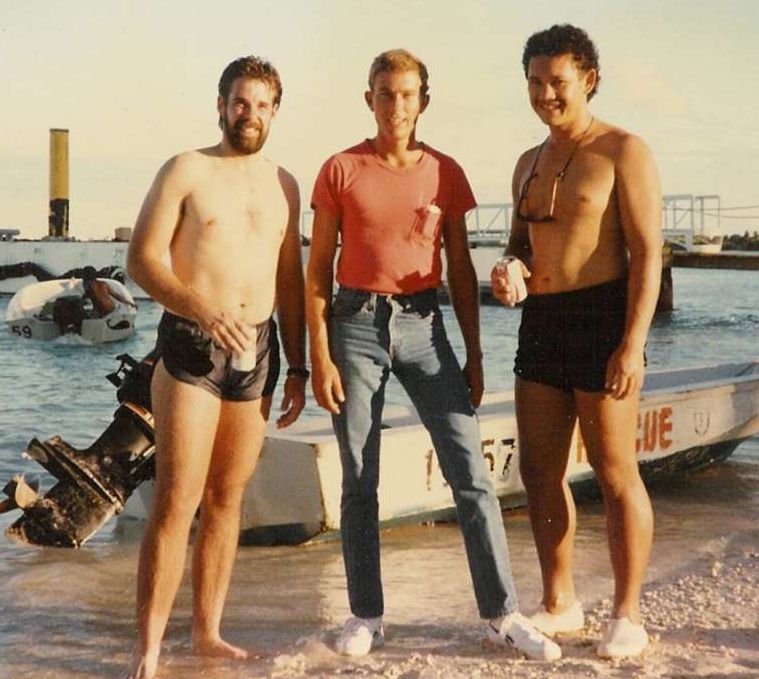 Above Left - Mike, a FEBRO Avionics guy; center - Ken Alsip; right - the legendary "Pineapple George" Gesner in his 'younger days'.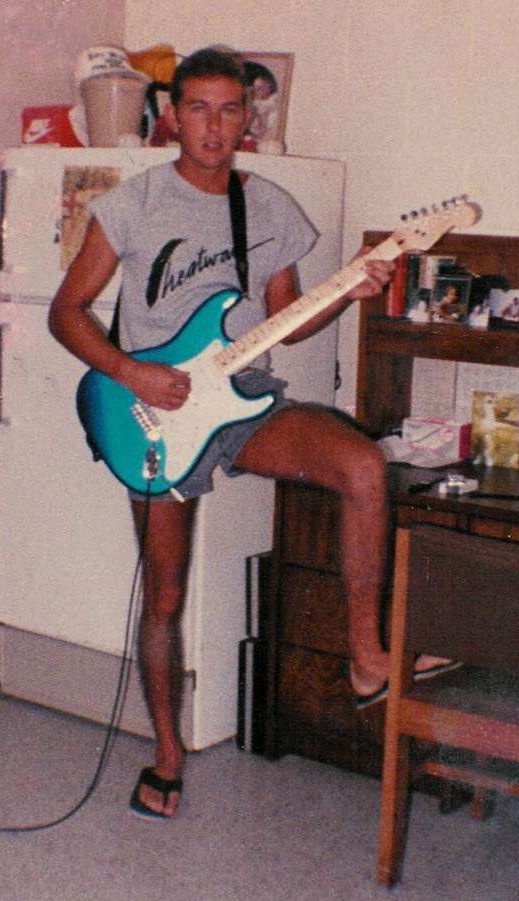 Ken Alsip MAC AF dude in barracks room - Ken was the author of "PS on Diego Garcia."


Left - Ken Alsip; Right - Francis Salvador. This crab was out of his shell and found near the plantation.
It was extremely strong and hard to hold for the photo before we let it go.



Here are some photos sent to me by Garry Hedrick: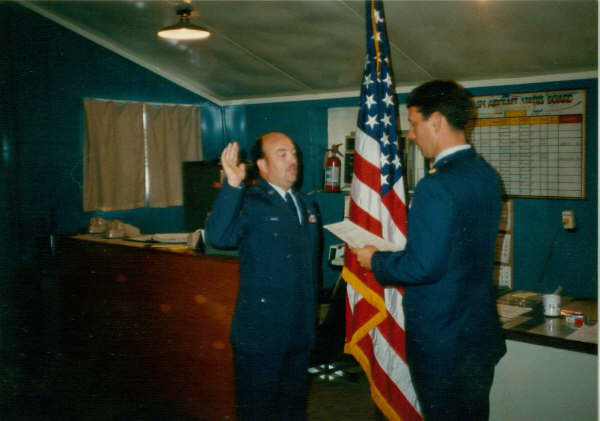 Above: This is me swearing Garry in for another enlistment.
Below: Here we are in 2008!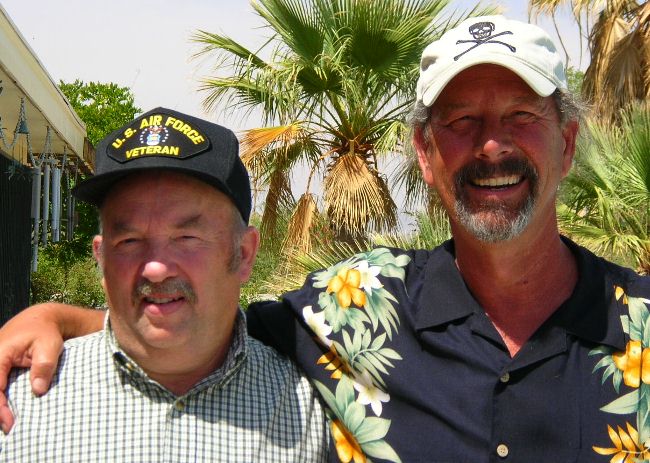 Below: Janice Meeth, our office administrator.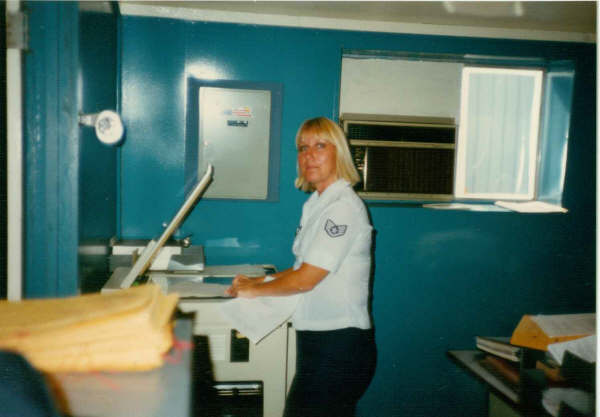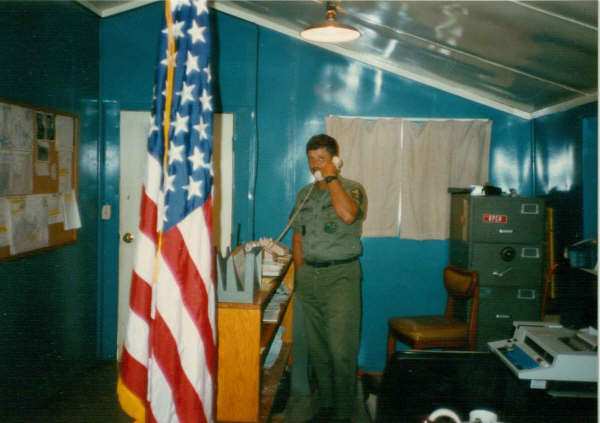 Above: Ed McCants getting the word from Clark AB.
Below: Ed and I December 2008 at his home in Florida.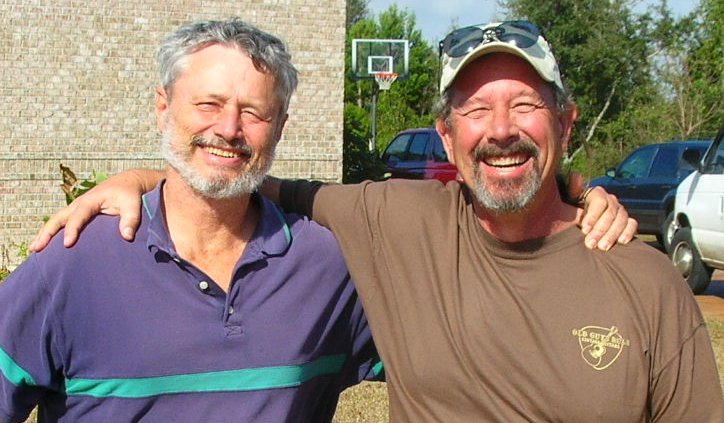 Below: Hal Laporte goofing off at the Chief's Quarters, 1988.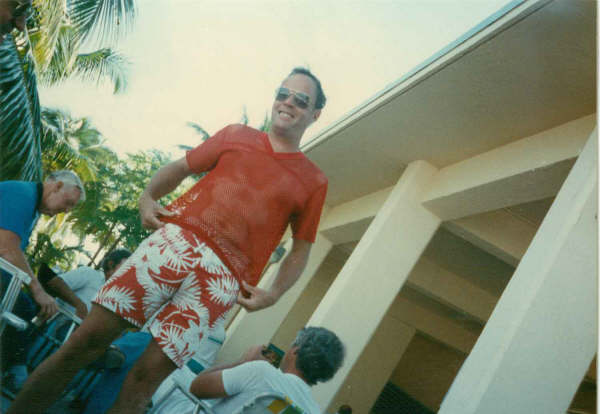 Here are some pictures of friends of mine.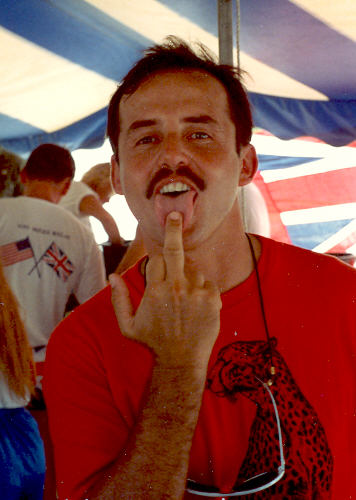 This is my buddy, LCDR Ricky Hausvik, USN, Retired. How's life in San Diego, matey?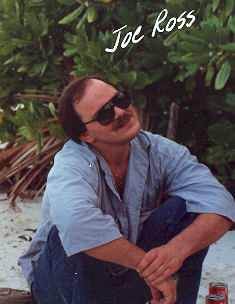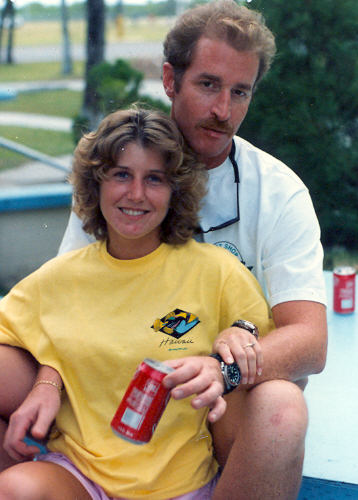 Joe Ross is on the left. Jeff and Martha are on the right. Joe and Jeff worked for PRC Kentron at the Space Command GEODSS site. Martha was the most desired woman on Diego Garcia.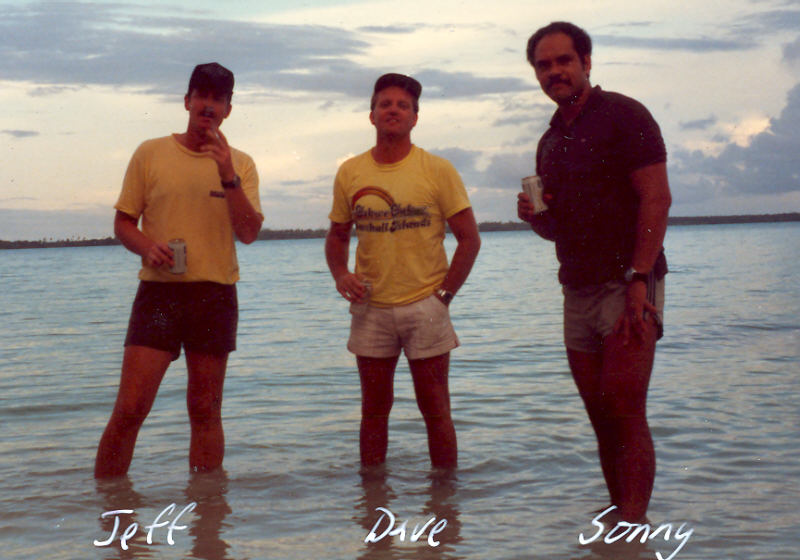 ABOVE: Jeff Hill, Dave Young, and Sonny. All worked for PRC Kentron.
BELOW: Bill "ObiWan" O'Brian, Sonny, and Joe. All PRCs.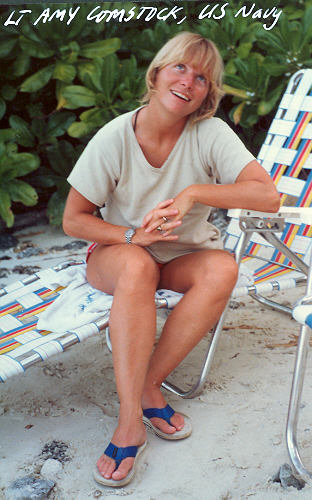 Finally, this is LT Amy Comstock, USN. Amy was my counterpart with Military Sealift Command. Amy, I apologize for not believing you when you said the Merchant Marine swapout would be hell on earth. And for hitting on you after you ate those bananas.

If you were a MAC or AMC puke out there and have a photo of you or people events or things important to you out there,
please send me the photo and some caption material.
Here're one from Tom Shepke, who was out there in 1990: From left - SSgt Reyes (Admin), MSgt Tom Shepke (Aerial Port),
unknown OPS ADMIN, Major Tim Ball, MSgt Gene Lawless (Acft MX), SSgt Daryl Schrader (MHE MX).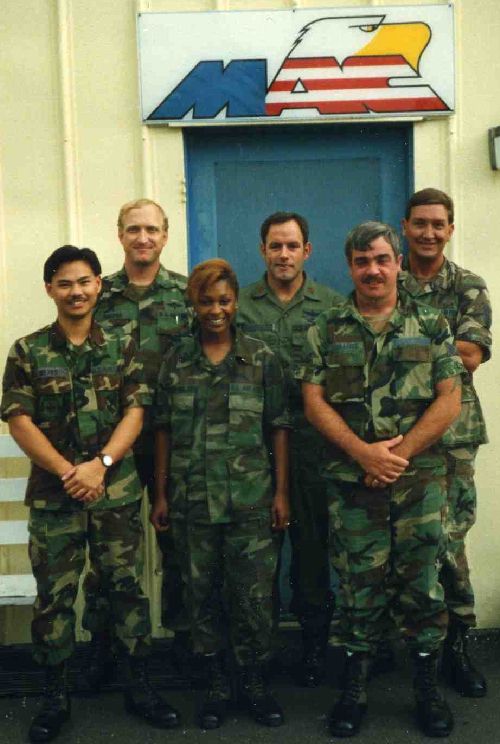 Visit the Rest of The PPDRDG by Returning to the Site Map and Picking Another Page!


Want to use something from this site? See the TERMS OF USE.
This, and everything else I write and every photo I produce is copyrighted by Ted A. Morris, Jr.