I offer my deep regrets to my friends and aquaintences of 1987-1988 amonst the Contractors on Diego Garcia that I did not take enough photos to include all of them in this web site. If you were there and have a photo taken on the island during that period, please send me the photo as a .jpg file. Also, since I have completely lost all my notes on names, I'm not sure of all of the ones on this page. If you know the names to match to the photos below, send them to me. Please.
(FEBROE also operated a refueling station for the USN at Berbera Somalia,
and I've made a small page about that if you'd care to see it)
*FEBROID (n.) Anyone employed by the company FEBROE. There were approximately 70 Americans and perhaps as many as 1,500 Filippinos and Mauritians employed on the Island.
Here are a bunch of names provided by George Rice. He challenges anyone to provide the names of their crews too - can you add any more? "Here is a list of the Fuel Crew of DG for the year of 87: Fuels Manager - Mel Wasikowski; Supt Fuel Maint Sys - George Rice; Supt Storage/Refueling - Bervis Ardoin; Fuel Admin Chemists - N.R. Bautista & J. S. Salandanan; Accountants - A.R. Tobias & R.S. Roldan; Clerk - E.O Ballesteros Jr.; Fuel Maintenance TCN Super - M. D. Santos; Mechanics - Rousa, Jaro, Barcela; Fuel Truck Mechanic - Gonzales; Painters: Lead Man - Rogelio D. San Miguel; Painters - Rara, Cercado, Mercado; Gas Station - Balubar & Espiritu; Storage and Disdelate - De Guzman, Perdio, Calazan, Garcia; Aircraft Hyd. System ( AIR FORCE AREA): Lead - Jose Paguio, Operators - Asuncion, Pineda, Abrera Jr., Griva; A/C Refueling Lead - A. Mascarina; Dispatchers - Dizon, Lopez, Brigola, Felipe Jr.; Drivers - Palad, Lamban, Batoon, Ortiz, Penarubia, Elemancia, Malvas, Costosa Jr., E. De Guzman" - not a bad memory, George!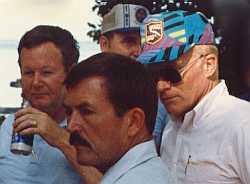 Joel Tyson, John Springer, Bill Harrington, Von Christensen - The Honchos. Joel ran the "TCN" (Third Country Nationals - i.e., the Filippinos and Mauritians - Camp). John was Christensen's right hand man, Bill was Harbor Ops, and Col. Christensen, USAF Retired, fighter pilot extraordinaire (shot down a MiG in Vietnam), was the #1 Island FEBROID, the Program Director.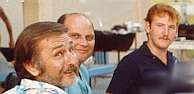 Bob Aubrey, Bob Hodges, Lester Jones - Aircraft Mechanics. Bob and Bob were retired Air Force, Lester got out after a hitch or two at Clark to come out and make the "big bucks" on DG! Sadly, he passed away while on leave shortly after this photo was taken.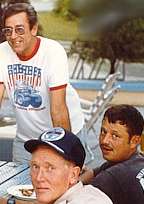 Jim Mitchum, Virgil Zins, Ed McCants (Ed was in Det. 1 as the NCOIC and was an Aerial Port guy) - Aircraft Mechanics. Both Jim and Virgil were retired Air Force Chief Master Sergeants.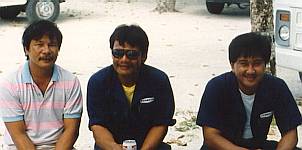 That's Rodolfo (Boy) Garcia of fuels on the left, Vic Mutoc (transient line) and Mr. Garcia. They worked real hard everyday fueling our airplanes and keeping the equipment operational. It was the TCNs who did all the real work on DG, and they did a damn fine job for wages an American or Brit wouldn't touch. They were the unsung heroes of the island, and kept everything working and going. Some other names on the transient line were Armando Carralos, Pete Amimita, Gerry Cilucia, and Arnold Tanquilot.

From Armando Caralos, 19 April 03:
Hello Ted, How are things going on. I wish you all the best. Here are some updates of our FEBROID's. One of our FEBROIDS products from Transient Line Mr. Gerry Celuccia is now a Line Maintenance Manager of Cebu Air, Philippines.
And I bump Mr. Robert Tambalo one of our FEBROIDS from washrack and works on GSE under Mr. Frank Singer, he is in Whiteman airport San Fernando Valley L.A working with Sun Quest aviation.
Nice to hear from you.
Best regards,
Armando Caralos
FAA-A&P / I.A / DME
By the way, Armando is looking for a job, so if you've got one, write him at: doy@macau.ctm.net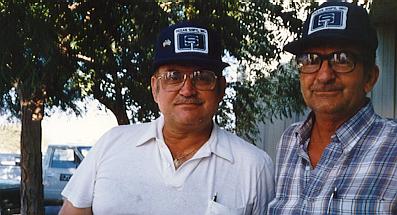 Mel Wasikowski and George Rice of fuels. This photo was taken in Berbera Somalia as they packed up to leave. George planted the tree on the left when he got there in 1984, and says it was about the size of a pen!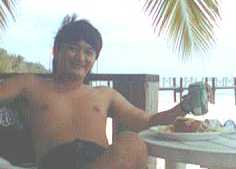 This is the Mangoman, Melchor Razon. Although not technically a FEBROID (mainly because he's been there through all the administrations), he's included here. As the longest serving person I know of (1982-1999!!!), he is therefore The Official Mayor Emeritus of the Provisional People's Democratic Republic.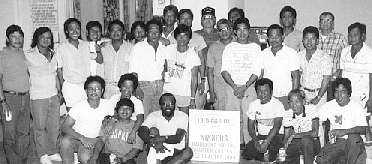 Here's the FEBROE Fuels Crew. Click on the photo to see a better copy. Many thanks to George Rice for the photos of Fuels.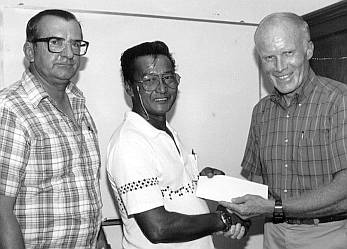 And here's Jose N. Jaro getting a $300,000 check from von Christensen. Jose promised to split it with George Rice (on the left) the Fuels Superintendent. George spent a lot of time in Berbera Somalia, and you can go directly to a page about that god-forsaken wilderness by clicking here.













And while the rest of us lived in airconditioned splendor, here's where the TCNs lived. We used to call it "Splinterville", but one of the NSF COs insisted the name be changed to "Splindidville" in 1984 (coincidence? I think not - doublespeak lives!). Of course, I guess it wasn't all that bad, because the SEABEES used to live in them before the contractors came out. Whoops, I guess that were that bad!