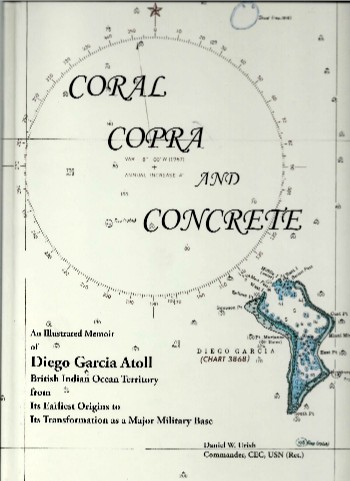 'Coral Copra and Concrete'
by Daniel W. Urish, Commander, CEC, US Navy (Retired)


Well folks, here it is, a book about Diego Garcia by one of the men who built the base! In fact, CDR Urish arrived on DG in May 1971, and was the first Island Commander, and the Commander of the first full battalion of SEABEES to get to work on creating the U.S. base there. If you have ANY interest at all on that subject, this is the book for you!

This is not a small book for one of those tiny bookshelves you've got hidden away in your den. This is an
8 & 1/2 by 11 inch, 240 page book that feels nice and heavy in your hands, and is full of weighty information. You'll want to show it to your family, while you blurt out lots of "this is where I was!" and "I never knew about that!"

Like other sources (including this website), Dan uses some of the Official Propaganda Photos showing smiling sailors, bombers getting airborne, and glowing sunsets. But many of the photos are ones Dan and his folks took in those early days. About half the book is devoted to Dan's "memoirs" of NMCB 40's tour of duty, so, you'll read about everything that happened out there from the arrival of the Royal Navy Submarine HMS Orpheus to the Marijuana Plantation some enterprising SEABEES planted in 1971. And lots more.

Dan also reveals in some detail how the construction was planned, landed, sustained, and even paid for. He adds lots of very interesting details about things we took for granted out there in later years - like how the island's fresh water well system was built from 55-gallon drums... One of my favorite sections of the book is the 8 pages of the paintings by Tom Veit who stormed ashore with the rest of NMCB 40, and promptly turned out a magnificent set of paintings detailing life by his fellow shipmates.


About 1/2 of the book is devoted to the historical background of the island,

and to some speculation about possible futures. The exploration and settlement, and the story of the islanders are briefly re-told, as are some of the military operations conducted from the island in the last 3 decades. Insight that Dan provides that other historians can not is based on his comparison of "then" and "now". He was able to return to DG in 2014, and so knows the island as it was - natives and coconut trees - and as it is, and the unbelievable changes that have taken place over the last 45 years.

Dan has been working on this book for a few years, and for me, the wait was well worth it. I encourage you to contact Dan and BUY THIS BOOK!


Right now, Dan is selling it himself, and you can email him to ask for an order form at:
harbourrose@cox.net

The cost of the book is $39.
Stateside (including APO/FPO) shipping and handling is $9.
Overseas shipping is significantly more. Contact Dan for the latest figures.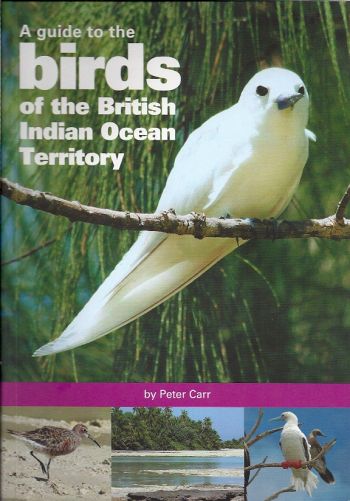 'A Guide to the Birds of the
British Indian Ocean Territory'
by Peter Carr
If you are at all interested in the environment of our favorite island (and it's local archipelago), be sure to get this wonderful little book and keep it forever. Pete Carr has, like most of us, been fascinated by the Chagos and Diego Garcia for many years - first visiting 15 years ago while still on active duty in the Royal Marines. Eventually, he was assigned to the British Forces on the island as the Executive Officer, and spent two years assembling the information that would ultimately become this book. Upon retirement, Major Carr became the Environmental Compliance officer for the primary base contractor, where he continues to care for, and learn from, the ecology of the BIOT.
The result of that devotion to the natural history of the archipelago is clearly laid out in 110 full-color pages with innumerable high quality photographs. The first third of the book is a thorough examination of the naturaly history of the archipelago, complete with maps and concise explanations of the effect of human activities - and absence - on avian populations in the islands, and the value of the Chagos as a reservoir of species capable of repopuating other areas of the Indian Ocean once those places establish conservation priorities and policies permitting a return of some sort of balance between humananity and the naturaly world. Think "Ark".
The next 50+ pages is dedicated to the 50 (coincidence? I think not) most common species of birds that inhabit the archipelago. Each page includes all the pertinent information regarding the identification of the species, the status of its population and distribution thoughout the Chagos, and specifics of where to go to see the birds and add them to your life list. Each page also has a 3.5" x 5" full-color close-up photograph of the bird that can be used to help identify the species when you spot them.
And there are plenty of species to spot! In addition to the 50 you are most likely to see, there are 65 more listed with pertinent local information revealing the right spot in the right place and at the right time of year so you can catch the vagrants as they pass through or stop for a rest after being blown off course. There is even a listing of another 27 species that are
believed
to have been seen once or twice over the last couple of centuries. Pay close attention to that list - who knows, maybe you'll be the one who positively identifies the elusive White-bellied Storm Petrel?
This is the sort of quality book you read prior to entering the field, or on a quiet, retired Saturday afternoon as you relive your time on the island. "Hey, look kids! Grandpa is reading that cool bird book again!" So, it really isn't a field guide (although you could take it with you if you wanted to), but Pete provides a list of suitable field guides to use if that is your desire.
One other thing that comes through loud and clear in this book is the awe of life in the remote natural world. The Chagos is as far as you can get from where I'm sitting without heading back, and that thought makes me pick up this book not just to look at the beautiful photos, but to recapture that sense of being somewhere amazing. Pete Carr deserves all our thanks for this critical addition to a better understanding of our natural world, and reminding us of our place in it.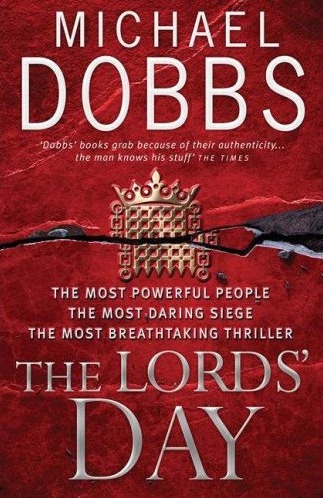 'The Lords' Day'
by Michael Dobbs
I used to start this page out with "Peak of Limuria" because it was (IMHO) the most accessible to readers, and contained the best description of Diego Garcia. Plus the fact that I helped with the 2004 revision... But I've changed my mind on the most accurate representation of our favorite island, and now believe it is found about 2/3s of the way through this fascinating book by Michael Dobbs.

The British-owned, US-dominated Diego Garcia has been mentioned in fact and fiction for many decades now. The first time I remember reading about it was in the 1981 novel "The Hill of Summer" by Allen Drury, although it was a pretty brief account in the final pages of the book - basically the USSR nuked it to see if the US would respond to an attack on a truly obscure and remote territory. In just a few short pages, THE LORDS' DAY fleshes out the real DG for the first time I can remember, and for the people who wander through this web site, that should be enough reason to get this book.

But wait! There's more!
Michael Dobbs is virtually unknown to U.S. readers; you'll not find his work in your local Barnes & Noble. But he's wildly popular in the U.K. since his first novel in 1988. He is easily as clever as your favorite action/adventure/political-thriller author here in the U.S., and much more read-able than most. Although there are 10 of his books for sale on Amazon, plus the 1990 BBC mini-series "House of Cards" on DVD, I'd never heard of him until about six months ago when he sent me an email and said he was writing a book, and needed to know if the USN or the Brits operated the prison on DG. At first I thought he was another of those sniveling Guantanamerista commies, but after googling him and finding out that he actually is a published fiction author, and a Tory, I sent him much more info than he wanted, including pictures of things like the Brit jail, etc.

He asked some more questions, and finally thanked me for my help (actually I think he told me to stop writing to him, thanks), and then there was silence over the ether for months. Then, one day just in time for Christmas, there was a signed copy of the novel in my mailbox! As the holidays were pretty busy for me, I finally got around to reading it in mid-January, and WHAM! I know now I should have blown off Christmas Dinner to read this book. What a fast and furious read it is!

The plot is basically that the bad guys capture the Queen & her Cabinet & most of the House of Lords, and threaten to kill them all unless the terrorists' leader is released from prison on Diego Garcia. It won't ruin the book if I mention that the good guys "win" in the end, and if you like questionable heroes, detestable politicians, semi-sympathetic bad guys, non-stop action, and glorious rescues, you'll love THE LORDS' DAY. There's no wading through technical jargon, no wasting of half the book setting the scene, and no expository lumps describing the weather. The action always fits the situation, and from the opening throat-slitting to the final suicide, this book moves as quickly as any you've read, and you will always remember it to be time well spent if you sit down with a six-pack and read it straight through.

So, where does DG fit into all this? Michael spends several pages moving the terrorists' leader from the ROPO's jail to the airfield, and his taut descriptions of the place, the Brits, and the Americans involved are instantly recognizable to anyone who's spent a night in the drunk tank or driven down DG 1. I was honestly amazed at how accurately Mr. Dobbs translated a couple paragraphs of info and a few photos into feeling like I was back on the atoll again. Read it yourself, and see what I mean. It's Deja Vue all over again.

As I mentioned earlier, you can't find this book in your local store, so go to Amazon.com and buy it there. You will be glad you did.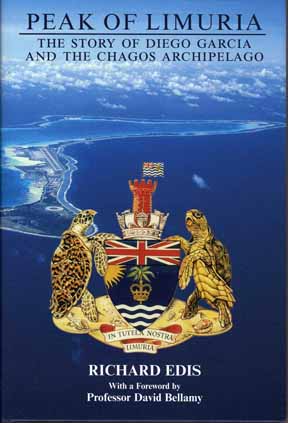 'Peak of Limuria'
Review of the 2004 Edition.
In 2000, I wrote a review of the 1993 edition of this work, which I found wanting in many respects. A couple years ago, I was contacted by Nigel Wenban-Smith, another former Commissioner of the BIOT, who asked if I would like to contribute to a re-write! Ambassador Edis had sadly passed away in 2002, and left the rights for the book to the CCT, which intended to republish the book and offer it once more for sale to the public. I was surprised, and frankly honored, to be offered the opportunity to take part in this effort, and thoroughly enjoyed the mental exercise! Not only was I contacted, but Kirby Crawford and Carl Villanueva, contributors to this site, were included in the work. Our main contributions were to the Americanization of the atoll as described in Chapters XIII and XIV. Hopefully the text will relay a better sense of the truly heroic accomplishments, and the resultant changes to the island, over the last 35 years, thanks to those of us who spent so much time on Diego participating in those activities.


So... the gentle reader should be aware that my effusive praise for this book might be tainted slightly by my name appearing in print in it! At any rate, here goes:
This is the new and improved version of the 1993 book by the same author and title. It retains the format of the original (being a slim little work 9.5 x 6.5 inches) but significantly expanded to 104 pages of text, with a much improved photo selection. The book contains much more insight into the last decade of activities, and contains important environmental commentary as well.
This book is a pleasant, quick read, and gives a very concise history of the island. Ambassador Edis wrote in a clear and interesting style, and Nigel deserves much praise for retaining that comfortable feeling throughout the added text. There are some fascinating pictures of old maps and paintings from the 18th and 19th centuries, a stunning photograph of the island from space, and some interesting charts and graphs. But mostly the book relies on the text to carry the story, and the book is funny and entertaining in places. The political and even patronizing viewpoints of the earlier edition have been, by and large, ameliorated, and the book will appeal to American and international audiences as well as those from the UK. From my conversations with the CCT committee responsible for the re-write, I believe that Mr. Edis would be pleased with the result.
Frankly, this is THE gift book to give anyone who has an interest in where you've been (assuming you've been to Diego Garcia). It is stylish and attractive, and if not a compelling read, is certainly a unique addition to any bookshelf of the esoteric collector. You can buy it at the
Chagos Conservation Trust E-Store
.
And of course, don't forget to read Chapters XIII and XIV, which are absolutely the best.
You can order this book through the Chagos Conservation Trust at https://chagos-trust.org/support/shop. The cost is
£16 ($21 as of November 2018).


'Ecology of the Chagos Archipelago'
This book is hard to find using Amazon and the rest of the .com world, but you can BUY IT HERE.




Official Publicity Blurb - "The Chagos Archipelago, a British territory since 1814, is the largest and most isolated atoll complex in the world. It lies 3380 kilometers east of Mombassa, 6 degrees south of the equator and is composed of sixty islands. Since their abandonment in 1973, most islands, other than Diego Garcia, have been rarely visited, although extended visits by yachtsmen to two of the atolls are on the increase. The few other visits have been mainly scientists, the more recent being the 1996 Chagos Expedition, when thirty scientists and technicians from Britain, USA, Belgium, Germany and Holland, supported by two 26-metre ketches, carried out a six week research programme. This volume is based mainly on the findings of this expedition, most of the scientists presenting papers at a Conference on 7 October 1997 organised by the Linnean Society of London and Friends of the Chagos and attended by more than a hundred participants. One of the expedition members Professor David Bellamy, provides a Foreword to this volume and additional material has been contributed by other scientists unable to attend both these events.
"Chagos Archipelago in the centre of the Indian Ocean is unquestionably unique: due to its remoteness, to possesses a pristine environment still virtually uninfluenced by human disturbance. Ecology of the Chagos Archipelago provides a powerful body of information of paramount importance to biodiversity and conservation studies, and will be of particular interest to coral reef scientists, island ecologists, biogeographers and conservation biologists."
PPDRDG President's Review: First, this review is not a peer review, and I apologize to the dedicated scientists who wrote the book for any criticism I might have - far be it from me to evaluate any scholarly work.
BUT, for the typical visitor to this web site, I recommend you buy this book, if you've got about $76.60 to spare (airmail to the states, exchange rate on 10/20/00). The book is a compilation of the reports done by the members of the 1996 expedition to the Chagos Archipelago (about 20 scientists), who studied the reefs, the weather, the insects, the pollution, the nesting seabirds, etc., etc., of the islands, especially those northwest of DG. It has 24 chapters, each of which is either a short paper explaining a specific scientist's project during the expedition, or a sort of analysis of several areas of study. Each chapter has a short summary up front that explains what its going to say, and most have specific, practical recommendations for preserving or enhancing the ecology of the islands in the closing paragraphs.
Considering the extreme difficulties inherent in mounting an non-military expedition to the Chagos, its amazing that there have actually been several, and this book also takes in data from those expeditions, and relates it to the current state of affairs. Some of the chapters have some really cool data in them, like how many liters of turtle oil were exported in 1904, and stuff like that.
It will make all patriotic citizens of the PPDRDG happy to know that the environment of our little republic is described in several places as the most "pristine" in the IO! I think we each deserve a pat on the back for not trashing the place, picking the last living coral off the reef, or dumping heavy metals into the lagoon during our stay. Actually, I was almost offended by one suggestion at the end of one of the chapters that 'base personnel be sensitized to the plight of sea turtles' or something like that. I thought we all have done pretty well over the 30 years 'the base' has been there - the surrounding environment is BETTER than it was when the plantations were operating. A real accomplishment consider we have fought a war from the island, and the Brits only have a grand total of about 40 men and women to ensure nobody does anything environmentally harmful.
But, if you can get over that kind of minor faux-pax by someone who was only out there on DG for a couple of days, this is a great book for anyone interested in DG and the Chagos. It is written by PhDs and so isn't in the standard 6th grade language our military manuals are written in, but it will read easily if you take your time, sound out the Latin names, and don't need too many pictures. This is REAL science, not the greenie-weenie kind of twisted logic, so there are lots of charts and graphs and lists, and the pictures that are in it (about 25) are really, really, good. The most important thing, I think, is that the conclusions it reaches concerning the ecology in the Chagos are the result of real science, not political bullshit.
The main problem the casual reader will have with the book is that because the papers are scholarly, and subject to peer review, they assume you know the taxonomic names for all the life forms, and if you don't have a translation guide to 'common names', you'll get frustrated because you'll never figure out just what kind of birds the 320 breeding pairs of Fregata minor on Diego are...
The bottom line is that if you are interested at all in the world around you, serious about remembering your stay on DG from an intellectual angle, would like to astound your friends and neighbors by being able to explain the biogeographic role of the Chagos in coral dispersion in the Indian Ocean, or just want to finally, after all these years, own a book, GET THIS ONE.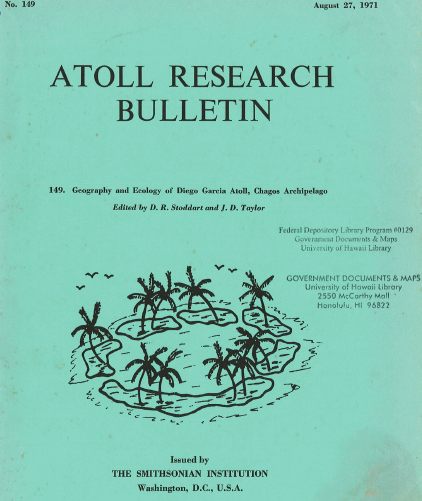 Smithsonian Institution's
ATOLL RESEARCH BULLETIN No. 149
'Geography and Ecology of Diego Garcia Atoll, Chagos Archipelago'
This book has long been out of print, although you can find it at rare booksellers on the web. But don't despair! You can DOWNLOAD this critically important work by going to
http://www.zianet.com/tedmorris/dg/atollresearchbulletin149.pdf.


I first read this book in 1982 when I was TDY on the island. The Brit Rep had a copy, and his XO, Captain Ken Gill, graciously loaned it to me at the time, knowing my interest in ecology. I tried to get it copied at the base library, but they wouldn't let me unless I supplied the paper, which of course was unavailable. Ever since, I've regretted that the combined bureaucracies of the USN and USAF crushed my quest for knowledge. That's why it's so exciting, to me at least, that it's now available on the web. My life is complete...
As with Dr. Sheppard's work, this is not a peer review of this wonderful collection of scientific articles. My judgement would be suspect at any rate, as I remain in awe of this book (and although paperbound, it is an 8.5 X 11 book of 294 pages). Stoddard and Taylor compiled this series from their work on Diego in June and July 1967 with the British hydrographic survey aboard HMS VIDAL. It is fascinating to read about the island before the arrival of the Americans. Ever heard of Barrachois Sylvain? Today we know it as Turtle Cove. Reading this clear and concise book is like reading about your hometown before you were born. For example, did you know that there was a huge 'barrachois' (bay) where Camp Justice now sits?
The main reason you should read this book is that it is widely held to be THE definitive snapshot of Diego Garcia after 150 years of cultivation and basically hunter-gatherer inhabitation, but before industrialization and the construction of the base on the western arm of the atoll. Every subsequent author cites this reference, if for no other reason than to contrast current conditions from those in the late 1960s. This alone makes it worth the effort to obtain and digest.
Stoddard gives some hints of his anti-military perspectives, which are more developed in later works, but this should not deter the serious reader. So, my whole-hearted recommendation is to READ THIS BOOK. Do it today.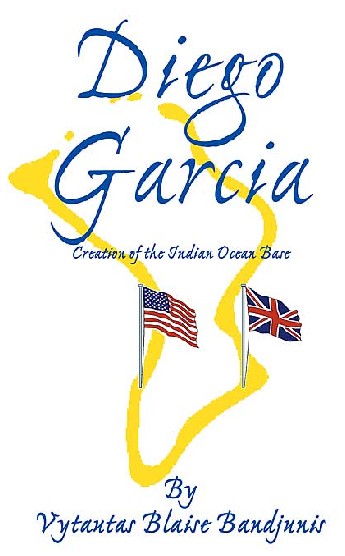 'Diego Garcia: Creation of the Indian Ocean Base'
I thought that you or your readers might be interested in a book that has recently become available. It is "Diego Garcia: Creation of the Indian Ocean Base" by Vytautus Bandjunis, ISBN 0-595-14406-3, Writers Showcase 2001.
Bandjunis worked for "Yards and Docks" back in the 60s when the US first began getting serious about a base in the IO. The book is fairly short (300 pages with appendixes) and a straightforward read, primarily from the point of view of a top manager. There is a lot of stuff about budget reconciliations and bureaucracy and such that a lot of people probably wouldn't find too interesting. Amongst it, however, there is a lot of "Cold War" background material and some interesting pictures and factoids about everyone's favorite island. The book really starts with the 1964 joint US/UK survey team and carries on from there as plans are made, then unmade, money is budgeted, then unbudgeted, and eventually it is all made to work out, sort of. The book does not go in depth into the diplomatics of the situation but does give an outline (and how many books even *mention* the subject?). The 'relocation' of the Ilois is also mentioned but is not dealt with in depth.
The book is a nice slice of both "cold war" history (oooh, those nasty Russians are coming!) as well as an example of how messy projects like building a base in the middle of nowhere can be -- with the US, UK, India, Mauritius, USSR - not to mention USN, USAF, GAO, Congress etc. all sticking their fingers in the pie at various times.
The "Stars and Stripes" bookstore on DG (is there still one?) ought to keep this in stock. Regards, Steven J. Forsberg.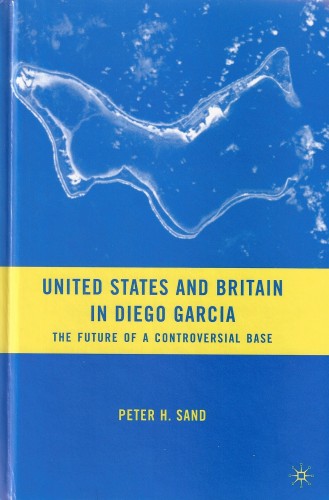 'United States and Britain in Diego Garcia,
The Future of a Controversial Base'

Peter Sand has produced a very important book for the serious student of Diego Garcia, the end of the British Empire, war and diplomacy. Peter, and I call him Peter for we are friendly correspondents if not in agreement on the issues covered by this book, is a Lecturer in International Environmental Law at the University of Munich and author of numerous papers along those lines. This book primarily addresses the peculiar legal issues of environmental regulation in the BIOT, a colony without colonists. Although I don't think Peter sets out to fool his readers, only a very careful reading will reveal that most of his criticisms are along these lines: "Most nations with colonies have signed the treaty to do X both at home and in the dependencies. The UK has signed Treaty X, and abides by it in the UK. However, it has not extended that treaty to the BIOT. It should do so, and if it did, then the following would be required/ prohibited/ regulated/etc., and the UN would be present to ensure compliance."
He infers from the events surrounding the Chagossian expulsion that everything that goes on in the BIOT is equally confusing and, well, wrong. For example, since there is no
international
commission monitoring the BIOT's environmental health, he leads the reader to believe that it is a cesspool of radiation, fuel spillage, and invasive species. Although
all
the science conducted by others in the Chagos and in and around the Diego lagoon says otherwise, it is the lack of international oversight that Peter bemoans, and (I am convinced) fuels his rhetoric demanding such oversight. His ultimate arguement is that because international treaties and various laws do not extend to the BIOT, the Territory is in a legal (and to Peter, ethical) black hole.
Peter also dismisses the defense rationale for the establishment of the BIOT and its use to defend Western civilization, first from the USSR and currently from radical Islam. He does not hold with the idea that military secrecy trumps public access, and with other writers like Vine, he repeats the Chagossian mythology in demanding their return, and sees no problem with their return to these environmentally sensitive islands or the political impact on American and Western security.
Peter is a careful but concise writer and makes his points in just 67 pages of text. The real value of the book however is the inclusion of every important document regarding the US/UK agreements about the Chagos in 75 pages of Appendices, and another 45 pages of detailed footnotes. Although I sometimes find that the reference cited does not support the text, the inclusion of such a voluminous set of endnotes serves as a comprehensive bibliography of articles and publications about the BIOT and Diego Garcia.
At £50 (about $75 in Sep 09) you may not wish to invest in this book, although I recommend you do. You can get it through Barnes and Noble, Amazon, and through the publisher,
Plagrave MacMillan
.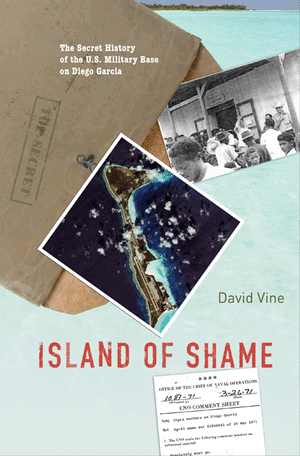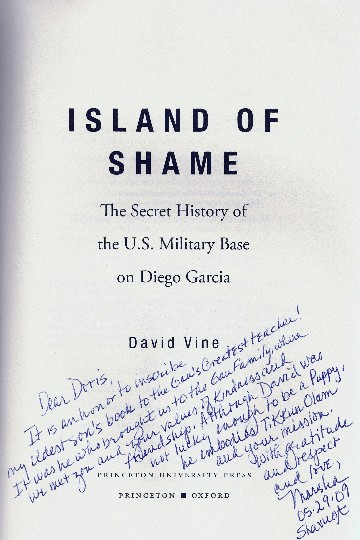 'Island of Shame'

This is the defining book of the 21st century arguments surrounding Diego Garcia, the B.I.O.T. and the Chagos Archipelago, and a must-read for anyone interested in understanding the left's invented mythology of the islands and their former inhabitants, and their desire to destroy the United States and by extension Western Civilization.
Before talking about what little substance exists in this shameful collection of exaggerations, it is reasonable to discuss what Dr. Vine is trying to accomplish. The Preface by the former head of the Students for a Democratic Society (SDS) at Berkeley, and defender of Angela Davis, Terry Nichols, and any number of other racists, class warriors, killers and bombers should be sufficient. Michael Tigar bluntly says of Vine, "He sees the Chagossain people in the context of global struggle." This is classic communist code that everyone who reads this book should understand.
Dr. Vine also spends much of pages 12 and 13 of the introduction describing how he was courted by Mr. Tigar and eagerly assented to participate in the proposed lawsuits against the United States (in Dr. Vine's world view, only the U.S. is evil and deserves to be dismantled - the UK is just a sideshow).
We also have Dr. Vine's mother's confimation on the title page of the book that I purchased 2nd hand from a library in Connecticut. It says, "Dear Doris, It is an honor to inscribe my eldest son's book to the Gau Greatest Teacher! It was he who brought us to the Gau Family, where we met you and your values of kindness and friendship. Although David was not lucky enough to be a Puppy, he embodies Tikkun Olam* and your mission. With gratitude and respect and love, Marsha 05-29-09 Shavout."
Dr. Vine has appeared on Book TV and has spoken in dozens of venues since taking up Olivier Bancoult's cause, and according to his CV in the Department of Anthropolgy at American University, his entire academic life consists of seeking, and speaking in favor of, the demilitarization of America. He appears to have no visible means of support and claims that all profits to this book go to 'support the Chagossians'. According to both Vine and Tigar, Tigar provided Vines expenses from 2001 through 2007, although both deny this constitutes "hiring", and I find it fascinating that Dr. Vine was accepted to the Ph.D. program and is now an Assistant Professor at him mentor's place of employment.
Meanwhile, Dr. Vine presents himself to the public in a calm and almost mystical manner, which to the unprepared can lead to belief that his book is actually the result of an Anthropological study, when it is nothing more than propaganda to aussage Dr. Vine's sense of social equity. Rather than studying a population and coming to a conclusion, he accepted Tigar's explanation of the islanders' plight and proceded to cherry pick statements (so many are outright lies that is impossible to call them 'facts') to justify his opening premise. So, in addition to being an anti-American and anti-Western Civilization diatribe, it is also junk 'science'.
There are two themes of the book - the first being that the United States has created an 'Empire of Bases' from which it exercizes hegemony over the entire planet, and that this is evil. The second is that in the process of establishing the base at Diego Garcia, the United States and Great Britain perpertrated genocide on the peoples who lived there. On May 19, 2011, I heard him speak in London at a program presented by Patrons of the UK Chagos Support Association, and the conclusion of his speech was that the reason the US required the removal of the Chagossians was that they were black. It was a clear attempt to play the race card when nothing except one single reference to "man Fridays and Tarzans" made 40 years ago can be found in any record. In one sentence, Dr. Vine dismissed the entire Cold War, the clash of ideologies and the context of the times in favor of a blanket, undocumented lie. What is amazing to me is not that some civil servant made the Tarzan a statement, but that in the entire history of the B.I.O.T. there has only been one such statement recorded. The point is that claiming racism as the cause of the clearances is pure bullshit, and I told Dr. Vine so, straight to his face following his talk. Not that it made a dent in his race and class struggle vision of the world.
Dr. Vine is a brilliant writer, and a persuesive speaker. However, if you have any rational thinking ability at all, or some previous knowledge of the history of the Chagos, and apply it to supposed non-fiction such as this, you will be awoken from your trance on each and every page by an outright lie in the text, documentation that links to nothing more than an editorial in a leftist blog, or bald-faced statements that smack of falsehood and have no footnote. In the first narrative paragraph of his Introduction alone, Vine states as fact, without attribution, four lies that were disproved in testimony in British Courts - that 2,000 islanders were expelled, that the UK systematically starved the islanders and withheld medical supplies, that the islanders were forcibly evicted and abandoned in Mauritius, and that U.S. troops killed the islanders pets in front of their owners. Please see the account of the British Court Cases for the truth of these events.
Despite an entire book full of conjecture, anti-Western hatred, and outright lies, there is no doubt in my mind that you should read this book. It is classic Soviet-style Intellectual-Marxism Disinformation by a clever wordsmith, and a refreshing change from the subtle propoganda we must suffer through daily from modern governments, anarchists, radicals of other religious stripes, and NGOs.

*
According to myjewishlearning.com, the Hebrew phrase
tikkun olam
(pronounced tee-KOON oh-LUHM) means "world repair." In modern Jewish circles,
tikkun olam
has become synonymous with the notion of social action and the pursuit of social justice.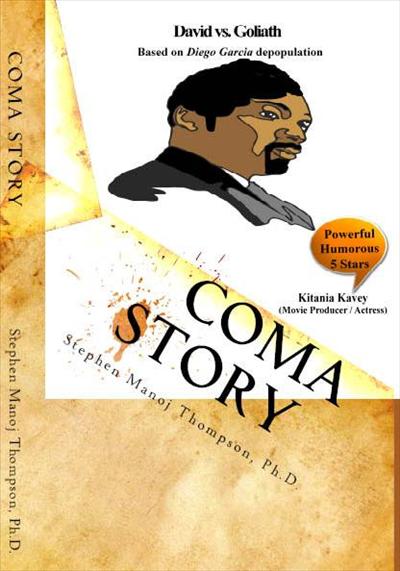 'Coma Story'

Some time ago, Dr. Thompson contacted me and asked if I could provide information and photos of DG for a novel he
was writing, which was to be of an obscure genre called "Islomania Novels", which recreate a dream-like state in which reality and the subconscious interact in effective and powerful ways. What really hooked me was that one of the characters was named "Tarzan" - a clear reference to the famous "man Tarzans" statement by an FCO functionary way back in the 1960s. The concept sounded cool - not so cool that I would invest in the venture, but cool in a groovy kind of way - so I answered his questions and never heard another word. Until a year or so later when I got an email saying the book was done and for sale, and asking that I give it a read and spread the word. So I bought it for my Nook from Barnes and Noble, and tried to read it. I gave it a real effort. I really did, Stephen. But it was a stream of consciousness narrative that was so dense I could not finish it. That isn't to say it is a bad book (who am I to criticize a published author?) but I had a real hard time following the story or feeling sympathy for Tarzan or the sleeper who never seemed to wake. You are welcome to try, and you may get a kick out of it, especially is you enjoy unconventional writing, or have reached the necessary level of hallucination having spent a few days hanging on some hooks at your local Sun Dance. Available in several formats from http://www.comastory.com/.


"A Few Man Fridays"
A Play by Adrian Jackson
Performed at Riverside Studios, Crisp Road, Hammersmith, West London
Review from an anonymous friend:
Ladies and Gentlemen,
Last night I attended a performance of A Few Man Fridays at the Riverside Studios, in Hammersmith, West London.
It was an excellent evening and as it developed I kept wondering how they were going to treat this or that episode. It stuck pretty closely to the "facts" as I have absorbed them but with, of course, artistic licence. This licence served to emphasise the disgraceful treatment of the Chagossian pawns which we all agree was not good. The Mauritian government's role in meting out this very bad treatment was not mentioned at all. (The treatment of the dogs and the low standard of the last passage was milked for all it was worth, and more.)
The writer/director Adrian Jackson specialises in writing about downtrodden "unpeople". I attach his note in the script, which was sold instead of a programme (and good value at £4!).
Each actor had up to six roles, which was difficult for me to get my little head around.
"Prospero" was the main character - that of a trouble, young, unemployed black person looking for his past and digging it out bit by bit as the evening progressed. He discovers that he is a Chagossian. . .
The prominent role given to the Conservationist (Teddy Hibbert) at the beginning and at the ending (creation of the Marine Reserve) was clearly modeled on Charles Sheppard, the Scientific Advisor for the BIOT. The character was a more passionate conservationist than the Charles I know, but again, given artistic licence, not unreasonable. The character of Mary, the Conservationist's wife, was assigned the role of bringing out the treatment of a few humans compared to the treatment of reefs, fishes, etc. . . the human touch you might say, contrasted with scientific realism. Total artistic licence even though it made the point well.
The great U of K helping Falklanders but not Chagossians was duly emphasised. There was, however, no mention of Chagossians' success settling in Crawley [in West Sussex by Garwick Airport for those of you not familiar with the greater London area].
One strand of the play showed how the US got the Brits to do the hatchet work, and they in turn got Moulinié (the manager of the Chagos Plantations at the time) to do their dirty work; he is portrayed as a nasty piece of work. The prison accommodations on Seychelles during the evacuation, the small compensation paid, the poverty on Mauritius, etc. all duly highlighted. Meetings between US and UK service and diplomatic personnel, etc., very well done - each in very short little cameos, e.g., in the Army & Navy club, in a Mayfair restaurant, etc.
Altogether an excellent evening and I would recommend all of you to take the opportunity to see it if you can fit it in. It runs to 10 March 2012.
Information and tickets available at www.riversidestudios.co.uk/

But Wait! There's More!
Nature Books and Pamphlets for Sale: From the Chagos Conservation Trust... Want a nice set of coffee-table booklets on your favorite tropical paradise? Go here and buy them direct... Also, they've got a great CD with lots of cool pictures, and they also sell "Peak of Limuria".

These are the same books for sale in the Stars & Stripes Bookstore on DG, and now you don't have to go back to get them - you can now buy them direct...a couple are co-authored by Charles Sheppard, and some by Commander John Topp, who was Brit Rep out there in 1986, and a very dear professional friend of mine (that's an inside joke).

You can get one of CDR Topp's reports from the University of Hawaii. Go to their web site, scroll down to No. 313, "An annotated check list of the flora of Diego Garcia, British Ocean Territory" and click Dowload PDF File. It's not as pretty as the booklet for sale, and has no photos, but if you'd like a list of the plants you passed out in while you were out there, well, you can get it there.

Indian Ocean Area Books and Maps for Sale - Larry Bowman's site where you can buy (or sell) books, prints, and maps about the IO, including the BIOT and Diego Garcia. This is where I got my copy of Atoll Research Bulletin No. 149. Give it a try, if you're really interested in rare and intriguing stuff.