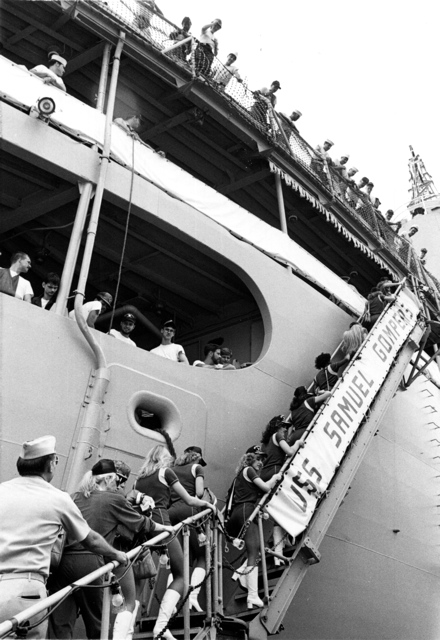 Dallas Cowboys Cheerleaders board USS Samuel Gompers, their home-away-from-home in the lagoon of Diego Garcia Dec. 30, 1982. The cheerleaders performed two shows on the island before taking a COD flight to the USS Enterprise carrier battle group for three more shows for the battle group.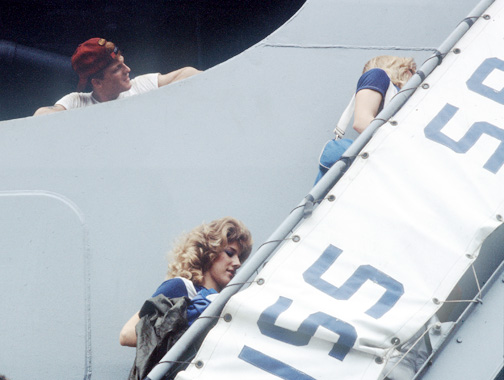 Watching Dallas Cowboys Cheerleaders coming aboard USS Samuel Gompers, their temporary home after flying to Diego Garcia for a USO show. Crewmen were very interested in the Cheerleaders' arrival.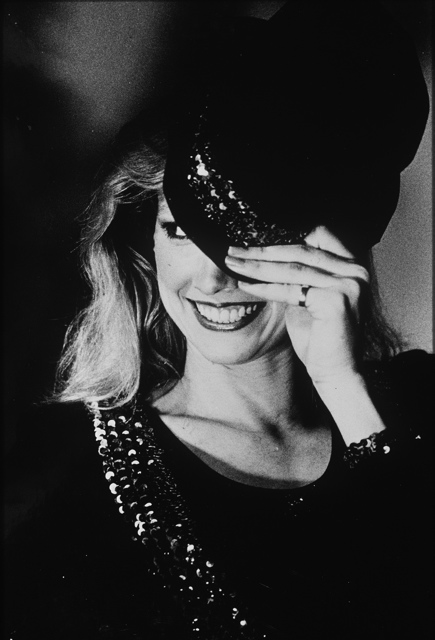 Dallas Cowboys Cheerleader Angelia Pannell during a show on Diego Garcia, Christmas 1983. USN Photo by PH1 Paul Soutar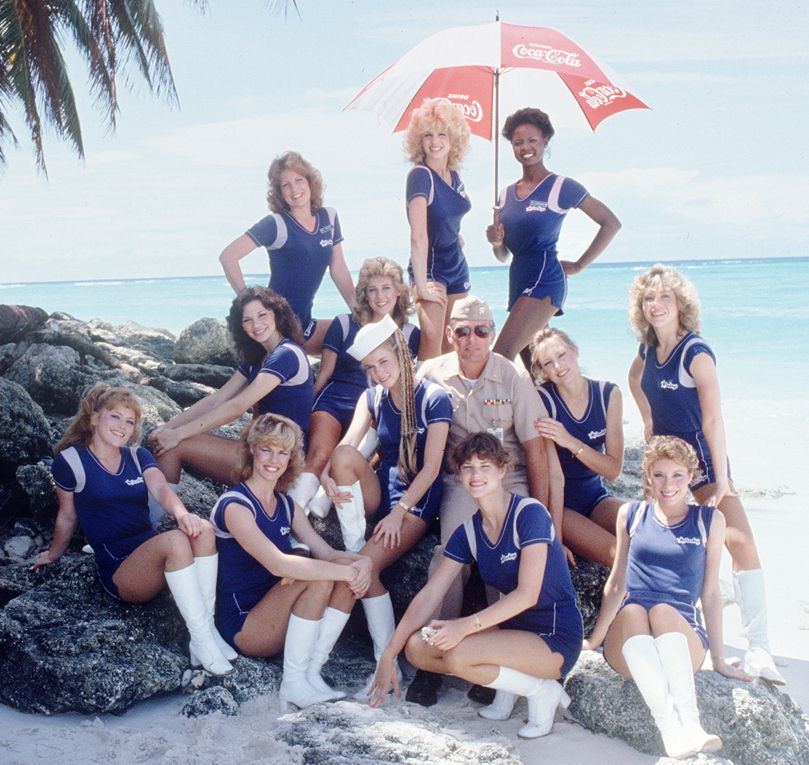 Twelve Dallas Cowboys Cheerleaders pose with a Navy Commander (don't recall his name but do remember the girls were vary gracious at his
intrusion) on the beach at Diego Garcia. The cheerleader with the long braids is Judy Trammel, now choreographer for the DCC.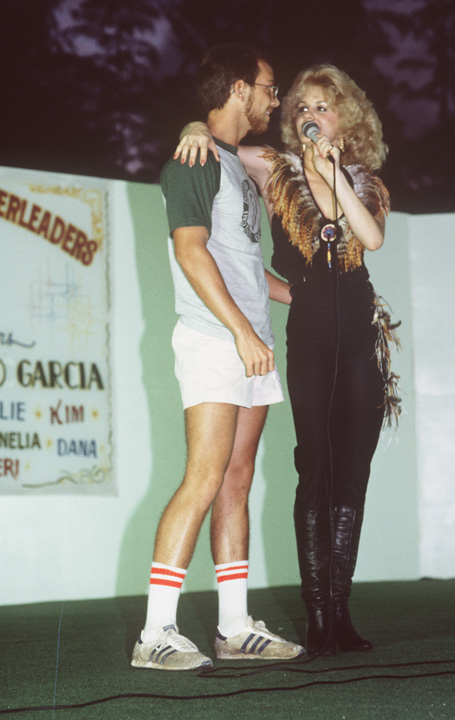 Dallas Cowboys Cheerleader Dana Presley sings to a rather stunned serviceman during a USO show on Diego Garcia. Another opportunity for your readers to ID the guy. I think he may have been the guy from the audience with the most time on the island at the time.
During the show they invited several of the men on stage. One didn't seem at all embarrassed about sporting a rather obvious male excitement meter as a cheerleader hugged him as she sang.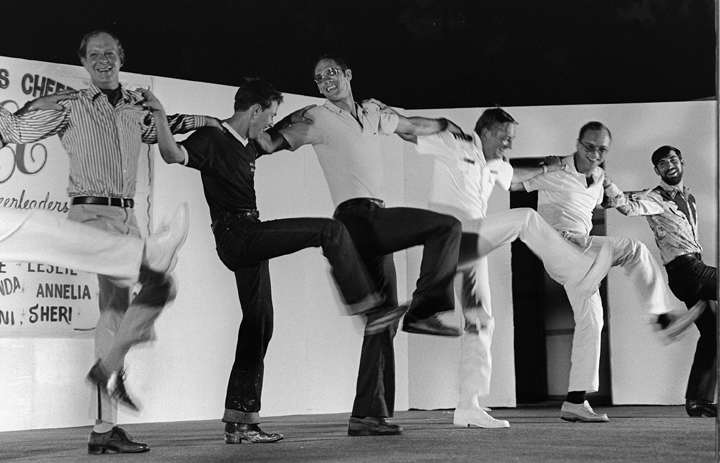 Top commanders, both U.S. and Brit, on Diego Garcia participate in a little chorus line dancing during a Dallas Cowboys Cheerleaders USO show. Might be fun for your readers to help provide names. I don't have them. (EDITOR'S NOTE: Who says they didn't allow gays in the USN?)


Paul writes: "That was tough duty, following and photographing 12 gorgeous women for two weeks. When they finally got to Subic a couple of weeks after I left them, my wife made a batch of cinnamon rolls to fatten them up. My father-in-law, who saw a USO show from a ship in Lingayen Gulf in 1944, got kisses from them all. I think that's why he started loosing his mind the next year or so."


Paul's other DG photos: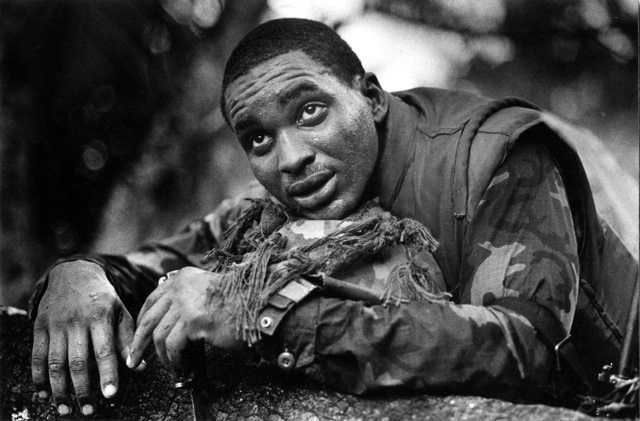 One Tired Marine. This Marine may have participated in an early counter-terror exercise on a small island in the Indian Ocean in 1981. If he did he'd be pretty tired after a direct flight from Okinawa, jumping off the ramp of a taxiing C-141, humping through the scaviola all night then having a fun encounter with some Army Rangers before this photo was taken. If I had taken these photos they're never be released because the Brits would have decided to be very quiet about any such exercise.
EDITOR'S NOTE: I was the pilot of a C-141 that did exactly what you describe (this exercise or another just like it) and remember doing an quick ERO at the far end of the field for these guys to jump out. We then taxiied to our regular parking location by the terminal, went downtown and got drunk toasting the USMC, who we knew were drinking rancid water out of their helmets...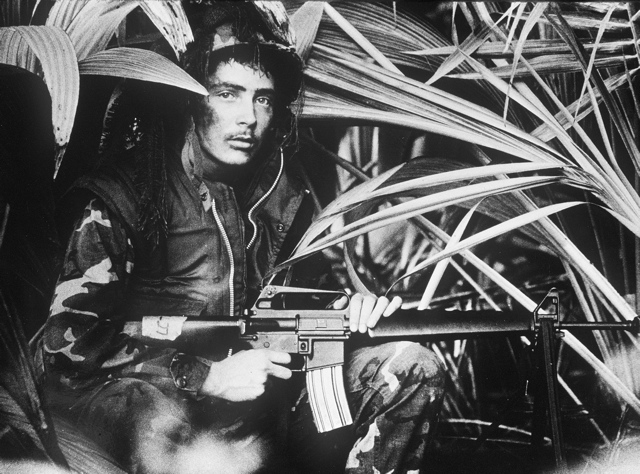 Likewise for this young Marine in the scaviola. A good friend of mine, a graduate of the Navy's BUDS school, would have also been there for the fun, if it really happened.


Photos Copyright by Paul Soutar
Visit the Rest of The PPDRDG by Returning to the Site Map and Picking Another Page!
Want to use something from this site? See the TERMS OF USE.