YOKOSUKA NAVAL BASE, Japan — Sailors in Japan better forget their flip-flops, ditch their do-rags and burn their baggy jeans, because the Navy is cracking down on civilian clothing.

Rear Adm. Robert C. Chaplin, the commander of U.S. Naval Forces Japan, issued the first comprehensive set of guidelines for off-duty attire of naval personnel in Japan two weeks ago. The controversial order affects all active-duty officers and enlisted personnel based in Japan and the Indian Ocean base at Diego Garcia.

Under Chaplin's order, sailors are barred from wearing certain kinds of casual clothing in public, including head bandannas, flip-flops, tank tops, halter tops, oversized shirts and trousers, tank tops and jogging suits, with exceptions for swimming or sports.....

....The policy didn't result from specific incidents or complaints, said Cmdr. David Wells, a CNFJ spokesman. [we just dreamed it up one night at the Officers' Club over a couple martinis....]

"The CNFJ leadership felt the existing civilian clothing policy needed to be updated in order to align all the Navy bases in Japan to the same standard to ensure consistency across the force," he said.

Commissioned officers and chief petty officers are authorized to write up violators with "infraction chits," which will be turned over to the sailor's command for possible disciplinary action. [Next week, Admiral Chaplin is expected to rescind the prohibition against flogging to assist commanders to find suitable punishments for dress code violations...]

"The whole drive is to reinstall a sense of pride and professionalism," said Capt. Dan Hartwell, Chaplin's chief of staff. "You have to look good. ... this is a whole mindset that we're working on here." [and, by golly, we're going to make sure EVERYONE has the EXACT SAME mindset before we're done with them...]

Hartwell said the order went through several drafts since April, when he began working on it with several Yokosuka-based command master chiefs. [who refused to give their names during the interview, and had their faces blurred out with those little square pixel thingees too...]

"We've laid the expectation out so it's in black and white," Hartwell said. "It's clear guidance, not confusing.".... "This is an order, it's not a vote," said Hartwell.....

.....Other services to follow?

Hartwell said CNFJ has received "very, very strong and positive feedback" from the other bases under its leadership. "We've gotten nothing but rave reviews," he said. [I'll bet. Do you think that the fact that Admiral Chaplin writes their fitness reports has anything to do with it?]

They are so good, in fact, that he said the order has been forwarded to U.S. Forces Japan with a suggestion that other services consider adopting their own versions. A USFJ official said she wasn't sure whether that would happen. "This is the first we're hearing of CNFJ's policy, and to this point we haven't considered adopting their civilian clothing code at USFJ," said Master Sgt. Leah Gonzalez, a spokeswoman for the multiservice command. [in fact, she went on, off camera, 'all us enlisted folks and company grade officers think that Admiral Chaplin rolls ball bearings around in his hand. God knows what he's going to come up with when he finds out about the strawberries....']

CNFJ leaders believe the furor will die down once people get used to the new regulations. [and after a couple dozen Admiral's Masts and floggings drive home the point...]

"This will probably evolve as the questions get answered," said Wells, the CNFJ spokesman. "It's certainly a step in the right direction." [does anyone seriously think that Admiral Chaplin's spokesman would say anything different?]

New provisions

The commander of U.S. Naval Forces Japan, Rear Adm. Robert Chaplin, recently issued CNFJ Instruction 1020.3, which strictly regulates what civilian clothing servicemembers working on U.S. Navy bases may wear in their off-duty time, including time spent away from the base. Among the new provisions:

• Flip-flops or "dive booties" may not be worn except at beaches or pools.

• Shirts or blouses with long tails must be tucked inside the pants.

• Sleeveless tank tops and see-through mesh tops may not be worn except during physical training.

• No halter tops, tube tops or swimsuit tops, or any shirt that bares the midriff. Women may, however, wear sleeveless sundresses.

• Oversized shirts and trousers are prohibited, as are trousers that sag enough to expose any portion of the underwear or buttocks.

•Unnatural hair color is prohibited.

• Women may wear up to two earrings in each ear when in civilian clothing on or off base. Men may wear up to two earrings in each ear when in civilian clothing, off-base, and on liberty. All other tongue and body piercing is prohibited.

• No beach or athletic clothing, such as running shorts or jogging suits, are permitted in any on-base facilities such as the commissary, exchange, restaurants, theaters, libraries or bowling alleys.

• Bandannas, do-rags and hair nets are prohibited as headgear, except during sports or physical training.

• Shorts must not be too revealing.

• Tattoos or brands "that are prejudicial to good order, discipline and morale or of a nature to bring discredit upon the U.S. Navy" are prohibited.

For the complete text of the order, check the Web site for U.S. Naval Forces Japan: ww.cnfj.navy.mil/cmc/cmc%20main.htm
[Editor's Final Note: "Don't give up on me Dad..."]
See the Stars and Stripes for the Rest of the Article....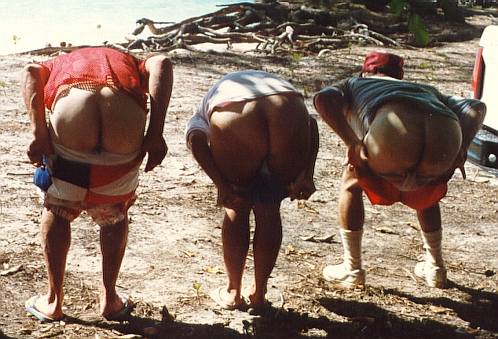 Sailors on Diego Garcia begin to remove offensive clothing following the directive issued by Admiral Chaplin.
Yes! It is clothing like this that degrades the great and powerful U.S. Navy, and it must be removed!
So, all loyal citizens of the PPDRDG! Do your part!
Hurry up and take off those bandannas, flip-flops, tank tops, halter tops, tank tops, swim wear and jogging suits!
Show the Admiral you're part of the team! Do it today!

P.S. Many thanks to Phil Anderson for the heads-up on this article...







UPDATE 2005!
USN DOES IT AGAIN! AND THE USAF BUYS IN!
After 4 years of sending boys and girls off to kill terrorists without proper body armor, the Admirals and Generals bring the axe down on today's generation of slackers... God only knows how we might loose the war because of a few tatoos and Harley tank-tops!

Ed. Note: I feel like I'm a 10 year old Air Force Brat back in the 50s again when we had to have military haircuts - note that the policy applies to dependents, retirees, contractors, etc., etc. Also, when did they decide we have to fight wars sober and with no Playboys? Thanks to TSgt T.S. for the head's up (Tom, I'm keeping your name off the page, for your own safety!)

Subject: FW: New Civilian Clothes Policy
Date: Wed, 13 Jul 2005 03:15:59 -0000
El Presidente,
They did it again... Gotta love the Navy.
BTW, Mayor Mango's still here, hanging out at the Brit and the Yacht Club every once in a while. The Yacht Club's active again, but the bar's gone and the building and deck belong to MWR now, so it's become more of a sailing organization as opposed to social. (Not that we don't party, it's just our main focus.
Also, I have some pictures of another painted-up bomb; this one has an Orange County Choppers inspiration. As soon as we get clearance, I'll send 'em your way. Take care and keep safe,
Tom
Keeper of the Holy Hand Grenades of Antioch

-----Original Message-----

From: 40 AEG/JA Staff Judge Advocate
Sent: Wednesday, July 13, 2005 8:28 AM
To: 40 AEG All
Subject: FW: New Civilian Clothes Policy
All-
Please read and heed. Diego Garcia is a US Naval Forces, Japan installation. The attached policy applies to all military personnel, it is a general order and failure to comply is a violation of Art 92, UCMJ. Of note: Soiled, torn or excessively worm or frayed clothes is prohibited. Hair nets, wave-caps-do-rags, handkerchiefs, bandannas, or nylon socks on the head are prohibited outside of living quarters. Men may not wear earrings.
V/R

Read the Policy for yourself! (includes photos of what's acceptable, and what's not)

Visit the Rest of The PPDRDG by Returning to the Site Map and Picking Another Page!
Want to use something from this site? See the TERMS OF USE.