January 2009.
If you were there on Diego Garcia around 72ish around the time the Bob Hope Xmas Show happened, and you went to the enlisted men's club on Friday nights, we had a rock cover band. My name is Larry Duran and I played rhythm guitar in that band. I remember Donnie Fromel sang lead and Carl Mobely (sorry if I spelled it wrong) played drums. I can't remember bass player. Richard ??? played lead. Man, it was years ago. Another guy played flute for awhile and we had another singer for awhile. It was a gas. We weren't all that good but by the end of the night and many beers later, everyone (including us) thought we sounded great. What a distraction. Anyone other than myself remember this? By the way, I was in NMCB62 would love to hear from any of you guys.
I was on stage so obviously couldn't take pics of myself but here's the deal. I just know a ton of other dudes will remember (or maybe not) the band and I know they took pics and it will open up a ton of dialog (or maybe not) what a gas. There is alot more "Behind the Scenes" gossip in the making of the band and how we got out of doing duty and we even got paid and we were on the CO's good list and a bunch of other stuff. Most of this stuff I should just keep to myself but oh well, it's not war secrets or nothing. Just moral boosting stuff and that's all it was.
Man, I haven't even thought of this stuff in well over 30 yrs. Only reason is that an old Seabee buddy died this past year and I feel bad that I never told him how much I really liked him and how much he made those rotten times go so much better. I know it sounds corny but hey. He wasn't on the rock but joined 62 right after that deployment.
Sorry I only had the two pics of the band, and it is not the original band. We went through a few changes as guys shipped out and of course the usual band hassles. What happened was this. The deployment 62 had prior to DG was the last one to Viet Nam. 62 had some band equipment and as I understand it the guys could use it whenever they wanted, kinda like checking out basket balls and stuff like that. In Nam they formed a band to sort of entertain the troops to keep moral up. In home port I found it and contacted this dude named Richards or something. In the Nam band he played bass but wanted to switch over to playing lead. In the world I played drums but we need a rhythm guitar player so that's what I played. Carl Mobely played drums (not pictured) and the blond dude always played bass. Donnie Fromel sang lead and was fantastic. We got together and rehearsed at homeport and actually did a few gigs there at Gulfport.
When we deployed to DG we played the enlisted men's club on friday nights and tore the place up. The guys would get so blasted and have a great time. There was a cook, some first class cook first name of Dave who would cut up some lunch meat and about nine o'clock would bring a can of mustard and mayo and sliced bread over and leave it out as a snack for the dudes. He did this out of the goodness of his heart. I don't know if anyone ever said thanks but that stuff got devoured and we were thankful to have it. No McDonalds there for munchie runs. I know a lot of people will remember those nights there. We sure had fun and it helped make the time go better.
I can't remember the CO's name but he sure supported us. We kept moral up and he liked us. He was truly a man's man and kind of reminded me of Clark Gable. I think his name was Newcomb and then that other guy took over. Anyway, just about half way through the deployment band hassles took over and peoples feelers got hurt, people got butt pain or butt sore as my kids say and we broke up. It was fun while it lasted but all good things come to an end. I hope this opens up some good memories for some people and would love some feedback.
Donnie Fromel was the best lead singer in the world and I wonder if he ever pursued it on the outside. I still play drums in a working band, we gig about 2-3 times a month at the local bar scene here in Sacramento CA. It has given me a world of great experiences and opened many doors for me. I will always remember fondly those nights there on the rock as some of the best because I think the guys there really appreciated it the most. Thanks. Lawrence Duran RN (Registered Nurse).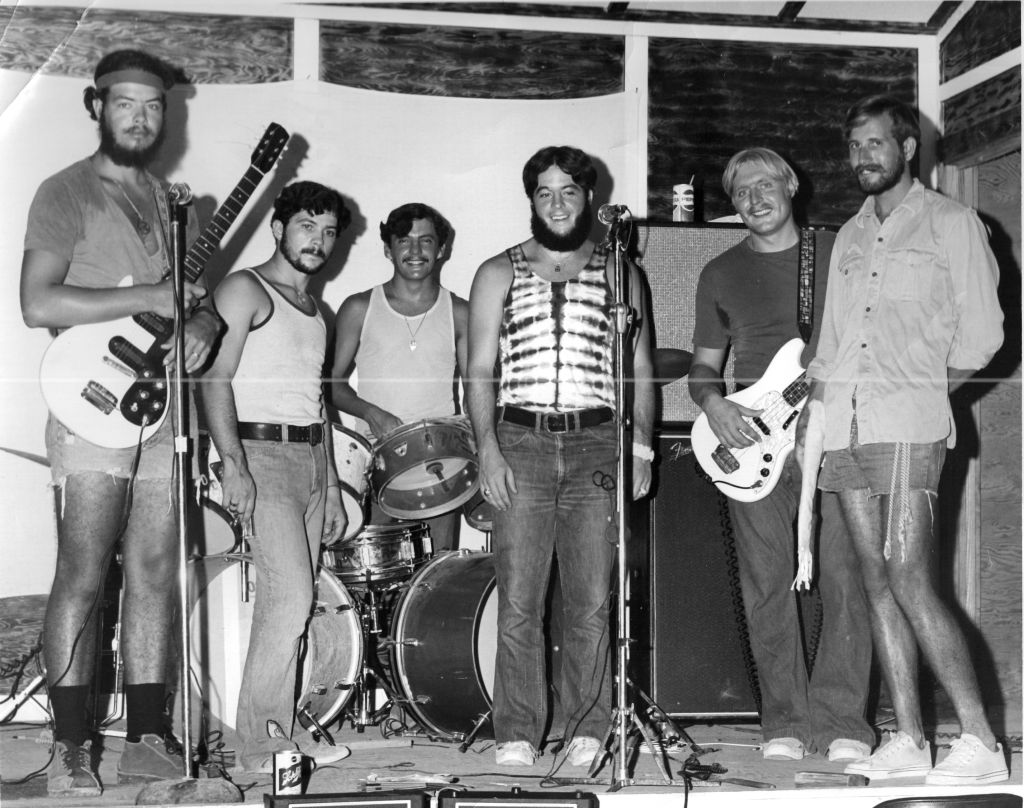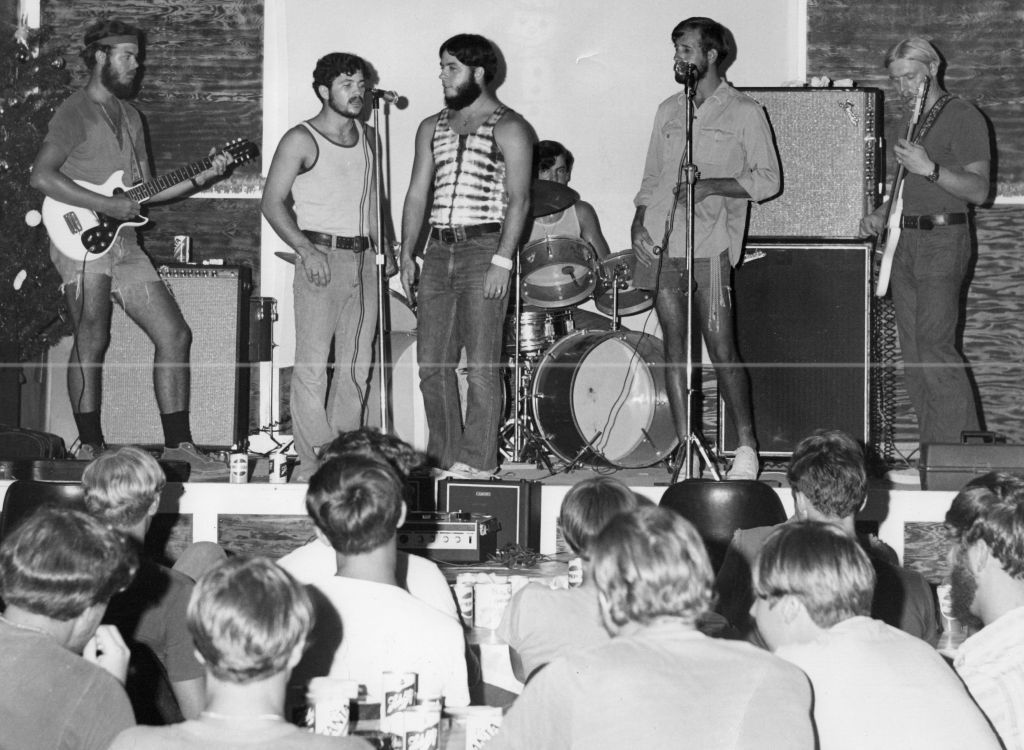 Larry sent some other great photos, and here are some of them. But first, the FIRST BUMBPER STICKER on Diego Garcia!

Here's Larry: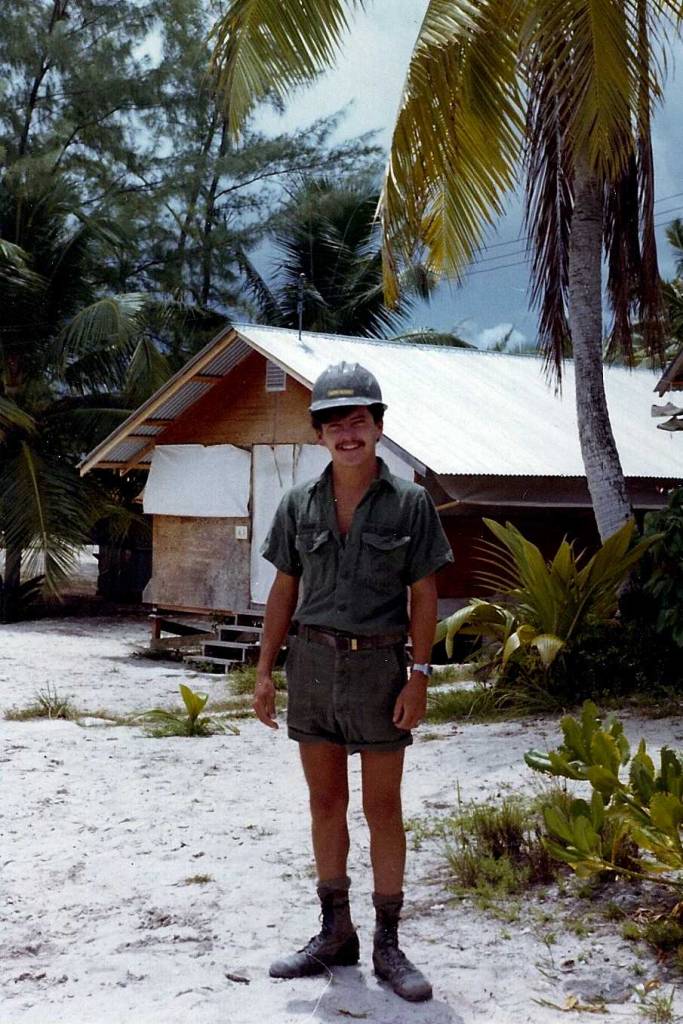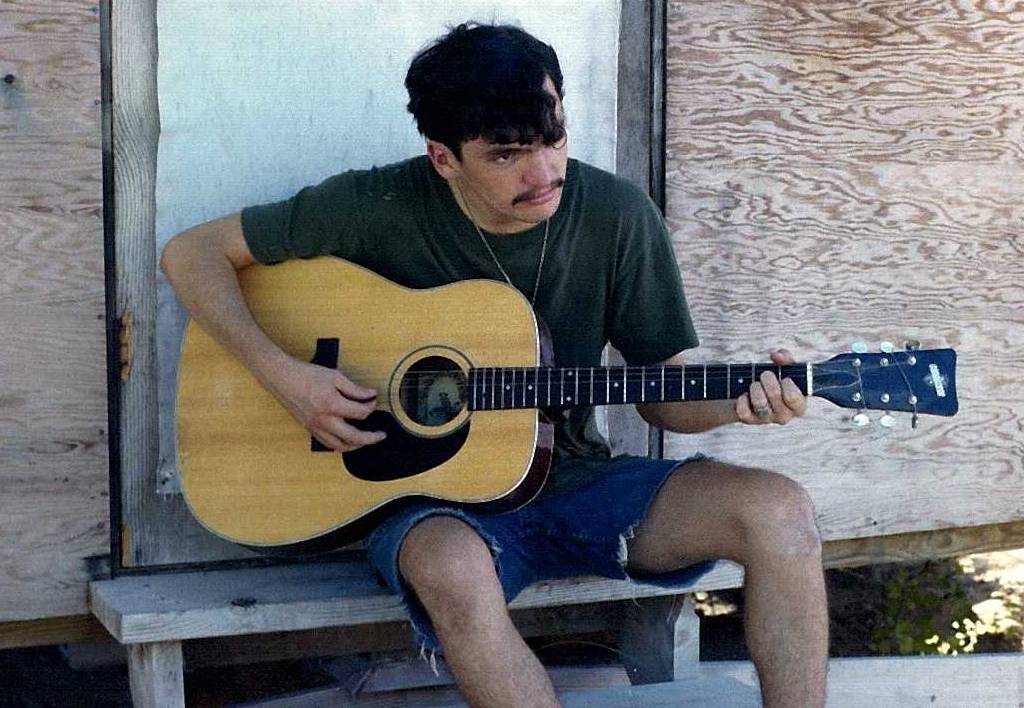 Here's Larry and his buddies Pat Kelly (center) and Mark Champagne: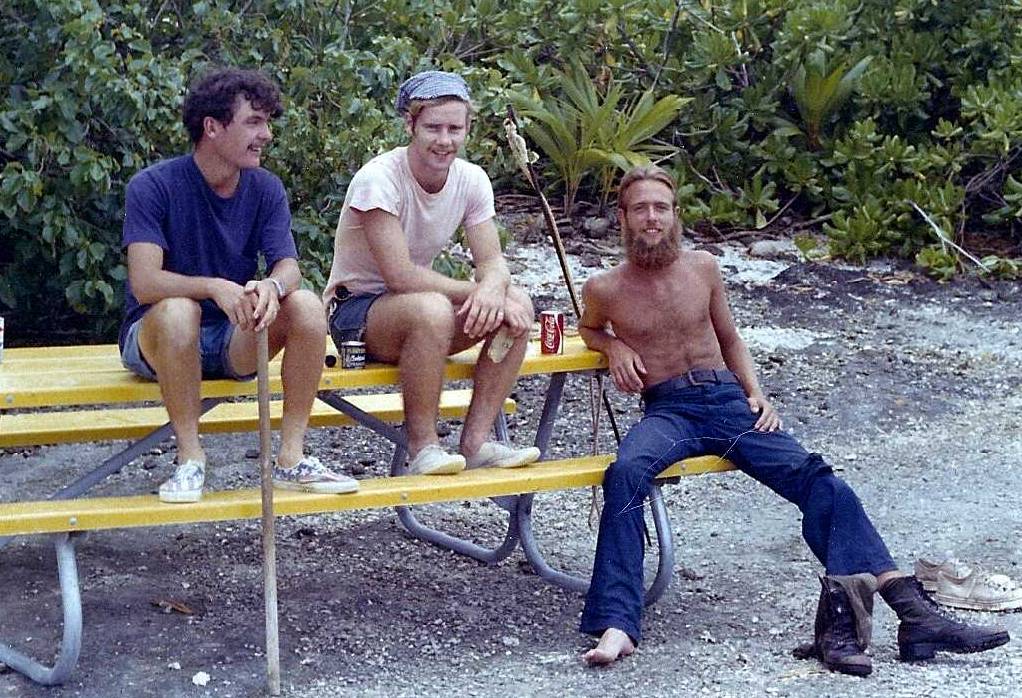 Here's Larry and the gang at the cookout: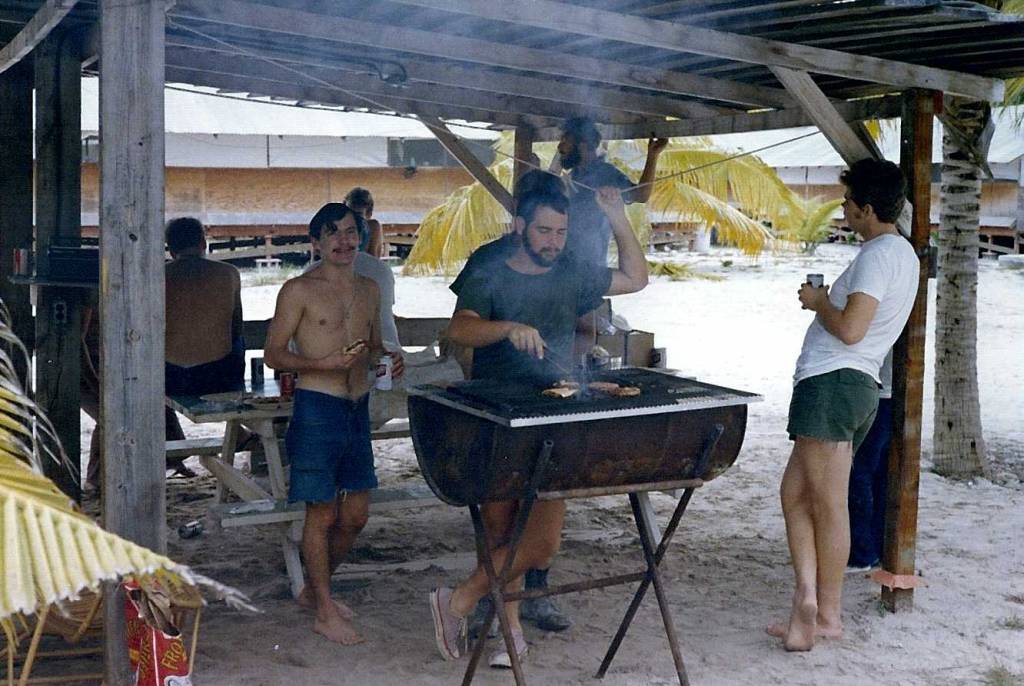 Larry wants these guys to contact him, but he's forgotten their names. Anybody know who they are?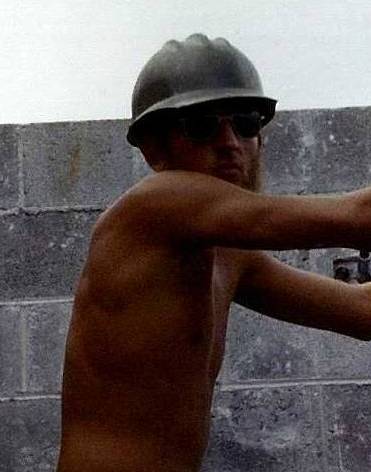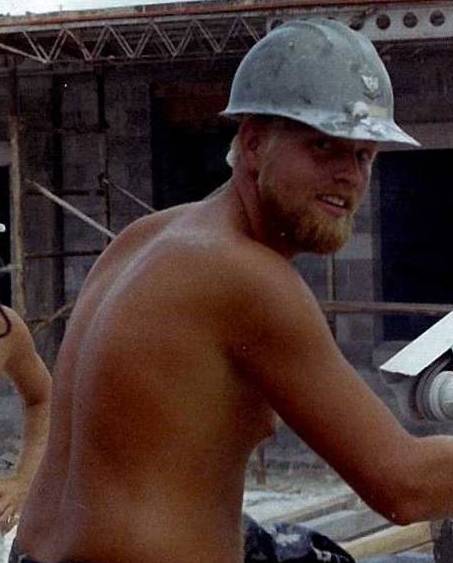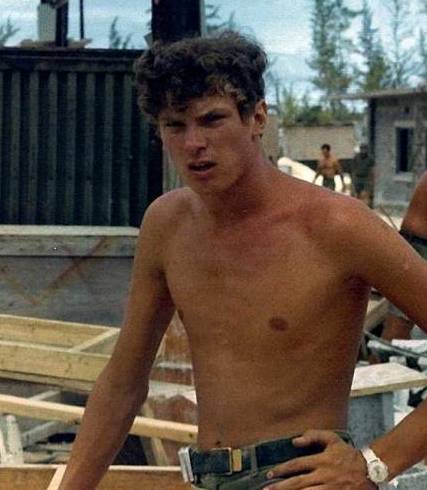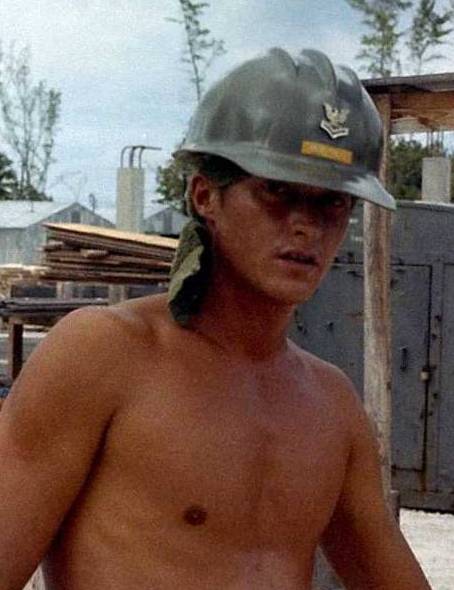 Here's how they all got around the island: DTA - Diego Transit Authority!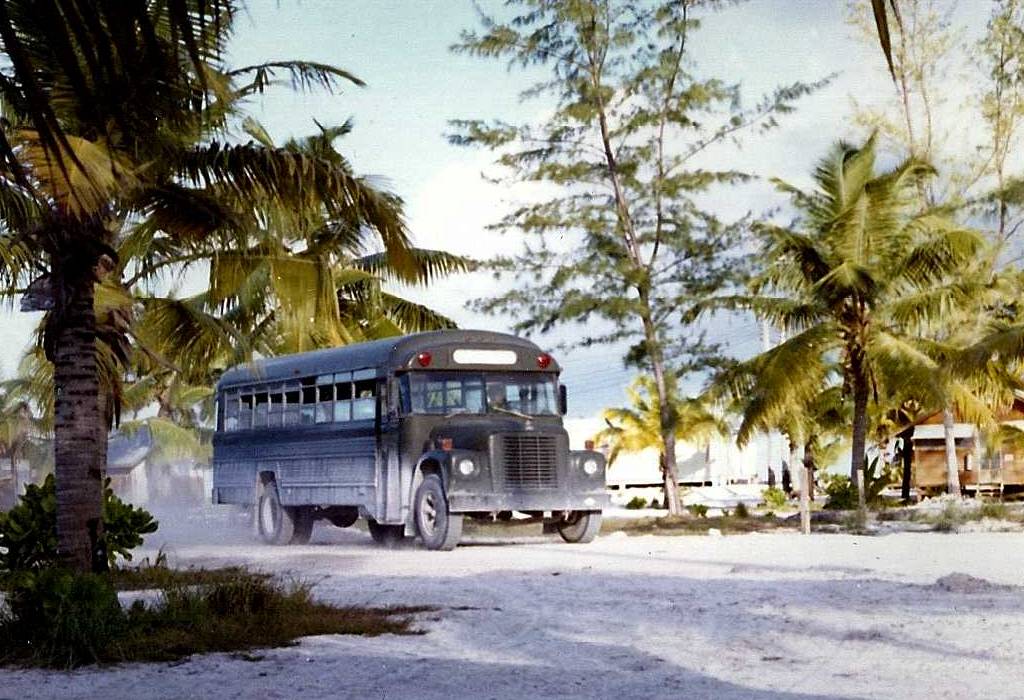 And here's Larry's Picture of Bob Hope (with Miss World to his right):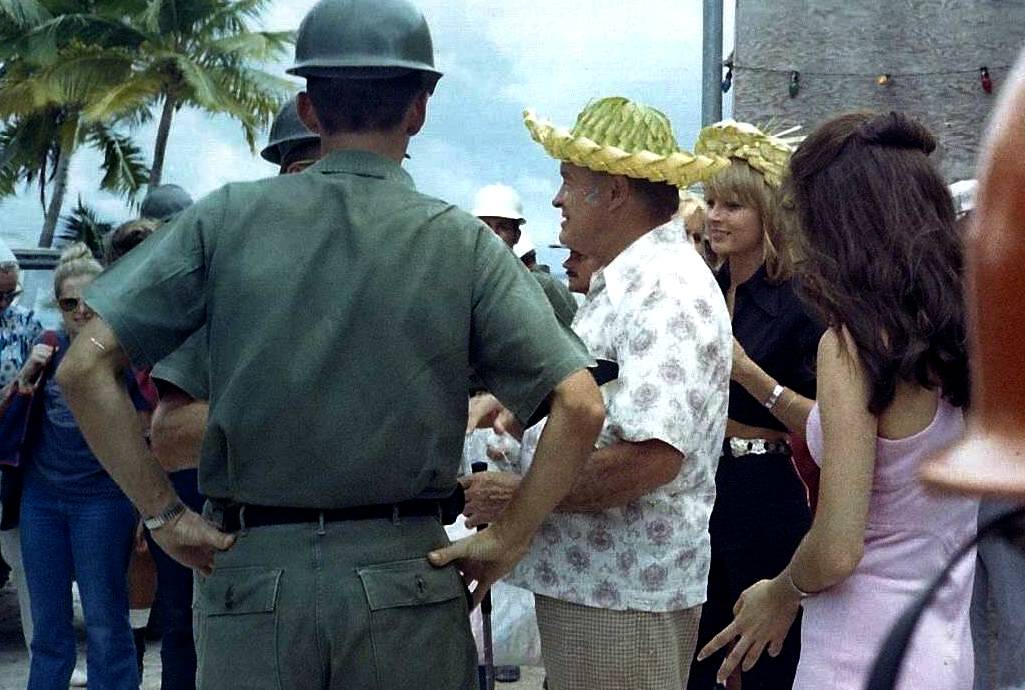 Be sure to check out Larry's other photos on the

Plantation Page

!



A SAD UPDATE: From Bob Wierzbicki, "It is with a sad heart that I must report that Larry Duran passed away in May 2013. God Speed. Smitty"