By 1973, the US Navy knew it needed a clear ship channel to permit deep draft ships to enter the lagoon. In 1974, they contracted with a Santa Barbara, California undersea diving company - Oceaneering International - to open the channel between Downtown and West Island. The company brought in a dredge and operators from Taiwan, and divers from all over the world to complete the job. Yoel Levi, from Israel, was one of those divers. Oddly enough, the Brits saw these civilians as a potential threat to the peace and quiet of the island, and for the first time since 1888, deployed police to the island. The divers, dredges, and their hand-built pub are long gone. But the cops are still there...

When Yoel sent me these photos, I ask him to provide some stories to go along with them. Here's his warstory:


About stories to fill out the page, I have stories from Diego Garcia to fill out a book, believe me, I was there 5 month in early days of the island and it was amazing.
We were diving and blasting in first half of the day, After noon we did water ski, fishing, bar b q, drinking beer, play ball in little pitch we had right in center of the camp, Night time, in full moon we went to catch lobsters, sometime we had so many we couldnít eat them all, I remember in 4th of July they put big tin drums (200 liter each) full with ice and beer all over the place, free for everyone.
One day arrived in the island French naval ship called "LA CHARENTE", They arranged soccer mach against the island team. They were thinking very high of themselves about soccer. I played in the island team, we beat them 1:0, I still have the medal we all got for wining this game. [editor's note - anybody who can kick the French in the ass like that if my hero]
We also build, next to our huts, a pub we name it "etammogah", name was something to do with the Australians we had with us, they picked the name.
The pub was open for everyone, solders and our team, of course, we use to have there drinks and B B Q.
I am talking about 1975, it was the beginning, every thing you like to do was acceptable.
The company I worked for was "OCEANEERING INTERNATIONAL", they based in Santa Barbra, California, and still operating today, 1 of the largest diving company in the world.
When we just arrived on the island, there were many donkeys running wild and chickens, even 2 white horses, They all were left after the original local people were kicked off the island, in order to build the base, even their village on the other side of the island (the plantation) was looking like people still live there, they left in a hurry.
Ok, I hope thatís ok. If you put anything on the page, feel free to correct my English:) yoel [another editor's note - Yoel, I wouldn't think of correcting your perfectly good English. You're doing a lot better than I would do in your language.]

The Dive Boat Gets A Paint Job


This pier is located on the lagoon side, where the Seaman's Club now stands.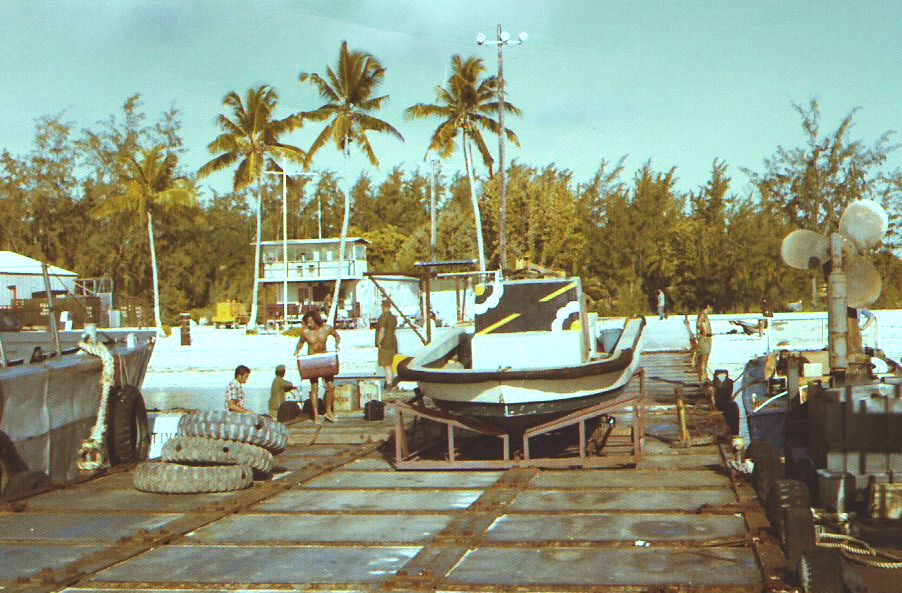 Loading Explosives in the Morning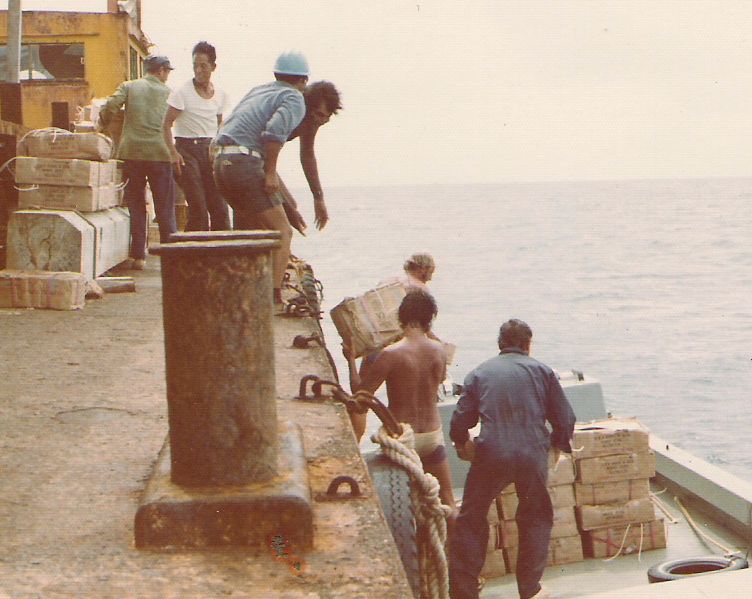 Heading Out To the Channel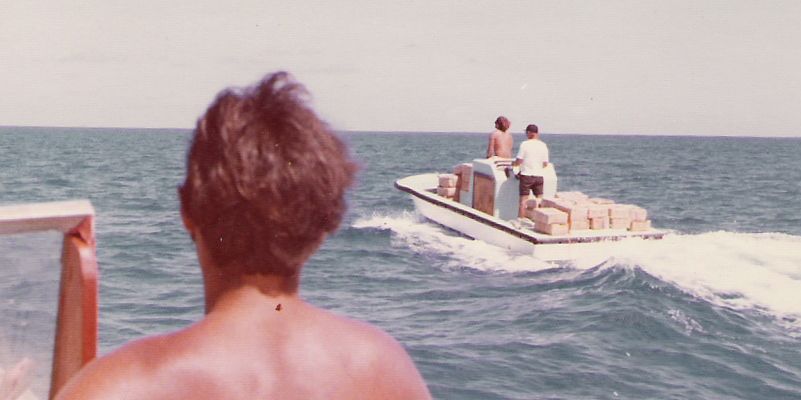 Yoel Sets The Charges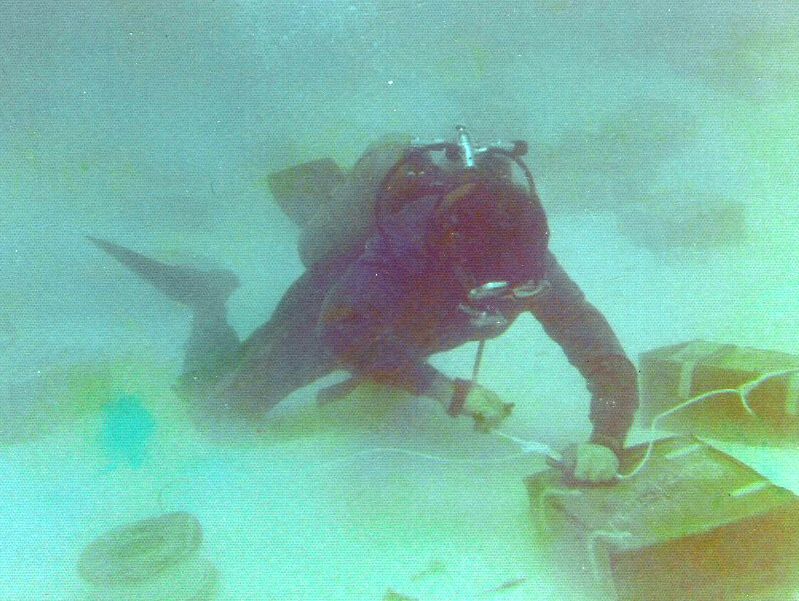 The Day's Work Is Complete!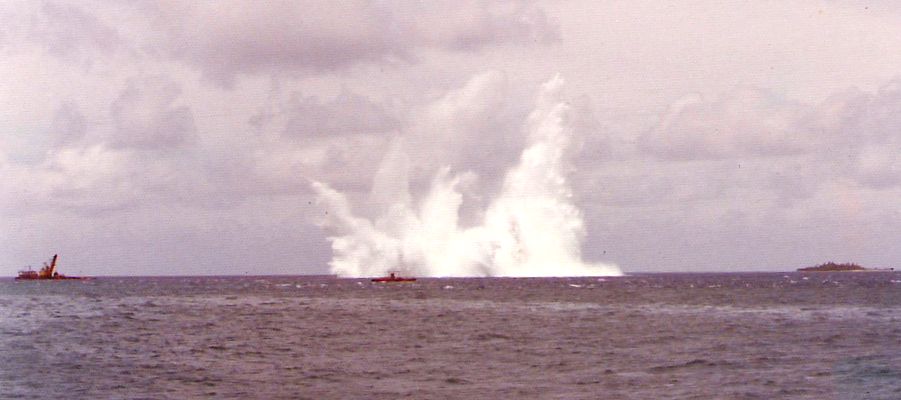 Except for the boys on the Dredge, who never got to slow down!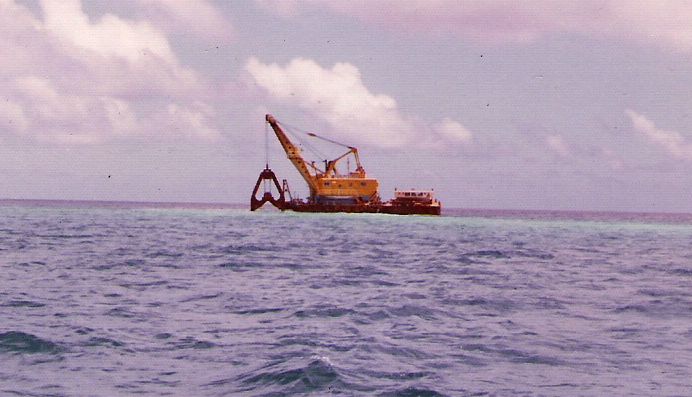 After the work was done, the divers recreated like thousands before and since by
SHARK FISHING NUDE!
I don't care what anyone says, that guy has balls of stone!
Would you get anywhere near a shark while flapping in the wind?
He's got to be Australian.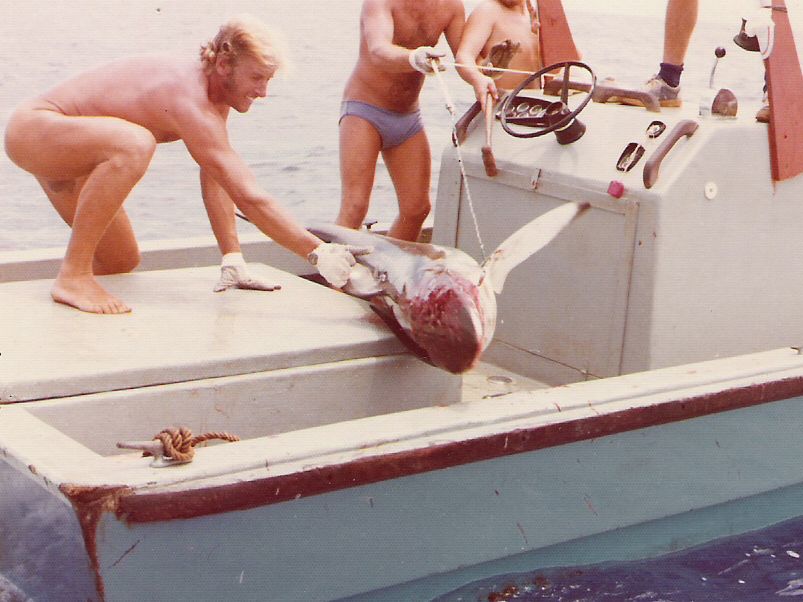 And after they chummed the water,
they gave Waterskiing Classes!
Here's Yoel's story of how he learned to Waterski:

Ted, Just remember a funny, also scary, story. It was well known that in the entrance of the big lagoon there were many sharks. We used to see them while working and also catch them some time. They were biggggg - believe me - 2 meters long or more.
So, some of us never water ski before coming to the island, I was one of them. We learn ski over there. The guys who were driving the boat took us right over that area. They say that is the fastest way to learn ski, simply because you cant afford to fall over. And it worked. I left the island an expert (and no doubt with your balls still attached)!

Yoel

AFTER A LONG DAY OF BLOWING SHIT UP, SUNBATHING NUDE, AND TROLLING FOR SHARKS, YOEL AND THE BOYS HEADED FOR...
THE ETTAMOGAH PUB!
Yes, just like sailors, contractors, Australians, and EOD troops everywhere, Oceaneering International built it's own bar on the beaches of Diego Garcia. When he sent me these photos, Yoel asked if it was still there, as they had all pitched in and built it with "by their own hands". Sadly, of course, the answer is no. Like every cool thing people build on their own, where they can hang out and do their own thing, as soon as their back is turned, some Captain or Colonel with a bulldozer will wipe it off the face of the earth... Bye Bye Ettamogah Pub, probably not the first, and hopefully not the last, home-grown bar on Diego Garcia.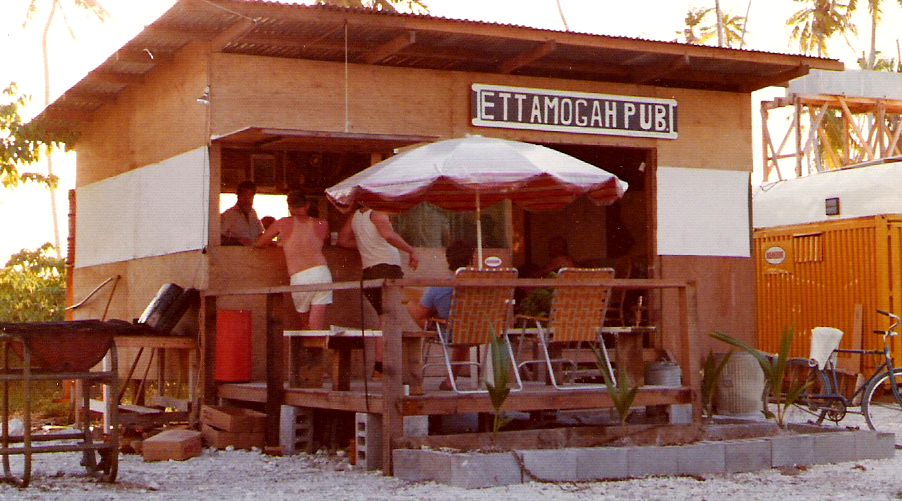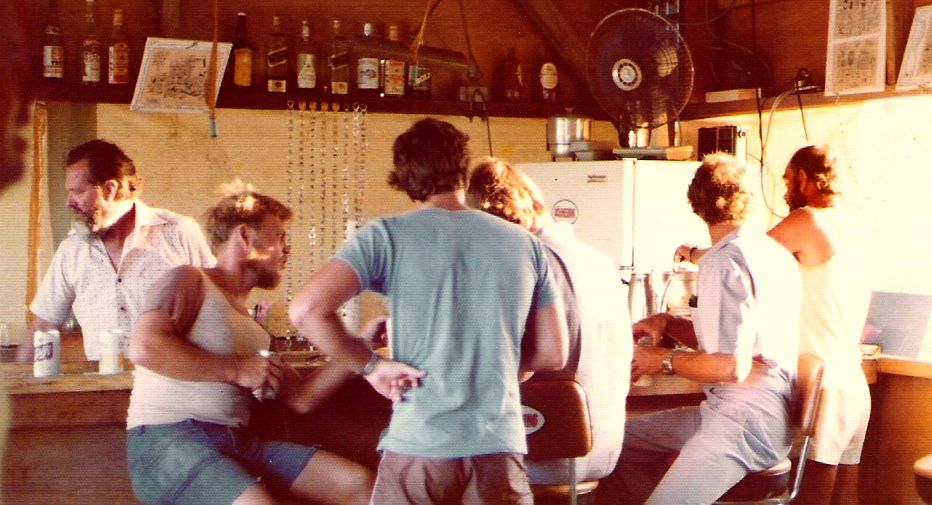 Yoel hangs out with some SEABEES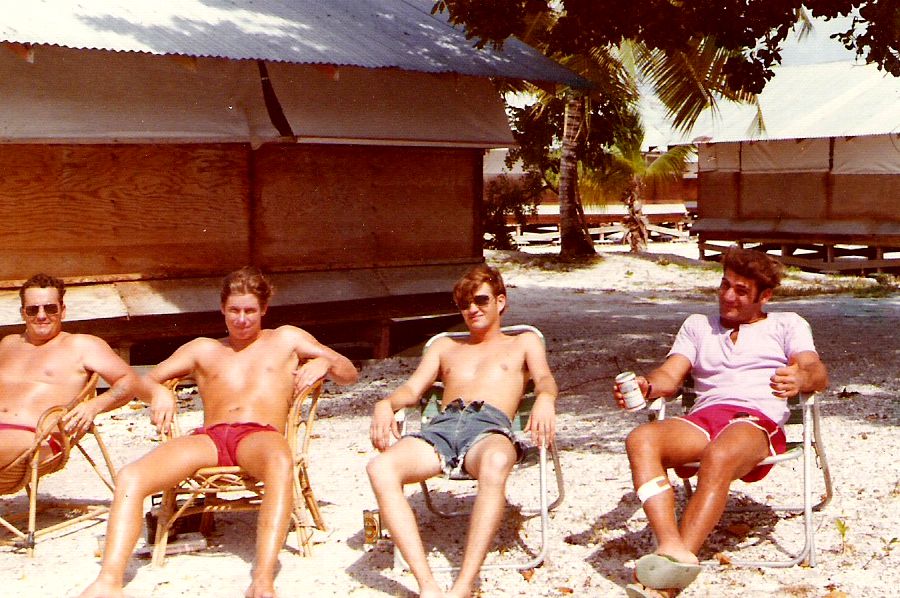 And Then Heads for the USO Show.
(Isn't there Always a USO Show? Send them money to say thanks, Today!)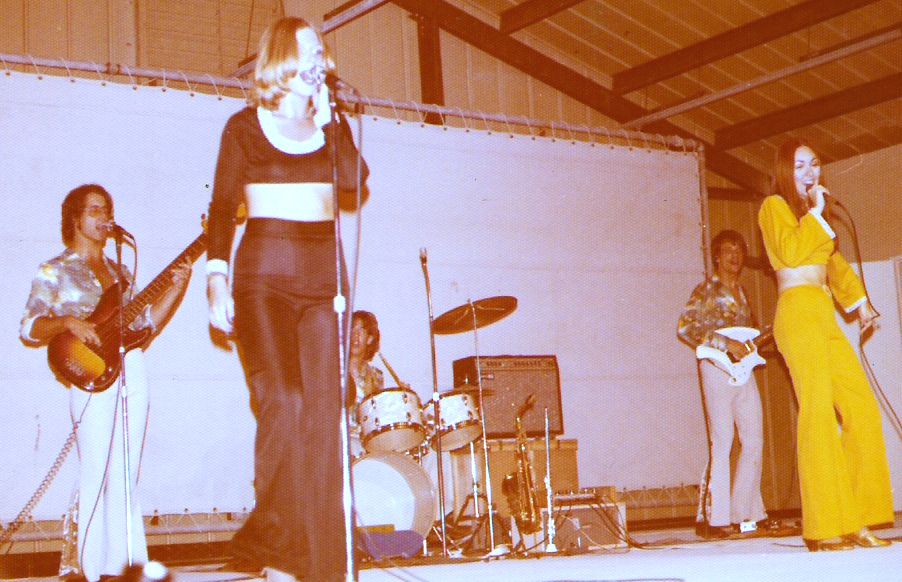 And That's It For This Page!

Visit the Rest of The PPDRDG by Returning to the Site Map and Picking Another Page!
Want to use something from this site? See the TERMS OF USE.
This, and everything else I write and every photo I produce is copyrighted by Ted A. Morris, Jr.