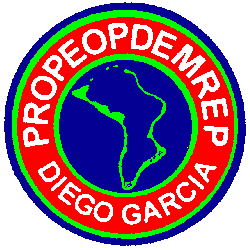 DIEGO GARCIA 1988
ROGUES' GALLERY
The Space Commandos*
*Space Commando (n.): Anyone working at the GEODDS Site for Detachement 4, 1st Space Wing, Air Force Space Command.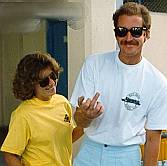 Jeff Hill and Martha, later to become Hill. Jeff loved to fish. Apparently the lure worked, as they had two kids.

Dave Young - Computer Genius. He invented the in-flight fuel computation and navigation computer for the C-141.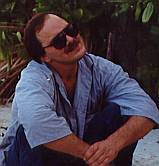 Joe Ross #2. Only because he showed up second (the other Joe Ross worked for FEBROE). Joe was such a glutton for DG, he stayed for a couple years, came back to the states for a couple years, and went back to DG for a couple more. I guess Joe spent too much time in submarines while he was in the Navy.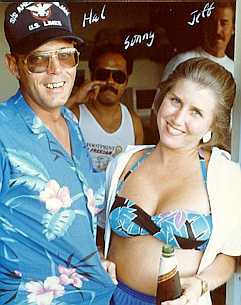 This photo is here to show you Sonny (picking his nose in the background).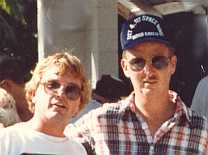 Ken McKeon, inventor and the fastest man alive, and Marty Juul, creator of the Y2K problem, now holding out for more money than he ever dreamed possible to fix it.

Mike. Body Builder. Everybody had to have a hobby!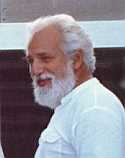 Obiwan Kenobi - a.k.a Bill O'Brien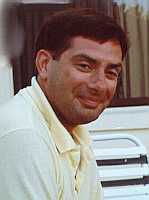 MSgt. Craig Bedard. Long Suffering NCOIC of Det 4.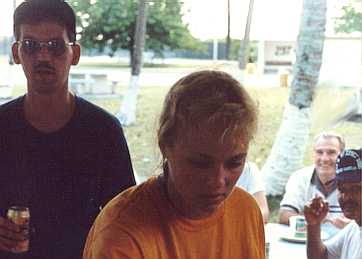 Major Dave Agee, the Det Commander, in his ocassional state - beer in one hand, following around a pretty Navy girl. I call this photo, "Agee in Love, #7". Dave - if you read this, you should have sent me the photos from my going away party you promised you would!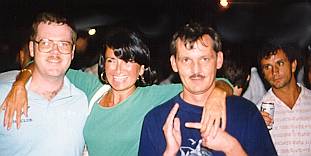 This photo is also on the "Brit Club" page, but I couldn't resist putting it here as well, since Dave still owes me some photos. I call this one "Agee in Love, #23". That's Captain Rich Hand on the left, and Dee Jackson in between.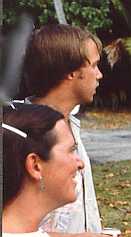 Ramona, and Steve Fehr.