The movies come to Las Cruces...and I hepped...


After several preliminary visits in the winter, in May 2000, Steven Soderberg and his crew came to the wonderful little airport I managed in Southern New Mexico to film scenes for the movie "Traffic". If you've seen the movie, every scene with an airplane in it, or supposedly in the Mexican desert was filmed on the airport right here at LRU! Those scenes are all tinted yellow, but as you can see from the photos below, our desert (the northern Chihuahuan Desert) is actually pretty green!
Of course you don't see the airport at all in the movie, and despite rumors to the contrary, Mr. Soderberg didn't select our airport because it looks '3rd worldish' - it doesn't! Instead, I think he chose us for the desert and wide-open spaces around us (for the shots he was looking for), plenty of runways for the DC-3 to use for the take-off and landing scenes he needed, and our proximity to El Paso (where they went after finishing up here). But mostly, I think he picked us over other suitable locations because we're the most 'film friendly' airport in the Southwest! From Nancy Everist, Director of the New Mexico Film Office, to our Convention and Visitors' Bureau Film Liaison, Ted Scanlon, to the Airport Staff, to the FBOs and Pilots, to the great Hotels and Restaurants of Las Cruces, we all turned on that New Mexico charm and helpfulness that made the crew's experience here as good as it could get!
During their stay, they were kind enough to let me take some photos of their work - not of the 'sets', so don't expect any 'behind the scenes' exposees! And they asked me not to sell them to the tabloids or post them too early! Well, if they read this, I didn't, but now that the movie's in theaters, I can post some of the photos on the web. Here they are:
Terry Nord, owner and operator of Nord Aviation based at the Dona Ana County Airport at Santa Theresa flies a scene used in the movie's trailer, but not in the film itself.
I won't swear to it, but it sure looks like he flew under those power lines! At any rate, Terry is a first class pilot and could make that old Gooney Bird scream.

Unfortunately, in 2008, Terry was apprehended in Mexico in this airplane and imprisoned for alleged smuggling. Mexico is NOT the place you want to be charged with anything, but in the winter of 2015 gooneybird3@juno.com (I don't know who that is) says Terry was cleared of all charges and released.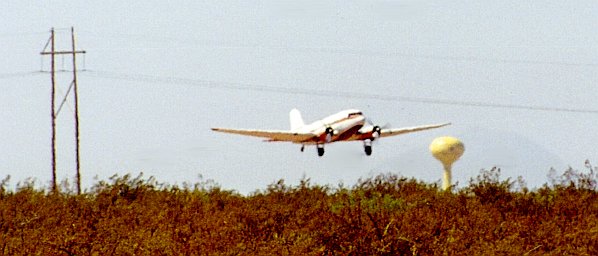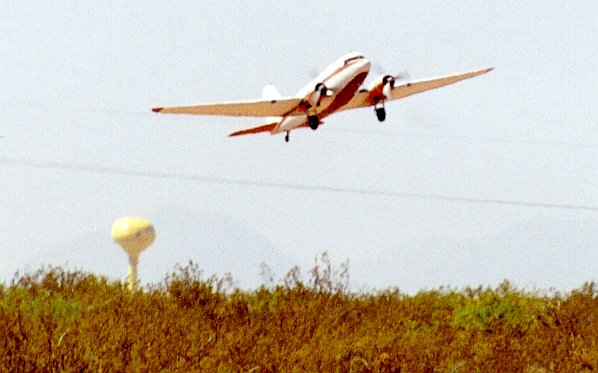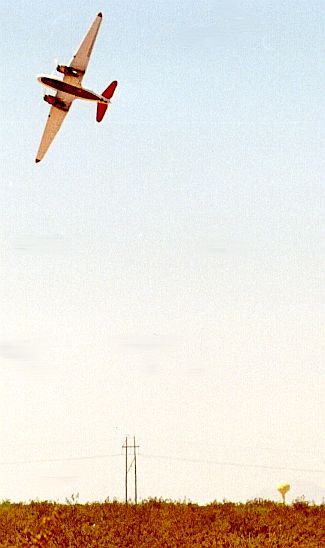 These photos are of the crew packing everything up one evening. I never ceased to be amazed at how organized and hardworking the film crew was.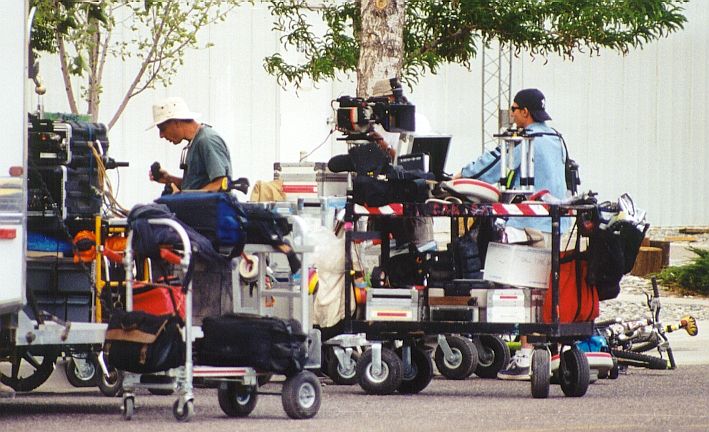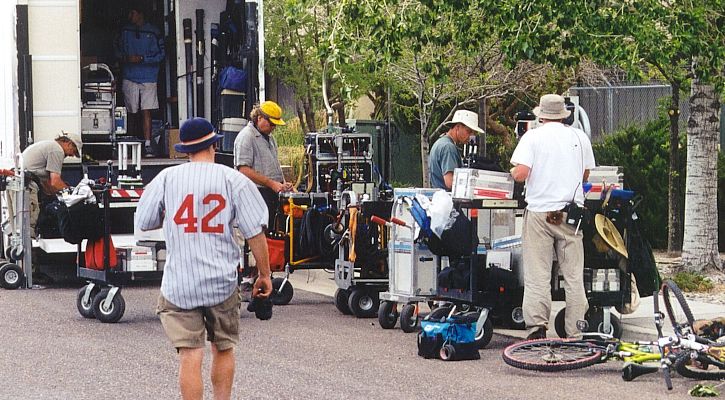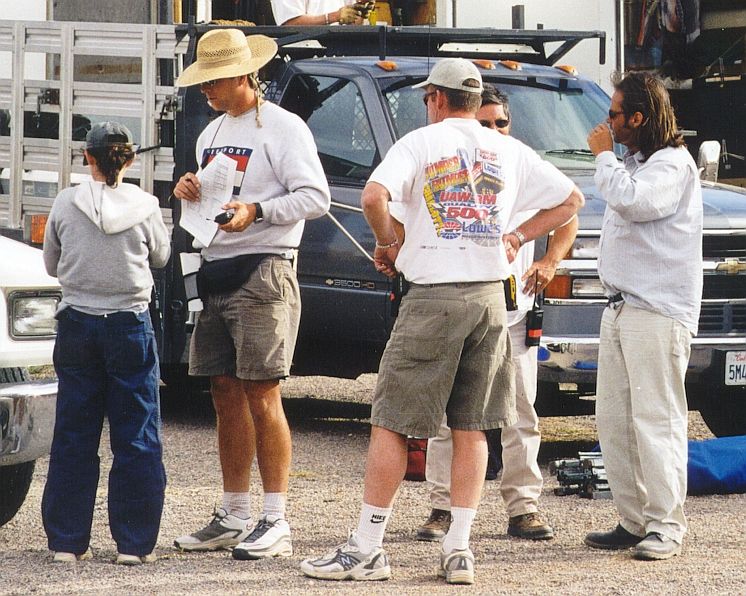 Here's the crew after shooting one afternoon. I assume they were talking about whatever it is that any hard-working team talks about - How did it go today? What's on for tomorrow? How do we chase off the Airport Manager and his camera? By the way, that's Steven Soderberg in the black t-shirt and hat with his back to us.