After getting that letter posted, Cathy and I headed for Florida to visit Greg, Rebekah and our granddaughter, Kirstin.
Dad took care of feeding the birds, Brandi, and the cats, while Sheila-the-wild-one went to a doggie dude ranch, which cost as much as the drive to Florida and back!
Even so, we had a fantastic time spoiling Kirstin.
The only bad part was when I backed into Gregís neighborís $800 mail box.
Cathyís brother Gary and his friend Karen came up for a few days, and met us in New Orleans for an evening of drunken debauchery in the French Quarter before we headed back to New Mexico.
We had Eric home for visits in January and July of í09, and January and June of 2010, and we talk to him every week on the phone.
Heís still doing fine in Oklahoma, and it is hard to believe heís 35!
Heís now going to church with his girlfriend, so thatís a good thing.
Weíll have him home this December too.
Iíve mentioned in the past how Iím active in the preservation of the British territory in the Chagos Archipelago out in the middle of the Indian Ocean.
Iím proud to say I over the years Iíve had some small influence in creating what is today the worldís largest wilderness area (bigger than California or France).
In March, 2009, I was invited to attend the presentation of the Chagos Conservation Trustís proposal to create it to the world at large and the British Government in particular.
It was a real honor to attend the event at the Royal Society in London (the oldest learned scientific organization - so old that Isaac Newton was its
13th
President!).
Once again, I was hosted, this time by Pete, Nigel, Charles and Anne.
Not only did they show me London, but Coventry and Stratford on Avon too.
I was amazed to find palm trees growing in London back yards!
What a fascinating country and wonderful friends.
And by the way, the British Government declared the Chagos reserve on April 1, 2010, just 11 months later. So I can now say I've been part of something important - and successful!
Upon my return, I realized I had made Cathy suffer too long in the summer heat here, so we had the old swamp coolers replaced with central air conditioning.
So now the house is nice and cool and only a blessed 2% humidity (make that freezing cold if Cathy has access to the registers), which is worth every penny as far as we are concerned. Oh, and I quit smoking. Now, 21 months later, I wish I could lose the weight I gained...
In June Ď09 we drove back to Florida to attend Rebekahís graduation with a Bachelorís from Troy University (as I write this, she is finishing up her last papers for her MBA).
While there, I also swore Greg in for another enlistment - I guess he's a lifer for sure now.
We also took the time to drive down to see Cathyís brothers, Gary and Tim.
Gary did his best to get us to buy one of the dozen or so foreclosed houses within sight of Karenís front door in Cape Coral, but we managed to resist the temptation.
Tim and Suzie had their home up for sale in Lake Wales, and later on moved to Lehigh Acres, and bought a real nice house for practically nothing!
Iím glad Iím not in the selling end of real estate in Florida...
Cathy began the Ď09-Ď10 school year teaching 4th grade, and right after school started, one of her students brought in a puppy for her, which she promptly gave to my folks.
They swore they would never, ever have another dog, but ďCharlieĒ won them over.
Heís part poodle and part Jack Russell, and spends most of his time sleeping or running at full speed through the house.
Dad throws his chew toy for him to chase down the hallway of their home, and he has the free reign of the couch and even their bed - something I thought I would never, ever in my life see!
For Christmas 2009, we made the big trip to visit Chris, Janna, Geoff and Connor in Tokyo.
We found $850 round trip tickets from Phoenix to Tokyo on Korean Air, and had a very comfortable trip over and back.
Except for transfers at LAX, which is a mess even on its good days.
Chris is a civilian employee of the Navy as the regional lodging manager for the US Navy in Japan, Okinawa, and Diego Garcia, based at Yokosuka Naval Station near the mouth of Tokyo Bay.
He and Janna know their way around Japan, thatís for sure!
We were able to see the Emperorís Palace, the Zoo, Tokyo-Disney, various Buddhist Temples and Shinto Shrines, and lots of railways and highways!
Of course they all paled in comparison with seeing the kids and the grand-boys!
They are all doing fine.
Chris gets away on TDY, often fills in for the N9 (his big cheese), and his division won the Best Lodging in the Pacific Command this year - better than even the Air Force program, which is saying a lot! Meanwhile, Janna has completed her Bachelorís and has been hired as a part-timer in the schools over there.
Conner is doing swell - talking a lot better - and Geoffrey is a voracious reader and is learning, of all things, the violin!
Both the boys are in Cub Scouts, and Janna is the Den Mother (poor girl!). They all still like it over there, and hopefully will be able to come home for a visit this next year - they will have been over there three years this summer.
We were able to get off cheap on the trip too because Gary graciously agreed to come out and house sit the dogs, cats and birds - and got to know our builder/friend, Scott, who was in the middle of a remodel of the two master suites we have in this house.
Gary couldnít stop himself from helping, and did a lot of painting too.
In the spring of 2010, I finally felt Iíd had enough of the screwballs in Washington, and made my first political plunge by paying $10 dues to join our local Tea Party.
I also volunteered to work as a poll watcher for the Republicans in November, and wrote a couple guest editorials for the local paper.
Iím interested in the TPís basic principles, like limited government, lower taxes, and verbatim interpretation of the constitution, since none of that conflicts with wilderness areas, strong national defense, or getting good gas mileage.
At least I hope not, since we bought a Prius this year too - not because Iím green, but because it gets 55 mpg and gas is back up to $3/gallon!
Also this past spring, Greg was accepted for retraining into the Air Forceís manpower career field, and he and Rebekah got orders to San Antonio, Texas.
So in May I met him there and we spent a week looking around at houses and neighborhoods, as well as visiting my Uncle and Aunt and Cousin Carolís family.
It was a real nice trip, and that part of Texas looks like a great place, but in the end the Air Force cancelled the orders, and so they will remain at Hurlburt in Florida for a few more years.
Thatís a good thing, as they would have taken it in the shorts trying to sell their house there. Since it looks like they'll be stable for a while, they have now installed a pool.
I spent time again this year helping with another high school reunion.
It was a multi-year get-together put on by the class of Ď70 - technically it was my classí 41st - and the economy put a big dent in attendance.
But as always it was great to see my old buddies and hangouts, as well as the teachers and coaches who are still kicking.
Iím already looking forward to 2013 for our 44th...
This fall was taken up with the normal local festivals and going up to the mountains to see the aspens turn.
Iíve been working on sorting out our ancestry at... wait for it... ancestry.com.
;-)
Iím also trying to learn a new camera and new computer programs.
Cathy has had another job change too.
Her school went down the tubes last year, and they only kept the five teachers who exceeded the standards (sheís one of course) and now theyíve put her back in charge of the remedial reading program she excelled at a few years ago.
She is also taking a program for the National Boards - which will allow her to teach anywhere in the country - and a series of courses in teaching English to other language learners.
So her plate, as always, is full.
We had Thanksgiving at Momís again, and so weíve come full circle twice since the last letter
.

We thank our friends whoíve been able to stop by for a visit en route to one place or another - Dennisu, Sandy, Ricky, you know who you are - and hope the rest of you can swing by one of these years.


Meanwhile, all the best for 2011 from Ted, Cathy, Sheila & Brandi (the dogs), Pokey & Cocoa (the Amazons), Red (the Macaw), and Calista & Fatso (Chrisí cats)!
Now, in no particular order are the entries for the 2009/2010 photograveur...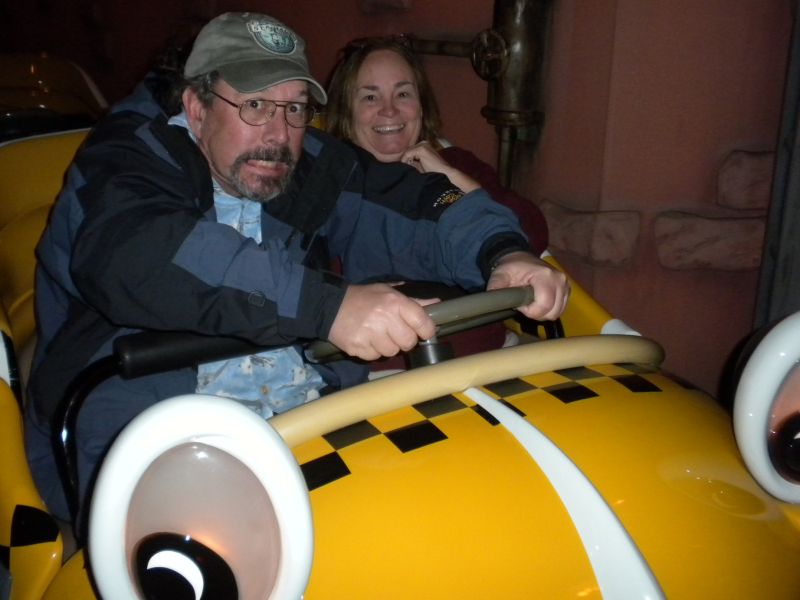 Cathy and I try driving through Tokyo.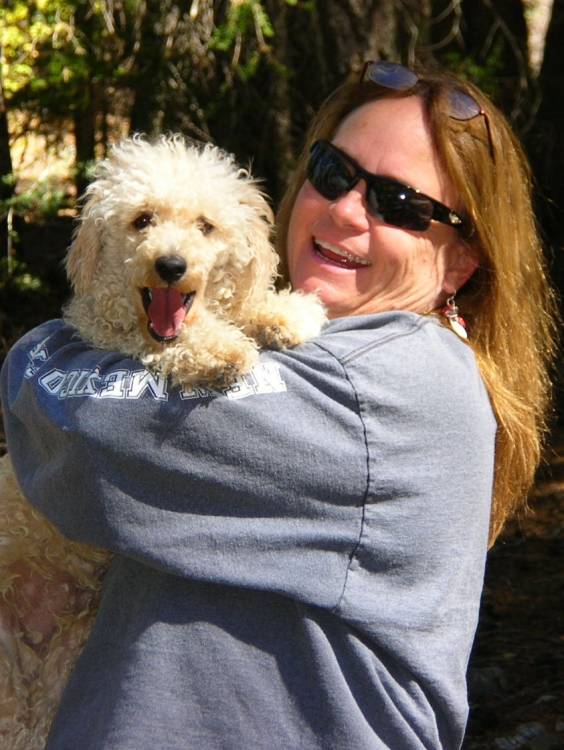 Cathy and Brandi. Up in the Sacramentos.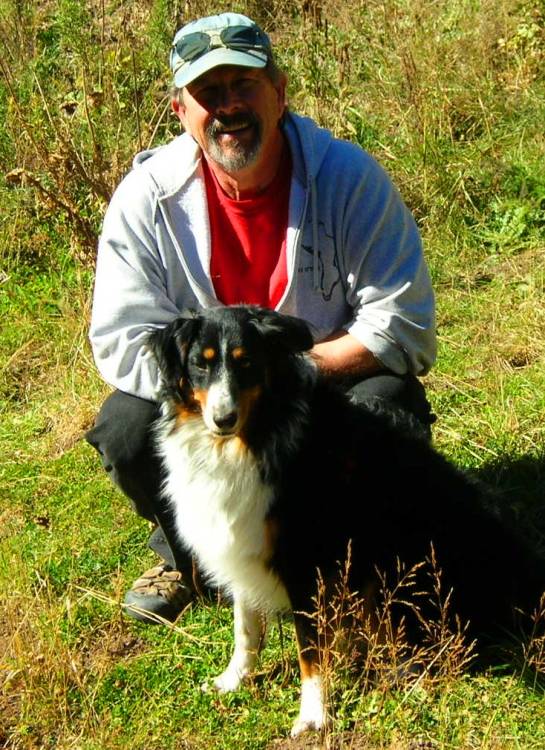 This is me with my bobcat on speed, Sheila.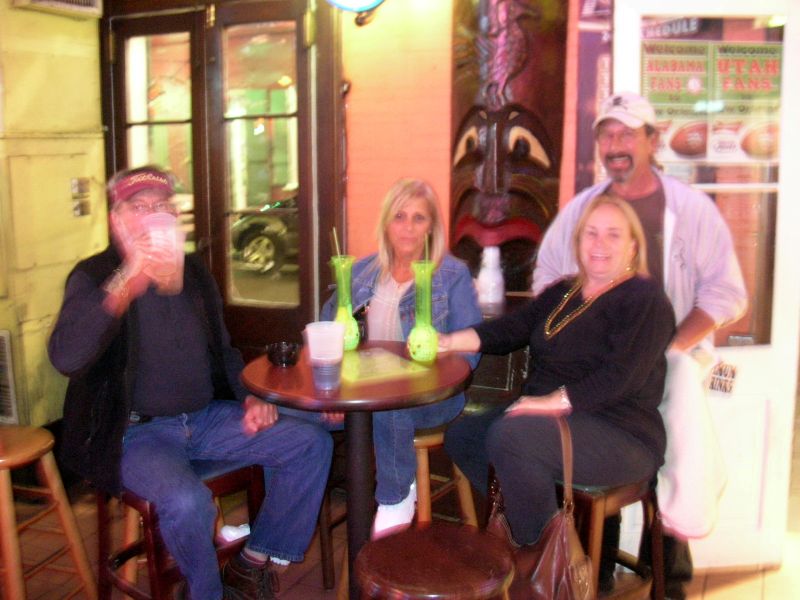 Yes, we really were that blurry. Gary, Karen, Cathy and me. Bourbon Street, December 2009.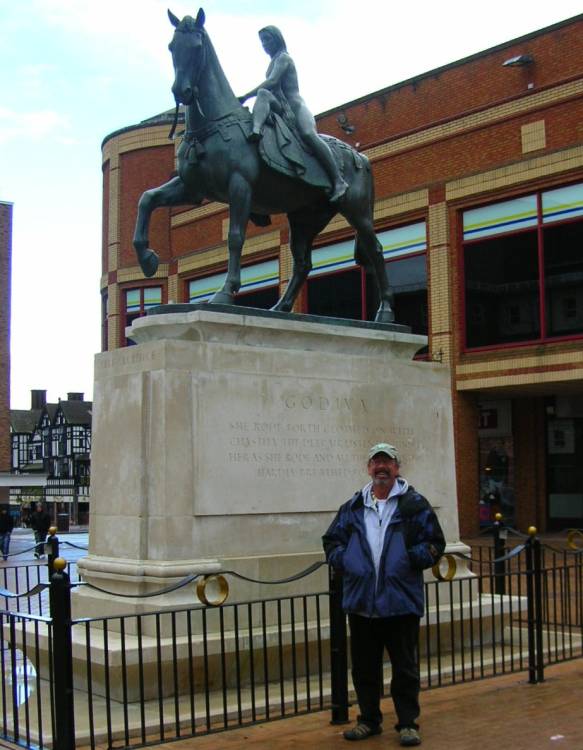 Ted is a big fan of Lady Godiva. Downtown Coventry.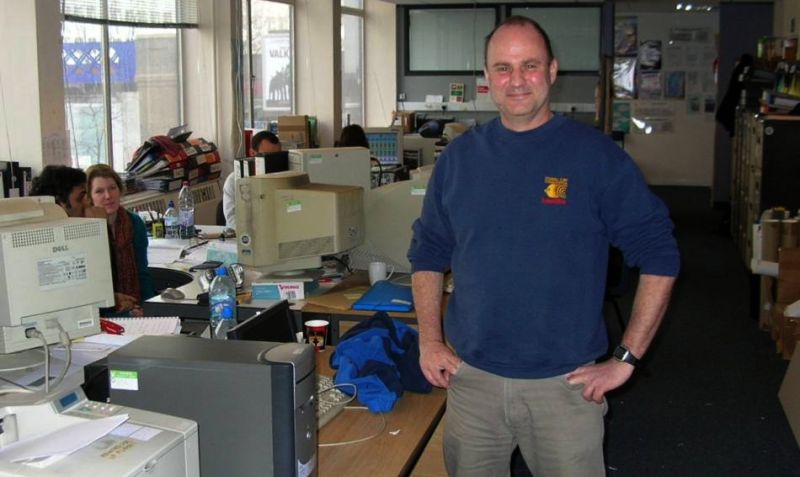 My pal, Pete Raines - in his unnatural environment in London. I know he'd rather be in the water.
Pete's the CEO of Coral Cay Conservation - for the time of your life, go on one of their expeditions: www.coralcay.org.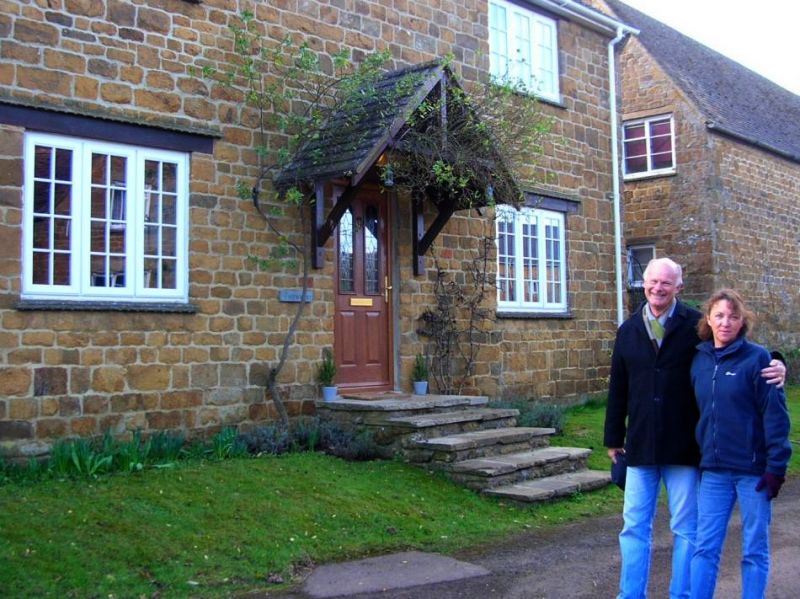 My hosts Charles and Anne Sheppard at their lovely home near Coventry. Charles is the Chief Scientist of the British Indian Ocean Territory, along with a long list of other duties as one of the world's premier reef scientists.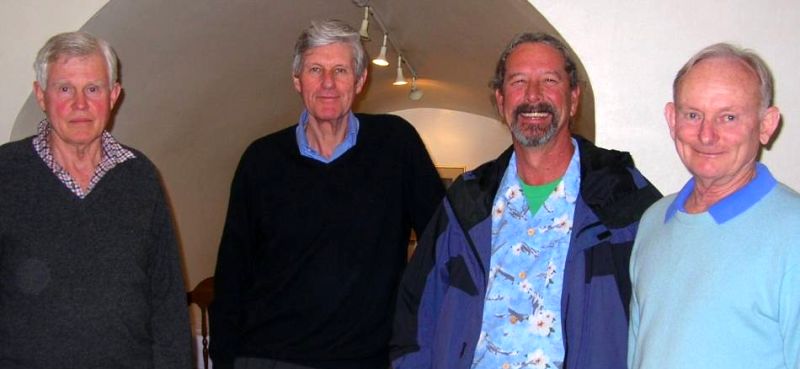 I get to dine with the gentlemen who, along with Charles Sheppard, had the foresight and dedication to create the world's largest wilderness area - the Chagos Marine Protected Area. On the left, Ambassador Nigel Wenban-Smith, to my right, Ambassador William Marsden, and to my left, Commander John Topp. These men have numerous titles and honors, but they will always be known for their diligence in saving one of the last wild ocean places for humanity.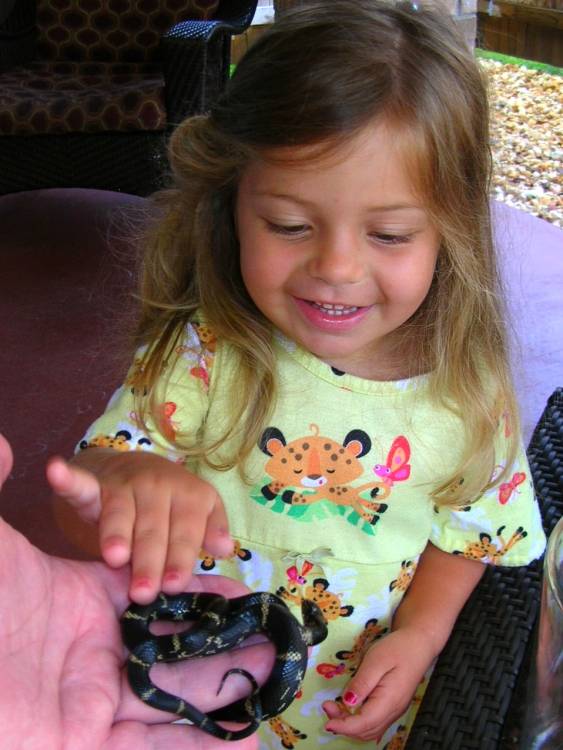 Kirstin discovers a King Snake in her back yard. Absolutely no fear.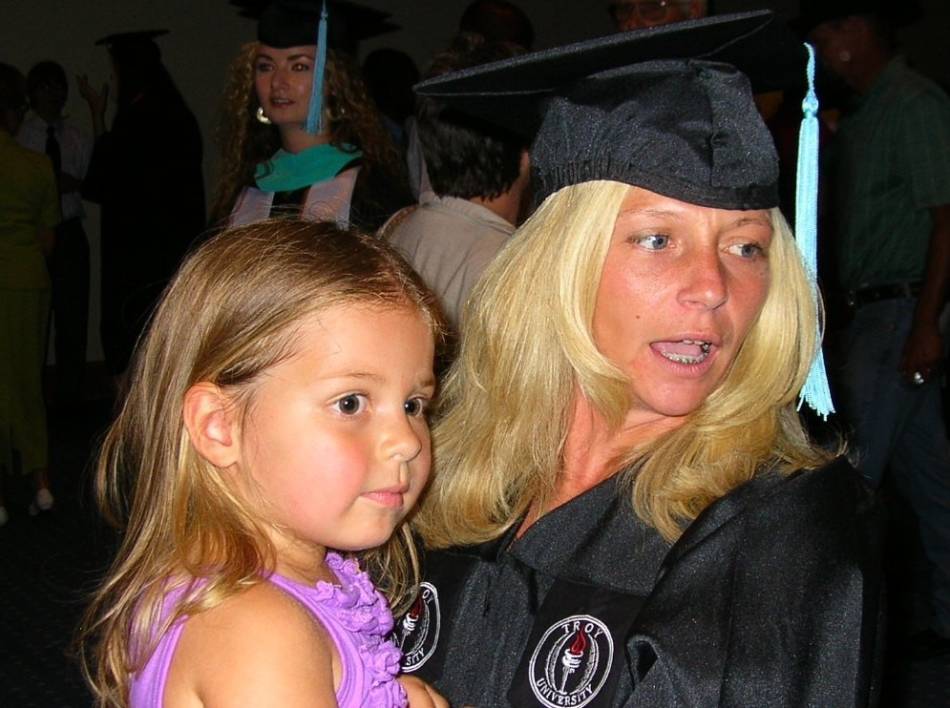 Kirstin celebrates Rebekah's Graduation, June 2009.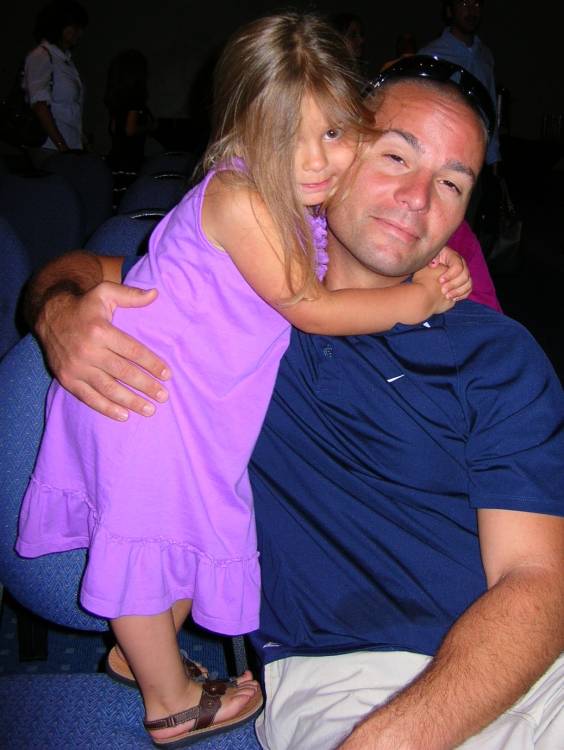 Daddy's girl. Kirstin & Greg at Rebekah's graduation.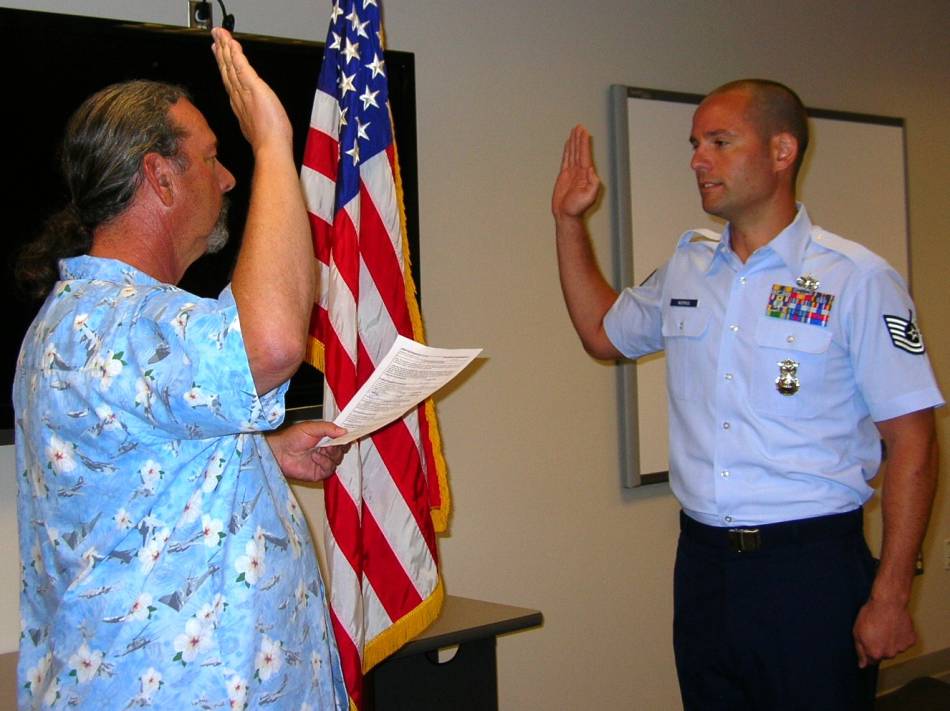 Fatso swears in the kid for another hitch.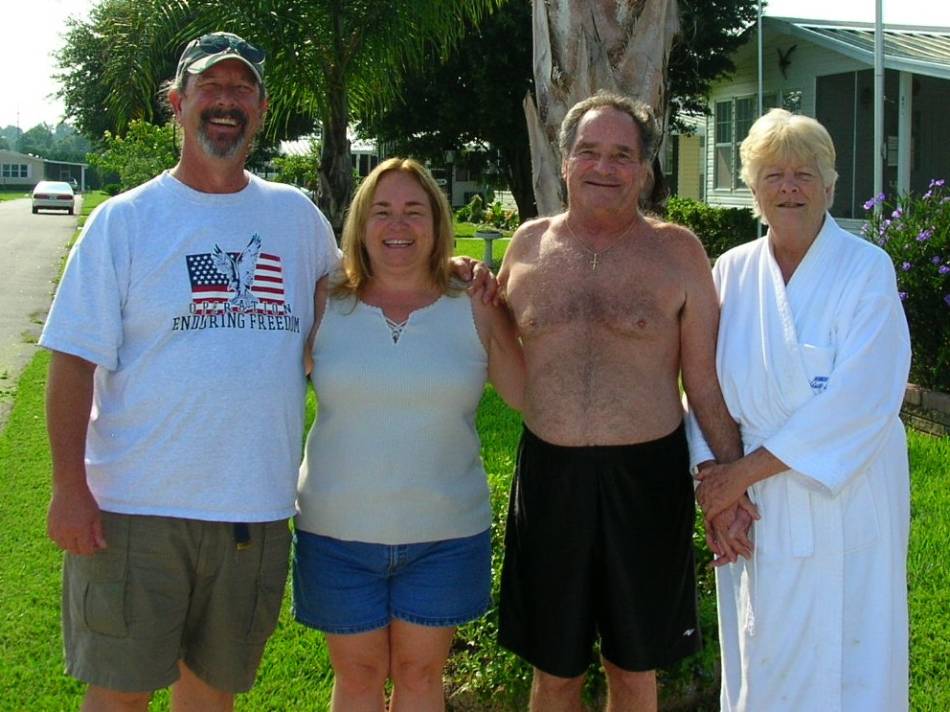 Ted, Cathy, Tim, and Suzie. Lake Wales, Florida.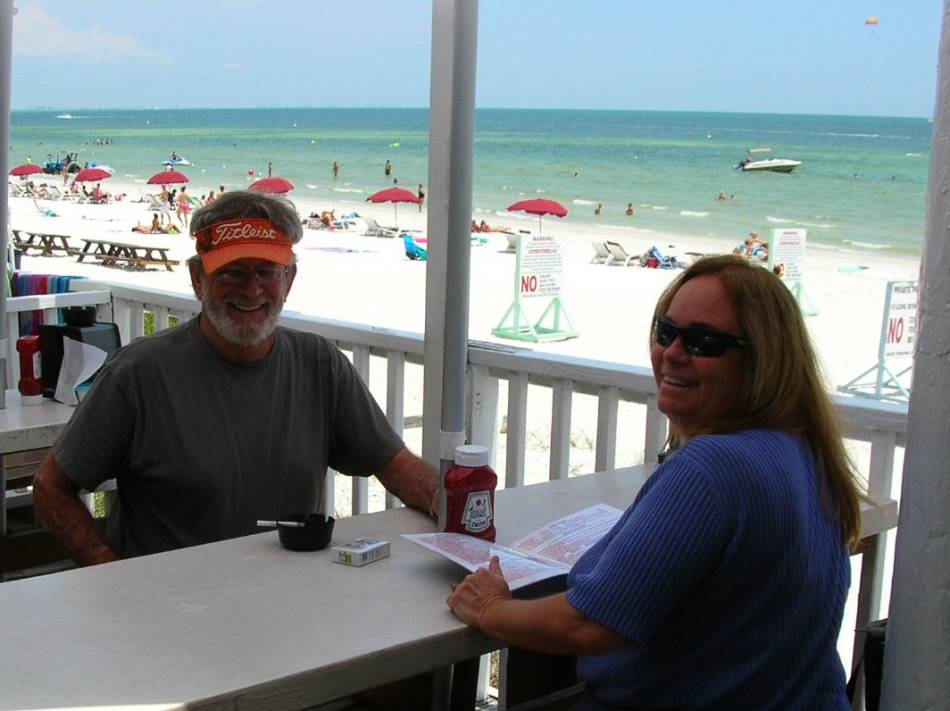 Cathy and Gary. Fort Myers Beach, Florida.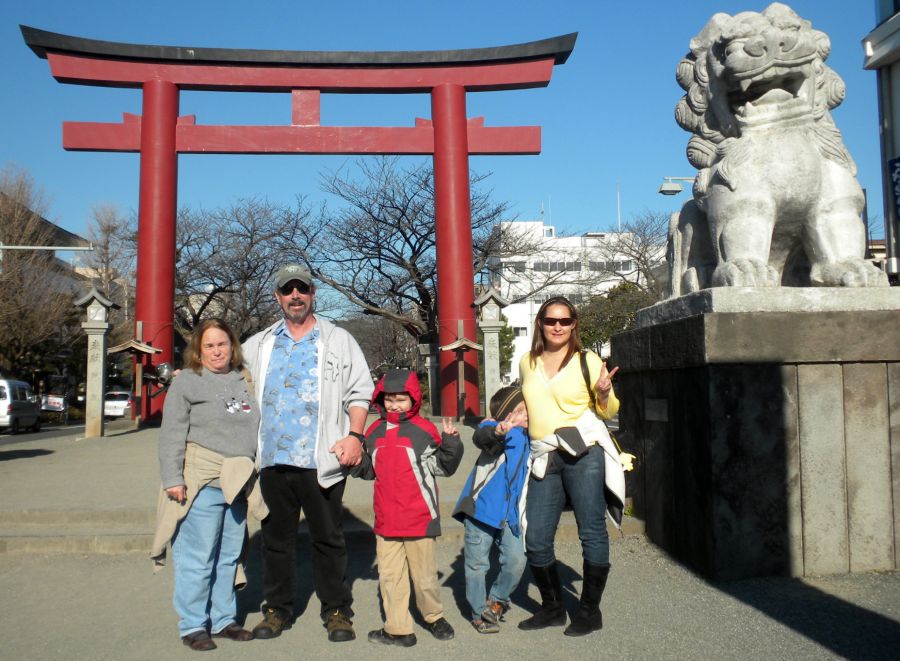 Headed up the street to a Buddhist Temple.
Janna tries to prove she's ideologically pure enough for the Temple...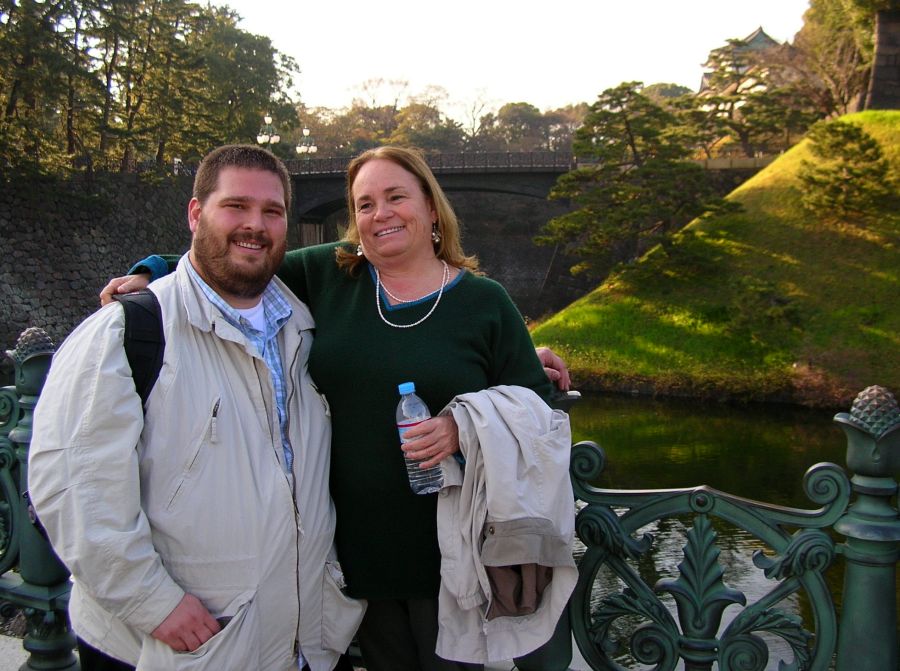 Chris and Cathy at the Nijubashi Bridge at the Emperor's Palace in Tokyo.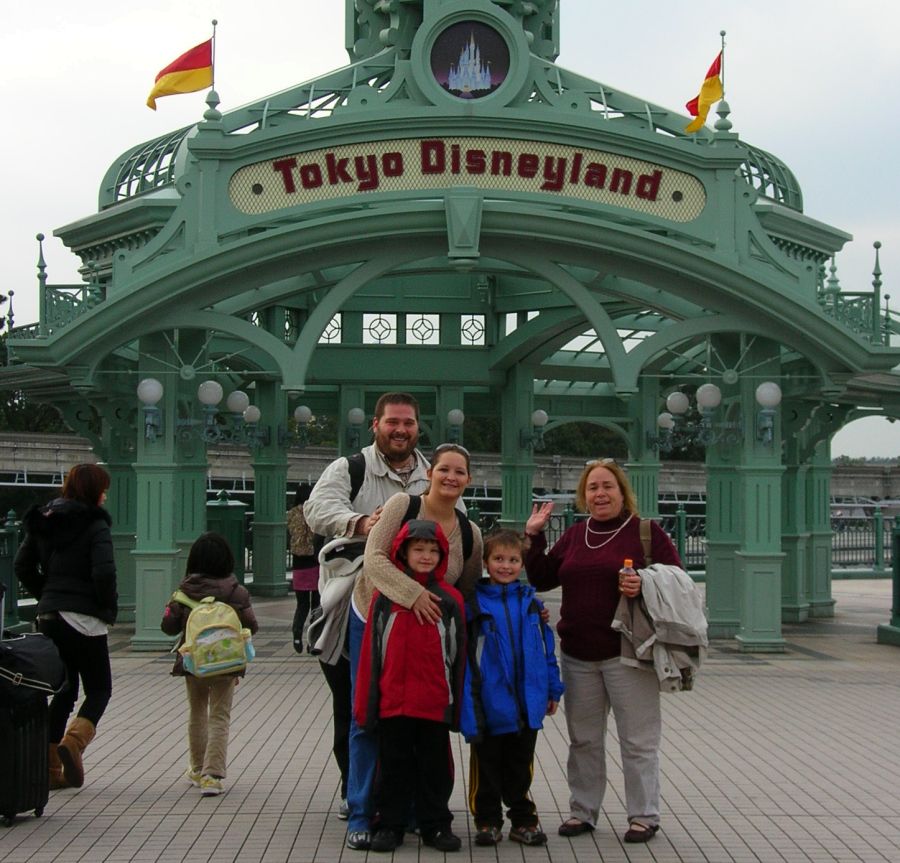 Chris, Janna, Geoff, Connor & Cathy at you know where...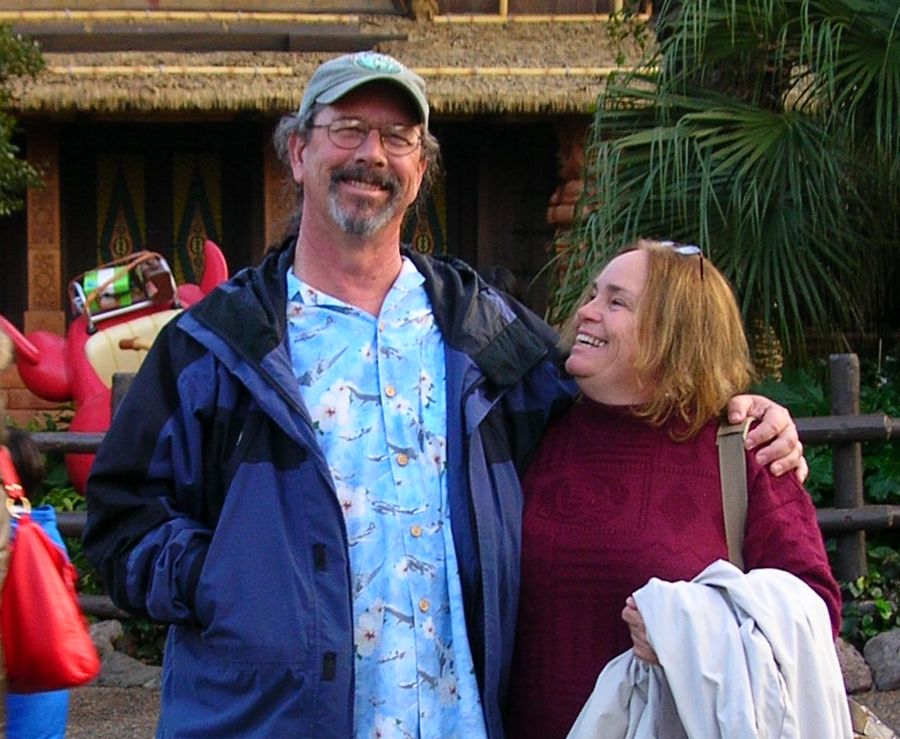 Cathy and I waiting to get into the Enchanted Tiki House. They sing in English, even in Japan!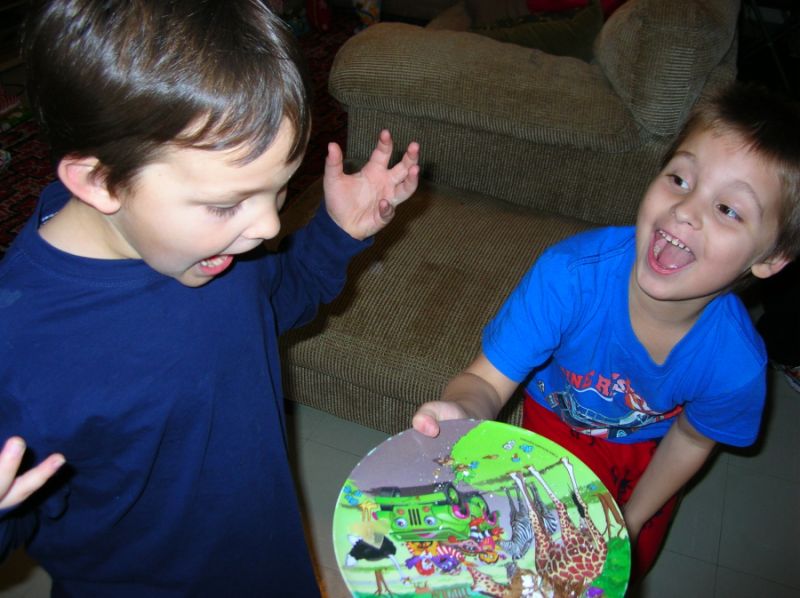 Geoff and Connor raising cain as usual...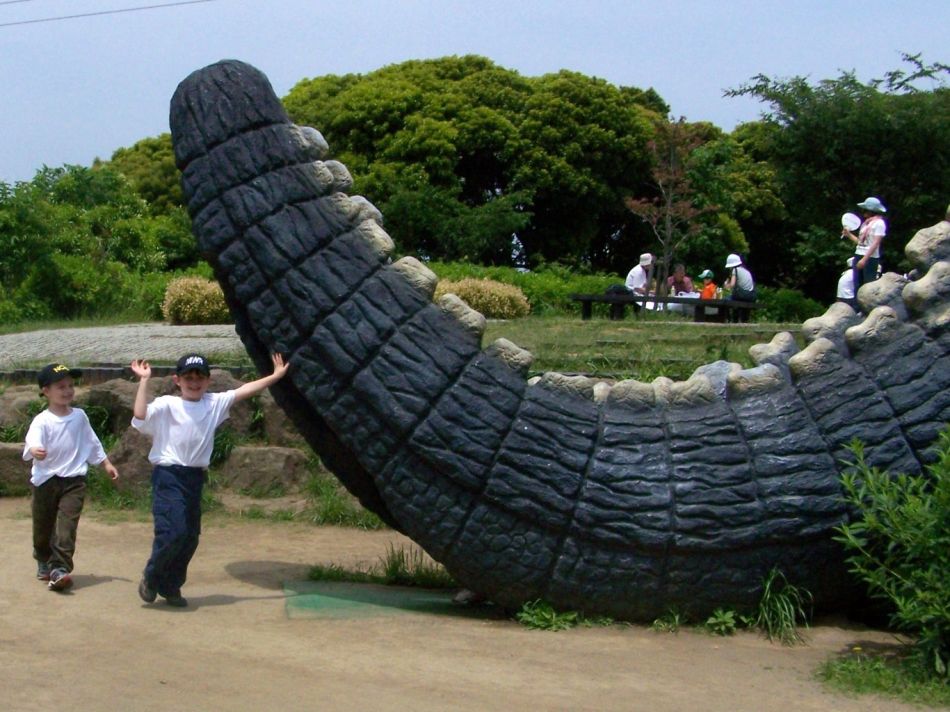 Connor and Geoff play pin the tail on Godzilla. Somewhere near Yokosuka.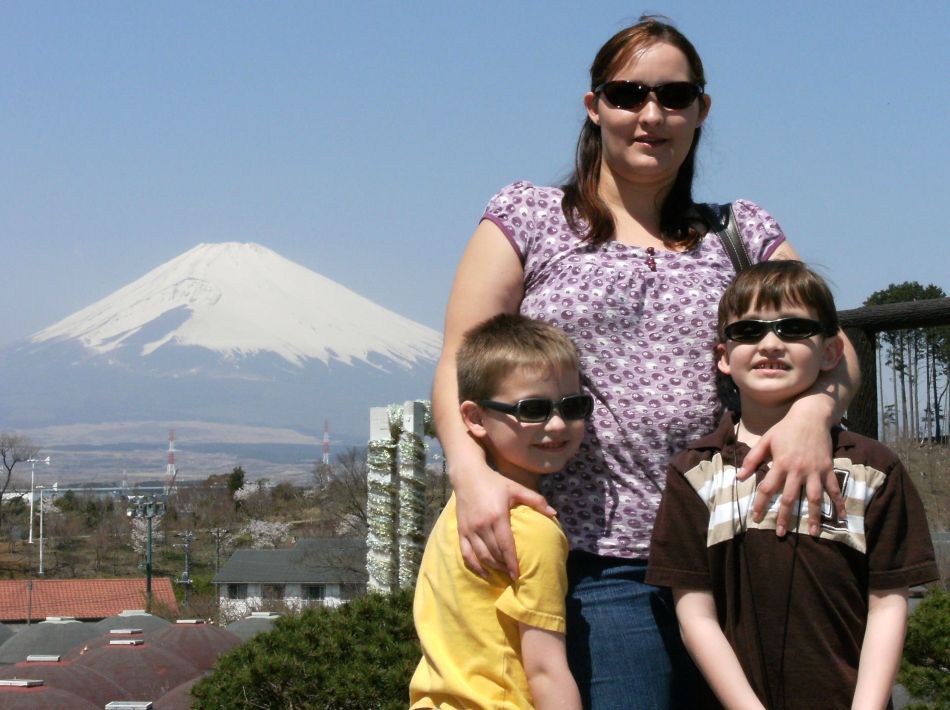 Janna and the boys with Fuji in the background.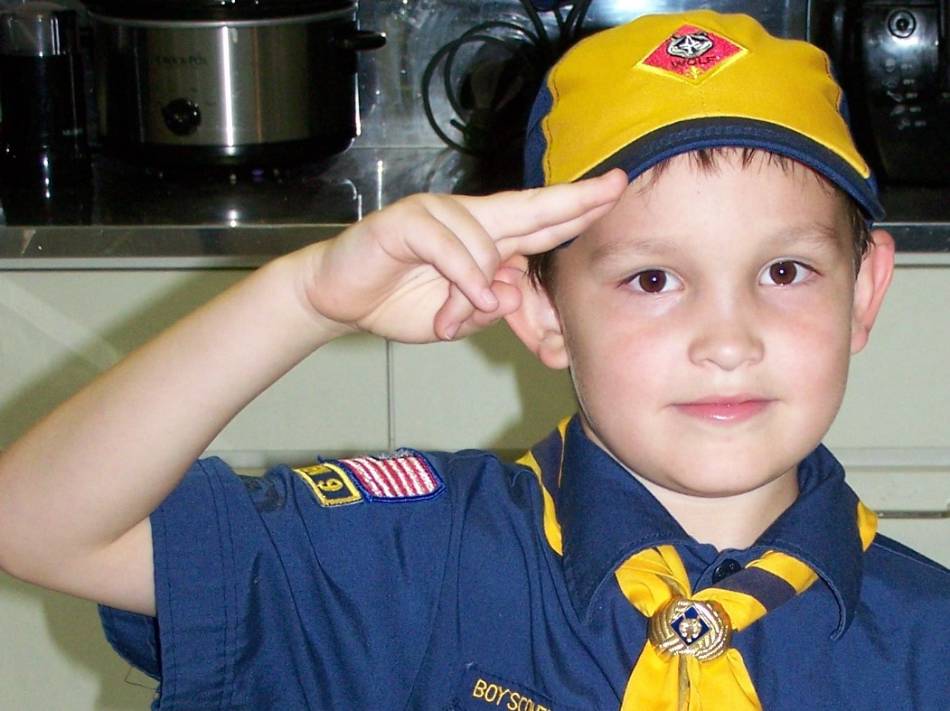 Geoffrey, Wolf Scout.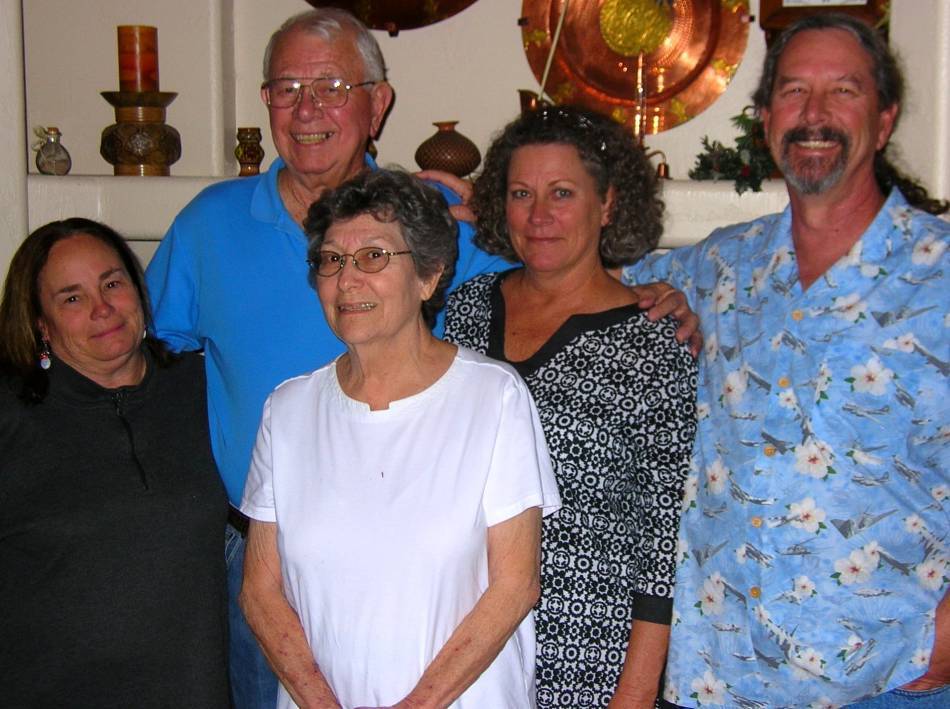 Cathy, Dad, Mom, Kerry, and me. Thanksgiving 2009.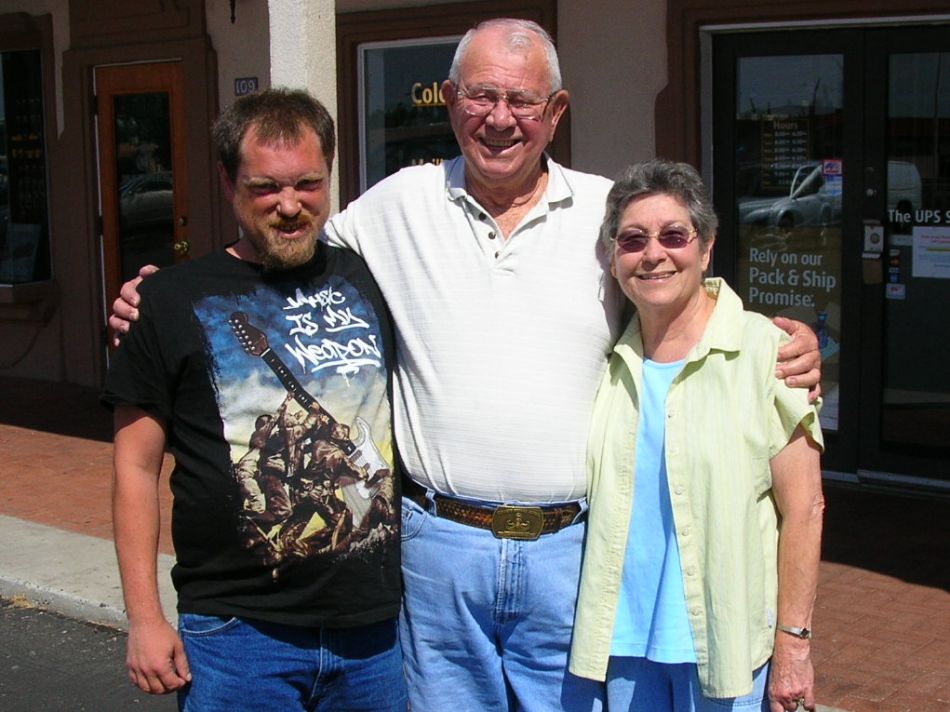 Eric, Dad, and Mom. In Las Cruces after Sunday Breakfast at the Mesilla Valley Kitchen.

Mom and Charlie... the Devil Dog!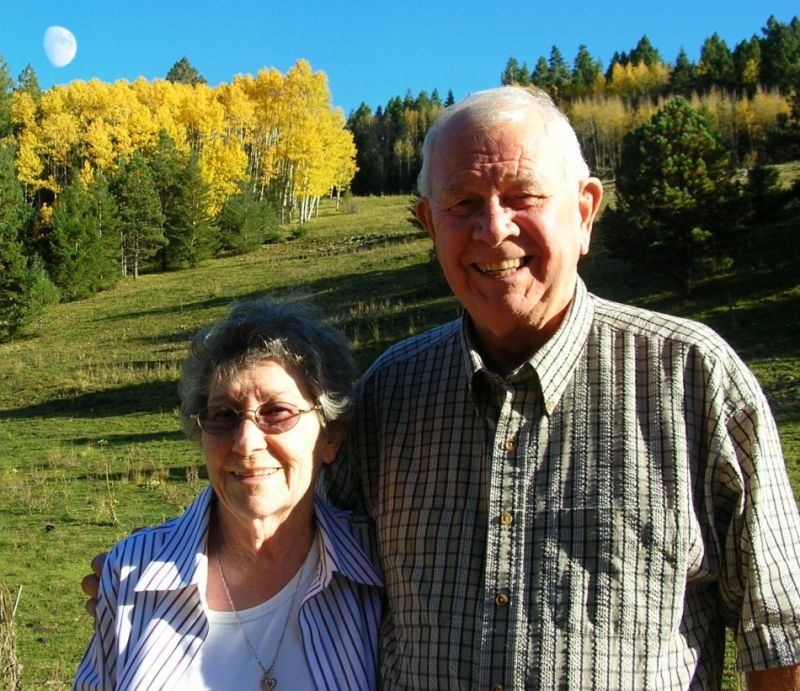 Mom and Dad in the Sacramento Mountains of New Mexico.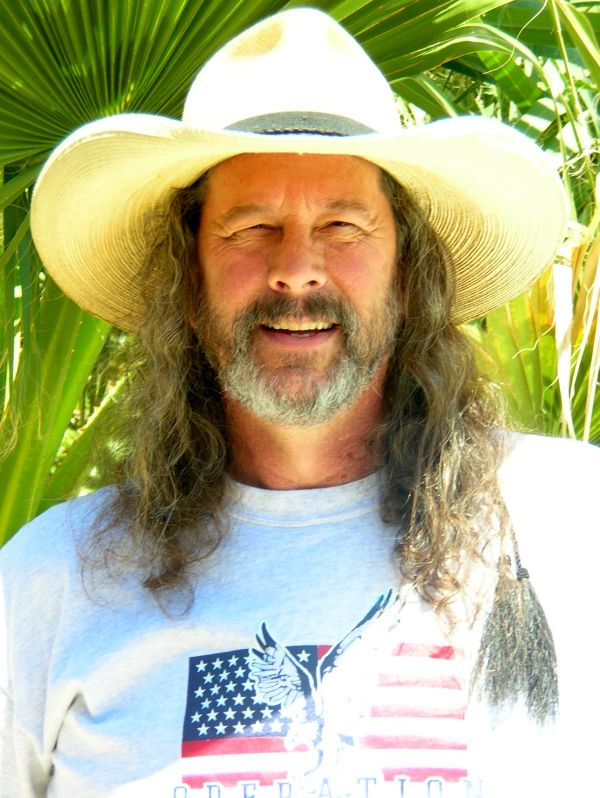 A-duh-bee, a-duh-bee, a duh-bee.
That's all Folks!