McCarthy Charges Reds in Gov't.
Salt Lake City, Utah (AP)--Senator McCarthy (R., Wis.) said tonight that under certain conditions, he would give Dean Acheson, Secretary of State, the names of "57 card-carrying Communists" in the State Department.
He said he would give Acheson the names if he telephoned him, and if "Acheson would show his sincerity by having a presidential order revoked, at least insofar as the 57 are concerned. The order prohibits Government departments from turning over loyalty records to congressional committees."
In Washington today, Lincoln White, press officer of the State Department, said of McCarthy's charge: "We know of no Communist member in the department and if we find any they will be summarily discharged."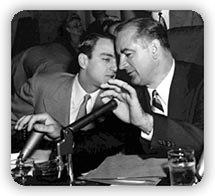 McCarthy, right, confers with aide Roy Cohn at hearing (AP Photo)

McCarthy said: "It would be a waste of effort to give Acheson the names, then have him deny they are Communists and we can not get the records."

He added that "there are some very high-type people in the State Department and they are infinitely disturbed about this whole thing."

McCarthy declared the President's loyalty board screened about 3,000 persons in the State Department. It described 289 of them as "bad risks," he said. He declared 207 of these are still in the department and that this group includes "57 card-carrying Communists."

The Wisconsin Senator said the sources of his information were varied, that he would not reveal them. In this connection, he added, "the House Un-American Activities Committee should get credit for the initial work."
McCarthy to Senate
WASHINGTON, Feb. 20 (AP)--Senator McCarthy (R-Wis) told the Senate tonight that a White House speech writer, whom he did not name, is a member of communist-front organizations.
McCarthy made his charge at an angry session during which the Senate Sergeant-at-Arms was instructed to go out and arrest absent senators to provide a quorum.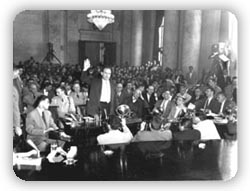 McCarthy is sworn in (AP Photo)

Senator Lucas of Illinois, Democratic leader, repeatedly tangled with McCarthy, who also said he has case histories of 81 subversives--including what he called a "big three"--who are working in and with the State Department. Lucas challenged McCarthy to name names. McCarthy refused, saying Lucas or any other interested authorities could get the names at McCarthy's office. McCarthy complained that few senators were present and accused Lucas of tipping off Democrats to leave. Lucas hotly replied that senators often leave when there are no votes coming up.

When a quorum call failed to turn up a quorum, Lucas moved to adjourn. This failed to carry, and Lucas snapped out a motion that the Sergeant-at-Arms be told to arrest absentees. This motion was passed, giving the Sergeant-at-Arms the task of rounding up senators at home, at the theatre, parties and dinners. Forty-nine senators were rounded up and the senate stayed in session, listening to McCarthy, until 11:43 P.M.

Then it recessed until 11 a.m. Tuesday. Concerning the White House speech writer, McCarthy said: "Both he and his wife are members of communist-front organizations." He added that the man "has a relative who has a financial interest in the Daily Worker," official publication of the Communist party in this country. But the Senator said that "cannot be held against him."

McCarthy said he was "doing Mr. Truman a favor" in telling him about the speech writer. "I do not think he knows it," McCarthy said. "I do not think he would have this individual writing speeches for him if he knew it."

At one point, Senator McMahon (D-Conn), interrupted to ask McCarthy if
he had in the files he brought to the senate anything but derogatory information about the persons he was describing. McCarthy said he hadn't.

McMahon suggested that maybe all McCarthy had was gossip and rumor about the people concerned. McCarthy said maybe some of them weren't Communists. "But you can be dead sure that some of them are," he added.

McMahon said "we've got to be careful we don't imitate the very thing we are against." He added that "Star Chamber" proceedings are not the American way.

Senator Brewster (R-Me) jumped up to say that "after the revelations" in the Hiss and Klaus Fuchs (espionage) cases, Congress has a right to know what is going on in the executive departments.

McCarthy said he believes Mr. Truman "will not clean house until it becomes politically inexpedient" for him to fail to do so.

Senator Withers (D-Ky) said that by not naming names McCarthy was reflecting on the reputation of every State Department employee. McCarthy replied that was entirely possible, but that this country "is in a situation so close to war" that he feels justified in the course he is taking."