BEN ARCHER HEALTH CENTER
HATCH, NM.
.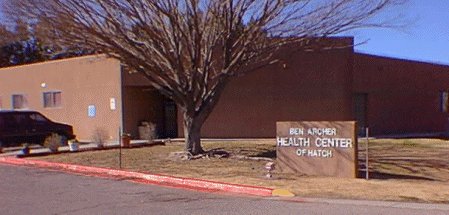 The Ben Archer Health Center (BAHC) has a distinguished history of services to the communities in the Hatch Valley. In July 1969 interested citizens of the Hatch area and project promoters formulated and implemented a plan to conduct medical examinations at the Hatch Valley High School Building. The Village of Hatch Trustees purchased a building to serve as a clinic, and agreed to subsidize its operations.
These early efforts by the concerned citizens of the Hatch area have led to the present modern and fully equipped health center that provides a range of primary medical and dental services and health education. In 1982, the facility was renamed Ben Archer Health Center of Hatch in honor of Mr. Ben Archer whose efforts contributed significantly to the establishment of the health center. .
Poverty, transportation, language, and citizenship status can be significant problems to residents of the border communities of Southern New Mexico. The population that is served by Ben Archer Health Center in the Hatch area experiences significant barriers in access to care. Northern Dona Ana County is rural, populated by predominately Spanish-only speaking persons, and has a large contingency of immigrant and migrant workers and their families.
(Our staff)
(back to sites list)
(back to main page)