HATCH AMBULANCE SERVICE
AS RURAL AS YOU CAN GET!
VIRGINIA REGISTER, EMS COORDINATOR (EMT-P)
DAVID LUCERO, EMT-I
JODY FRANZOY, EMT-B
TOM COX, EMT-P
RON WEINRICK, EMT-P
DARLENE TAYLOR, EMT-B
RICHARD BELGOOD, EMT-B
DEDA ROMERO, BOOKKEEPER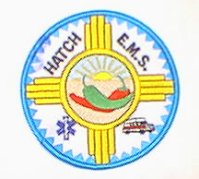 FOR YOUR INFORMATION:
THE CENTER OF OUR PATCH HOLDS RED AND GREEN CHILE PEPPERS.
HATCH IS THE CHILE CAPITAL OF THE WORLD.
HATCH EMS WOULD LIKE TO THANK GARFIELD AND RINCON FIRE RESCUE
FOR ALL THEIR SUPPORT.
FOR MORE INFORMATION:
(505)267-3088
FAX: (505)267-4606
.... BACK TO THE FIRST PAGE!