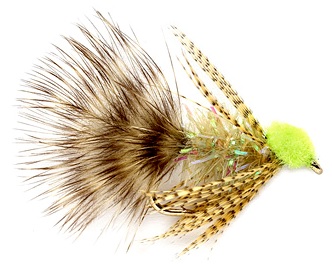 Hook: TMC 300 or your favorite streamer hook, size 4 to 10.




Thread: Ultra thread Chartreuse or color to match the egg.




Tail: Whiting Farms Grizzly Chickaboo or Marabou grizzly.




Body: Cactus chenille, or Ice chenille, cream, pearl, light olive.




Collar: wood duck or Mallard flank dyed wood duck




Egg: Chartreuse, red, orange, roe color.