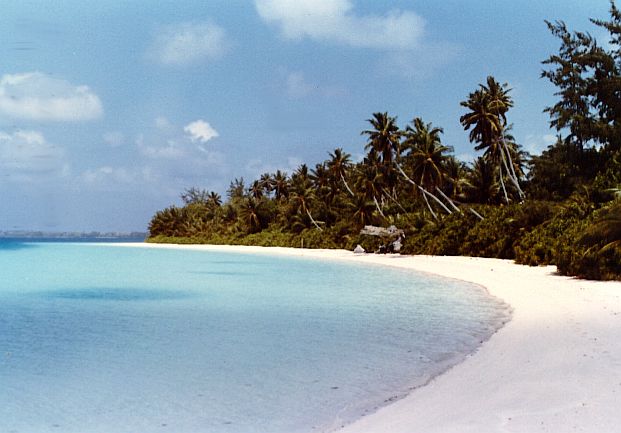 There she sits! On the most beautiful beach in the world rests what's left of one of the most beautiful airplanes that ever flew or landed on the water. How did she get to DG? Ahhhhh, there lies a wonderful story......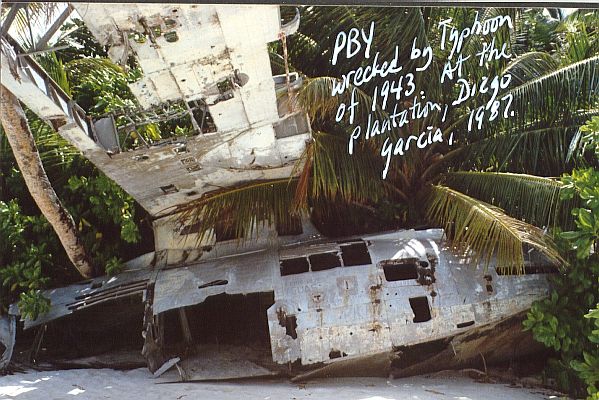 Provided you can get to the Plantation, there are plenty of things to see. The most interesting to aviators is the PBY "Catalina" just west of the pier along the beach. The Consolidated PBY first flew in the 1930s and was the definitive air-sea rescue aircraft of the age. During WWII, the PBY (P = patrol, B = Bomber, Y = the manufacturer's identifier, Consolidated) was equipped with depth charges, bombs, torpedoes, and machine guns, and her job was to seek out the enemy at sea. The PBY did everything at 100 miles an hour, and could stay aloft for up to 30 hours with full tanks and when the engines were leaned out properly. The official nickname of the PBY was the "Catalina", though she was more commonly known as the "Cat", "P-Boat", or "Dumbo".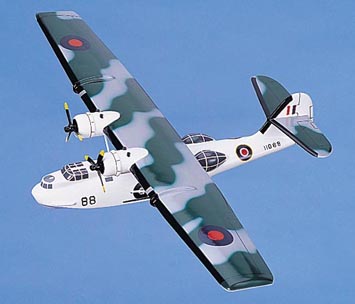 This picture of a model shows the typical RAF camoflage scheme for Catalinas during WWII.
KATIE however had the camoflage on the fuselage as well, as can be seen in this photo from 1945 or so.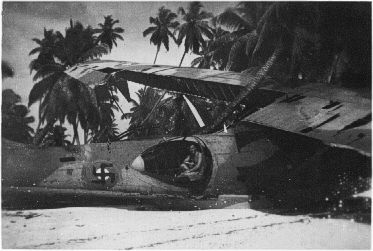 The PBY on the beach at Diego Garcia was British, from RAF Squadron 240, and therefore is a "Catalina" (the Brits didn't give complicated designations to their aircraft). She was flown by 21-year old RAF Pilot Officer James Park. Her registration number was VA718, and Jim called her "Katie" since K was the squadron letter.
On the 16th of September 1944, Jim took off at night from Madras and flew Katie south to Diego via Kelai in the Maldive Islands. They tried to refuel at Kelai, but the bowser had sunk due to a storm, so they had to make it from Kelai to Diego Garcia - a 10 1/2 hour trip, on the fuel remaining in Katie's tanks (the trip to Kelai had been 8 1/2 hours through severe storms). At Diego Garcia, they would be based for missions looking for a reported Japanese submarine.
Jim's navigator got lost on the way from the Maldives, and this added to the fuel consumption - he mistook one island for another en route, so they were off course. The crew sent a QDM message by hand, and then held down the key so that the radio operators could get a fix and give them directions. As this also gave their location to the enemy if they were listening, this was usually severely frowned upon.
When Jim landed at DG, the engines cut as he was running up to the buoy! At the Plantation at the time, refueling was done from Gerry cans which were loaded on a bogy, wheeled out to the pier, loaded on to a rowing boat, rowed out to the aircraft, handed up - 4 gallons at a time up - on to the wing and hand poured, not pumped, into the tanks. The PBY held 1,450 gallons total - that's a lot of Gerry cans!
They started to fuel Katie, but were ordered to stop, as the other PBY on the mission flight took priority. It was from a different squadron, based in Ceylon, and was on first call to chase the submarine which was reported heading towards Madagascar. The other PBY refueled and left, and refueling of Katie was scheduled for the next day.
Katie had absolutely no fuel and was light in the water, bobbing around like a cork. It was not an amphibious version of the PBY, and with no beaching gear, it couldn't be pulled on land. Jim left a night watch (one of his crew members) on Katie, and the rest of the crew went off to bed in a Basha hut, dead tired from the trip down from India. It was a typical, pleasant DG night.
And then the storm hit. The wind blew that night to cyclone strength, and sprung the aircraft from the buoy. The night watch on the PBY couldn't start any engines because the tanks were completely empty. If there had been fuel in the tanks, he might have been able to keep Katie turned into the wind, and she would have been saved. But alas, all the night watch could do was fire Varey pistol shells all over the sky. He stayed on board, feeling completely helpless until the plane went aground. Finally someone from the island garrison shook Jim awake and said "Wake up, your kite's on the beach!"
They got to Katie, and found a palm tree, which went vertical, then horizontal and then vertical again in the wind, was sawing along the trailing edge of the wing, and had taken off the aileron and the rear portion of the wing, rendering Katie unflyable. Jim and his crew salvaged the contents as much as they could by hand. The first thing they removed was an 8 day clock ("very valuable" says Jim). They took cases, dingys, lifejackets, parachutes, the stove. Everything else was left. So the engines, etc, were removed later by someone else.
And Katie has rested on her little beautiful stretch of beach ever since......
Katie's Crew: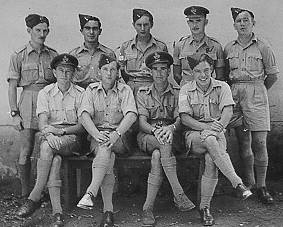 Top Row, Left to Right - Watson (?) (Wireless Operator/Air Gunner - WO/AG) - may not have been at DG; unremembered name (WO/AG) - may not have been at DG; LeFevre "Leafy" (WO/AG); Venny Gough (WO/AG) - "Crazy ex Chindit, spent time blowing up palm trees at DG"; Jack Freel (now deceased) (Fitter - engines and airframes). Bottom Row, Left to Right: Chessels (Aussie) (Navigator); James Park (Captain - Age 21!); Ron Tench (2nd Pilot) - not at DG; unremembered name (Rigger - airframes/cook/air gunner - on board when Katie beached).


Jim Park, Madras India, 1944.


ARRIVAL MESSAGE: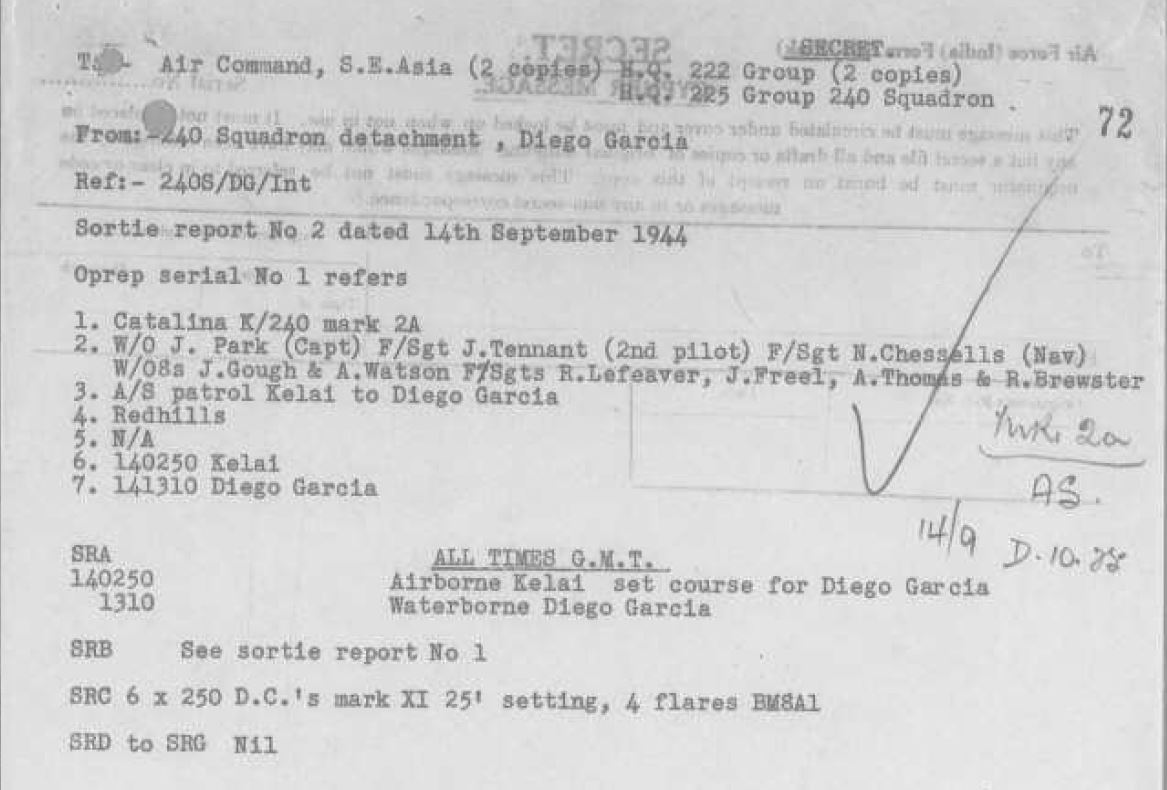 ACCIDENT INFORMATION: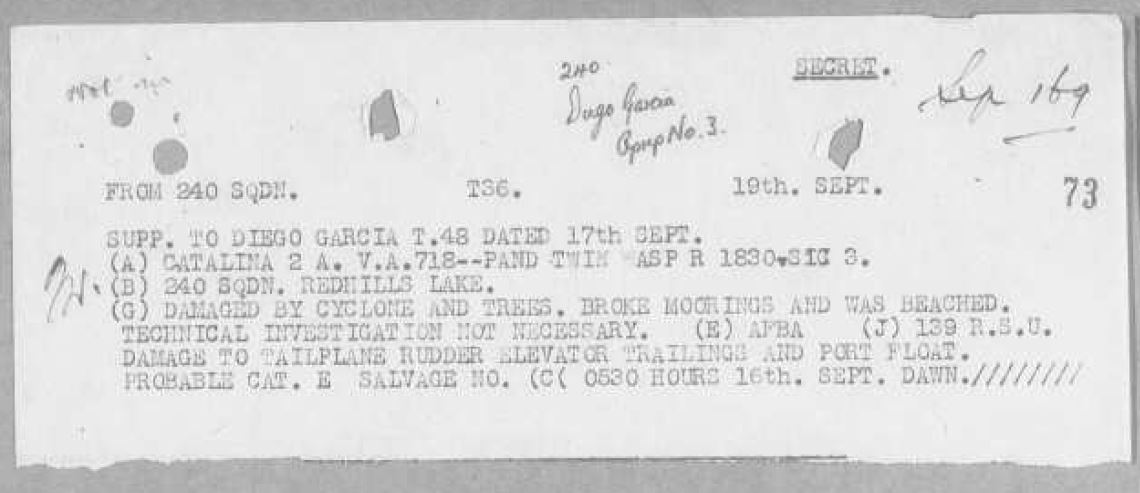 So, you ask, what ever happened to Jim Park? He waited 9 days until the 25th, when PBY no.VA720 came from 240 Squadron at Madras, and on board was Squadron Leader Parry. They inspected Katie, determined she was lost, then flew to Addu Atoll, then to Koggala in Ceylon, and then back to base at Redhills Lake in Madras. That took two days. There was Court of Inquiry held at Koggala several weeks later, another Catalina base. No blame was apportioned - Katies loss was judged an unfortunate accident. It took about three months before Jim got another plane, but he spent the time flying other PBY's to keep his hand in.
Whoa....you ask....how did I find all this out? Well, its like this:
I mailed copies of the photos you see here to my father, who was a PBY enlisted crew member in the U.S. Coast Guard in the late 1940's, and was himself rescued by a P-Boat after his ship, USCGC Magnolia, was sunk off Mobile, Alabama, in WWII. So Dad sent the photos to a PBY association which published the photos in its newsletter. The photos were in turn reprinted in a British Catalina association newsletter, and Jim saw them.
Mr. Park was retired and living in his home town of Perth, Scotland at the time, and wrote my Dad and asked him to pass on his thanks for the photos to me! Then one day a couple years ago, Dad got a letter from Jim saying he and his son were passing through Las Cruces, New Mexico (where we live these days) and asked if he could stop by and talk about DG, Catalinas, and the old country (my Dad's mom was from Glasgow). So we got to spend a great afternoon during which Jim recounted the story above. Since then, he's passed on the details to me through his son Brian, and they are reprinted here pretty much verbatim. Its amazing how much those WWII vets can remember from 55 years ago! Jim decided to stay stateside to be with his son, moving to Austin, TX, and even came back out to Las Cruces and stayed with my parents for a couple weeks on a vacation, driving his brand new Ford Mustang! He was quite a character, or as his son Brian said, "a braw Strichen loon."
So that's how the secret of the PBY at the Plantation came to be told, after all these decades.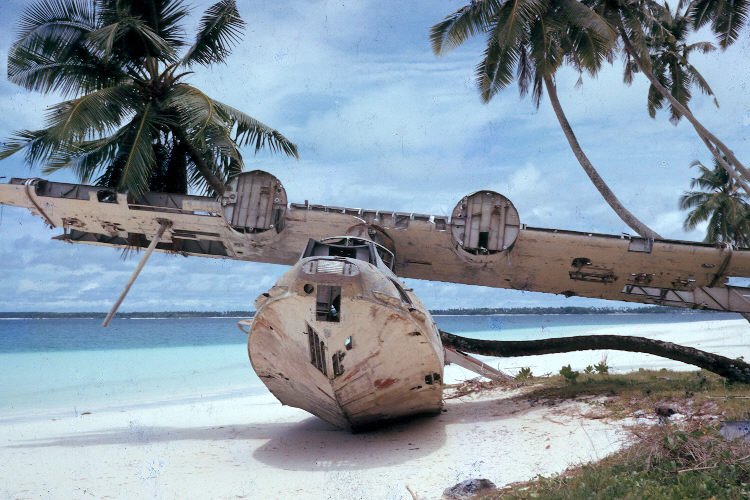 ABOVE: KATIE in 1968
(thanks to Kirby Crawford for the photo)
BELOW: In 1972 (thanks to Larry Duran for the photo)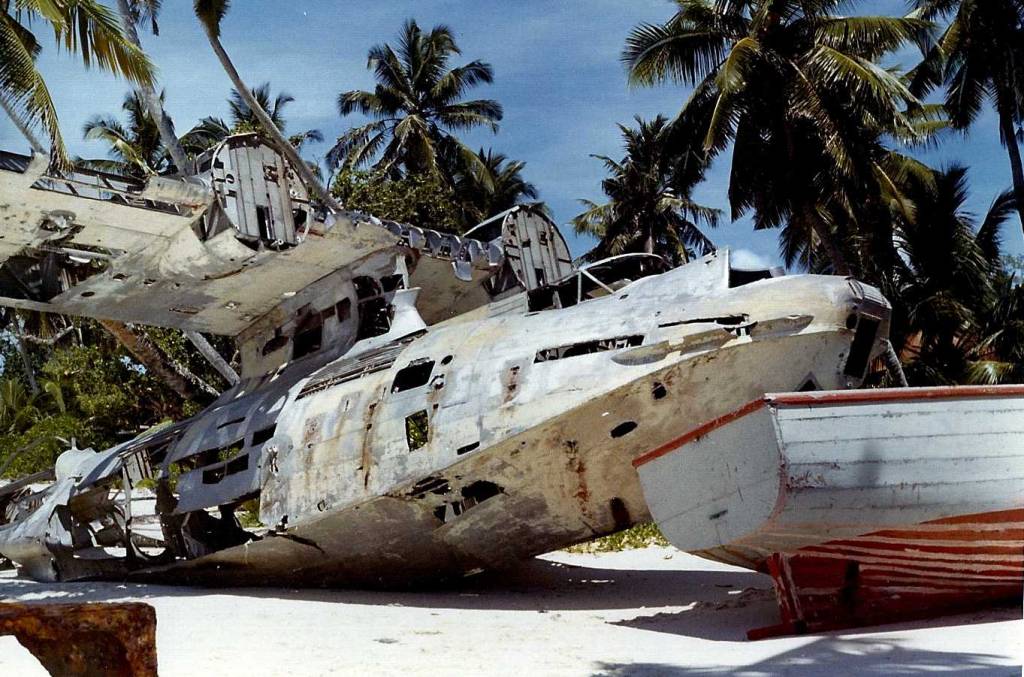 Below: Roger Hickey's photo of KATIE in 1972. Note the water up to the blisters. BTW, the boat seen in front of KATIE is an "copra boat" used to ferry coconuts from the far beaches of the lagoon to the main plantation at East Point for processing to extract the meat and make copra.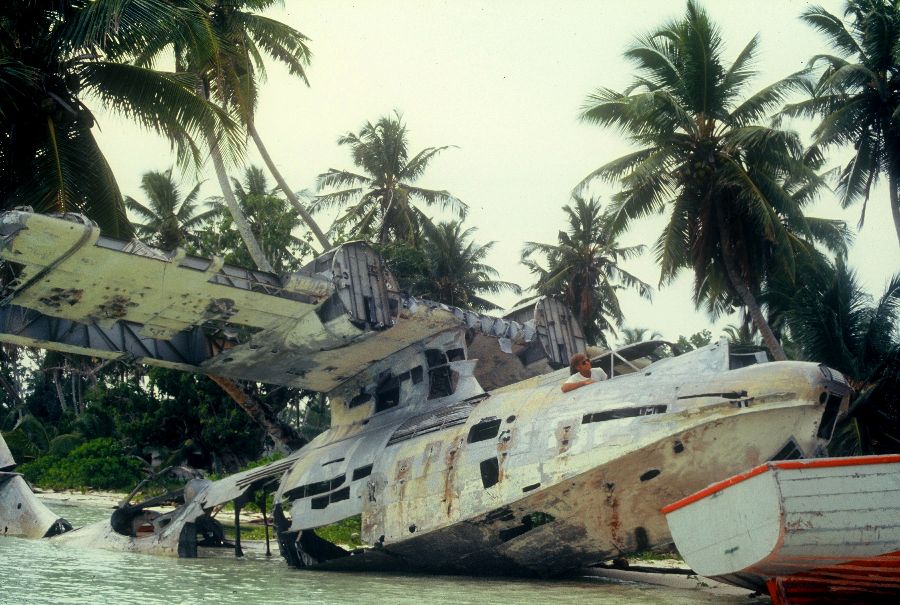 Unfortunately, it is my sad duty to report that on Thursday, September 19, 2002, Jim passed along on the great journey we all must eventually make. Jim, you were a great source of inspiration to those who knew you, and I'm glad I was one of them.

If you knew Jim, or have information you'd like to pass along about him, his son would be glad to hear from you - just email Brian at: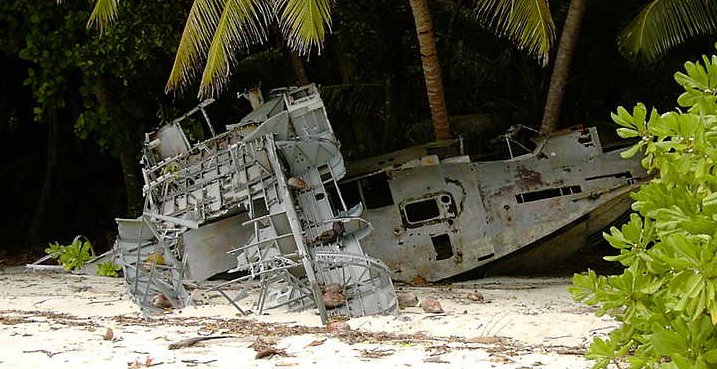 "Katie" as she slowly sinks into the beach, 2003.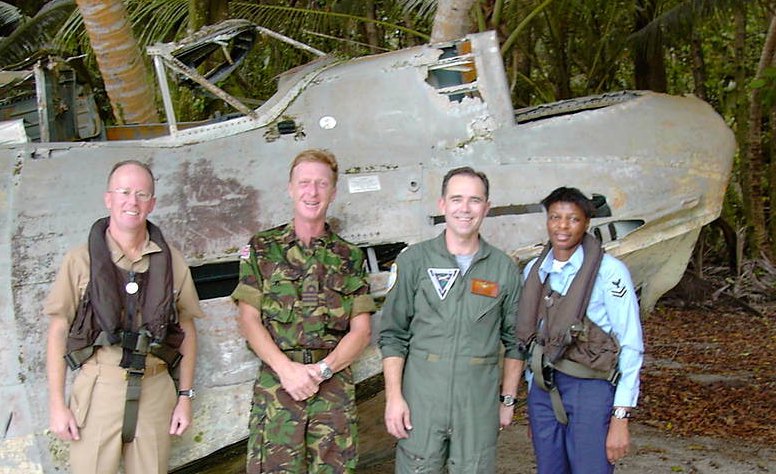 Placing the Marker celebrating Jim and his crew. From the left:
Captain Bob Hibbert, NSF CO, CDR Adam Peters, Brit Rep, CDR Tim King, PATWING 4 CO, and IT2 Savage.
Thanks especially to Adam for his making this tribute to the men who won WWII.