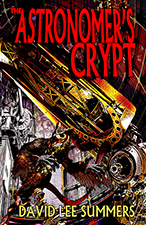 If you scare easily, donít read this book.
If you dare to read it, youíve been warned.
Two years ago on a stormy night, in the dead of winter, Mike Teter experienced something that would change his life forever. Mike was a telescope operator at the world renowned Carson Peak Observatory in New Mexico. We wonít tell you what he saw that night on the mountain nor what happened afterward on a dark stretch of highway, because it would haunt you just as it has haunted Mike. But what we will tell you is that Mike is back at Carson Peak. And what he witnessed that night two years ago is about to become a reality…
---
---
"In the best tradition of horror fiction, we have courageous protagonists, characters who cross the line of good and evil in both directions, unspeakable evil from a forgotten age, and a villain behind the scenes who is attempting to bring back dark powers in the (no doubt mistaken) belief that he can control them … Strongly recommended to all who enjoy Stephen King's novels." Chris Wozney, The Nameless Zine, newsletter of the Western Science Fiction Association.