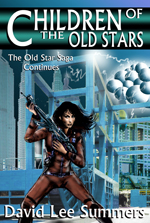 The Cluster is a vast alien machine that destroys starships indiscriminately in its quest for something or someone. Commander John Mark Ellis, disgraced and booted out of the service when he fails to save a merchant ship, believes the key to stopping the Cluster is communication. His mother, Suki Firebrandt Ellis is a historian who believes the very leaders of the galaxy are withholding information about the Cluster. Clyde McClintlock believes the Cluster is God incarnate, seeking retribution. G'Liat is an alien warrior whose own starship was destroyed by the Cluster. All together, they set out to solve the mystery of the Cluster before it finds the object of its quest.
---
"Children of the Old Stars presents an engrossing vision of the future…David Lee Summers has created a fascinating, imaginative, and very entertaining cast of characters and worlds." S. Derrickson Moore, The Las Cruces Sun-News. Click to read the full review.
"In Children of the Old Stars, David Lee Summers has created a wonderful mix of characters and a gripping plot. From the aliens to the whales of Earth, who now communicate with people, each character seems to come to life from the moment they enter the story." Kate Hill, author of The Chieftain's Bride
Children of the Old Stars is Book 3 of the Space Pirates' Legacy Series
Children of the Old Stars is temporarily out of print. You can still find print copies at the vendors below.