Marion Lee and Mary Lyn Wilde were born in East St. Louis, Illinois on October 10, 1922. Technically, they had different birth dates - Lee was born just before midnight and Lyn followed just after midnight. So, Lee assumed the role of Big Sister.

The twins' older brother Oscar was a minister. As young girls Lee and Lyn sang with their two older sisters Helen and Jeanette in the church choir and as singing evangelists at church meetings and revivals in Illinois, Missouri and Kentucky. By 1938 the older siblings had left the nest and Lee and Lyn began their show-business career singing hymns at 6:00 every morning on local radio station WTMV. They graduated from East St. Louis High School in 1939 and landed their own radio show "The Sundown Club" on local radio station KXOK. In 1940 they were singing on the Admiral, a Mississippi river boat.

By this time the girls had their own local agent who helped them land a job with Ray Noble and His Orchestra in Chicago. Their first gig with the band was at the Palmer House on New Year's Eve 1940. Lee and Lyn toured with the band for eleven months, traveling all over the country. In 1942 they joined the Charlie Barnett Band and made their movie debut singing the tune "Fifty Million Nickels" with the band in the film Juke Box Jenny starring Harriet Hilliard.

In April 1942 the girls joined Bob Crosby and His Orchestra. After touring with Crosby for eight months the orchestra landed a spot in the Judy Garland film Presenting Lily Mars. Producer Joe Pasternak was so impressed with Lyn and Lee that he signed them to a seven-year contract with MGM. Twice Blessed, predecessor to The Parent Trap of later years, was written especially as an introductory film for the twins and marked their official MGM debut.

The twins appeared together in nine films, and Lyn appeared in another six films without Lee. Lee remembers MGM,
"Working at MGM was fun. We were given all the advantages that they offered their contract players. We studied ballet lessons from Jeanette Bates, tap dancing from Willie Covan, light opera singing from Arthur Rosenstein, pop singing from Harriet Lee, and jazz singing from Earl Brent. It really was an education in the arts. Mickey Rooney was a hoot. Always on - making everyone laugh. When he was touring with "Sugar Babes" Lyn got to go back stage and reminisce with him when he was in Chicago; I got to see him when he was in Portland."
Lyn and Lee married two of the Cathcart brothers, Jim and Tom, respectively. So, even in marriage they had the same surname! All of the Cathcart brothers were musicians. Tom played drums with Alvino Rey's Orchestra featuring the King Sisters, and Jim played violin with Ray Noble and later with Stan Kenton. Dick played trumpet for Jack Webb in the 1955 film, Pete Kelly's Blues and was a regular on "The Lawrence Welk Show" for many years.

Jack was married to Judy Garland's sister Susie and worked with Judy on numerous occasions, notably with Judy's Tony-Award winning Palace run in 1951, in her 1954 film A Star Is Born, and later at Capitol Records. Jack was the "Boogie Woogie Bugle Boy of Company B" in the song made famous by the Andrews Sisters.

Lee remembers,
"Jack was married to Susie, and of course we knew her. We spent Christmas with Mrs. Garland, Sue, Jack and Judy when Judy was married to Dave Rose. After Judy married Vincente Minnelli, she would bring Liza to our house to play with Billy and Kathy."
Youngest Cathcart brother Dick was married to Peggy Lennon of the Lennon Sisters. They had six children, and five of them are performing in Branson, Missouri with the whole Lennon family. Unfortunately, Dick died a few months before the Lawrence Welk Theatre opened there, but he is still featured from time to time on the PBS Lawrence Welk series.

Lee says,
"... Lyn and I also entertained at the Hollywood Canteen. One night Bette Davis came to meet us while we were singing. She wanted to see if two people could look so much alike. Actually, the technique for splitting the screen was just invented, and she was considering playing twins in A Stolen Life [1946]. MGM had bought that story and also The Dark Mirror [1946] which they had planned to star Lyn and me in, but with the new split screen technology, Bette Davis and Olivia De Haviland got to do them. Big names won out. It was the split screen that ended our 'twin' careers..."
Lee left show business in 1949 to start a family, but Lyn stayed on through 1953. Lee pursued many activities after leaving MGM, including flying (earning her pilots license in 1961), helping Tom with his tract-home contracting business, and becoming an active member of the Palm Desert Players, performing in all of their productions for seven years. Lee also attended college in Palm Desert, earning an AA degree from College of the Desert, and graduating cum laude with a Bachelor of Arts degree in Foreign Languages from the University of California at Irvine. She was elected a member of the Delta Nu Chapter of The National Collegiate Foreign Language Honor Society Alpha Mu Gamma for excelling in French and Latin studies.

In 1953 Lyn and Jim moved back home to Indiana. The Cathcart brothers were originally from Michigan City, Indiana, and both Jim and Tom had graduated from the University of Indiana with degrees in Business Administration. Jim worked for Pullman Standard in nearby Chicago. Before starting their family, Lyn worked at Sears and as a model in Chicago and South Bend. Lyn continued acting at the Long Beach Theatre and played lead roles in "Helen's Husband" and "When Shakespeare's Ladies Meet." She continued acting for nine years.

In 1956, Lyn was Stage Director for the Miss Indiana Pageant, and also served as a judge in the Miss America preliminary contests throughout Indiana.

In 1970, Jim Cathcart died unexpectedly. Lyn was remarried to Dwight Oberlink in 1973. They enjoyed playing Bridge, golfing, sailing on Lake Michigan and traveling throughout Europe, Canada and the USA. Widowed again in 1996, Lyn continues to be active in the PEO Sisterhood, Tri Kappa Sorority and Beach Garden Center.

Lyn has two children, Carter and Lee Ann (named after Lee). She has four grandchildren, one great-granddaughter, three step-children, seven step-grandchildren and nine step-great-grand-children! Her grandchildren call her "Grandma the Great!"

In 1970 Lee and Tom moved to Oregon. They continued to be active in music, assisting in the formation of The Southern Oregon Traditional Jazz Society, where they performed at monthly meetings for more than ten years. Lyn traveled to Oregon to sing with Lee at two of the monthly meetings. In 1975 Lee played the lead in the Barnstormer's Little Theatre production of "Forty Carats."

Lee and Lyn reunited to record an album entitled "Back Together Once Again" in New York in 1989. Lyn and Jim's son Carter Cathcart put the album together and penned two of the songs: the title song and "I Was Just About to Say That Too" especially for the twins. Lee and Lyn also appeared together at the annual reunion of the "Jivin' Jacks and Jills" at Universal Studios in 1990 and 1991. Lee Graham, in his "Man About Town" column, wrote that the twins "stole the show."

Lee has a son Bill and a daughter Kathy. She has two grandchildren - Bill has a son, and Kathy has a daughter. Lee is still very active, involved in the Rogue Area Senior Computer Assistance League, the American Association of University Women and the Philanthropic Educational Organization.



Be sure to visit the Wilde Twins Family Album! If you wish, you may send a message to Lee Wilde Cathcart care of Jim Johnson.



Many thanks to Lee Wilde Cathcart for providing the above information, as well as many of the photos and magazine articles on this web site! Thanks also to Jamee O'Neal, Lyn's granddaughter, for providing some of the information on Lyn Wilde.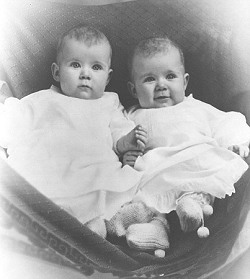 Lee and Lyn at 6 months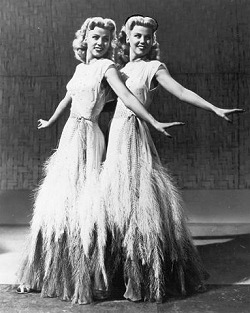 Till the Clouds Roll By (Lyn on left, Lee on right)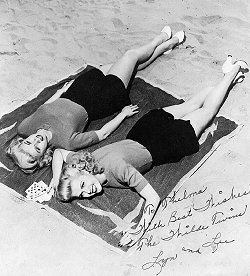 MGM publicity photo
(Lyn on her back, Lee on her stomach)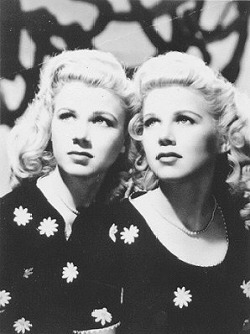 MGM publicity photo (Lyn on left, Lee on right)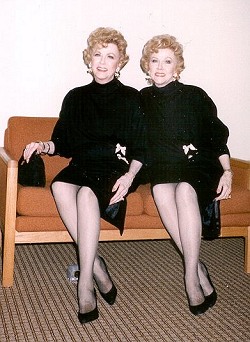 Lee and Lyn at high school reuninon, 1989