Typical Playlist: Classic Rock, Alternative, Reggae, Pop Rock, Country.
The band became an island institution with its "Island Tour '97" playing at all the hot spots in the Provisional Peoples' Democratic Republic: The DG Yacht Club, United Seamans' Club, Expat Club, Brit Club, 61 Club, Tropical Park, Fil-Mau Club and various other places. For the 1999-2000 concert season, the band has been playing (most) Friday nights at the Seamans' Center.
Guest vocalists often appear with the band such as Diane Logan with the Brit Customs, and Joanne, who works at the Seamans' Center. Matt (keyboard) was on DG with VP-1 on deployment. Richard Chase of DG21 plays Lead Guitar.

Jimmy Austral plays base guitar and works at Air Cargo with George. "BJ" is the drummer, and is the only elevator technician on the island - and since there's only one elevator, he must have plenty of time to practice with the band!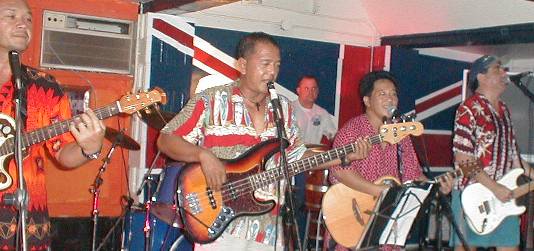 Here's the Band at the Brit Club, Dec. 16, 2000 - Thanks to John Huber (on the drums) for the photo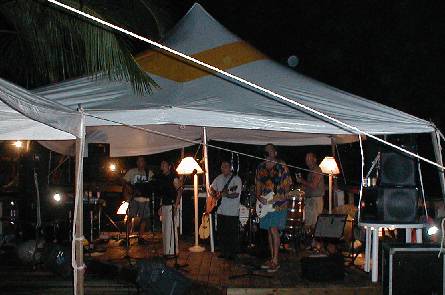 And here they are at the DG Yacht Club (John Huber Photo)
TWIN PALMS!
(circa 2000)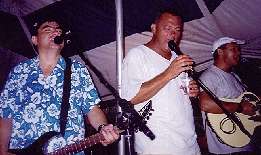 The Band was so good, it even had its own Lead-In crowd warmer-upper, "Twin Palms"! TP consists of Danny Catalan, Vitoy Astrera, and my buddy Russ Smothers. I like them best, actually, because all they do isget drunk and sing Jimmy Buffet songs. Here's Russ trying to sing with Richard and George. Russ is now retired & selling speed boats in Norfolk, so look him up and buy the boat of your dreams!


Critical Acclaim for 7 Degrees South!
From a famous Disk Jockey on DG in 1995: "Some of the worse music I ever listened to was in DG. Megahurts a lot of people with their destruction of the classics. The only reason anyone ever listened to them was, well, there wasn't another band within 1000 miles! If even I, Mr. Tone-deaf can tell when a guitar is out of key, you know they had to be bad. And it was out of tune, every song, every week. Maybe they were just having an off year!
I had a 10-noon radio show and me and my partner in on-air crime used to ridicule the band constantly. Ya know, we actually started getting threats via phone calls and were told not to show our faces at the yacht club during their monthly bashes.
Our favorite point of ridicule was one guy who was megahurts lead singer for part of 95. This off-key, no talent moron would take the stage wearing KNEE PADS. But the funniest thing was, he wore the knee pads around his ANKLES! This wasn't a one time, just got finished playing soccer and thought I would stop by and sing a song event. HE WORE THE DAMN THINGS EVERY WEEK. Maybe he needed the pads for his walk home to perhaps stop in the scavvi for a quicky. Who knows.
Luckily, the fashion statement never caught on, he departed the island, and come to think of it, the threatening phone calls stopped."
From a Current Resident (March 2000) - clearly the music has improved! "There was a guy that left recently, that played with 7 degrees south, big blond haired kid, well, younger than me at least. He plays electric guitar and was pretty good. He will be playing in the bars in San Diego area as soon as he can be, you oughta ask George about him, last name was Rosenbaum."
"I toured DG for the first time in 1989. I loved that sacred rock so much that I went again in 1996. I got to know George the first time around. We used to party together and sing Buffett tunes at the O-Club. You can imagine how thrilled I was to get back there in '96 to discover the band jamming at the Seaman's club. As soon as George saw me, he invited me up to sing Margaritaville, an invitation I couldn't refuse! I made it a regular point to attend rehearsals and share a "shot" with Jimmy or sit in for Eddie on the drums during the bands version of Takin Care of Business!! The music was tight, and the boys were always well received, no matter where or when they played! I miss those days and welcome any comments from anyone who was there...or still is!!!"
- Quietly making noise on a big round ball - Jimbro (rcvd May 2000)
7 degrees south was the best band on the island, hands down. Unfortunately, that really isn't saying much, since the ranking is based on the fact that the other bands (including the band I played guitar for at the time, "Heritage") miraculously managed to be even more off-key than them! Sure, they were out of tune, out of time and even sang some old classics with a ridiculous accent in some cases, but I sure as hell enjoyed them! And with 90% of the things to do in Dodge being pointless without a VAT of beer, they always seemed tuned up by the end of the night, anyway. Jimmy is great, and I really liked him. Wish I knew how to get ahold of him, actually. And they always seem to latch onto the best talent on the island before someone else snagged them into a competitive band! In fact, there was a LT from medical (unfortunately I can't remember his name...too many cups of moo) that helped me in my own amateur guitar playing so much that I don't know what I would have done without him! Then of course Mad Max Ellison, the best drummer on the island, who twilighted with ALL the bands (including mine) and couldn't decide who he wanted to play with, as long he was playing!
Sometimes they'd even snatch talent that they probably shouldn't have. I can remember a pair of girls invited to sing for a while that should have left their voices in the shower! Of course, they will remain nameless for the protection of the innocent (or guilty, in this case), but I will say that "Smooth Operator" and "Chasing Water Falls" will never be the same to me!!
7 degrees south is nothing short of spectacular! The fact that they only would survive in the place they play only makes them that much more important. You cannot fully describe DG to someone who hasn't been there, much like you cannot fully describe the sheer NEED for this band to someone who didn't live there.
You guys rock!
AJ Fortunato, former lead guitar "player" for Heritage.
<nudetuna@san.rr.com>
Dodge Alumni '96
April, 2001. From S. J. Collins C/E <chief@clinic.net>
What ever happened to that part time singer they named a ship after....? "Big Red" I think. Jimmy tried to teach him bass guitar but he was hope-less.
Give my best to Jimmy, Ed, George and "Toy".
Red C. , C/E (Retired....?)
P.S. My new bass has pegs that move to change the pitch of each string. Jimmy never told me about that.....!
The PPDRDG Ministry of Criticism invites you to add your critique too!
Just send the Under Secretary for Judgement an e-mail with the details!