Here are all the places selling DG souveniers that I know about:

My CafePress.com store
Tom Lawson's CafePress.com store
Dan Urish's Notecards
Northwest Embroidery
Larry Bowman's I.O. on-line Bookstore
The BIOT Post Office & Gift Shop
Where you can buy a BIOT Flag
The Diego Garcian Society CafePress.com store
7 Degrees South Band T-Shirts

Sorry - neither the Ship's Store nor any of the clubs on the island have mail order or e-catalogs as of July 2012.
Just the BIOT post office (see below).

Here is the links to my CAFE PRESS store:
http://www.cafepress.com/dgtp.
They sell everything from t-shirts to mousepads to wall clocks to beer steins.

Hopefully, there will be something you can't live without!
Here are some examples of the designs in my store on the products they sell.
These are just a very few of the products and designs - basically each design is on each product - literally thousands to choose from!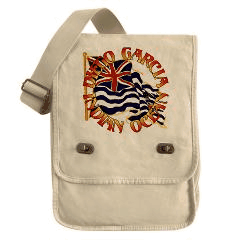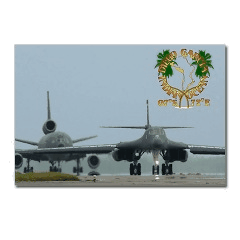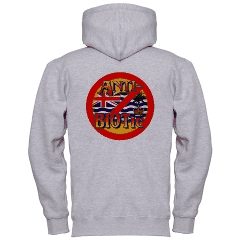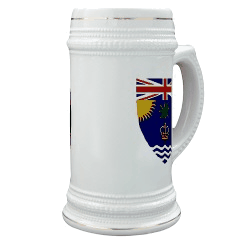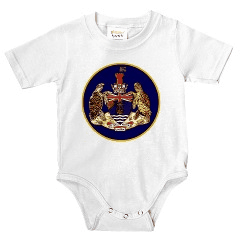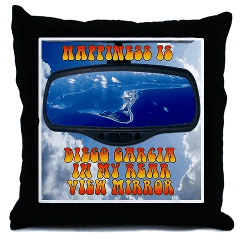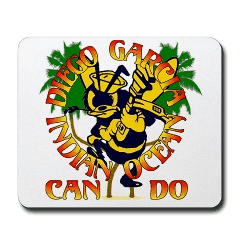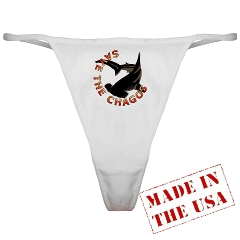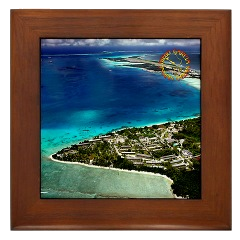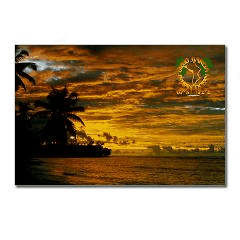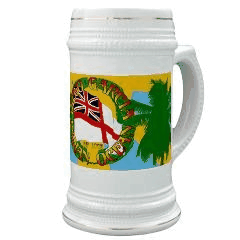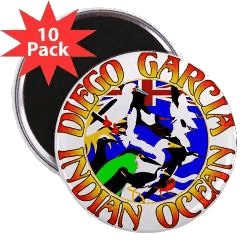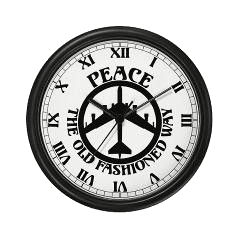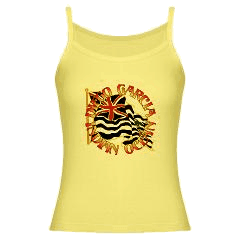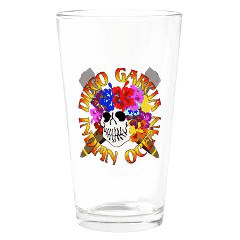 Here's a "review" of Cafe Press:

All the "stores" have the same product blanks. You supply the artwork. When someone orders something, they produce it then and there, and ship it. It is the same idea as "print-on-demand" publishers, only Cafe Press does clothing and knick-knacks in addition to printing books and CDs.

Here is my experience as a customer. I've ordered several items from my own store, using "standard" shipping.

Here's an evaluation of the delivery: They apparently manufactured the final products that night, and shipped via UPS the very next day. They sent me an email with the tracking number and I followed it every step of the way. The order arrived seven days later, as advertised. Everything came through o.k., except the beer stein, which looked like it had cracked in transit. I went to their customer service page on their website and reported it. Within hours they had shipped a replacement at no charge. Two of the items on my original order were apparently "back ordered" and so I also asked when they might be shipped, as I had not received a copy of the tracking number. Again, within hours, they shipped two replacements, no questions asked. It turned out that I got the original two the next day, so I sent them an email saying they could cancel the replacements, but they shipped them anyway! Each time I emailed them, they responded almost immediately! I have never received better customer service from anybody!

Here's an eval of the product: I ordered a XXL hooded zippered sweatshirt, a beer stein, a 12 oz. mug, a mousepad, a tile coaster, and a refrigerator magnet. The sweatshirt is Haines and fits my 6' 250# body loosely, the way it should. The artwork is crisp and clean and does not have that painted on feel. Same with the ceramic stuff - the artwork seems to be melded into the ceramic - these are NOT decals! Even the Yankee Air Pirate logo, which is pretty busy, was clear and the colors were true. The DG maps, even on the sweatshirt, are precisely what the original artwork looked like. This really is quality stuff!

For all of you who plan to write the Great American Novel about DG, you might want to consider Cafe Press. I recently edited and published a book of my father's memoirs through Cafe Press, something for the family to keep. It isn't for the mass market, so I fished around looking for someone to print it independently. Everywhere I went, they wanted $1,000+ to "help" me and give me 20 books or so at the end of the process. However, Cafe Press does the "print-on-demand" system, and each of my Dad's 330 page books costs just $17.08! I had to do a LOT of editing, because using POD means "what you see is what you get", but once I'd finished all of that, it was painless to set it up on Cafe Press. BTW, I ordered the books and they came out absolutely flawless. The only shortcoming that I see is they only print the text & photos in Black and White, and the best binding is what they call "perfect" which is basically trade-paperback binding. But the covers are in color and the books are well made.

To be honest, I was a little leery at first of Cafe Press. It seemed a little too good to be true - i.e., no up front costs, no inventory to maintain - and it also seemed a little bit pricey, compared to Wal Mart, but the product, the shipping and the customer service were all outstanding!


Click here for Tom Lawson's Cafepress DG Store!
Sadly, Tom passed away, but his store is still chugging along!
This is the store with the "Any Week is Chicken Choking Week" stuff! Check it out!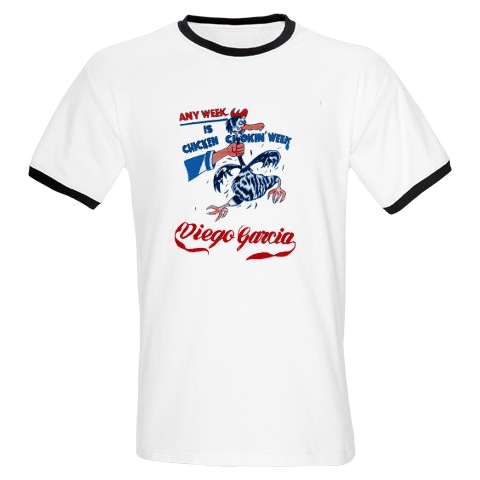 Here's another DG Vet done good!
Dan Urish has drawn some very nice Note Cards of old-time DG.
And written a book!
These are the same 8 1/2" x 5 1/2" cards sold at the SEABEE Museums at Port Hueneme, CA and Davisville, RI.
Dan has kindly agreed to sell them to you directly.
The cards are closeups of the drawings you see here.
All are printed on antiqued cream paper with envelopes.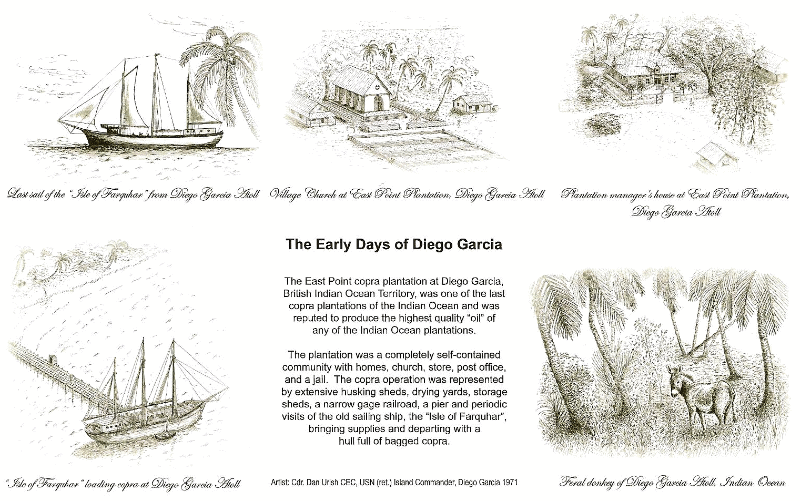 A set of 6 cards.
A matted 7 1/2" x 9 1/2" copy of any image, can be signed and numbered by the artist.

This is Dan's book: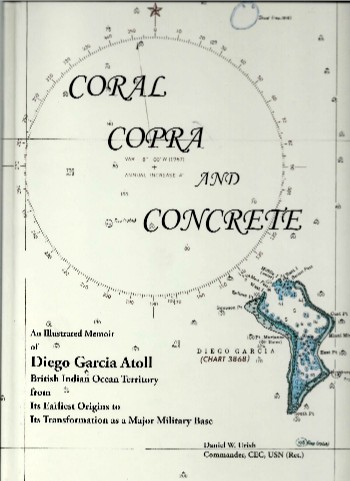 Send your requests to:
D. W. Urish
P.O. Box 1715
Kingston, RI 02881.

DG Vets note: Dan was the Island Commander and C.O. of NMCB-40 on DG in 1971!


Here's some stuff from the company that sells the hats and shirts through the clubs on the island:

Contact Jim Mickelson jim@go2shirt.com 800-851-3671
Here's his website: www.northwestembroidery.com
Here's stuff Jim had for sale as of August 2005: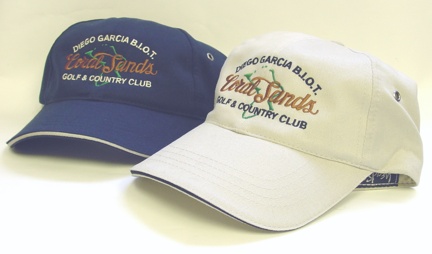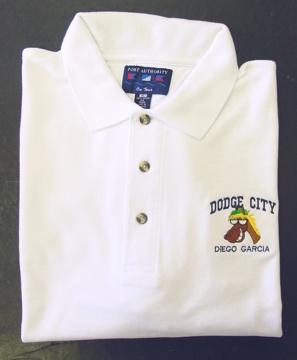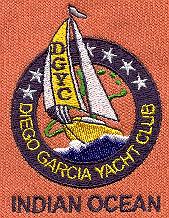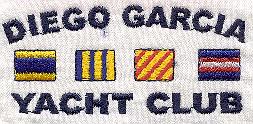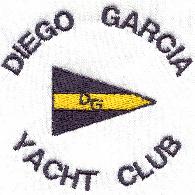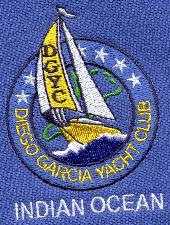 .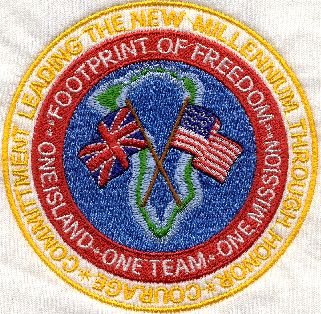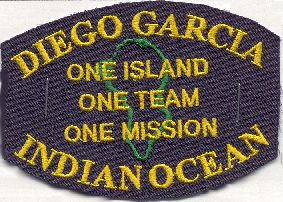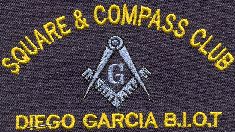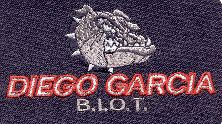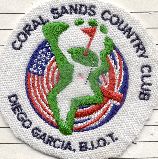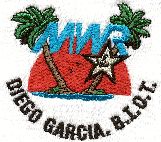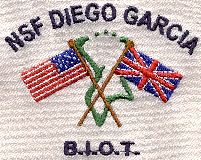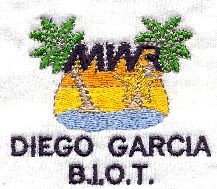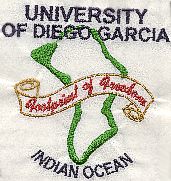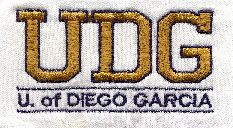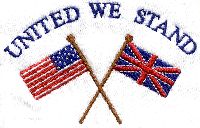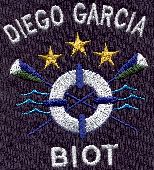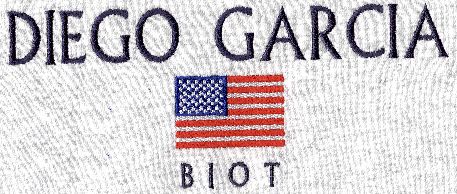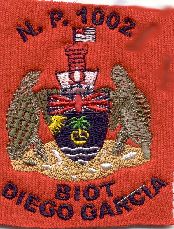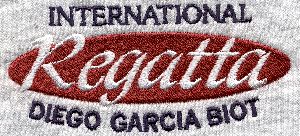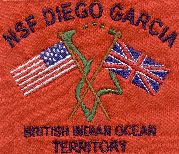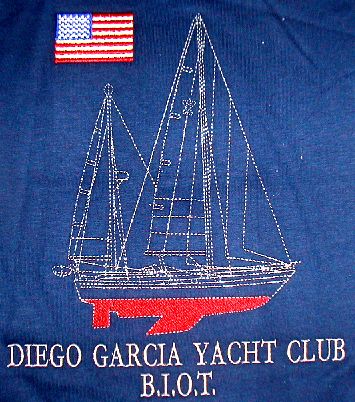 Indian Ocean Area Books and Maps for Sale
- Larry Bowman's site where you can buy (or sell) books, prints, and maps about the IO, including the BIOT and Diego Garcia. This is where I got my copy of Atoll Research Bulletin No. 149. Give it a try, if you're really interested in rare and intriguing stuff.

Seeing as how they are direct competitors to guys like Tom Lawson and myself, I hate to plug the Pay and Pay and Pay and Pay Phone Company (a.k.a. Cable and Wireless to those who have not had the pleasure of using them from the island), but feel like I must in the interest of customer service! Plus, they do have the concession as the REAL BIOT Postoffice - ON THE ISLAND and NOW ON-LINE!
For ALL your Postage Needs, Souvenier Stamps, First Day Covers, Mounted & Framed collections, etc., contact:
http://www.biotpostoffice.com/
.
Plus they now have their own Gift Shop with mugs, T-shirts, etc., for sale. Here's the URL:
http://www.biotpostoffice.com/store/product-list-0.asp.



Lots of People Have Asked Where to Buy a BIOT Flag for Sale.
Here's one source: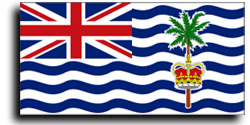 http://www.flagline.com/id01A3235?cs=1

As of this writing (March 2010) a 3' x 5' flag costs just $13.00!


Click here for The Diego Garcian Society Cafepress Store!
This is the organization of islanders based in the UK!
Support these folks by buying something on line, or in the Terminal on Diego Garcia itself!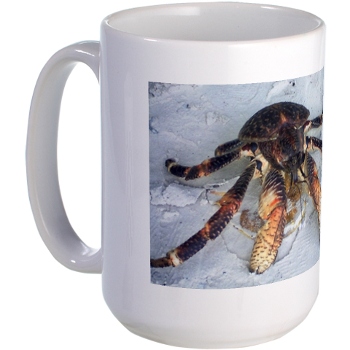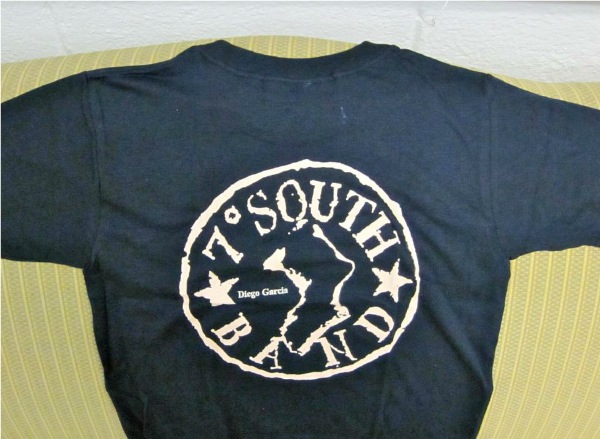 \
The Best Band in the Indian Ocean is Selling T-Shirts!
If you've been on DG in the last 20 years, you know 7 Degrees South. And love them!
Show the love, buy the T-Shirt.
You have to go to their FaceBook Page to get the details:
https://www.facebook.com/sevendegreesouthband


Don't forget to check ebay, there's usually something there!