Visit the Rest of The PPDRDG by Returning to the Site Map and Picking Another Page!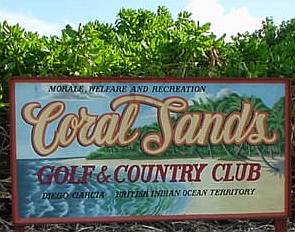 The PPDRDG Commissar of Decadent PseudoSports presents:
The Coral Sands PGA
Championship Golf Course!
Where the Iron meets the Rock!


"Any Scotsman Would be Proud of this Championship Course. I designed it myself!"
- Jack Nickolas
"Golf is a good walk....spoiled" - Mark Twain
"Naturally, this is NOT the Coral Sands Championship Course, but we'll show you anything to get volunteers for Dodge"
- Your Friendly Neighborhood Detailer



The Clubhouse!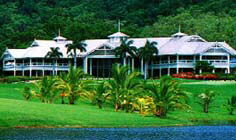 "Of Course, this isn't the real Clubhouse, either, but we want you to think it is........" - Recruiters, Everywhere

So, the REAL Question Is
Is there, in fact, a golf course on Diego Garcia?
We put this question to a select group of PPDRDG Citizens: "Hi Guys! Its me, Ted, with the web page on DG that you foolishly checked in on and left your email address... Anyway, I have a favor to ask of you: I need to know! Is there a golf course there? Somebody told me there was one, but maybe I just misunderstood??? If there is one, I'd like to do a web page on it. Not being a golfer (and if you recall, not a yachtsman either - what did I do on DG??? - oh yeah, I forgot, the alcoholic haze), I don't know anything about it (golfing or the Golf Course there). When I was there but they were talking about building a 9-hole Par 3 on the site of the old dump (north of the powerplant on the ocean side). Anyway, if one exists, does anybody have any info or photos they'd let me use? Even if its just a miniature golf course. Or just land-crab golfing."
Survey Results:
15 out of 19 (79%) Believe there is a Golf Course on Diego Garcia.
8 out of 19 (42%) Actually have seen a Golf Course on Diego Garcia.
4 out of 19 (21%) Played Golf on a Golf Course on Diego Garcia.
2 out of 19 (11%) Still lost in an alcoholic haze.
Actual Survey Comments:
(these are the uncoerced statements of REAL people, and not paid actors)


Hi Ted, Well I guess you are still at it huh? There sure is a golf course here they call it Coral Sands. I do not play golf but will look around to see if there is anyone that can send you some stuff. Mike
Hi Ted, I have the same problem as you, it was the alcohol haze. But it seems to me, I remember something about a golf course when I was there but something like only three holes - sorry I'm not much help. I don't think the haze has
worn off yet. :) Michelle
Ted - Ah, the golf course. Yes, they built the Par 3, 9-hole course on the old dump site. They, even installed a driving range and clubhouse a couple years back. There is even a miniature golf course, but it has been abandoned. I think there were four patrons (true!) over six months before they figured it was a wash out. They have closed holes 4 & 5 of the main course, though, due to the fact that due to space considerations the fairways overlap! Someone got beaned and they went from nine to seven holes. Greens are dirt, except for 8 & 9. BJS PW received a contract to put artificial turf on all nine holes. This contract was awarded when the CO was a golfer. The next CO cancelled the project. The turf remains in a warehouse. Richard
Ted, Yes there is a golf course on DG. It's about 2 miles south of downtown across the street from the Fil-Mau club (if that was there when you were!). It's a 9-hole, par 32 course and a 250? yd driving range. Holes 1-2 head out from the left of the old "clubhouse", 3 and 4 head back towards the clubhouse. Holes 5 and 6 go BACK out away from the clubhouse, with holes 7-9 coming back. The entire course, all 4 fairway corridors, is about 150-200 yds wide, thats just a guesstimation since I always played with plenty of beer on hand! The "greens" were ground up coral, but BJS was working on putting in real greens when I left in Oct 99. They did finish the new clubhouse (this one with AC!) before I left too. Sorry I don't have pics, but I do have video of the course. I'll check around with my friends for any pics they may have. Hope this helps. ~Brian
Like i said, mine is still in progress. there is one tho. and still talk of doing a mini-golf...it's only been in the works for 12 years or more... Cindy
Yes there is a golf course on DG. I don't know much about it because I didn't golf. I think it was a Nine hole course and the putting greens were hard-packed crushed coral. John
Ted - There is a golf course on DG. Played it 3-4 times while I was there. I even have some pics. The course itself was ok. You have to Tee off from elevated astroturf cause they would allow us to add bermuda grass. The excuse was that they would know how it would effect the environment. The "greens" were made of hard packed sand because of the same reason. Now I haven't been there in about 4-5 years so it may have changed since I was there. Let me know if I can be of any help on the page. Bridget
Yes Ted, there was a golf course. It wasn't much, nine holes and a driving range cut out of the coral. It was just north across the road from the Fil-Mau Club, next to one of the Filipino villages and a stone's throw from the oceanside beach. I never used it, I'm not a golfer. But I understood it was pretty rough on clubs. Cheers, Jeff
Yes. Real short course. Four entire holes. None longer than about 150 yds. Hellacious sand traps. Nasty Fairways. And watch out for those land crabs! Steve
When I was there '96 there was a large driving range...don't remember a golf course though. Pennygail
Yes Ted, there is a Santa Clause.... Also, a Golf Course on DG. At the end of 1994, three of us went out to that area you describe and put in 9 pipe flags at various locations with short pieces of line tied to the bottom of the pipe. Each flag was numbered and the object was to hit the ball within the string. If you did, you holed out. This was our golf until about the begining of 1996 when we made a deal for some sand. On a Sunday morning, (I remember it was the hottest day of the year), there were two of the original three left on the island. We pulled up the pipe flags and put rolled plastic down then dumped crushed coral/sand over the plastic. Comshawed a roller and rolled it out. We placed the pipe flags back and around them placed a cup about the size of a dinner plate. Now, you didn't have to pitch into the string length but, put on the sand/coral greens to inside the cup. It improved and the Diego Garcia Golf Club was formed. We challenged everyone. People even brought their own clubs (at their own risk). It really took off. Night golf was played against the ROICC office and Contractors every month with trophies (hand made) given to the winner. It became quite a rivalary. Approximately a year later, we gained permission to cut back brush and expanded the length of the course. However, it remained a 9 hole course but, you could get some tremendous drives. When I left in 1998, plans had been drawn up and approved at the ROICC level for major improvements to include widening the course, putting in a practice putting area, and legal clubhouse. My sources tell me a lot has been going on with the club. So, to answer your question.... Yes, there is a golf course on dg. Take care and keep up the good work president........Jack
yes there is a golf course. Heather
Ted, I never played on the course but yes there is one. It is up by where the New PhilMau Club is. If you walked out the front door (watching your backside all the way) and turned left, you would be looking at the parking lot of the golf course. I was told that all of the "Greens" are "White" and the fairways are far from fair. Dwight
Ted, yeah it's next to the seabreeze village. never went there myself. Kurt
YES...there really is a golf course there, and a pretty darned nice one, too. In fact, Welfare & Rec $$$$ have been spent recently (during last 2 years) to improve and expand the course, grounds, and club house/19th hole! Bob.....former Exec of DG who used to do astronomy from behind the hill on the 4th green (the hill blocked the wind and the village lights...)
There was no golf course there when I spent time on DG, but there was a lot of talk about building a miniature golf course with non-appropriated funds. It died a thousand deaths in conference committees. Also, while surveying for a fiber optic cable upgrade, I did see Navy personnel using one of the few large, grassy areas at C-site for a driving range. I don't know how long that lasted because it looked like more than a few of the balls ended up in the ocean. Mark
The only thing that you forgot was the fact that the Air Force must have built the course. Isn't that the first thing the Air Force does? Marty
In 1981 I drove about 150 golf balls into the ocean in back of "C" site ... but guess that doesn't count! Dusty
Ted- they're right, there is a golf course (as of may 98), I only played it once - fishing boats were booked, and (almost) too early to start drinking. It was 9-hole, but I think you played 2 of them twice (7 holes). Packed coral made up the greens. When I left, the one green (I think it was the 1st hole) was the highest elevation of land on the Island, I have a few pictures in a book, but I have no scanner to send them, I'll look for the negetives.... - Greg

O.K. So Here's the Real Story!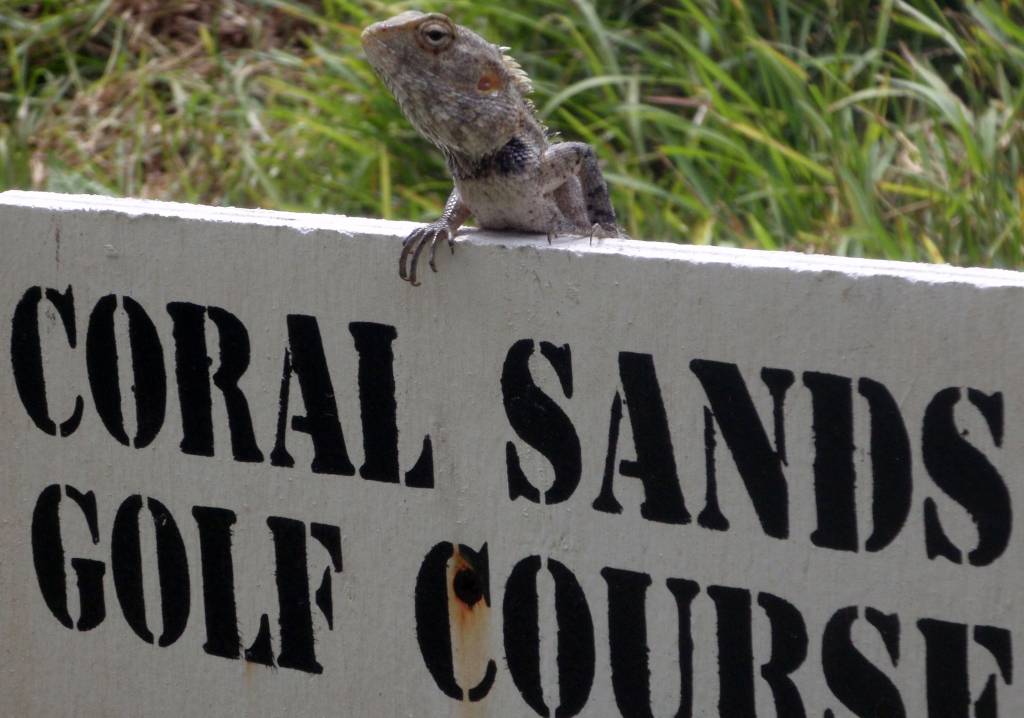 Yes, Virginia, there really is a Golf Course on Diego Garcia!
Many thanks to Lynn Miller and Rebecca Greiner for these photos.
Here's Lynn's story: "I've been here since 1995. I am the manager of the Navy Federal Credit Union office here. I did interrupt my employment with NFCU to work for 18 months as the Human Resources Manager for the BJS contractor. I was also president of the DGGA (Diego Garcia Golf Assn) for one year. The driving range, clubhouse with our lovely attendant/cashier Terry, and a few shots around the course. Hope you can use them. We are in the process of installing the artificial turf greens to cover the crushed coral that we had been using. 2 down, 7 to go. Also there are plans to expand from the present 7 holes to 9 holes. We play 9 holes by playing #1 & 2 twice. Par is 32. 6 par 3's, 1 par 4, 2 par 5's. But the longest hole is only 350 yds, just tough to keep the ball on the putting surface with your 2nd shot because it's really elevated. So you're forced to layup and chip on."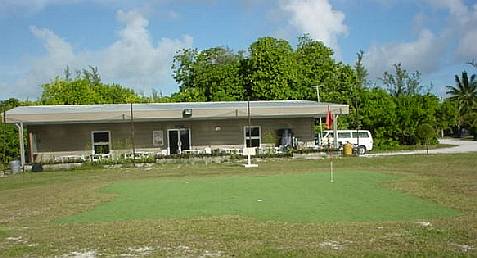 Here's the Clubhouse itself.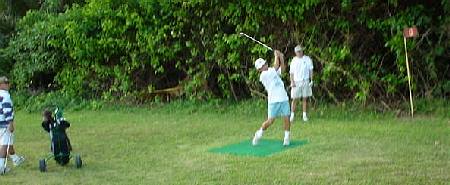 Here are some genuine Diego Duffers actually playing the course (and you thought we were kidding about their even being one!)...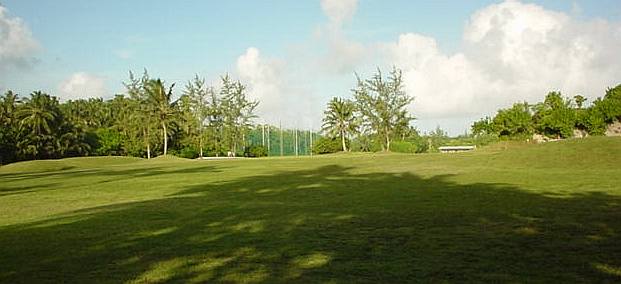 What a beautiful course! The Mountain you see on the right side of the picture is the highest point on the island - 22 feet above sea level. Its where everyone has to go if there's another earthquake and tsunami!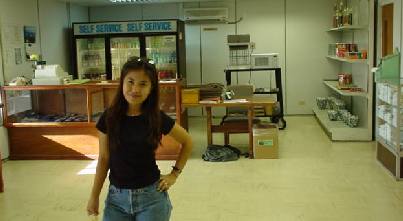 Here's Terry, the best pro-shop manager within a thousand miles!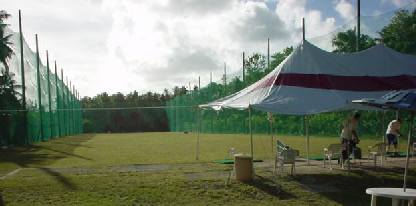 The Driving Range - but you have to collect your own balls!
Tired of the "Club Scene"? Tired of endless, drunken, wasted evenings? Catch up on real golf inside the clubhouse on their big screen TV.

Proof Positive there's a Golf Course: From Mrs. J. Daly, 8/28/00: Hi Ted, Just wanted to drop a quick note to say that the golf course does exist! My husband, John Daly, practically lived on it when he was working (merchant marine) in DG in 1999-2000. He even brought home a trophy that he won in a tournament there. I believe the golf course helped to keep him sane while he was there.
Also, due to your site, I was able to help send him and his crew on a mission to see "Katie." We have beautiful pictures of her. What an interesting little island. Very interesting site you have! Sincerely, Mrs. J. Daly.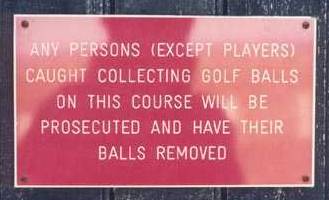 (this is the real sign on the driving range at DG)
Yes, the PPDRDG has it all!

July 10, 2003 update:
From CNNSI itself! Some irresponsible reader rates the Coral Sands (badly). Here's the text:
Another bad golf course: the one on the island of Diego Garcia, in the middle of the Indian Ocean. Just south of the equator is where I spent 10 weeks after Sept. 11. The island has a course with nine holes that you play twice, and native grass grows on top of sand and coral. AstroTurf tee boxes with AstroTurf, pint-sized greens that are as hard as the rock they lay on. Good shots usually hit rocks before or around the green and bounce wildly into the trees or thick weeds. No greens fees to speak of, which I guess covers the lack of maintenance. — Dave Krueger, Charleston, S.C.
Editor's Response: Well, Dave, next time, spend a whole fucking year out there, and not just a measly 10 weeks, and maybe you'll learn to appreciate even the fact that you could play golf at all. After all, I'll bet Saint Andrews was pretty bad for the first couple hundred years or so...



Run though the course yourself - 9 Holes, 30 Par.
Many thanks to Rebecca Greiner at GEODSS in 2009 for these photos: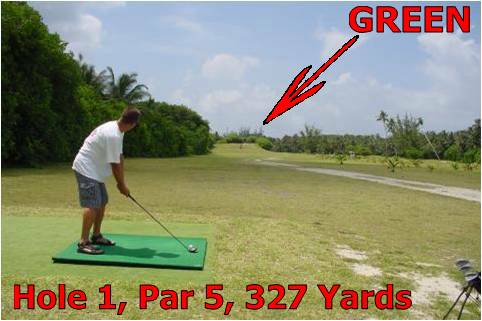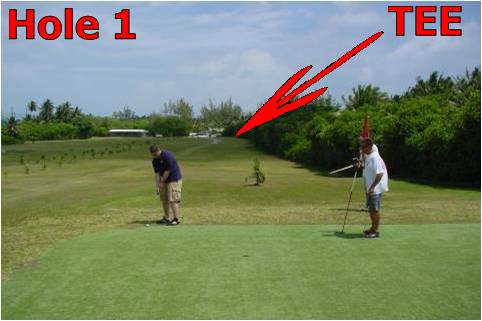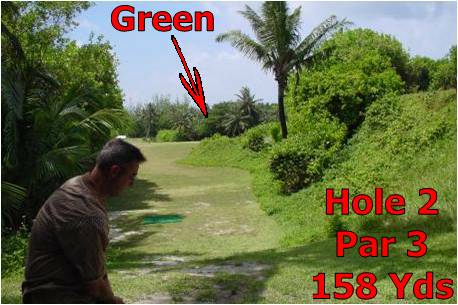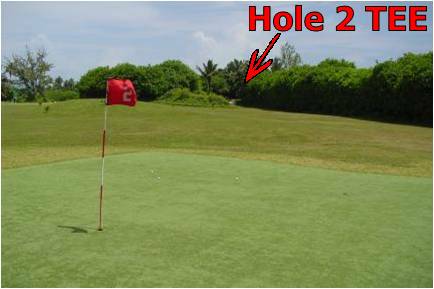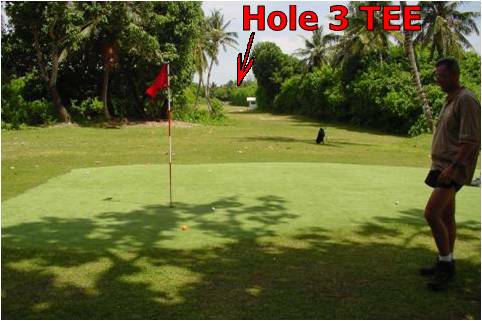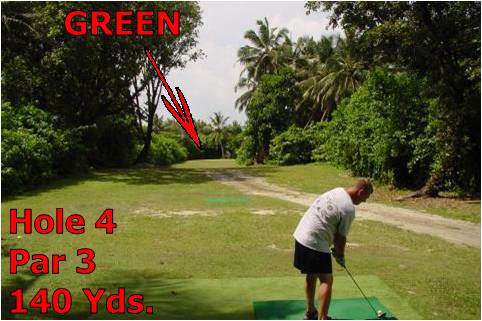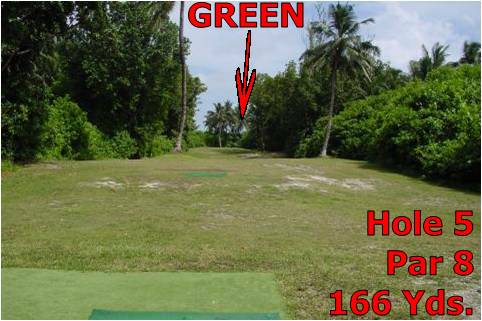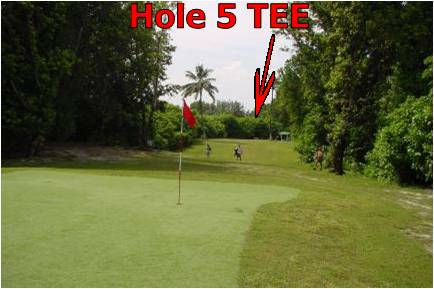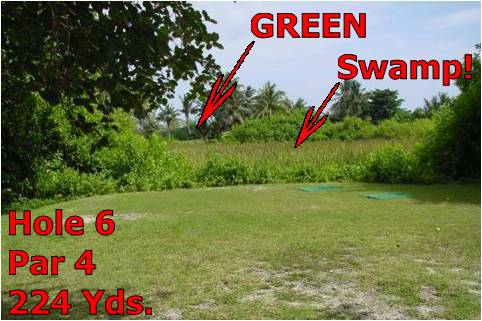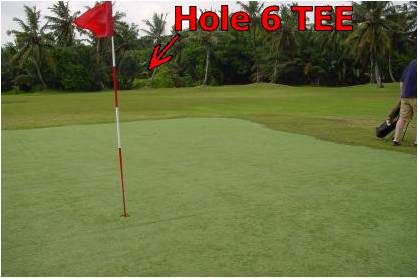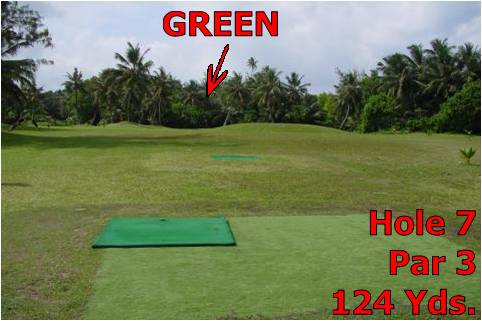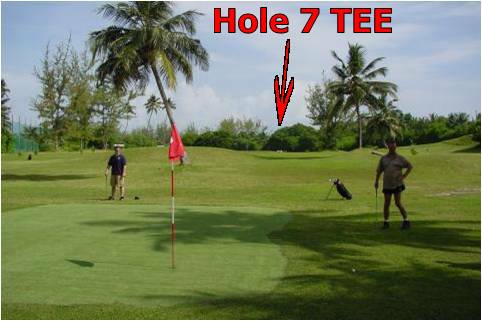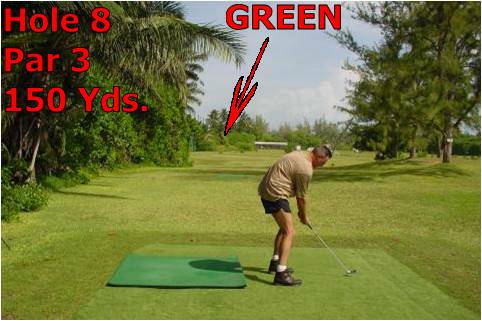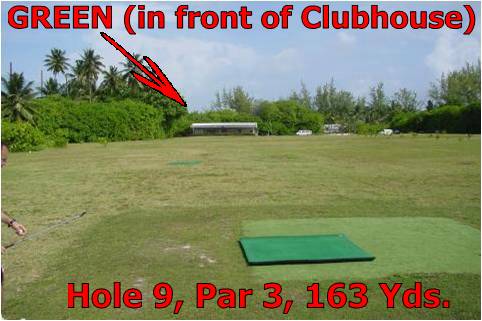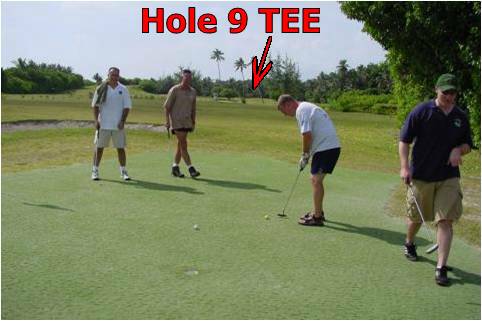 Now you just MIGHT be able to purchase Coral Sands hats and shirts!
Northwest Embroidery makes them, and you can see them and maybe order them too.
Go to the ad! (I don't get paid for the ad - its just a service for fellow Diegonians).
By the way, thanks to Jim Mickelson for the idea!

And now an account of an even more decadent pseudo-sport:
Pub Golf

From Rebecca Greiner, January 2009: This is truly one of my favorite memories of my time on the island. After a few passed back at the O' Club one night we decide that the time has come for a 'Pub Crawl' of sorts on the island. And how much more clever could we be than to mix it with a round of golf. We decide upon an event we called 'Pub Golf' and proceed with the planning from there. Our goal was to hit all the bars on the island (pub crawl) at least once and possibly twice as we made our way around the island on foot (attired in plaid with golf clubs).
Here is how it came about:
-----Original Message-----
From: Some BRIT person
Sent: Friday,
To: Some NAVY person; Some AIR FORCE person
Subject: Pub Golf

Dear all,

XXXXXXX and I felt that we should raise awareness of the things Scotland has provided for the world, especially since the departure of the Scot Rep. To this end we are proposing to play some pub golf on Fri 2008.
The outline is that you arrive at the O' Club at 1900 attired for a good evening of golf. We will then have a light dinner before commencing.
Before we start we will break down our Brit, USN and AF teams into the groups of three in which we will go round the course. We will all go round together but obviously you need to know who you are playing against.
There will be 9 holes which we will visit during the evening. This should take us into most bars on the island.
At each hole a drink is specified and a par for that hole. Every time your beverage touches your lips it is counted as a shot. Four sips = four shots. If the hole is a par 5 and you score 4 then you have scored a Birdie.
The scores are tallied up as we go round and at the end of the course we will have an individual winner (M&F), and a winning team. We will then retire to the club house for a drink and to discuss the topics of the day.
Please let me know if you would like to attend as we would like to have teams of approximately 4 persons per group.
If you wish to come then can you invite the remainder of your team. We are trying to achieve an even balance of females, SNCOs, etc. but if we don't it doesn't matter.
Regards,
Ixxxx
BIOT Masters Club President
Axxxxx
BIOT Masters Club Sec
-----Original Message-----
From: Some NAVY person
Sent: Monday,
To: Some BRIT person
Cc: Some other people (probably USAF)
Subject: RE: Emailing: golfscorecard.doc
Dear "Green's Keeper",
OK...the US Navy team, Team "Fore Play" (it just works on so many levels), is as follows:
--Navy person #1(Team Captain--ebullient imbiber of potent potables often resulting in garrulous circumlocution)
--Navy person #2 (Etiquette Consultant--exchanger of ephemeral graces for ephemeris places...i.e., not unlike most satellites, known to achieve Low Earth Orbit with the proper addition of "jet fuel")
--Navy person #3(El Diablo en fuego...just add tequila)
--Navy person #4(AKA The Moose--either "the largest member of deer family; bull has antlers, sometimes bent" OR "an indigenous female in Korea or Vietnam who served as a mistress to a Marine while in the country"...if you pour in enough booze, you might just get to see both)
What is our tee time?
I assume that all beverages will be normal sized (i.e., no Heineken mini-kegs or personal pitchers of Mojo). Also, what constitutes a "cocktail"...is it the drinker's choice (e.g., gin and tonic, jack and coke, piña colada with extra fruit)?
For the unwashed, uneducated masses (AKA Team Fore Play), Magners is hard cider.
Mxxxxxxx
U.S. Navy Support Facility
Diego Garcia, B.I.O.T.
-----Original Message-----
From: Some USAF person
Sent: Wednesday,
To: Another USAF person
Subject: Emailing: golfscorecard.doc
Sir,

Do we have a team for this Friday? I've got my Scottish golf outfit ready to go.
V/r,
Xxxxxxxx
------------------------------
From: Some USAF person
Sent: Thursday
To: CIV #1, CIV #2, Another USAF person
Subject: Emailing: golfscorecard.doc
Attachments: golfscorecard.doc
I can't wait for the kilt! I need to find something...
As far as team name it should incorporate Air Force, drinking, and golf. How about: Team O'Shit?
-----Original Message-----
From:. Some BIOT person
Sent: Monday,
To: Some Navy person; Some USAF person
Subject: Emailing: golfscorecard.doc
Sir, Txxxx,
Pse find attached the scorecard we have put together for this Fri. We hope it meets with your approval! See you on the first tee...
Regards
-----Original Message-----
From: Some Navy person
Sent: Monday,
To: Everyone
Cc: Everone else
Subject: RE: Emailing: golfscorecard.doc
Sending again...darn turtle graphic on the scorecard was too big to go through the OneNet pipe...
-----------------------------------------
THE RESULTS…..
From: Some BRIT person
Sent: Friday, June 27, 2008 2:34 PM
To: Some Navy people, Some Air Force people, and some Civ's
Subject: Scorecard!
Sirs, Ladies and Gentlemen,
Realising that it is almost a week since our round of golf (although it feels longer ago than that) Ian and I felt that we should really publish the scores. The figures are taken from the scorecards we kept, so clearly the odd shot may have been lost in the alcoholic haze… Listed in some kind of order, names as per on the card:
Ixxx(12) Mxxxx(9) Jxxxx(9)
Gxxxx(15) Axxx(8) Bxxxx(8) ***** Note that 2 Females actual scored the lowest!!!!*****
Txxx(12) Doc(10) Mor'n Wood(12)
Axxxx(13) Moose(12) Angus(11)
Which, by my reckoning, makes the overall team scores as follows:
Brits (A gentlemanly 52) Navy (A rather serious 39) USAF (A Wilkinson Sword (ie. second to a Gilette) 40)
Congratulations to the US Navy on your narrow victory! Clearly the Brits were just unlucky with 'the deck of fun.' We must do it again – but not too soon….

V/r
xxxxxxxxx
Note: It was titled the 1st Annual BIOT Masters Pub Golf Tournament but not sure if the island will ever see a 2nd. Often threatened but never repeated; always cancelled last minute. A few injuries did result from the first one. And there were more than a few drunken soles wandering back to the OQ's from the BRIT at various points during the night. Luckily, only one person had to seek actual medical attention for anything too serious (ant bites to the face and ear after "deciding" to sleep what was left of the early morning away in the scavvy between the BRIT Club and the Marina (the Yacht Club had been condemned at this point and was only a few pieces of wood that used to resemble a deck—it has since been recently rebuilt). Who knows how he will explain the resulting scar on the ear to his future offspring.
***** In the end it was decided the Navy cheated and the Queen's team had an American female on it so it was only appropriate that the USAF steal the trophy. Ha! Ha! It's location remains a mystery to this day. ****
Pub Golf was honestly a great night. Both the Brit and Navy XO's, the newest Navy CO, all AF CC's on the island, and a smattering of other senior NCO's mixed in with a few loverly civilian girls from GEODSS. Ha! Maybe it can get it's own heading. 1st Annual DG BIOT Masters…. As far as the names of everyone in the pics…. [editor's note: In keeping with MOD and DoD policy, there is no telling whether these names are correct or not... Since the Navy cheated, no doubt their "names" are along the same par...]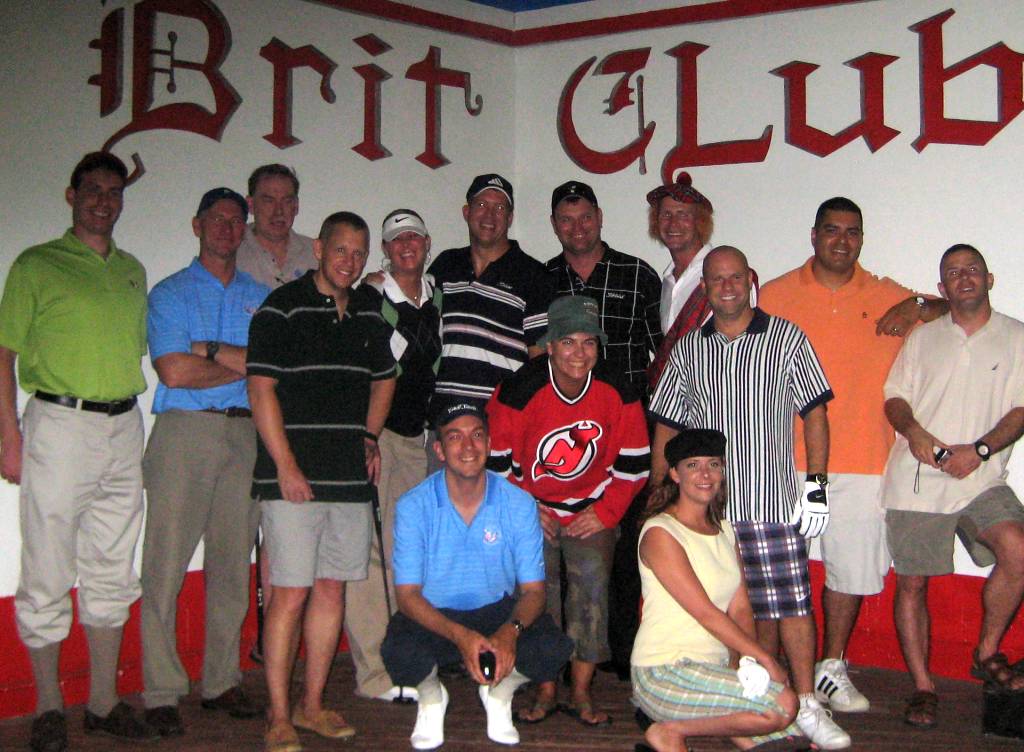 Top Row (all standing) = Ian H., Rich C., Tim C., Dan M., Amy E., Mike P., Doug "Moose" W., Justin S., Tony S., John A., & Chad M.
Bottom row = Andy M., Becky G. (ME), & Gena T.


Golfing the SEAMAN's Club!


Above and Below: Shit-faced participants celebrate the absense of victory.


Don't buy a putter until you've had a chance to throw it.

Never try to keep more than 300 separate thoughts in your mind during your swing.

To calculate the speed of a player's downswing, multiply the speed of his back-swing by his handicap; i.e., back-swing 20 mph, handicap 15, downswing = 300 mph.

When your shot has to carry over a water hazard, you can either hit one more club or two more balls.

If you're afraid a full shot might reach the green while the foursome ahead of you is still putting out, you have two options: you can immediately shank a lay-up or you can wait until the green is clear and top a ball halfway there.

The less skilled the player, the more likely he is to share his ideas about the golf swing.

No matter how bad you are playing, it is always possible to play worse.

The inevitable result of any golf lesson is the instant elimination of the one critical unconscious motion that allowed you to compensate for all of your many other errors.

If it ain't broke, try changing your grip.

Everyone replaces his divot after a perfect approach shot.

A golf match is a test of your skill against your opponents' luck.

It is surprisingly easy to hole a fifty foot putt .. for a 10.

Counting on your opponent to inform you when he breaks a rule is like expecting him to make fun of his own haircut.

Nonchalant putts count the same as chalant putts.

It's not a gimme if you're still away.

The shortest distance between any two points on a golf course is a straight line that passes directly through the center of a very large tree.

There are two kinds of bounces; unfair bounces and bounces just the way you meant to play it.

You can hit a two acre fairway 10% of the time and a two inch branch 90% of the time.

If you really want to get better at golf, go back and take it up at a much earlier age.

Since bad shots come in groups of three, a fourth bad shot is actually the beginning of the next group of three.

When you look up, causing an awful shot, you will always look down again at exactly the moment when you ought to start watching the ball if you ever want to see it again.

Every time a golfer makes a birdie, he must subsequently make two triple bogeys to restore the fundamental equilibrium of the universe.

If you want to hit a 7 iron as far as Tiger Woods does, simply try to lay up just short of a water hazard.

There are two things you can learn by stopping your back-swing at the top and checking the position of your hands: how many hands you have, and which one is wearing the glove.

Hazards attract; fairways repel.

You can put a draw on the ball, you can put a fade on the ball, but no golfer can put a straight on the ball.

A ball you can see in the rough from 50 yards away is not yours.

If there is a ball on the fringe and a ball in the bunker, your ball is in the bunker. If both balls are in the bunker, yours is in the footprint.

It's easier to get up at 6:00 AM to play golf than at 10:00 to mow the yard.

Sometimes it seems as though your cup moveth over.

A good drive on the 18th hole has stopped many a golfer from giving up the game.

Golf is the perfect thing to do on Sunday because you always end up having to pray a lot.

A good golf partner is one who's always slightly worse than you are...that's why I get so many calls to play with friends.

That rake by the sand trap is there for golfers who feel guilty about skipping out on lawn work.

If there's a storm rolling in, you'll be having the game of your life.

Golf balls are like eggs. They're white. They're sold by the dozen. And you need to buy fresh ones each week.

A pro-shop gets its name from the fact that you have to have the income of a professional golfer to buy anything in there.

It's amazing how a golfer who never helps out around the house will replace his divots, repair his ball marks, and rake his sand traps.

If your opponent has trouble remembering whether he shot a six or a seven, he probably shot an eight (or worse).

You probably wouldn't look good in a green jacket anyway! A sweatshirt will do just fine.

It takes longer to learn to be a good golfer than it does to become a brain surgeon. On the other hand, you don't get to ride around on a cart, drink beer, eat hot dogs and fart if you are performing brain surgery.

Meanwhile, Visit the Rest of The PPDRDG by Returning to the Site Map and Picking Another Page!
Want to use something from this site? See the TERMS OF USE.
This, and everything else I write and every photo I produce is copyrighted by Ted A. Morris, Jr.