The PROPEOPDEMREP Commissar of
The Peoples' Coast Guard Auxillary Presents: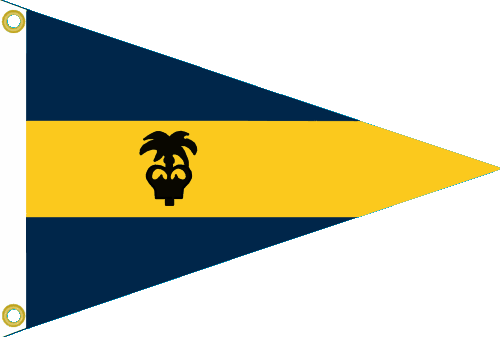 Above - The 2012 "New Burgee"!
Latest News:
8 March 2012: There's a new Burgee (that little flag that flutters from the back of rich people's yachts)! You can contact the DGYC via their Facebook page about obtaining one. The price is $30 (shipping and handling extra, of course).

2011: You can "friend" the DGYC on Facebook (https://www.facebook.com/profile.php?id=100003226404204 ) or email them at dgyachtclub@gmail.com. Their Facebook page invites you to join - a lifetime membership is just $40.
January 2009: From Rebecca Greiner: The yacht club was torn down right after I got here last Feb (2008). All that was left for a long time was the rotting deck and path leading to the Brit Club. Last month it resurfaced again in the form of a small yellow pre-manufactured building and a small deck and began accepting members again. A few of us are hard at work shining it up. We often find ourselves there, with an ice chest and a few assorted bottles, cruising between the decks of there and the Brit Club. Gotta love the BYOB factor right next to the bar.

August 2009: From Mark Garner: The yacht club is up and running again, and celebrating its 30th Birthday! They've got a website with contact and membership information: http://dgyc.org/index.htm. Note - it now appears to be off the ether (March 2012)

Where the Elite Meet!
The Diego Garcia Yacht Club
(go to page 2 for more stories, photos and activities)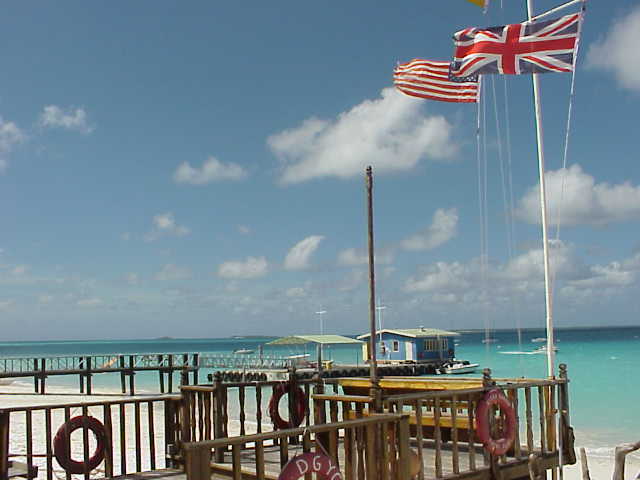 This photo was provided by Mike Mashing, in 1999. It shows the observation deck for the Yacht Club, with the Marina pier in the background. The DGYC is currently (2003) undergoing a major facelift.
From the original webpage in 1999: "Now, as an AIR MAN, I'm not much on things nautical, and so this page isn't done from memory - and only reluctantly. In fact, the idea of going onto water deeper than about 4 feet, filled with big, and I mean big, fish, on a boat without a motor (you could get stuck out there somewhere and run up on a reef, or worse), just seems to me to be something that other people should do. Besides, my Grandpa, who was a Chief Bosun's Mate in the USCG told me in no uncertain terms that a boat is just a hole in the water into which you pour money, and to stay away from them. So I have, mostly. However, lots of Diego Garcians love the water, and spent lots of time (and money) at the Marina and Yacht Club, and they deserve a page of their own. I agreed to make one for them, but only after they told me that nowadays, the Yacht Club parties rival those I remember at the Brit Club, and I figure anyone who can slam down a Tiger Beer or tumbler of Mojo can't be all bad, so here goes:
(I want to thank the PPDRDG partisans on the island for their assistance in putting this page together.
In particular, Mango Razon, Mike Mashing, Mark Chandler, Gloria Barry, and Russ Smothers.)"


First, here's the Official Propaganda!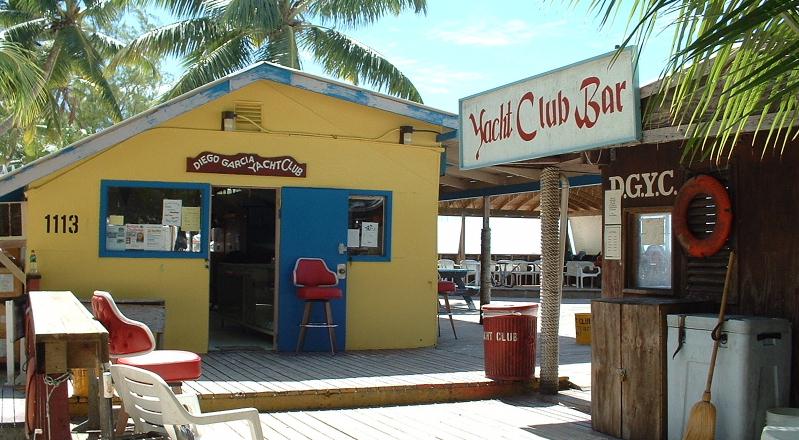 Photo by Mark Chandler, 2003
The Diego Garcia Yacht Club was established in May 1979 by a group of yachting enthusiasts for the mutual benefit of all island residents and transient personnel who were interested in any aspect of the sport. Since it's inception, the club has flourished and now has over 10,000 members on the island and at large. It is affiliated with the Royal Yachting Association (RYA) and the United States Naval Sailing Association (USNSA).
The Yacht Club sponsors and organized monthly 'socials' [yeah, neat euphemism], regattas, as well as instruction in windsurfing and sailing. The club also runs its own shop, selling a variety of beach wear and leisure items.


NEWS FROM 2000: "We're currently under construction extending our deck out towards the water and Marina, details and photos to follow. The Seabee's will be doing construction. New elected Commodore is the Brit XO Dave Ethel and Vice Commodore is Bub Lenior (PWD). Treasurer is John Champney (GEODDS) and Secretary Gloria J. Barry, (Air Operations). George Gesner is the Windsurfing Commodore. Still working on our web site , ran into a glitch with the URL ??? more to follow...." From Gloria Barry, Feb. 17, 2000.


NEW NEWS, 2003: "Ted - Well as you can tell by the photos, things have changed a little since 99'. The Brit Club started first in 98 - 99 by building a huge deck on the beach in front of their club. Originally it had a covered bandstand in one corner. That has since be converted into the DJ's boothe. It has a roof, lighting really nice."

Note: In late '99, the DGYC did the same. They built on and around the original observation deck so that the entire area in front of the club house was covered. Since then they have removed the old observation deck, extended the entire deck out closer to the beach. At high tide the waterline is only about a foot from the deck. They also included a covered bandstand on one corner. The club has also purchased its own fleet of windsurf boards and rigs. So of course they had to build a sail loft out in from of the clubhouse. Also sometime between 2000 and now, a connecting walkway between the Brit Club and the DGYC was put in. Makes it conveniately easy to stagger... er... saunter between the two clubs.

"The DGYC bar has been taken over by MWR and is open Wed - Sun evenings. They (MWR) bring live music in as well, a couple evenings a week. Since the return of Mango, the clubhouse has been undergoing a facelift. new paint inside and out. Currently the Seabees are building a shower and washroom facility between the Yacht Club and the Marina. No more walking to the other side of the Brit Club to use the bathroom!

"The Marina has gone through changes as well. The have an all new fleet of sailboats. Hunter 170's and 240's, really quite nice..." From Mark Chandler <fwdloop@cwdgnet.io> July 2003.
And here's what it looks like in 2003, taken from the Marina pier showing the shower under construction (photo by Mark Chandler):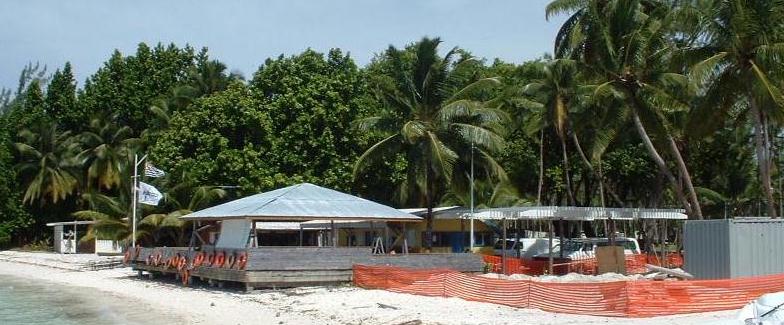 Another of Mark's photos - a view of the "bandstand" (note the Marina in the background):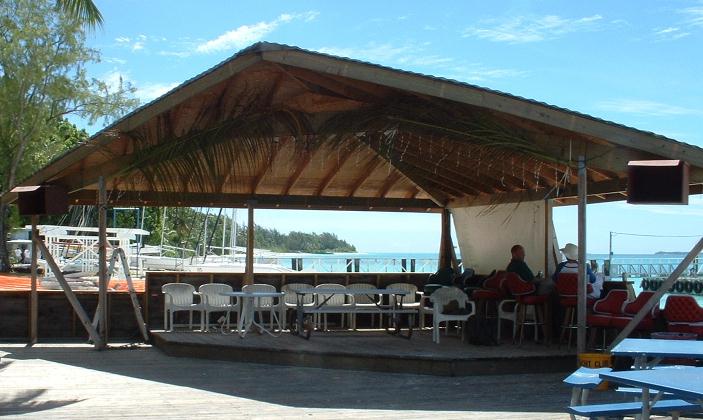 Here's the Marina, 2003 (also courtesy of Mark Chandler):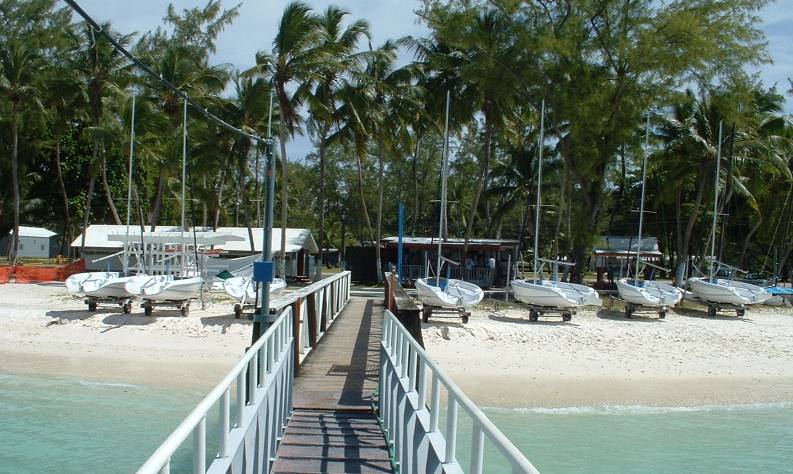 This photo by Gloria in 2000 shows the Marina pier, with the DGYC on the left.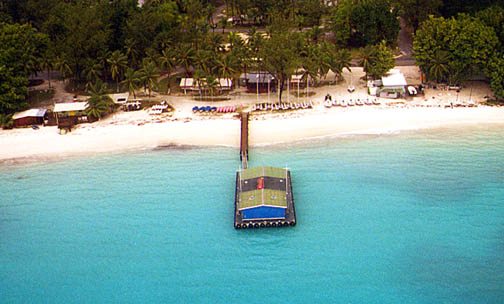 Want to buy DGYC Souveniers, but don't want to spend a year on the island (again) to get them?
Try contacting Northwest Embroidery and get them to make you a shirt or hat!
Here's a sample: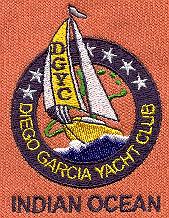 Go to the "For Sale" Page and find out how to contact them...
NOT a paid advertisement - Caveat Emptor!


ANCIENT HISTORY:

HOW TO JOIN THE DGYC!


I've received a huge number of requests about how to get aboard the DGYC. Over the years, many people have broken the code one way or the other. For historical buffs, here's how Bjorn Endresen figured out how to join up back in '05:

Subject: DGYC membership one step closer
Date: Sat, 17 Sep 2005 17:32:02 +0200
From: "bjorn endresen" <bendresen@hotmail.com>
Hi Ted,
As suggested I wrote to the editor of the DG news, he forwarded it to the DGYC, and got the answer you see below.
It's great, he's welcoming new members and they still have the life long membership oppurtunity for 40 dollars. I've sent the form and the fee and will let you know if things are working.
Maybe you want to keep the info in case some other ignorant comes up and asks you - your name pops up quite a lot when googling for Diego Garcia Yacht Club.
Thanks again for your help.
Bjorn


From: "Hastings, David G. ET2 (NSFDG)" <HastingsD@dg.navy.mil>
To: "'bendresen@hotmail.com'" <bendresen@hotmail.com>
Subject: DGYC membership
Date: Thu, 15 Sep 2005 10:00:07 +0600

Bjorn,
Thank you for your interest in the DGYC, as the current Secretary and Tresurer, I invite you as a member. Here is the information needed as well as an application, What I need from you is to have you fill this application out and submit the lifetime member fees of $40 and send to the address below.

WELCOME TO THE DIEGO GARCIA YACHT CLUB

The Diego Garcia Yacht Club (DGYC) was established in May 1979 by a group of yachting enthusiasts for the mutual benefit of all island residents and transient personnel who were interested in any aspect of the sport. Since it's inception, the club has flourished and now has over 10,000 lifetime members worldwide. The DGYC is affiliated with the Royal Yachting Association (RYA) and the United States Naval Sailing Association (USNSA). In Jan 2005 the DGYC changed its classification from a private organization to special interest group under Morale, Welfare and Recreation (MWR).
The Yacht Club sponsors and organizes monthly socials, regattas, as well as instruction in sailing and windsurfing, assisting MWR. The DGYC also has its own line of clothing and leisure items that are available thru the MWR Marina.

ROUTINE EVENTS

* Socials & Regattas - As Published
* Monthly Member's Meeting - 1st Wednesday of the month @ 1700

ANNUAL EVENTS

* Escape the Rock - Build something that floats to race
* DG Windsurf Cup - Annual Windsurfing
Competition
* Chagos Challenge - Annual Sailing Competition

DGYC MEMBER BENEFITS

* Guest benefits at affiliated Yacht Clubs worldwide
* Use of Yacht Club Sailing equipment
* Storage for sailing, windsurfing and Kite boarding gear
* Camaraderie amongst fellow Sailors, Windsurfers and Boarders

HOW DO I JOIN THE DIEGO GARCIA YACHT CLUB?

The DGYC is located between the MWR Marina and the Brit Club. Anyone wishing to join will be welcome, not only experienced sailors, but also those who are beginners. All that is required is to fill out the application form, submit payment for a lifetime membership of $40 and the desire to have some fun. If you wish to be an active member or assist with any activities/club-sponsored events please contact one of the Yacht Club Officers. We very much look forward to seeing you.

DIEGO GARCIA YACHT CLUB
PSC 466 BOX 15
FPO, AP 96595-0015
Telephone: 011-246-370-4977
Fax: 011-246-370-4413

R/
Dave Hastings
Sec/Tres. DGYC
011-246-370-3318
Here's the Membership Application: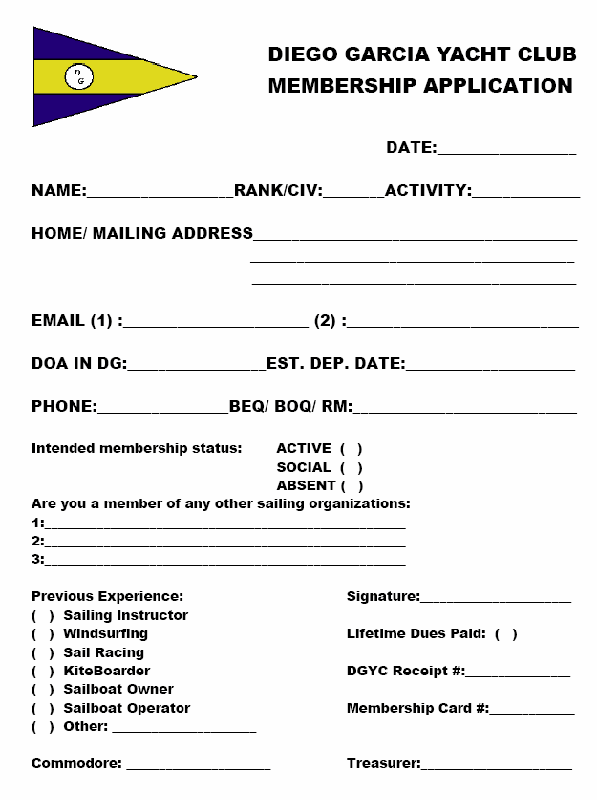 CAN'T GET THE BRITS TO GIVE YOU PERMISSION TO GO TO DG, BUT WANT TO GET CLOSE?
IF YOU'VE GOT YOUR OWN YACHT, HERE'S HOW (A/O 2007):

Headquarters British Forces
British Indian Ocean Territory
Diego Garcia
BFPO 485

NOTICE TO ALL MARINERS OF THE NEW PROCEDURES WITHIN THE BIOT

As of 1 January 2007 anyone wishing to visit the British Indian Ocean Territory (BIOT) by yacht will need to apply for a permit in advance from the British Indian Ocean Territory Administration (BIOTA) in London. e-mail: mailto:BIOTAdmin@fco.gov.uk The mooring fee will also be increased from USD $ 100 for 3 months to GBP Pound 500 for 1 month, payable in advance.

On receipt of a request for a permit (sent by email, Fax or post) a Visit Permit Request form will be sent. Once the completed form and mooring fee (by bank transfer) have been received by the BIOTA office a Permit, Laws & Guidance for Visitors and maps and co-ordinates showing where yachts may be moored will be issued.

Please note, that under BIOT law any person who enters the Territory, including its 3 mile wide territorial waters, without a permit is liable to imprisonment for up to 3 Years and/or a fine up to 3000 Pound.

Mariners are also reminded that BIOT Customs will be enforcing British India Ocean Territory "The Imports and Exports Control Ordinance 1984" and "The misuse of drugs Ordinance No5 of 1992". The BIOT Drug dog will be deployed on future BIOT Patrols of the area. You are reminded that any breach of these ordinances may result in a fine or imprisonment.

D G Howard
British Representative
British Indian Ocean Territory
Fax: +44(0)20 7008 1589
Tel: +44(0)20 7008 2961 or 2890
Address: British Indian Ocean Territory Administration
King Charles street
London SW1A2AH



And now, for something completely different...
Here's Stephen McWilliams photo of the Marina in 1979.
Does anyone know the history of this boat? Let me know!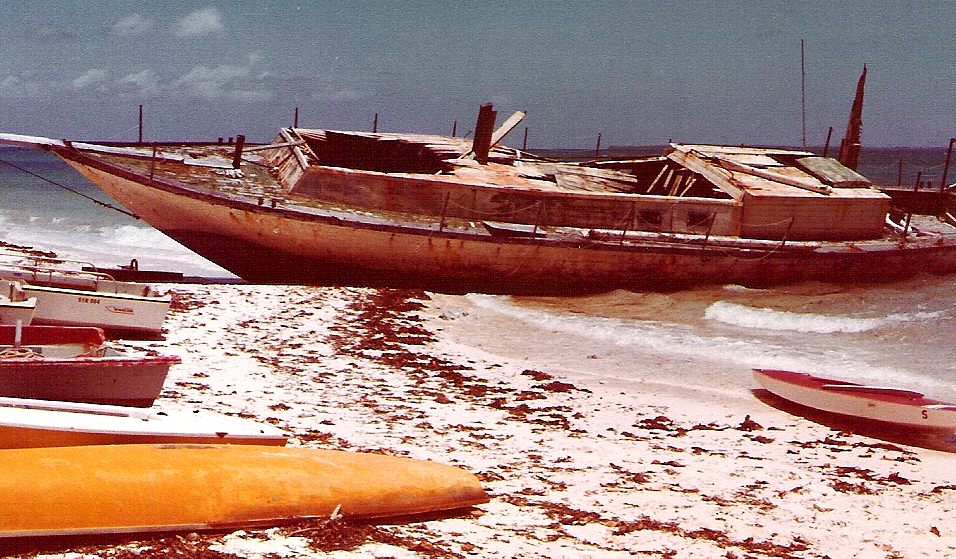 From Bill Marshall <william.r.marshall@mchsi.com> May 1, 2008: Regarding the derelict boat in the photo on the yacht club page 1: I don't have much info on the boat but I remember it being there on the beach in '77 when I arrived. I think it had the name "Saratoga" on the transom, so I assume it was of American origin. I have no idea when it might have arrived at its final resting place nor how long after the photo was taken that it deteriorated into the sand as I'm sure it must have done.



From John Duning <purchasing@downwindmarine.com>




This is John "jd" Duning, ETCM, USN, RET. I was aboard Diego Garcia from Feb. '76 to Feb. '77. Ran the Transmitter site for most of that time as an ET1. VERY involved in sailing while I was there.




The Diego Garcia Yacht Club that I was familiar with was formed in late Feb. 1976 courtesy of the CEC Captain that was out there with the Sea Bee battalion at that time. He first taught me how to sail and then made me the sailing instructor when he left. I passed it on when I left, but evidently the program died shortly after to be resurrected in '79. We had half a dozen Lasers, a Hobie 14, a Japanese knock-off of a Coronado 15 and a British day sailor known as a "Bosun". I still have my membership card and Burgee. Prized possessions!




The mysterious boat in the picture........arrived in Diego Garcia in the fall of '76. The story was that a Dutch gentleman purchased it sight unseen somewhere in the general geographical area of Indonesia. Gave his brother some money, flew him out to the boat with instructions to get it "seaworthy" and sail it to the West Indies for complete restoration. The last port of call before Diego Garcia, the boat reportedly bounced across a sand bar. Crew chose to keep going. By the time they reached the general area of Diego Garcia, they declared an emergency....they really were slowly sinking....the Brit Rep of the time granted them entry approval. They beached the boat to keep her from sinking in the lagoon. Their choice was to get the boat seaworthy within the week or be flown off the Island. With no materials and no real skills, the crew was flown off in a C-141. She was a wreck when she arrived. All turnbuckles completely frozen. All standing rigging galvanized and rusty. Cotton sails that were completely blown out shape wise. The surprise to me is that there is anything at all left of her.




I would be glad to share whatever information I may still have in my memory about the Island. It was a demanding tour, but a very satisfying one. Led directly to my being able to become a Master Chief, Commodore of San Diego Naval Sailing Club, Commodore of Navy Yacht Club San Diego, and to have lived aboard my Islander Freeport 36 for the past 17 years.




Best regards & Happy New Year,




jd@Downwind



If anybody has more photos or stories they'd like included on this page
E-MAILTHEM TO ME!
Many thanks to the yachtsmen and yachtswomen out there in August 1999 for this honorary membership!
I am now certain I should have spent more of my on the water and less under the influence!