In Remembrance of those who served,
and have now moved on.
(in alphabetical order)


MSGT Craig Abbey, USAF
February 2008
From Marty Juul <mjuul@comcast.net> on Feb 16, 2008: I thought you might want to know but Craig Abbey died this week. He was the big MSGT assigned to GEODSS in 1986-1987. Craig and I were from the same hometown in Western NY and my brother who has gotten to know him over the years called me on Tuesday to let me know. Editor's Note: Craig had a very quick wit, and as funny as they come. He was a great guy, and it's a shame he went so young.


Connie Achorn
November 21, 1940 - October 8, 2009
Connie contacted me (the webmaster) way back in 1998 or 1999 and we've been email buddies ever since. Connie was one of those people who would have done anything to get to Diego Garcia, but never was able to, despite her close connection to Dodge. She was in the Army Reserves in the 70s, and then she went to work as the person who managed the contract for T-AK 2062 AMERICAN CORMORANT, otherwise known as "Big Red" for Osprey-Acomarit Ship Management of Bethesda, Md. Anyone who ever had the privelege of serving aboard Big Red or being invited for dinner by her generous crew, owes the experience to Connie.
Sadly, Connie had a lot of medical problems in recent years, and passed away on October 8, 2009, just a couple days after dropping me a last email. Here's what I received today from her daughter Lisa McLean: "Mom passed away this morning a little before 9:00 am. She has been in hospice since last Friday afternoon. She was very happy to know that so many people she had known over the years were in touch with her towards the end of her life. She will be cremated and her ashes scattered in the ocean according to her wishes."

Here's to you, Connie. May your ashes mix with the currents and end up, finally, in the Diego Garcia lagoon you loved so much. Your buddy, Ted.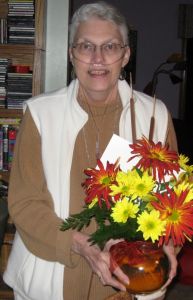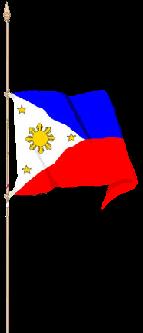 Juanito "Johnny" Bautista, Air Terminal
January 13, 2012
From Mary Ann Godsey:

I would like to inform you of the passing away of one of FEBROE employees, JUANITO 'JOHNNY" BAUTISTA. He works at the Air Terminal/GSE under Bill Godsey. He was already there when I arrived in DG in 1985 and was still there when I left in 1989.

He was a very friendly, wonderful and lively person ... and loved by almost all Filipinos.

From FEBROE, he moved to work in Guantanamo, then to Nairobi, Kenya. He allegedly passed away yesterday of complications...diabetes/kidney failure in Nairobi.


Master Chief Aviation Ordnanceman James W. Beasley
September 10, 2011
Below: Navy Support Facility Diego Garcia Command Master Chief Robert L. Johnson recites the Chief Petty Officer's Creed during Master Chief Beasley's Memorial Service. Master Chief Beasley was the Senior Enlisted Leader for the Navy Munitions Command, East Asia Division, Unit Okinawa, Detachment Diego Garcia. Master Chief Beasley died along with the Coxswain,Wilfredo "JoJo" Paguio, after his fishing boat capsized off the coast of Diego Garcia Sept. 10.

U.S. Navy photo by Mass Communication Specialist Seaman April D. Adams


EO3 Steven B. Benson, USN
1973
From David L. Trewolla <DavidTre7949@aol.co> EO3 Steven B. Benson was an Equipment Operator in Alpha Company of Detail Dingo for NMCB 133, homeported in Gulfport, Mississippi, was fatally injured in a construction accident while dismantling the boom of a mobile crane at the end of a work day. As I recall, a portion of the boom collapsed and crushed him when he removed a cotter pin. Steven was a man of Christian character and served the Navy Seabees with honor and dedication as evidenced by his promotions. He was well liked and respected by all who had the pleasure of his acquaintance. Steven had served in the battalion since approximately June 1971 and was on his second deployment, the first being to Okinawa in 1971-72. I cannot recall Steven's home and family situation, but ask that you please add his name to the memorial page as one who gave the ultimate sacrifice for his country.

I saw where Lt. Trewolla had given you the info on Benson who was killed in a crane accident. I remember it well. He had turned his life around from drugs and booze and was a great guy. He always carried a little bible in his front pocket that he called his "truckin' bible". Here's a photo from my cruise book. Terry Mross.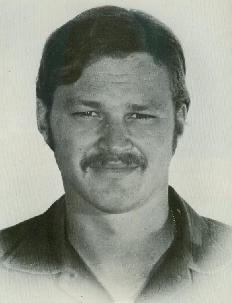 BUC Eddie Bishop, USN
August, 1999
From Eddie in 1999: Were you ever on Diego Garcia? YES - 1971/72 WITH NMCB 71... Served in the Navy for 22 years, retired from the SEABEES in 1981. Currently live in St. Cloud, Florida and am now fully retired. Enjoyed your web page, would like to hear from shipmates I served with in DGAR.
Received June 9, 2000: "My husband really enjoyed going on the net and reminiscing about the places he had served. He was a great fisherman and lover of nature, He enjoyed Diego's natural habitat immensely. He went in with the second battalion and was there to start building the base, before the barracks was there. I am sorry to say he passed away last August. A great void is now in our lives without him...."



BOS'N Joe Cornwell
October, 2003
It is with deepest regret that I relate the passing away of Bos'n Joe Cornwell in October of 2003. Joe succumbed from his battle with cancer. We received the word aboard the MV 1st Lt. Alex Bonnyman, Joe's "homestead" ship. His service to the Merchant Marine, his Union, his fellow Seafarers, and the Republic shall not be forgotten by
His shipmate,
Taylor Clear
<bilgeman@aol.com>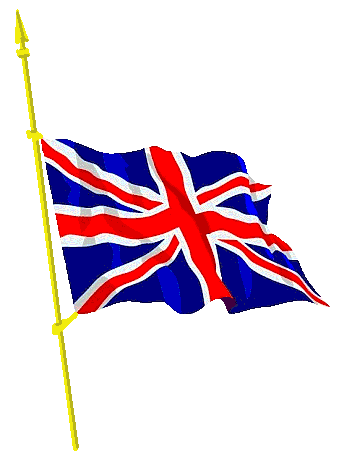 Kim Crawford
1993
L/Wren Writer, Royal Navy.
Kim Crawford served in Diego Garcia as the L/Wren Writer in the Brit Reps office from 1984-1985. Kim was a very good friend and would do anything to help anybody out. She was always good fun on runs ashore, both in DG and in Plymouth and Exmouth where a group of us used to meet up for nights out when we returned to the UK. Kim first discovered she had cancer in 1986 and very sadly passed away in 1993 whilst serving at HMS RALEIGH.
From Nev Nixon (RM Det 1985-86) <nevnixon@hotmail.co.uk>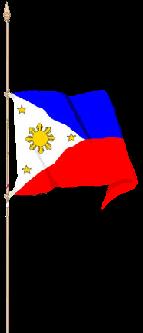 Ramon Crew, Leadman, Harbor Ops
1989
Mel also told me that Ramon passed away from a stroke on duty there on DG. I didn't know him, but I'm sure he was like the rest of the filipino workers who kept the place running - hard working, loyal, and friendly. On behalf of those of us who understand how important their work was, thanks, Ramon.



Charles "Chip" S. Cummins, USN
1971 - The Cantonment Area was originally named Camp C. S. Cummins in his honor.
From Dan Hurley <danphurl@msn.com> I was Alfa Company Commander of Det Chagos (NMCB-71), and I was there when C.S. Cummins was fatally burned in the desalination plant boiler failure. He was covered with superheated steam, ran from the building and was held in the infirmary until an emergency C-130 could come to get him later in the day. I think he died the next day at Utapao in Thailand. Sorry to report such a sad story.

From Patrick Saunders <p.saunders@ambt.net> I was on diego from October 1971 to May of 1972, while with Bravo Co., MCB 1. We relieved MCB 40 who promptly got the hell of there. My memories and there are many, are a mixture of good, bad and absolutely terrible.
I notice that from the warstories, that if everyone who says that they were there, the morning that the boiler blew in the Desalination barge, and killed Chip Cummings, that it must of been a mass convention.
Unfortunately, that is not the truth for there were only those who were going on shift, as Chip was coming off shift, when the disaster happened. I was working in the camp power station that morning, we worked 8 on and 16 off, and it was a common occurrence to feel the explosions shaking the building, from blowing up the reef for aggregate. That morning, when the boiler blew, it was louder and closer and the building did not shake. I can remember running towards the direction of the explosion and coming to the barge. The DeSal crew, who slept in the same hut as me, were there, and I walked over to see what had happened. Chip was in the shower area, and he was alive, barely. The long and short of it, was that he had been boiled alive from the super-heated steam that tore through the bulkhead that separated the shower area and the boiler. Chip's skin was hanging loose on him and it came off in your hand if you tried to move him.
The medics came and took him to the hospital, and after waiting hours and hours for a 130 to fly to the Rock, and flying him to Thailand, more hours, where he was put on a 141 for Japan. They told us that he died in Japan, but all of us hoped that he had died long before that.
Chip, a kid who who had done his tour in the Nam, before coming to the Rock, died as the result of the awarding of a contract to the lowest bidder. No purple hearts, no parades, may he rest in peace.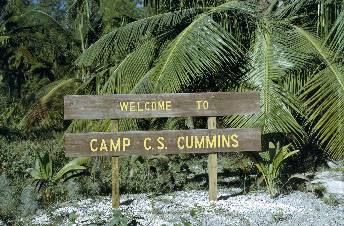 Photograph of the camp sign taken in 1973



SEABEE and Musician Lawrence Felix "Larry" Duran
May 2013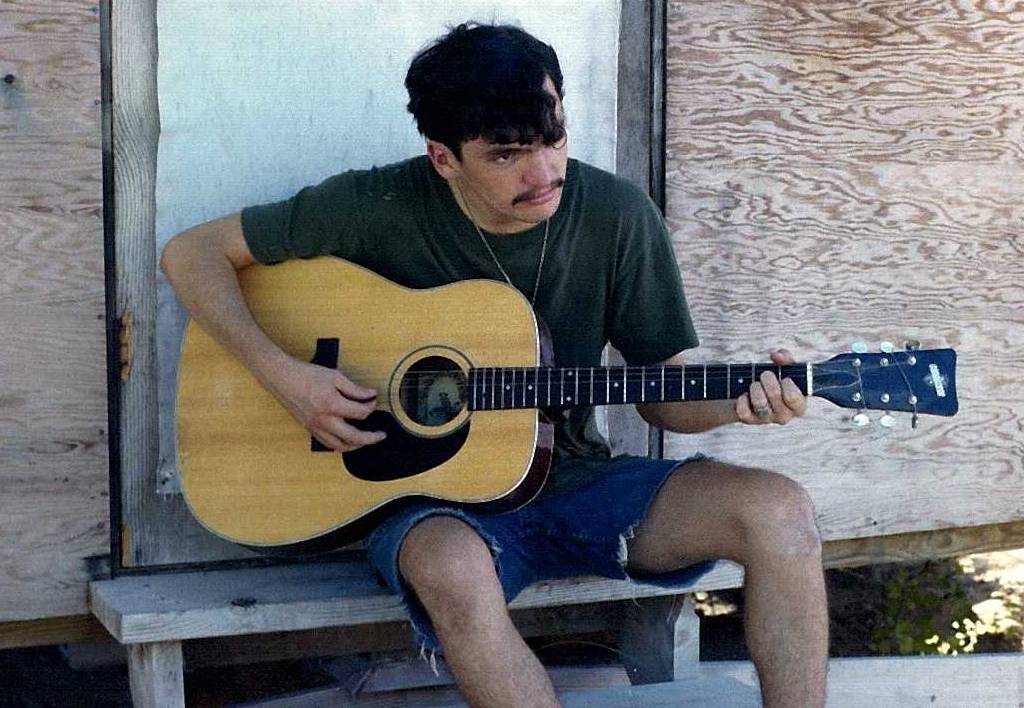 Bob Wierzbicki (rewllc@yahoo.com) reports that Larry passed away in May 2013. Larry was one of the founders of the first home-grown band on Diego Garcia in 1972 - read all about it at http://www.zianet.com/tedmorris/dg/seabeeband.html. As Smitty said, God Speed Larry!

Here is the obit from the Sacramento Bee on May 7, 2013: "Lawrence F. Duran 8/10/1953 - 5/01/2013. Lawrence Duran was born August 10, 1953 in Albuquerque, New Mexico, raised in Walnut Creek California and passed unexpectedly on May 1, 2013 at home in El Dorado Hills, California. Lawrence proudly served with the United States Navy Seabees and spent time on Diego Garcia, a small atoll in the Indian Ocean. Following his service, he continued his education and received his bachelor's degree from San Francisco State University, then became a Pharmacy Tech with Kaiser Permanente. At the age of 48, Lawrence again returned to school and graduated from the American River College Nursing Program as an RN. He later became a Nurse Educator with UNITEK College in Sacramento. He was a lover of music and a musician himself. He played both the drums and the rhythm guitar. He had a passion for cooking and was known for his barbeque and potato salad, a skill he passed on lovingly to his daughter. He is survived by his daughter Veronica Duran, formerly of Shingle Springs, CA and currently residing in Rancho Cordova, CA; his siblings, Frank Duran, Margaret Cloud, Stella Rankin, Bennie Duran, and David Duran. He is also survived by Jesse Duran, whom he raised. A funeral service will be held Friday, May 10, 2013 at 1:00 pm, Chapel of the Pines Funeral Home, 2855 Cold Springs Rd., Placerville, CA. Interment will be private at Sacramento Valley National Cemetery, Dixon, CA."


funeral service will be held Friday, May 10, 2013 at 1:00 pm, Chapel of the Pines Funeral Home, 2855 Cold Springs Rd., Placerville, CA. Interment will be private at Sacramento Valley National Cemetery, Dixon, CA. - See more at: http://www.legacy.com/obituaries/sacbee/obituary.aspx?pid=164671568#sthash.8IP1JqhV.dpuf






BU1 Jack I. Emory, USN
May 22, 2009
My father, Jack Ira Emory, was a seabee for 29 years and passed away this Friday, May 22nd at the age of 75. His last home port was Gulfport, MS. He did four tours in Vietnam, one in Antarctica, one in Diego Garcia in 1978, and also Rota, Spain where he had his retirement ceremony. He will be buried Friday May 29th with a military honor guard at the Roseburg Veterans Cemetary in Roseburg, Oregon. His son, Don Emory can be reached for any questions:

541-521-3386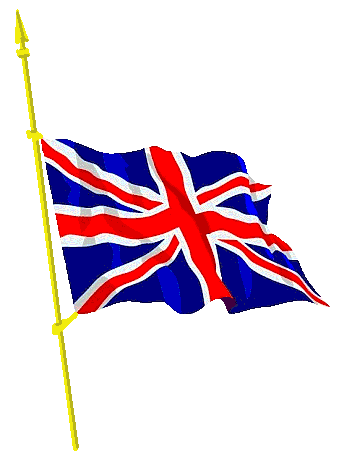 Mike Flemming
Site Manager, Cable and Wireless
July 20, 2003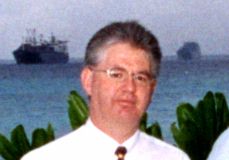 Mike Flemming arrived on Diego Garcia in 1985 as assistant manager for a couple years, and came back in 1995 and spent the next 8 years working as manager for Cable and Wireless (the phone company) on the island. He was widely respected for his work and his personality, and was one of DG's well known characters. He died in a tragic accident, and according to one of his friends, he was riding his bike down DG-1, down near the PACAF are, drafting behind a bus. From what they gather, he must have been looking down when the bus stopped. He hit it head first going around 30 MPH. His heart stopped immediately. At least it was fast. The island community gathered for a memorial service at the MOT on July 24, 2003, to say their last goodbyes. A photo of the service can be seen in the Tropic Times for July 25. [Editor's note: He was there when I was, so many years ago, and I envy his chance to stay there and make it his own place. Over the last few years was one of my correspondents because of this web site. He was a good guy, and I'll miss him.]


Agustin Tuazon Guiao, Jr., Ensign, USN
1980
Killed while aboard the USS L. Y. SPEAR (AS-36) while at Diego Garcia, in a accident on the helo deck. He was holding Division Quarters on the 01 or 02 deck that morning due to the heat in the S-Division spaces. At the same time, the Deck Division was moving a boom (which had been Gerry-rigged) when a metal line snapped. His division watched in horror as Ensign Guiao's head was cut off by the whipping line. As a side note, the ship's doctor was totally hysterical and the Corpsmen had to take over. The L. Y. SPEAR was his first assignment after Officer Training. Info from Mary Ellen Nigh of the L. Y. SPEAR Association, and Teresa (Raver) McGlinsey TM1 veteran.


Al Glagola
Contracts, FEBROE
Date Unknown
Information from MaryAnn Godsey, July 2006



Bill Godsey
Air Terminal Manager, FEBROE
12 April, 2004
It was with deep sadness that I returned from the war and learned (7 months late) that Bill Godsey, my good friend, had passed away from cancer. Bill was the HMFIC of the Navy Air Terminal for five years during the FEBROE period, and I was priviledged to have worked with him during my year (87-88). Bill was a retired USAF MSGT, and was the most knowledgeable aerial porter I ever met. He knew everything, and I mean everything, there was to know about moving cargo and people in and out of DG, and he taught me a lot - about payloads, but also about how to enjoy life. Bill drank like a fish. Except on Saturday afternoons and all day Sunday when he invested his very soul in his favorite past time - fishing. Bill kept about 100 rods and reels leaned up on a bike rack in front of his room, and knew ever filipino coxswain and fish gutter by first name. Bill was the first person to catch a billfish off DG, and here's a picture of him and that first Marlin. Like I said, Bill loved to drink too, and I remember when he drove home from the Expat club and side-swiped about a dozen cars, weaving all over the road, followed by the BIOT Police and the Navy SPs, lights flashing and all, in the slowest slow speed chase in recorded history. They took his license for that, and so he decked out a bike with a radio and lights and rode that all over the flight line. Since he owned the pax and crew buses, he never did have to walk!

There's lots more stories about Bill - all of them funny or friendly, and if anyone has more, let me know and I'll put it here for the rest of the crew to read.

Bill, here's to you, old buddy! May God bless you in fisherman's heaven, and may he bring comfort to Mary Ann, your wonderful wife.

Your friend forever,
Ted.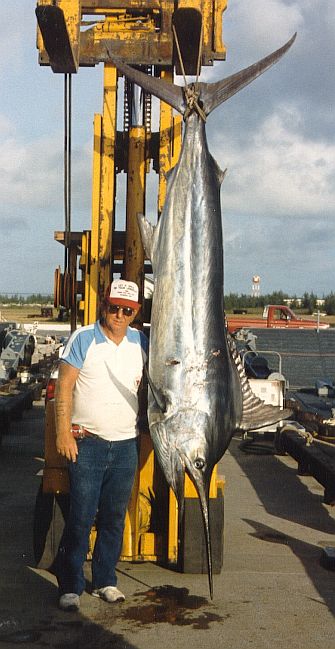 Lester Jones
Aircraft Mechanic - FEBROE
1989
I heard from "Mel" that Lester died on R&R in Angeles City. Mel wrote, " He was a good friend of mine, my snorkeling buddy. We shared some dangerous ocean side and night time snorkeling adventures." Lester was a former USAF aircraft mechanic, and had been stationed at Clark Air Base in the P.I. before signing on with FEBROE. He'd gone home to see his girl, and unfortunately never returned. I used to see him everyday out on the flight line, working like a dog on our C-141s and C-5s. He was always cheerful and a good mech. Best of luck to you, Les, wherever you are.



DJO1 David W. Kronberger
July 20, 2000
Dave was the Petty Officer in Charge of the AFRTS Station on DG in 1979, and was Station Manager of the AM and FM radio stations, as well as Channel 8. He was often seen on Diego Forum and The Evening Report. He wrote the article on "Coconut Diplomacy" featured on this web site, which was also published by The Navy Times back in '79. After DG, he was stationed at Adak. He retired from the Navy and the Federal Aviation Administration, and was working as a Public Affairs Specialist for the Defense Energy Support Center at the time of his death from cancer. He was buried in California in a full military funeral. Thanks to Thomas Lawson for this information.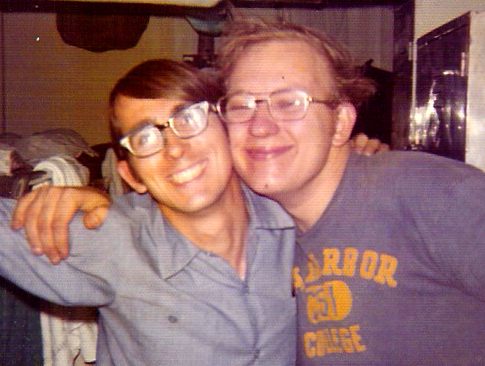 That's Dave with the LA Harbor College T-Shirt
From Larry Matthews <ffhiker@yahoo.com>, 17 Feb 08: I ran across your Diego Garcia web page and really enjoyed it. Sadly, in your section honoring those who have served and passed on, I also found out about the death of my good friend Dave Kronberger in 2000. Dave served at Diego Garcia in the latter part of his Navy career. In his early days, as a JO2, he served with me aboard the USS ORISKANY. I have included a photo of he and I aboard ship. It's pretty silly but it shows his fun side. He was a great guy and died way too young!
The photo was taken aboard Oriskany on 8-15-73. We were both in X Divison; I was a YN3 in the Captain's Office and he served in the Public Affairs Office. He is the guy in the L.A. Harbor College T shirt in the right side of the photo.
Just a short story: One day, aboard ship, Dave told me that he grew up in Gardena, California. I was shocked as I had also lived there from about 1957 to 1963. He told me he had a sister named Jessie. Just then I flashed back to my grammer school days. A week later, after checking my old photos at home I brought him a class photo showing his sister Jessie and me in the same class in 3rd grade at Gardena Elementary in 1959! He was totally blown away by that! Me too!
I just thought you might want to add his photo to your web site. Thanks for honoring a great guy on your web site! Best wishes, Larry R. Matthews, Yuba City, CA (US NAVY, YN3 Retired)


Thomas Edward Lawson
MS2 - Jack of the Dust - 1979

Sunday, February 17, 2013


Tommy Lawson was one of the very first people to sign in to this website, and he provided me with a lot of information for it. He was out on DG in 1979 at the galley as Jack of the Dust, and served as a cook on Mine Sweepers too. Over the years we corresponded quite a bit, and from 2002-2006 when I was over in the wars, Tommy would send me jokes by email everyweek like clockwork. For almost 4 years! He was a great e-friend, and I was very sorry to hear that he passed away.
Tommy was madly in love with Kelli Maroney. You probably remember her as the older sister in the movie Night of the Comet, and as the cheerleader in Fast Times at Ridgemont High. Anyway, he started a Facebook Group called "Invasion of the B-Girls" dedicated to Kelli and other B-movie stars. I am happy to report that he had developed a good relationship with Kelli over the ethernet, and actually met her as well. Congratulations, Tom! I miss you.


Here's the obituary his niece put on his Facebook page:
Thomas Edward Lawson, age 58, died peacefully in his sleep in Manteca, CA, on Sunday, February 17, 2013. The cause was Left Ventricular Hypertrophy.
Born September 26, 1954 in Tacoma, Washington, he moved to San Jose, California where he attended Silver Creek High School. Tom proudly served in the United States Navy, traveling to many places before returning to San Jose and for the last two years lived in Manteca, California.
Tom was a kind hearted, true friend and family member who was generous with his time and knowledge and had a wickedly subtle sense of humor.
Survivors include his two sisters, many nieces and nephews, grand-nieces and grand-nephews as well as numerous invaluable friends.
Services were held at at 10:30 a.m., Tuesday, February 26, 2013, at the San Joaquin Valley National Cemetery, 32053 West McCabe Road, Santa Nella, CA. Relatives and friends are welcome at the service.
Memorial contributions are welcome and should be sent to the Wounded Warrior Project, Dog Bless You or the Animal Wellness Foundation in Tomís name.
Cards and letters are also welcome and can be sent to Vickie Holden c/o Lisa Holden, PO Box 2031, California City, CA, 93504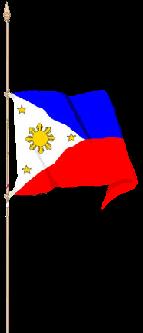 Fernando Licay, G4S-Parsons
Sunday, July 14, 2013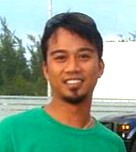 Fernando was killed when he was attacked by a Bull Shark estimated to have been about 8 feet long at Ye 'Ol Fishin' Hole on the lagoon side. Fernando was 33 years old, and was employed by G4S, the BOS Contractor on Diego. He worked as a draftsman in the Engineering Department. He was from Barangay Patag, Cagayan de Oro, Philippines.


He was attending a picnic on the beach when he decided to go for a swim by himself. His companions said he was no more than 25 feet from the beach, standing in 2 feet of water when the shark attacked him. The shark grabbed Fernando by the right leg, and his friends tried to get him free but the shark held on. Unfortunately, by the time the shark let go, an artery had been severed, and Fernando died within minutes of blood loss. Efforts to revive him at the NSF clinic were unsuccessful.


His body was flown to Manila, and then taken to his home town in his native Philippines.


To the best of anyone's memory, this was the first shark attack in the waters of Diego Garcia since the SEABEES came ashore in 1971.







SK2 Michael L. McBride, USN
September 22, 1979
From: Daniel Tegtmeier <dptegtmeier@worldnet.att.net> One of the saddest days on the Island....Would like all to remember SK2 Michael L. McBride, USN, September 22, 1979. Seven (7) of us went lobster hunting out near Alpha Co. on the seaward side of the island. We were out about half way to the reef when a wave knocked us off the walkway. Mike never made it back to shore and the six of us were unable to get to him. Mike, to this day Buddy, I toast your memory. YOU WILL NEVER BE FORGOTTEN MY FRIEND!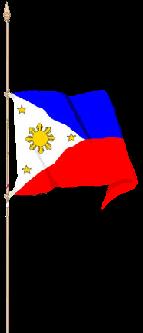 Wilfredo "JoJo" Paguio, Coxswain, DG21
September 10, 2011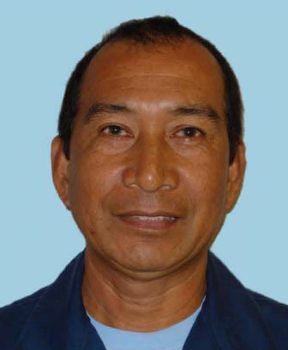 JoJo died in a freak accident. He was Captain of a Boston Whaler that was out on a fishing trip down at the southern tip of the island. The weather
was fair and the winds calm, when a rogue wave capsized the boat. JoJo and Master Chief Aviation Ordnanceman James W. Beasley both
succombed to blunt force trauma in the cockpit of the boat during the event. A Memorial Service for JoJo was held on September 15 at the Sacred
Heart of Jesus Chapel in Seabreeze Village. JoJo's many friends - both contractor and U.S. Navy, attended in Dress Uniform for a very
emotional and heartfelt farewell to a friend and colleague.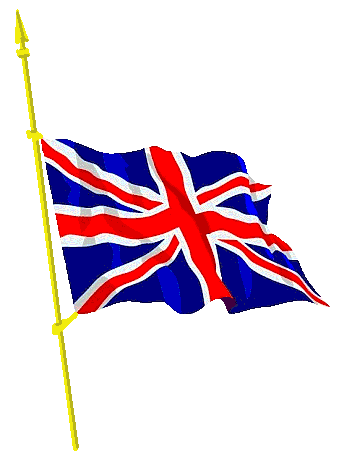 James Park
Pilot Officer, Royal Air Force
September 19, 2002
In September 1944, he was the Pilot of PBY Catalina VA718, "Katie",
which now rests on the Beach in the Lagoon near the Plantation at Diego Garcia.
Read his Story on this Web Site.
I am very sorry to tell you that my father, Jim, passed away on Thursday afternoon. It was very peaceful.
He started to feel ill three weeks ago, and was admitted to hospital for observation after being diagnosed with severe dehydration. However he continued to decline and for the last ten days he was not conscious. The end came very gently for him.
Dad was a good soul and a kind and gentle man. I will always remember him with a smile, he was a good father to me. Even in the last weeks, he continued to teach me valuable lessons about life, love and spirit.
We will be having a memorial celebration of his life at the house next Saturday, September 28th, between 3 and 5 pm Central Time. So for those of you in the UK raise a toast to him around 9 pm, and for those of you elsewhere, be with us in spirit. As part of it we'll be reading emails from people around the world who remember him. If you would like me to read something, please email it to me.
If you would like to donate to charity in his memory, I'm sure he'd be pleased if you donated to the MS Society. He always wanted to find a cure for my mother.
He was a braw Strichen loon. We'll miss him.
In life
Brian, Becky and Cameron Park

If you knew Jim, or have information you'd like to pass along about him, his son would be glad to hear from you - just email Brian at floman@austin.rr.com.

In early 2003, the combined commands on the island dedicated Katie to Jim and his crew.
Here's the marker, mounted forever on the old girl: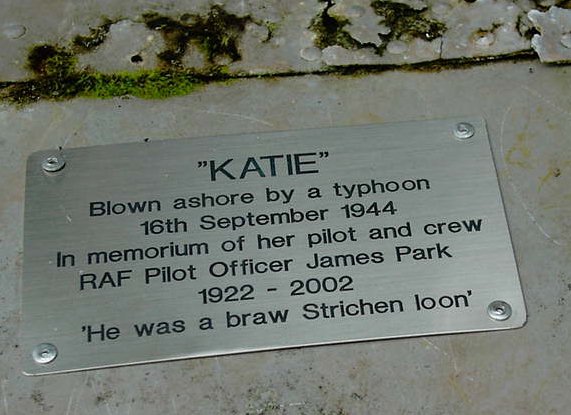 Colonel Chris Patterson, USAF
Commander, 40th Air Expeditionary Wing, Diego Garcia, January - June 2002
October 2, 2010
Received from Captain Mike Lucarelli, NFS CO 2001-2002: "Ted - Some sad news to pass on. The original 40th AEW Wing Commander, COL Chris Patterson, passed on from brain cancer this past Saturday. I attach his pic taken by me from the right seat of the B-52 Memphis Belle IV, when he took me with him on a combat mission, which turned out to be my last flight on active duty."
From the editor: I was lucky enough to communicate with Chris last year, and he was kind enough to provide me with some historical perspective on how the 28th AEW became the 40th AEW, and how he and Mike worked together to create a truely joint warfighting organization on our favorite island. He was generous with his knowledge, well spoken, and a great guy, even if he was a bomber puke... Here's to ya' Chris!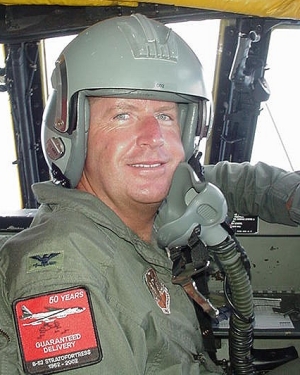 Carl Pilkington
Medic at Berbera - FEBROE

January 14, 2009
Greetings Ted
It's been a long while since we last communicated re Berbera. I was on the site today and notice the Berbera page has been updated since I last viewed it many moons ago. I noticed George mentions several times in his Q&A "Our Doctor, a Sp. Forces Retired Medic, married one and now lives overseas in Spain, I think."

Its a coincidence to see this in print, as I heard today from his Wife in Denmark that "Doc" Carl Pilkington sadly passed away peacefully on January 14th 2009. After leaving Berbera I met Doc on several occasions in the bush in Kenya while he was working with refugees for the NGO Care . He was later with ICRC working as far a field as Mongolia. Those who remember him will never forget his sense of humor and generosity to others. Like George they were one of a kind.
best regards
Mike Buck


Bill Rice
CM-3, NMCB 40, 1971
March 13, 2011


This is from Charles M. Powell, from your 1971 BIOT site. If you could post this on BILL RICE`s post on 1971 BIOT to tell others that he has passed on 3/13/2011. His E-MAIL adderss had been changed so it is not the same as it was. BILL RICE lived in JAMESTOWN TENN. I have called and sent some E-MAIL`s but this may help someone to know that he has passed. THANK YOU CHARLES M. POWELL USNMCB 40 BIOT 1971 po3@zoomtown.com again thank you!


George Rice
Fuels at Diego Garcia; Site Manager at Berbera - FEBROE
September 2, 2009
Received from Allen Rice <allenrice69@yahoo.com>: "Thanks for all the kind words about dad. He passed away this morning Sept. 2, 2009 at 1:50am. He was at home with me, my brother and mother. We attribute his lack of pain and suffering to all of the prayers asking that he would not be allowed to suffer. Towards the end (last couple of days) he lost his sight and hearing, but I was able prior to this happening to print of all of the emails everyone sent and let him read them. With each one he read his smile got bigger and bigger. Like I told someone the other day, he was a die hard soldier that whose blood was OD green. He loved his time in the service of his country and after retirement working for the government. Visitation will be at Carney Funeral home in Blytheville Arkansas on Friday from 6-8 pm the funeral will be Saturday at 11:00 am at the same location. Once again on behalf of his family thanks to all of you for your support and prayers during this trying time."

Bonnie, Allen, and Scott Rice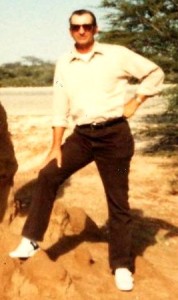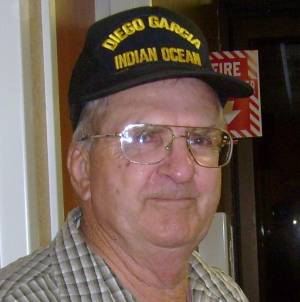 On the left, George in Somalia back in the day; On the right, George in August 2007.


ABHAN Alton "Tex" Rollins, USN
1987
From Carl "Vig" Villanueva: Alton Rollins, who was on DG in 72, died in a plane accident...an experimental aircraft he and his brother built. he was an ABHAN on diego...but left the navy as an ASW2...he switched mos. evidently, he got married and didn't want his wife to endure the hardships of him being away. See Vig's tribute to Tex at http://www.members.tripod.com/carlvillanueva/id22.htm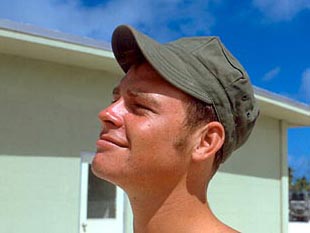 We were all young then, and invincible.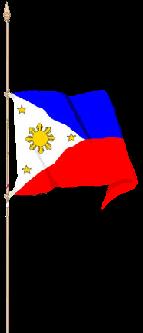 Rodolfo "Rudy" Rosales
Personnel, FEBRO
2008
Dear Mr. Morris,
I just finished reading your website about people from Diego Garcia who passed away. There was one Filipino, his name is Mr. Rodolfo Rosales, who passed away (I am not sure about the month, could be February 2008). He worked for FEBROE in Diego Garcia, starting 1984 at the Personnel Department. He was still there when I left in April 1989 and we kept in touch thru email until in early 2008. His last job in Diego Garcia was as manager of billeting for TCNs. Then he retired, went back to the Philippines, had a business (internet cafe), and suddenly, had a seisure. He had a brain tumor. He underwent surgery, and told me he felt better after that. Then after about a month or so I heard from his daughter that he passed away.
I believe there are a lot of friends who worked in Diego Garcia who knew Rudy. He was a gentleman, very religious and my very wonderful friend. Please include Rudy's name in your website so other friends will know about his demise.

Thank you very much,
Mary Ann Godsey






Andrea Robin Schiesser
July 19, 2002
My daughter, Andrea Robin Schiesser, was aboard the L.Y. SPEAR as one of the first contingencies of women aboard a naval vessel (non-combatent) and went along on the SPEAR when it was called up during the Iranian Crisis in 1980.
Andrea told us that she was one of the first women to pull a lot of Captain's Masts and was first woman to serve in the brig of the SPEAR while in Diego Garcia. She also was on bread and water. She also was "punished" (ha ha she said) to serve time in the boiler room on SPEAR. Her father is ex-Navy officer and he and I know boilers inside out and outside in - Andrea too, so she didn't consider it "punishment" to be down there. Actually, she was a good person and loved us very much, however, parents never know, unless told by their offspring, what they did . . . when. Andrea told us a lot, but not all. I still have her Shellback Certificate (framed) hanging in our family room, along with only one of her ribbons we could find, and a photo of her in Florida at boot.
Andrea married Fred Cosier, who was also on the SPEAR. Then, they divorced, after their first baby boy was born stillborn. Andrea never got over that. She went on to marry again and had a daughter who is 13 now, and another boy, who is 5 now. We love our Andrea, no matter the "things" she pulled - she was one of the guys all of her life.
Please pass the word:

ANDREA ROBIN SCHIESSER (COSIER; MCDONALD; ROSE) PASSED AWAY FROM BREAST CANCER ON 19 JULY 2002.
WE MISS HER TERRIBLY AND WE'RE PROUD SHE WAS A PART OF NAVAL HISTORY.

Anyone who knew or knew of Andrea, please e-mail comments or whatever you knew about her to me at my e-mail. Thank you and God Bless all of you. Trish

Trish Schiesser, Author (Andrea's mother) <Clara19126@msn.com>.
Bob Schiesser, Port Engineer (Military Sealift Command PAC)

NAME = Trish Schiesser, mother of LY SPEAR contingency, Andrea Robin Schiesser, Cosier, McDonald, Rose
MY QUEST = To tell the members of this group about my daughter who served aboard LY SPEAR in Diego Garcia 1980.
VT of a SWALLOW = Depends upon how big the drink is.
E-MAIL = lilreddog1@Yahoo.com
NATIONALITY = Caucasian, USA
SERVICE = U.S. NAVY
UNIT = Boatswain's Mate
RANK/RATE/JOB = E/2 or E/3. Deceased.
MY INTEREST IN DG IS = Other
SUBJECT OF MY STORY: = Other
MY WARSTORY = My daughter, Andrea, was a member of the crew of the L.Y. Spear, out of Norfolk, VA. Her ship was called up during the Iranian Crisis in 1980. She was never where she was supposed to be at the time to be there, she had more Captain's Mast's than anybody else I know of. She wound up in the brig and in the engine room, on bread and water, while in Diego Garcia. But, she was a brilliant woman of 18 who didn't know who she was. She could have attended Annapolis, but puposely flunked the test so she could follow in her father's footsteps (he was in the Merchant Marine at the time)around the world. So, she opted for a ship, and she got the SPEAR. She became one of the first women Shellbacks on a non-combatant vessel. Her father never became a Shellback, since he was on non-navy ships while crossing, but he was an Officer in the Naval Reserve, so Andrea saluted him when they were together. Andrea was a sweet, kind, and generous woman, who loved her family very much - maybe that is why she screwed up her naval career and lasted only two years until it was mutually agreed upon that she exit the service. She was married, first marriage, to Fred Cosier, who was aboard the LY SPEAR - has anyone heard of him? or heard from him recently? He doesn't know that our Andrea, at age 40, died of breast, lung and brain cancer on July 19,2002. We miss her terribly and these websites really contribute to our well being. She is up in heaven now, looking down upon all of you, all of us, sending nothing but golden words to cover our heads as we plow along in life. If you knew her, please send me an e-mail at: Clara19126@msn.com - I am Trish Schiesser, her mother. God Bless everyone of you.



Jeffrey Lynn Sellers; Moulder Fireman Apprentice, USN
Born: November 2, 1959 Died: May 22, 1980
Jeffrey Sellers died from a medical condition while aboard the USS L. Y. Sellers (AS-36) in the vicinity of Diego Garcia. His passing was relayed by Mary Ellen Nigh of the L. Y. SPEAR Association.



From December 2009: My name is Debra Sellers Underwood. My brother Jeffrey Lynn Sellers served aboard the USS LY Spear from I believe it was 1979 - 1980. He passed away while onboard the ship. I'm looking for anyone who would have served with him. Especially trying to locate a Mr. Henry Canada who my brother lived with in Norfolk, VA and he also escorted my brothers body back home. I would love to hear from anyone that knew my brother.

Please contact me at this email address:

debdiane1961@msn.com

.

Thank you so much for your help and for putting together a site that helps to keep my brothers memory alive.








Russel Sitz
Ships' Store Manager, 1987-1988
Date Unknown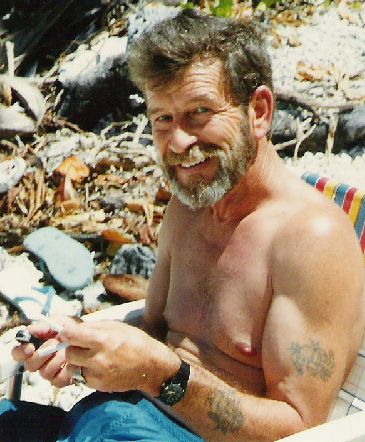 His passing was relayed by Christina Gunderson.





ITC Greg Harrold Smallwood
September 11, 2001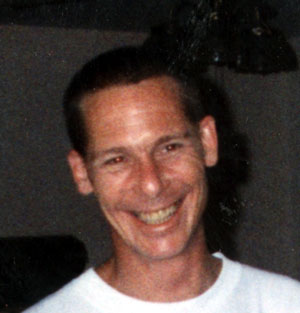 Served on DG 1995-1996
He was killed in the attack on the Pentagon.




ABHAN Gary Starr, USN
Spring, 1998
Carl "Vig" Villanueva found out a few months ago that ABHAN Gary Starr, of Cocoa Beach, Florida, who I was stationed with on Diego from ''72-''73, died suddenly in the spring of '98 from lung cancer. His family has very few photos of him from his stay on the island and would appreciate any images of him anyone might have. If you've got any, please contact his brother John Starr at superstarrs1999@aol.com.






SW2 (DV) Robert Dean Stethem, NMCB-62, USN
1985
From Larry Ortega <lawrence.ortega@chickasaw.net) 2/28/2009: Robert Dean Stethem was in NMCB-62 back in the early 1980ís. He originally deployed to Guam, but then requested to go on the Diego Garcia detachment. You can google his name. He is now in the Arlington National Cemetery. If you remember the high jacking of flight 847 in 1985, Robbie was the sailor who was killed. They named a destroyer after Robbie (http://www.stethem.navy.mil/site%20documents/default.htm). I speak with the Master Chief of the ship regularly and they do a good job of honoring Robbie. As much as it touches me to see how they keep his memory alive, I would rather have my friend alive.






Reid Stringfellow,
Deputy Program Manager, FEBROE
2002
Information from MaryAnn Godsey, July 2006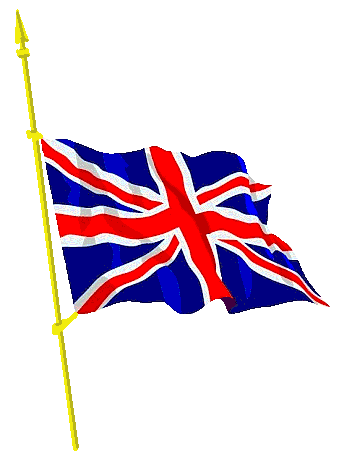 John M. W. Topp, Commander, Royal Navy, Retired, OBE
BRIT REP 5 Apr 1984 - 4 Apr 1986
March 15, 2011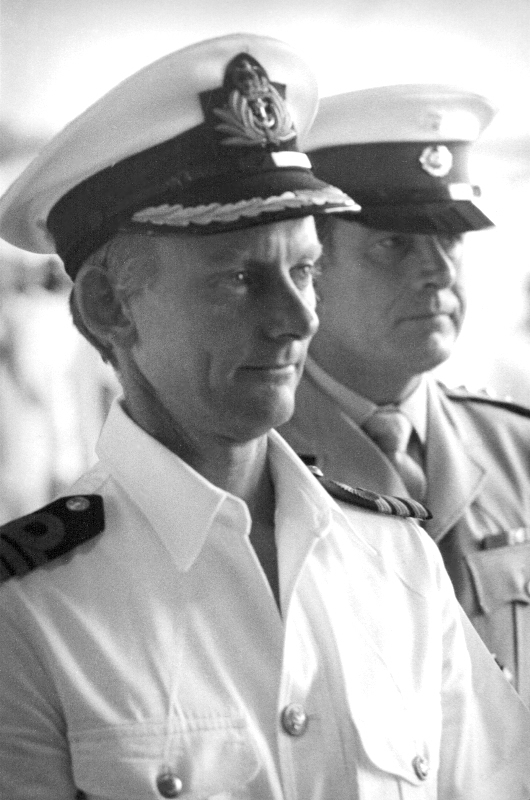 John died suddenly of a pulmonary embolism on 15th March 2011, at the age of 73. Born in 1937 to Robert and Celia, he is survived by his cousin Guy Jordan and his friends the Fentons. John joined the Royal Navy in 1955 and served 34 years, retiring in the rank of Commander. John spent two years on Diego Garcia as Representative of the Commissioner of the British Indian Ocean Territory, where he developed the modern vision of the conservation of the Territory's spectacular natural environment. His passing brings a great sense of loss to his family and his many friends in the UK, throughout the world, and on Ibiza, where he maintained his family's home.

Encouraged and complimented by Commissioners Nigel Wenban-Smith and William Marsden, John began clear-minded and practical initiatives for the Chagos and the atoll of Diego Garcia. He established rigorous environmental standards applicable to the American use of the island and its waters which even today ensure those ecosystems are pristine. He also identified and created "Strict Nature Reserves" in key areas of the archipelago.

In 1992 John was appointed Conservation Consultant for the BIOT, a position he held for ten years. Also in 1992, he founded "Friends of Chagos", later to become today's "Chagos Conservation Trust", the organization devoted to preserving the natural environment of the islands. He authored several scientific papers regarding the botany of the archipelago, and in 1998, John was elected as a Fellow of the Linnean Society. In 2003, he was named an Officer of the British Empire (OBE) for his services to the environment and conservation. His dedication and hard work were directly responsible for the creation of the Chagos Marine Protected Area now in existance - an oceanic wilderness the size of France.

A personal noter from the webmaster: I'm not sure when the picture above was taken, but in it John looks exactly as I remember him one sweltering day in 1986 when John and I had a wonder-full meeting on Diego Garcia. I was a young and very agressive C-141 aircraft commander fragged to carry a cargo through DG to the mujahadeen then fighting the Soviets in Afghanistan. As the Brit Rep, John was charged with preserving his country's prerogatives on DG. All that came to a head on the hot cargo pad in front of an audience of the NSF Commander, several hundred U.S. Navy and Marine Corps personnel, and what appeared to me to be the entire British Garrison - all in uniform and many under arms. It was a meeting that had instant and lasting diplomatic and operational implications, and as the junior member of the participants, I am ever so grateful that it was through John's cool demeanor and innate generosity of spirit I was able to fly away from that meeting as not-a-loser. Twenty-two years later, through others' generosity, I had the opportunity to meet with him at the Royal Society in London at the announcement of the campaign that led to the establishment of the Chagos Marine Protected Area. Whether on duty or off, I never met a more calming, witty, and patriotic gentleman, and I am at a complete loss now knowing that I will never get an answer to my last email, nor ever have an opportunity to sit and drink the night away with him again, swapping lies about DG, the service, and the future of free men.

If you knew John,

I am sure you feel the same way.

God Bless You, John, whether you want Him to or not...

P.S. There really isn't enough that can be said about John. Here's what our friend Pete had to say: He's one of those people who dip in and out of one's life - significant yet silent and always in the shade. There in the background, not noticed and only missed when there is no chance of further contact: crafty bloody dodger!! I too miss him. Not least being our many lunches together at his favourite Spanish haunt just up the road from wher he lived. Only once did I manage to actually grab the bill and pay for lunch: I don't think he ever forgave me! Yes, I do miss John Topp. He and his ilk are sadly a rare breed these days and should be greatly cherished and remembered. Cheers.




Howard F. Turner, USN
November 5, 1976
From Charles E Kuhn <cekuhn@earthlink.net> I went to A school and was stationed in Diego Garcia with an Electrician named Howard Turner. We worked together in the Air Conditioning and Refrigeration shop. We actually had a lot of close calls while working together, an electrical explosion at T-site and a couple of others I won't bore you with. Howard finally lost his life at the Public Works site next to the fire house. I was told they were going to name an enlisted mans club after him. I saw a reference to the Turner club. I miss Howard a lot!

From Steven Newby <dragon40@wi.rr.com> I remember Howard Turner, we drank a few together, checkers w/shot glasses as checkers, if ya lost the game ya finished every shot still on the board one after the other. He was just a kid like the rest of us. I was on duty at the main power plant that day, He was one of the crew putting up a pole for an antenna at the fire house out by the Main Power Plant. The cable with the telephone pole suspended snapped, all but Howard ran for the overhang of the fire house roof, he never made it. I remember the guy's from his shop taking up a collection in a coffee can to send to his family. I have spoken of Diego Garcia and of Howard to many people over the years, it was a lonely place for kid to die.

Editor's note: Yes, they did name the enlisted club after Howard. Here's a photo of the plaque to his honor in the club: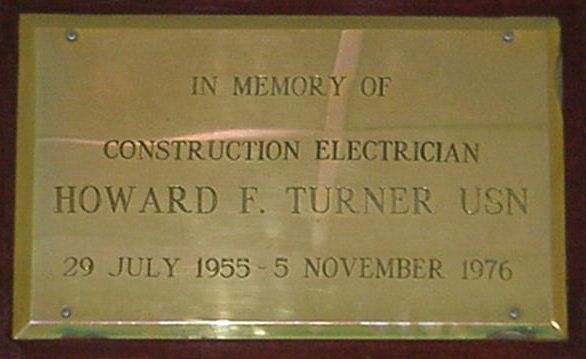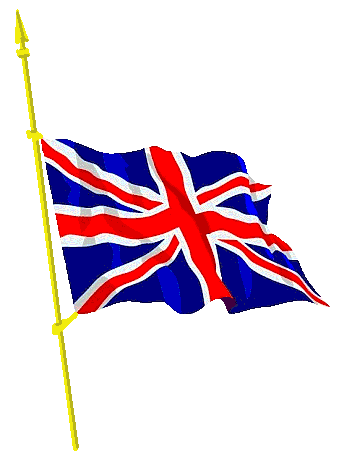 George Walton, Royal Navy
ROPO 1
1999
From Ian Morse, Captain, Royal Marines. I submit my thoughts on the late George Walton ( ROPO1) Diego Garcia 1985 - 1986. He was the Sheriff and I was the Prosecutor who identified and brought to trial the first ( ? only ) murderer on DG. A difficult but rewarding tour of duty which was greatly enhanced by my deep friendship and respect for a man who had the unenviable duty to ensure everyone did theirs. I well remember the drinking sessions in both Febroe and ex-pats clubs where we could escape all responsibility and be ourselves. He will be greatly missed by all those who really understood him. Rest in Peace George in the sure knowledge you served the Footprint of Freedom well.




Melvin "Mel" Wasikowski
FEBROE FUELS
August 5, 2008
My name is EJ Wasikowski, and I am Melvin's nephew. He was my father's next younger brother. I have bad news to pass onto all of Mel's friends. Mel died yesterday [August 5, 2008] in Florida. He passed in his sleep and most likely died of a heart attack. He had some minor health struggles but nothing major that would give an indication of death. He will be missed by all. I am a retired Marine and my Uncle Mel was one of my hero's. He has always been a stellar example for me to aspire after both in my career as a Marine and life in general. He leaves behind several brothers and sisters, his two daughters and beloved grandchildren. The final decision on his arrangements aren't resolved yet but I can tell you that his body will be interred in the greater Cleveland area of Ohio. The family is still notifying people and taking care of his personal affairs. I knew this page existed and often talked about the many trips he had there with all of you (his friends). Please feel free to contact me for further details and to pass on my information for others that wish to enquire about his family or services. Thank you for your time and thank you for being part of my uncles life. He cherished it more than words can explain. Gods speed to you and yours and may we all be reunited with him in Gods light.

Semper Fidelis,
Ernest J Wasikowski <ernest.wasikowski@us.army.mil>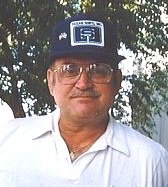 SSgt William Weiglenda, USAF
March, 1999
I have someone I'd like to remember in your link for DG alumni that have passed on. SSgt William (Bill) Weiglenda was the AMC Ops admin troop during most of my tour on the island (Dec 97 to Dec 98). As I remember, he spent nearly two and a half years on DG. (I think he just didn't like the follow-ons the Air Force was giving him, so he just kept extending!). Bill wasn't the best admin guy in the world, but he was a really caring soul that would give you the shirt off his back. Bill finally left DG in mid 1998, with an assignment to the 35th Security Forces Squadron at Misawa AB, Japan. Around March of 99, I was contacted via e-mail by one of my AMC Ops comrades from Dodge, Ed Andre, who pointed me to an Air Force news release about a guy drowning in a scuba diving accident at a lake near Misawa. It was Bill. Needless to say, I was shocked and saddened.

Bill, I'm proud to say I knew you, may you rest with the angels.

Jeff Nash





Edward Leigh Wood, USN & Merchant Marine
October 28, 1993
My father was a radio officer in the merchant marines and was in Diego Garcia in the 80's, but I'm not certain of the date. He was a ham radio operator, his call sign was KQAB, and he was involved with that on the island. He was on different ships but I believe it was the Maj. Stephen W. Pless when he was in Diego Garcia. He loved Diego Garcia and he told of the Donkey you could not give beer because it was against the law. He said he rode his bike to the post office everyday to pick up the mail. He died October 28, 1993 of a heart attack in Elizabeth, Colorado. He died before the movie Ed Wood came out, but I know he would of really gotten a kick out of having the same name, he was very funny. I am his daughter and thought I'd write and see if anyone remembered him. Thanks, Sandy Cagle <cloud798@suddenlink.net>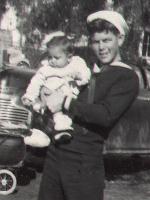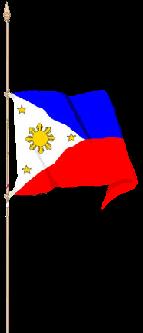 Lourdes Damaso Sugui Wright
GS Civilian, 1984-1986
17 March 2009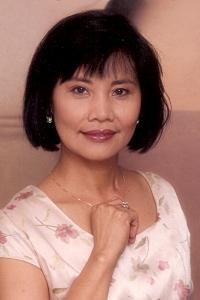 With the deepest regret I send the following sad news. Lourdes Damaso Sugui Wright passed away at 0350 CT in San Antonio, Texas following a courageous fight with cancer. As noted below, Lourdes worked in the NSF contracting department as a civil servant (not a TCN) beginning (I believe) in 1984. She met then-LCDR Dennis Wright in Diego Garcia while Dennis led the USS CONSTELLATION (CV 64) beach detachment during the 1984 deployment to the North Arabian Sea. I worked closely with Dennis as Terminal Operations Officer. Lourdes, Dennis, Marlie (DGAR May 84 - May 85), and I reconnected when we all re-settled in Northern Virginia in the late 90s. They moved to San Antonio in either late 2005 or early 2006.

Lourdes was among the classiest people I ever met. May Lourdes rest in peace after a horribly painful ordeal. Her loss leaves a hole in our lives.

Sincerely, Jeff Swanson, DG 1984-85


Lourdes was born in Barangay Natividad, San Narciso, Zambales, Philippines on Sep. 23, 1952, and died Mar. 17, 2009 in San Antonio, TX at the age of 56.

She attended San Rafael-Natividad Elementary School and Zambales Academy High School, San Narciso Zambales, Philippines. Lourdes later attended the University of the East in Manila earning an Associate's Degree in Secretarial Science.

She worked many years for the US Navy in the Contracts Department at the US Navy Supply Depot Subic Bay Philippines and the Naval Support Facility in Diego Garcia in the British Indian Ocean Territories.

In 1986, Lourdes married US Navy Captain Dennis Lloyd Wright in Philadelphia, Pennsylvania.

She was preceded in death by her parents, Florencio and Claudia Sugui; and brother, Alfredo Sugui.

Lourdes is survived by her husband, Captain Dennis L. Wright, US Navy (Ret.); step-children: Commander Lori Krevetski and husband, Brian and family of Virginia and Robert Wright of Maryland; grandchildren: Christopher and Ashley Rogers, Amanda Krevetski; brothers: Ernesto Sugui and wife, Lucina and family; Basilio Sugui and wife, Priscila and family; sisters: Zenaida and family and Mirasol all of the Philippines, Loida Juico and husband, Remigio and family, Patricia Fridley and husband, Rick and family all of San Antonio, Texas; sisters-in-law: Ofelia Sugui and family of the Philippines, Karen Riley and family of Arkansas, Linda Kennedy and family of Illinois; brother-in-law: Steve Wright and family of Colorado; numerous aunts, uncles and cousins.










Captain Jeffry J. Olson, USAF
First Lieutenant Jorge I. Arteaga, USAF
First Lieutenant Eric D. Heeden, USAF
February 3, 1991
Lost when their B-52 crashed north of the Island during Desert Storm.
This is the memorial to their memory at the Point Marianne Cemetary on Diego Garcia.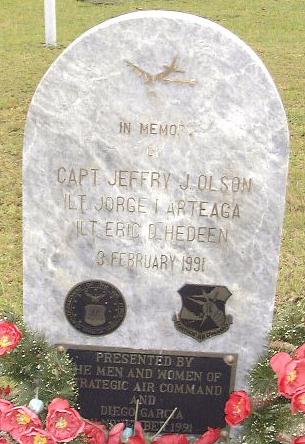 Thanks to Lenny Carter for this photo.

And a salute to those who were here before us...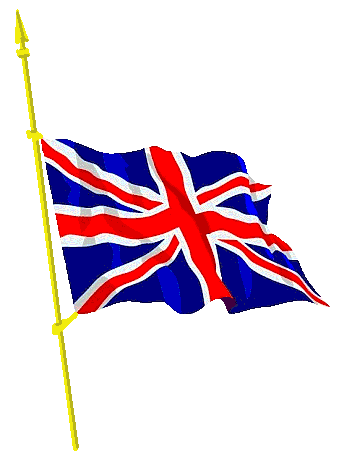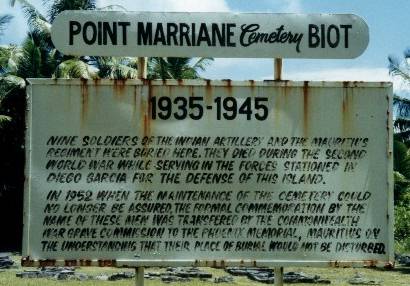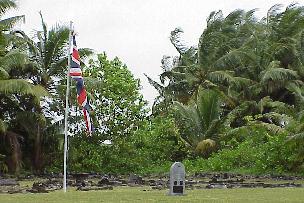 Thanks to Brendan Olson for this photo.

Remembrance Day, 2008
From The Tropical Times, November 14, 2008
By Mass Communication Specialist 3rd Class Crystal I. Jackson, Tropical Times Correspondent
US Navy Photos by Neng Dumlao
United States and British servicemembers along with twenty guests attached to Diego Garcia assembled on Tuesday for a Remembrance Day ceremony at Point Marianne Cemetery.
The day is known in the United States as Veteransí Day and in the United Kindgom as Armistice Day.
Each November, people from around the world take time from work and school to reflect on the fallen victims of World War I and all subsequent wars, campaigns and emergencies.
World War I formally ended at the 11th hour of the 11th day of November in 1918 with the German signing of the Armistice.
During the 11th hour of the special day, a two-minute silence is observed at 1100 hours in keeping with the actual signing of the Armistice.
At that time, all personal are to stand at attention and guards are to turn out and present arms while no aircraft is to fly in the air during the two-minutes of silence other than those on scheduled services.
ďIt is respectful to remember the dead and the sacrifice our fellow service men and women made for us back then in order for us to have the freedom that we have today,Ē said Diego Garcia British secretary Michelle Snow when asked what her personal reflections were of the ceremony.




On the left, British Representative CDR Simon Nicholson of the Royal Navy, lays a wreath at the Point Marianne Cemetery flag pole during the Islandís Remembrance Ceremony on Tuesday. On the right is a photo of the British Garrison of Diego Garica on Remembrance Day, 2008.