[Home Page]
[Gallery, First Floor]
[Gallery, Second Floor]
[Meet the Photographer]
[Order Cards or Prints]
[Contact Frank]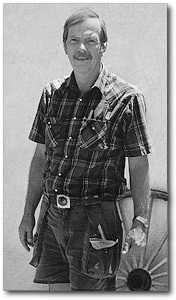 I was born and raised in the desert southwest and the love of the desert came as early as my first memories. I grew up with an intense interest in the natural world and science in particular. I have pursued my love of nature throughout my life and hold a degree in the biological sciences as well as geology. In the years immediately following college I worked for a major oil company and later gained working experience in the oil industry in the areas of exploration, research & production.

After some years I became interested in the educational field and after completion of my teaching certificate taught biological and earth sciences at the High School level for a number of years. While employed later with Texas Parks and Wildlife, I picked up the camera for the first time and began to do what I have always wanted to do - "To pass on a moment, an experience, to those who love the natural world."

Frank makes his home in Las Cruces, New Mexico where he shares a home with his wife, Priscilla and two cats. Frank continues to study, record, photograph and sometimes to write about the natural world.