REFLECTIONS
Articles Archive -- Topical Index -- Textual Index


by Al Maxey


Issue #840 -- February 20, 2022
**************************
Forgiveness - The experience of reconciliation following
upon some breach of trust, marked on the one side by the
acknowledgment of wrongdoing and the desire to make
amends and on the other side by the capacity to under-
stand and the willingness to resume friendly relations.
Anton T. Boisen [1876-1965]
The Exploration of the Inner World: A Study
of Mental Disorder and Religious Experience

**************************
Seeking to Limit Forgiveness
Missing the Messiah's Meaning in the
Moral Imperative of Matthew 18:22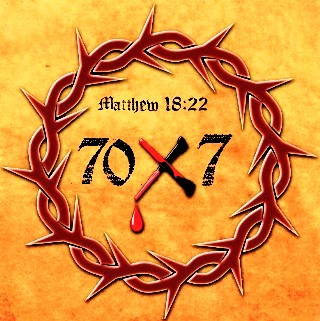 One of the maxims of François de La Rochefoucauld (1613-1680), who was a noted French nobleman (a Duke) and one of the leading rebels against the abuses of the royal court of the child-king Louis XIV, was, "We forgive to the extent that we love." Anton Boisen, in the quote at the top of this article, might add: And we forgive to the extent that we are able to understand this breach of relationship and the extent to which we are willing and able to consider reconciliation (resuming our former relationship, which can be quite a challenge for both parties). Sadly, our love is far too often diminished, if not destroyed altogether, by the harsh realities of real and/or perceived offences, injustices, and wrongs done to ourselves and to others with whom we are concerned. With the loss of love comes the loss of forgiveness, and with the loss of these two moral imperatives inevitably comes the loss of any hope of genuine reconciliation.
Let me share with you something I experienced recently that really got me to reflecting on this topic this week. Every other Thursday there is a Men's Breakfast held in the fellowship area of Grace Baptist Church here in Alamogordo, NM. Joe Bryant is the pastor of this congregation and a very dear friend and brother in Christ. We are very much alike in our thinking and spiritual focus, and are both intent upon working to bring the Body of Christ together in this community, uniting against the common foe of the evil darkness that surrounds us, rather than focusing on various traditions that too frequently tend to separate brethren into warring sects. Thanks be to God, these efforts have been quite successful in this area, and the level of harmony and love and fellowship between the churches and their leaders is unlike anything I've ever experienced anywhere else! A few years back, Joe and I even "swapped pulpits" - he preached one Sunday morning at our congregation, and I preached at his. That event is still being talked about positively among God's people in this city. I did a Reflections article on it shortly after the event took place: "Preachers Swapping Pulpits: Reflective Review of a Pastoral Practice" (Reflections #696).
Anyway, back to the breakfast (held Thursday, February 10th, 7-8 a.m.), which is always well-attended by members and pastors of quite a few different denominational groups in the area (usually about five or six come from our own congregation; one of our deacons even serving as one of the cooks). After the meal, we always have a brief devotional talk by one of the men, a bit of discussion, and then a prayer. These are awesome times of food, fun, shared faith, and close fellowship! On this occasion, Joe was the speaker. On the "white board" he wrote the words "Forgiveness - Reconciliation." He then spoke of the great need of Christians to take seriously their "ministry of reconciliation," which must be built upon the foundation of loving forgiveness of one another. Not only do we have the responsibility of being ambassadors of reconciliation between God and men, but we often overlook the necessity of actively promoting reconciliation among those within the Body of Christ as well. Too many of God's elect preach forgiveness to sinners while feuding with saints! It's hard to convincingly proclaim reconciliation while failing at the same time to practice it. Joe gave a powerful lesson, and it triggered some thoughts I want to share in this present study.
To the brethren in Corinth the apostle Paul wrote, "God reconciled us to Himself through Christ and gave us the ministry of reconciliation: that God was reconciling the world to Himself in Christ, not counting men's sins against them. And He has committed to us the message of reconciliation. We are therefore Christ's ambassadors, as though God were making His appeal through us. We implore you on Christ's behalf: be reconciled to God" (2 Corinthians 5:18-20, NIV) ... and to one another, we might rightly add. A couple of translations characterize this as "the ministry of restoring relationships." The Message says, "All this comes from the God who settled the relationship between us and Him, and then called us to settle our relationships with each other." True reconciliation between differing persons or parties is a genuine restoration of a previous more amicable relationship. In the text, the Greek word used is "katallasso," which signifies "a change, exchange; a restoration to favor" [The Analytical Greek Lexicon of the NT, p. 217]. It is exchanging one state or condition for another more favorable. Paul is the only NT writer to use this word (it appears only ten times), and he employs it in only three of his writings: Romans (5:10-11; 11:15), 1st Corinthians (7:11), and 2nd Corinthians (5:18-20). In every case the focus is on relationships, and in every case the means of facilitating that restoration of relationship is forgiveness by the offended party of the offending party, "not counting their trespasses against them" (2 Corinthians 5:19, NASB). God has perfected this, and His forgiveness is absolute! You and I? ... not so much! For us it is far more difficult. We remember; we have a tendency to "keep a record of wrongs" done to us (1 Corinthians 13:5), and to repeatedly resurrect them, which only perpetuates the rift in relationship and prevents a full and lasting reconciliation.
The key is forgiveness, it always has been, and as was noted in the first sentence of this article, "We forgive to the extent that we love." Let's be honest with ourselves here: every one of us struggles with this to some extent, some more than others, and we all know only too well that to the degree that we do, our relationships suffer. It was Alexander Pope (1688-1744) who wrote that classic observation: "To err is human, to forgive divine." God calls us from the former to the latter, but it is a daily struggle! Nevertheless, our Father expects us to rise above our human nature and to increasingly exemplify the divine nature. As those chosen by God to be a holy people, "put on a heart of compassion, kindness, humility, gentleness and patience; bearing with one another and forgiving each other, whoever has a complaint against anyone; just as the Lord forgave you, so also should you. And beyond all these things put on love, which is the perfect bond of unity" (Colossians 3:12-14). The Contemporary English Version reads, "Forgive anyone who does you wrong, just as Christ has forgiven you." We are the "chosen" (elect) of God. J. B. Phillips, in his translation of this passage, says we are "God's picked representatives of the new humanity" [The NT in Modern English]. As such, we need to show it! And we don't do that by withholding forgiveness; a forgiveness He did not withhold from us.
Which leads us to a fascinating and powerful exchange between Jesus and the apostle Peter (of which there are several within the gospel records). The backdrop for that revealing conversation is Matthew 18:15-20, which many turn to as the Lord's mandate for "church discipline," or how one is to deal with an "erring" fellow disciple of Christ. Of course, who among us are not "erring brethren"? There is so much more to those verses, however, and I have done a number of in-depth studies on this to which I would invite those interested in investigating it further to carefully and prayerfully examine. Such investigation would be additionally beneficial to a better understanding and appreciation of what is to follow in this present issue of Reflections. Those studies are:
Again, keeping the above text and context in mind, the apostle Peter came to Jesus with a question, "Lord, how often shall my brother sin against me and I forgive him?" (Matthew 18:21). Frankly, this is a valid question, and Peter is not the only person in the history of the church who has wondered about it. If we're honest, you and I have too! What is our response to be toward those who keep on (over and over and over) wronging us and harming us in every way imaginable? Is there no limit?! And to complicate the matter further, what are we to do if this person keeps repenting of those sins against us? We know, in our own hearts and minds, that the chances are good they'll just do it all again! It seems to be their "besetting sin" to keep on sinning against us, and yet later they truly seem to be broken-hearted by what they are doing. Peter may very well have been experiencing this from another follower of Jesus, and perhaps wasn't certain of the legal limitations of the forgiveness Jesus was advocating. "How far is this to go?! Is there not reason for doubting the sincerity of repentance in such a case?! Such is Peter's feeling" [Dr. W. Robertson Nicoll, The Expositor's Greek Testament, vol. 1, p. 241].
"To understand the point and force of St. Peter's question, it is necessary to know the rabbinical rules of forgiveness with which he would be familiar. It was a settled rule of the rabbis that forgiveness should not be extended more than three times" [The Pulpit Commentary, vol. 15, pt. 2, p. 241]. Dr. Marvin Vincent, in almost exactly the same words, makes the same point about the perception of the rabbis [Word Studies in the NT, vol. 1, p. 105]. "It is stated that the Jewish Rabbins held that forgiveness must be extended to one who confessed his fault, but this was limited to three repetitions of the offence" [Dr. B.W. Johnson, The People's NT with Explanatory Notes, vol. 1, p. 102]. Adam Clarke wrote, "It was a maxim among the Jews never to forgive more than thrice" [Clarke's Commentary, vol. 5, p. 186]. "The Jews were very fond of defining and limiting moral obligations, as if they could be accurately prescribed by number" [The Pulpit Commentary, vol. 15, pt. 2, p. 213]. Thus, in light of the rigid regulation of the Jewish rabbis of that time, Peter may have felt himself to be rather magnanimous in asking Jesus if he should improve upon the number three! "Lord, how often shall my brother sin against me and I forgive him? Up to seven times?" (Matthew 18:21). "We must give credit to Peter for extending such personal remissions of personal wrongs" [R.C.H. Lenski, The Interpretation of St. Matthew's Gospel, p. 708]. "This was a large stretch of charity to forgive one 'seven times,' as the rabbis taught that three times was sufficient" [H. Leo Boles, A Commentary on the Gospel According to Matthew, p. 379]. Maybe Peter was recollecting previous conversations between Jesus and His followers on the matter, for on one occasion Jesus said to His disciples, "If your brother sins, rebuke him; and if he repents, forgive him. And if he sins against you seven times a day, and returns to you seven times, saying, 'I repent,' forgive him" (Luke 17:3-4). And this is seven offences against you in just a single day, rather than a sum total of offences within a relationship. Peter almost certainly had the latter in mind when he asked his question of Jesus.
Peter, in other words, was thinking in terms of a literal number: he was seeking a legal limitation of the mandate to forgive a brother who had wronged him. Surely, he must have thought, reason (both human and divine) would dictate a lesser rather than a larger number. The rabbis had settled on three. Jesus had spoken of seven in a single day, which probably seemed excessive to those disciples who heard Jesus say this, for immediately "the apostles said to the Lord, 'Increase our faith!'" (Luke 17:5). Some might suggest this request was not connected to the prior statement, yet one can imagine that the apostles might think they would certainly need such an increase of faith to accommodate such a moral demand. In the next chapter of our Matthean text, for example, after our Lord's teaching on the moral imperatives for the marriage covenant, and the grave ramifications of breaking such covenants, the disciples said to Jesus, "If those are the terms of marriage, we haven't got a chance. Why get married?!" (Matthew 19:10, The Message). When faced with seemingly impossible imperatives, we tend to seek legal limitations and strategies for avoidance.
Peter was thinking literally in terms of law and limits; Jesus replied to him, however, just as He did to the disciples in Luke 17, figuratively in terms of limitless love! And therein lies the distinction between the human and the divine! "Christ's reply lifts the subject out of the legal sphere, where even Peter's suggestion left it" [Dr. W. Robertson Nicoll, The Expositor's Greek Testament, vol. 1, p. 241]. Jesus said to Peter, "I do not say to thee till seven times, but till seventy times seven" (Matthew 18:22, Young's Literal Translation). Peter sought the remedy of law; Jesus prescribed the remedy of love! Again, Jesus is not speaking of a literal number here, for that too would be a legal limitation of forgiveness. The number 490 is not a legal expansion of the rabbinical number 3, nor is "7 times a day" such an expansion. Jesus, by use of such figurative language, simply means, "times without number, infinite placability, equal to infinitude" [The Expositor's Greek Testament, vol. 1, p. 241]. The Greek scholar Dr. Marvin Vincent observes, "Christ is not specifying a number of times greater than the limit of seven. He means that there is to be no limit. Forgiveness is qualitative, not quantitative" [Vincent's Word Studies in the NT, vol. 1, p. 105]. The disciples of Christ have always been challenged to exceed the righteousness of the Pharisees, which tends to be legalistic, restrictive, and self-serving. To illustrate this, Jesus then gave Peter (and us) one of His most memorable and powerful parables: The Parable of the Unmerciful Servant (Matthew 18:23-35). It tells of a servant who was forgiven much by his king, but who then was unwilling to forgive even a minimal grievance against himself by a fellow servant. He who was shown mercy, showed no mercy; he who was forgiven, refused to forgive. As you can imagine, this did not turn out well for this man! In this parable we find a divine principle that I dealt with in some depth in the following study: "The Principle of Reciprocity: Reaping Exactly What You Sow" (Reflections #172).
I once read in a commentary the following thought: "Love is not to be limited by the multiplication table." We, like Peter, might prefer this, but it most certainly isn't the provision of our Lord for His people! "There is no arithmetic in the matter; there is to be no limit to forgiveness. It is a mistake to search for the minimum of duty, for such is rabbinical casuistry. Now, one of the great defects of casuistry is that it is too often pursued in the interest of those who wish to do no more good than is absolutely required of them. But the spirit of such a desire is immoral. He who seeks a limit to forgiveness has not really a forgiving spirit at all. He only forgives under compulsion, that is to say, he does not really forgive from his heart" [The Pulpit Commentary, vol. 15, pt. 2, p. 227]. The English theologian Matthew Henry (1662-1714) notes, "It does not look well for us to keep count of the offences done against us by our brethren. There is something of ill-nature in scoring up the injuries we forgive, as if we would allow ourselves to be revenged when the measure is full. It is necessary to the preservation of peace, both within and without, to pass by injuries, without reckoning how often; to forgive, and forget. God multiplies His pardons, and so should we!" [Commentary on the Whole Bible, e-Sword]. If we are longing in our hearts for offence #491, so that we may now "legally" pounce upon those who have wronged us, we have utterly failed to perceive the nature of our Father or the message of the Messiah to Peter.
This raises an interesting question, one that came to me powerfully during pastor Joe Bryant's devo (mentioned at the beginning of this article), and this question is expressed well by the English Baptist pastor F. B. Meyer (1847-1929), a contemporary and friend of Dwight L. Moody. Meyer wrote, "If God asks so much of us, what is He not prepared to do?!" Let that sink in!! If my forgiveness of others who have sinned against me is to be absolutely limitless, what does that say about His forgiveness of me?! Is it not just as limitless?! I fail Him over and over and over, and He forgives me again and again and again! Love - Grace - Mercy! This is my God; this is my Father! And this is to be who I am as well. This was the message of Jesus when He spoke of forgiving seventy times seven. "The use of the symbolic numbers that indicated completeness was obviously designed to lead the mind of the questioner altogether away from any numerical standard. As there was no such limit to the forgiveness of God, so there should be none to that of man. The very question as to the latter showed that the inquirer had not rightly apprehended the nature and extent of the former" [Dr. Charles Ellicott, Commentary on the Whole Bible, vol. 6, p. 113]. The Expositor's Bible Commentary points out that by the use of the figurative numbers employed by Jesus in this text, He was not suggesting a literal "upper limit" to forgiveness. "Rather, He teaches that forgiveness of fellow members in His community of 'little ones' (brothers) cannot possibly be limited by frequency or quantity; for, as the ensuing parable shows, all of them have been forgiven far more than they will ever forgive!" [vol. 8, p. 405].
"What do we expect from God? Can we conceive of a limit to the times when we may hope for the mercy of God? What would life be worth if we could?! The fear of outstretching the limit would fill us with misery. Man can never lose that hope in God. A man must be able to say that in full view of the provocations of a long life, when he comes to his dying day, 'There is forgiveness with Thee!' (Psalm 130:4). To the Divine forgiveness there is no qualification or degrees or numbers" [The Pulpit Commentary, vol. 15, pt. 2, p. 241]. "A man in Christ never reaches the limits of love" [Dr. Myron S. Augsburger, The Communicator's Commentary: Matthew, p. 223]. We are children of a loving and gracious and merciful Father! "God is love" (1 John 4:8, 16), and perfect love forgives perfectly/completely, "that we may have confidence in the day of judgment. There is no fear in love; but perfect love casts out fear" (1 John 4:17-18). I stand amazed in the presence of such love! I am loved and forgiven; I am saved and safe! How dare I not seek to extend the same love, grace, mercy, compassion, and forgiveness to others?! "The nature of forgiveness is a most profound aspect of reconciling grace. Forgiveness is never easy; it is hard. It is the most difficult thing in the universe. To forgive means that one genuinely loves, and this love can move beyond the issue to the person: i.e., that one cares more about the person than about what he or she has done to us" [ibid, p. 222]. If reconciliation is to occur, if relationships are to be restored, such divine forgiveness must be practiced. It is this to which we have been called in our daily walk: "I entreat you to walk in a manner worthy of the calling with which you have been called, with all humility and gentleness, with patience, showing forbearance to one another in love, being diligent to preserve the unity of the Spirit in the bond of peace" (Ephesians 4:1-3). Paul ends this chapter on our Christian walk with this charge: "Be kind to one another, tender-hearted, forgiving each other, just as God in Christ also has forgiven you" (vs. 32). Dear Lord, help me to forgive; not by number, but by the indwelling power of Your nature and the example of Your grace; not within the limits of law, but with limitless love! Help me to better embrace my ministry of reconciliation. Amen!
***************************
All of my materials (books, CDs, etc. - a full listing
of which can be found on my Web Site) may now
be ordered using PayPal. Just click the box above
and enter my account #: almaxey49@gmail.com

***************************
Readers' Reflections
NOTE: Differing views and understandings are always welcome here,
yet they do not necessarily reflect my own views and understandings.
They're opportunities for readers to voice what is on their hearts, with
a view toward greater dialogue among disciples with a Berean spirit.
From a Reader in Texas:

Al, what purpose does a missionary serve? I was always taught that they went forth to take "salvation" to the lost, and that without these missionaries the lost of all foreign nations would have no possibility of salvation. I have come to fully believe salvation is available to all peoples of the earth, and that none will be lost due to "the failings of our missionaries 'to go' unto them." This would suggest to me that the purpose of such "missionaries" is NOT to provide "salvation," but rather to provide greater knowledge, understanding, and appreciation of that salvation provided to all those who are of God.
There was a time, in the past, when devout individuals and families crossed land and sea to share the message of hope with peoples who might otherwise never have had a chance to hear the wonderful details of that salvation freely offered to all men. I used to think in my youth that if these "ignorant" persons never heard the name "Jesus," or never got "baptized," or never entered a "Church of Christ" (one true church) building "to worship" (acapella, of course), that they were simply doomed to be tortured forever in hell by our merciful, loving God, and that their condemnation was our fault (because we didn't take seriously the charge to "go into all the world and preach the Gospel"). I have long since repented of such a foolish and graceless view (which included a complete misunderstanding of what was actually being suggested by Jesus in His so-called "Great Commission" - see my study: "Contemplating Our Commission: A Reflective Exegesis of Matthew 28:19-20a" - Reflections #500). Our archaic and sectarian view of how God "deals with" the uninformed "savages" and "pagans" of the world is an embarrassment, frankly. God has NOT left such persons "in the dark" (thereby dooming them to eternal destruction). They too are provided with a means of knowing and approaching God. The level of divine light (revelation) may not be the same among all peoples and cultures and times, but access to Him has never been lacking! Those with greater light may certainly help those with lesser light to better grasp His love and grace, but such "missionaries" are hardly the sole source of the hope of their salvation. Far from it. In fact, based on the attitudes and actions of some missionaries, they may actually be a source of hindrance! I would urge a reading of my study on this matter in my article titled "God's Plan for the Unenlightened: Pondering the Parameters of Divine Acceptance of Human Response to Available Light" (Reflections #158). -- Al Maxey
From a Reader in Hawaii:

Al, I was reading Dr. Gerhard Kittel's "Theological Dictionary of the New Testament" the other day and noticed in volume 7 on page 134-135 that Schweitzer made an interesting statement there regarding "works" (plural) versus "work" (singular), but that he did not say what that singular "work" is. So, I made a note there that you reference volume 2 of Kittel (who comments on this) in your article "Working the Works of God: Does Jesus Teach Faith as a Work? A Reflective Analysis of John 6:28-29" (Reflections #161). Thanks for noting that clarification by Kittel. Also, I just received in the mail the NT portion of The Expositor's Bible Commentary. The other half (the OT portion) is on back order until April. I was even able to get this set on sale. I'm currently looking at their insights on Galatians, and I'm really liking the writing style. It's like the text comes alive for me, as it is written in a way that's very understandable. Thank you so much for recommending this commentary set to me.
From a Minister in New Mexico:

Al, I came across your personal Web Site while searching for books on the subject of Conditional Immortality, and I noticed you had written a book on this topic, and that the late Edward Fudge had written the Foreword for it. I would like to purchase a printed version of your book "From Ruin to Resurrection," if there is one available. I tried on Amazon, but they only had the Kindle version at this time. I'm old school and would prefer to have one "in hand" to highlight and make notes in. Could you direct me as to where to purchase a printed copy, if possible? Thank you, and God bless.
From a Reader in North Carolina:

Dear Al, I think you will be in like-mind with this author as you read his article. His name is M. John Cava, and he is the founder and president of the World Outreach Center in Fort Mill, South Carolina. His article is "Stop Dividing 'My Church'!" I think it speaks to the heart of what you have been teaching for many years. May God bless you and your ministry. Love you in Christ!
From a Reader in Virginia:

I just read your article titled "Sacred Sanctuary of Our God: Discerning the 'Naos'-'Hieron' Distinction" (Reflections #839). Well-put, as usual. I cringe when I hear believers talk about "going to church," or "going to worship," or when I see "Church of Christ" on the sign in front of a building! Al, I pray that you and your family are enjoying good health and that you will be able to continue your valuable work for years to come!
From a Minister in Tennessee:

Al, Excellent article, as usual, but this one added to my knowledge of God dwelling in us as His "Temple." The fact that this is actually the Greek word for "Sanctuary" ("Naos") just makes it all the more impressive!
From an Elder in New Mexico:

Dear Al, Thank you for pointing out many of the inconsistencies caused by poor English translations of the Greek term "Naos." There is much confusion and division over poorly translated words in the King James Version and most early English translations. Your article is a bold proclamation of the fulfilled gospel. Thank you!
From a Reader in Georgia:

I was out of town duck hunting in Arkansas and didn't have a chance to sit down with this issue of Reflections ("Sacred Sanctuary of Our God") until now. Great job of exposing the laziness or lack of understanding of some translators. It is extremely helpful when you do this kind of in-depth analysis! I also think that the "cancel culture" of today that we see day in and day out is nothing new. The "church" that some of us are familiar with (the "one true church" - lol) censored opposing views and castigated those who held them. Perhaps that influence kept many from searching the Scriptures daily to see if what they were being told was true?! Blessings to you, brother!
********************
If you would like to be added to or removed from this
mailing list, Contact Me and I'll immediately comply.
If you are challenged by these Reflections, then feel
free to send them on to others and encourage them
to write for a free subscription. These articles may
all be obtained on a special CD. Check the Archives
for details and all past issues of these Reflections at:
https://www.zianet.com/maxey/Reflect2.htm