REFLECTIONS
Articles Archive -- Topical Index -- Textual Index


by Al Maxey


Issue #852 -- September 4, 2022
**************************
The spiritual reality of regeneration and union with
Christ Jesus is not so bound to the external sacramental
that it cannot be enjoyed without it. High sacramen-
tarianism is contrary to the teaching of Christ.
Johann Peter Lange [1802-1884]

**************************
The Romans 4 Gospel
Awesome Apostolic Application
of an Abrahamic Awareness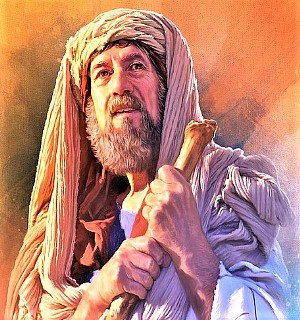 The French theologian and Protestant reformer John Calvin (1509-1564) wrote, "Justified by faith is he who, excluded from the righteousness of works, grasps the righteousness of Christ through faith, and clothed in it, appears in God's sight not as a sinner but as a righteous man." The apostle Paul spoke similarly in his lament of the Jewish misconception of the source of righteousness, declaring them zealous for God but "ignorant of the righteousness that comes from God," thus "seeking to establish their own" (Romans 10:2-3). What these Israelites were woefully unaware of is that one's justification and salvation are "gifts" dispensed "by His grace through the redemption which is in Christ Jesus" (Romans 3:24). God is "the justifier of the one who has the faith of Jesus" (Romans 3:26). Thus, "a man is justified by faith apart from works of law" (Romans 3:28). "Therefore, having been justified by faith, we have peace with God through our Lord Jesus Christ, through whom also we have obtained our introduction by faith into this grace in which we stand" (Romans 5:1-2). Paul, in his teaching and preaching of "Good News" (the Gospel), never strays far from the truth that man, by his own effort, cannot justify or redeem himself before God, nor can he, by his own effort, earn his eternal salvation. Thus, while still sinners, and while still in a state of enmity with God by virtue of our own unholiness, God took the initiative and dealt with the sin problem through the redeeming act of His Son. It is a gift, not wages due, a truth which many today still struggle to grasp. "Now to the one who works, his wages are not counted as a gift but as his due. And to the one who does not work but trusts Him who justifies the ungodly, his faith is counted as righteousness" (Romans 4:4-5).
Thus, even though we are all sinners, and even though we all fall far short of the glory of God and His expectations for us, we are nevertheless "justified as a gift by His grace through the redemption which is in Christ Jesus, whom God put forward as a propitiation by His blood, to be received by faith" (Romans 3:23-25). "For the wages of sin is death, but the free gift of God is eternal life in Christ Jesus our Lord" (Romans 6:23; cf. 5:15-19). Such terms as "free gift," which Paul uses frequently, and God's "grace," and "faith of Jesus" as well as "faith in Jesus," still befuddle those disciples who, like the Jews of Paul's day, seek to obtain the favor of God through their own effort. Yes, such persons "have a zeal for God, but not in accordance with knowledge" (Romans 10:2; for a more thorough analysis of this foundational truth, see my article titled "Legalistic Righteousness: Making Payments on a Free Gift" - Reflections #509). There is nothing you or I can ever be or do that will in some way entitle us to justification, redemption, and salvation. One cannot earn a GIFT; one can only gratefully and humbly receive it, and that is accomplished entirely by faith. Our faith in Christ Jesus lays hold of the free gift of justification through the faith of Christ Jesus. It is His faith that saves; it is our faith that receives that free gift (see Galatians 2:16f and my study titled "From Faith To Faith: Reflective Analysis of Romans 1:17" - Reflections #185, note especially the discussion under point #8). Then, as redeemed ones, we evidence our faith and trust in Him through acts of love and gratitude throughout the remainder of our days, as per the truth conveyed in the latter part of this powerful passage: "For by grace you have been saved through faith; and that not of yourselves, it is the gift of God; not as a result of works, that no one should boast. For we are His workmanship, created in Christ Jesus for good works, which God prepared beforehand, that we should walk in them" (Ephesians 2:8-10). These works are for those who are already in Him; they are not works prescribed by God that one must perform in order to get into Him. They are good deeds performed lovingly and gratefully by those who ARE saved, not deeds that must be performed by lost souls in order to BE saved.
In order to demonstrate the above truths, the apostle Paul, in chapter four of his epistle to the Romans, provides the example of Abraham, with special emphasis being given to how he came to be justified in the sight of God. Was Abraham counted as righteous because of something he himself did (by virtue of some meritorious work), or did God declare him righteous and justified for some other reason not associated with personal performance (works) or obedience to law (legal requirements)? Paul goes to great lengths in this chapter to show that Abraham was NOT justified or regarded as righteous by virtue of deeds done, but by simple trusting faith! "For if Abraham was justified by works, he has something to boast about; but not before God" (Romans 4:2). "Now to the one who works, his wage is not reckoned as a favor, but as what is due. But to the one who does not work, but believes in Him who justifies the ungodly, his faith is reckoned as righteousness" (Romans 4:4-5). It is faith, not works, that brings each of us into a saving relationship with the Father. At our best, we are all sinners in His sight, fallen creatures incapable of perfect holiness; "there is none righteous, not even one" (Romans 3:10); "there is none who does good, not even one" (Romans 3:12). "By works of law no flesh will be justified in His sight" (Romans 3:20). Instead, you and I are "justified as a gift by His grace through the redemption which is in Christ Jesus" (Romans 3:24). Thus, Paul declares, "we maintain that a man is justified by faith apart from works of law" (Romans 3:28). Salvation, justification, sanctification, righteousness are not found in a legal system, but are forever secured by faith/trust/belief in a loving Savior. "Therefore, having been justified by faith, we have peace with God through our Lord Jesus Christ, through whom also we have obtained our introduction by faith into this grace in which we stand" (Romans 5:1-2).
Paul narrows his focus even more in Romans chapter four by putting forth for view the physical act of circumcision, something well-known to the people of Israel, but less so to the Gentiles. Is God's grace tied to a physical act (even an act commanded by Him)? Will God only justify and regard as righteous those who have submitted to this outward act? Or, is His gift of grace much broader in scope? The majority of the Jews of Paul's day, and even many of the Jewish Christians, embraced the former view. In fact, the Jerusalem Conference was even held to address this view (as was the epistle of Paul to the Galatians). "And some men came down from Judea and began teaching the brethren, 'Unless you are circumcised according to the custom of Moses, you cannot be saved'" (Acts 15:1). Paul could not have disagreed more with such a misguided dogma. He even "opposed Peter to his face," for Peter "feared the party of the circumcision" and went along with their teaching, even though that teaching was in opposition "to the truth of the Gospel" (Galatians 2:11-14). Paul made it clear that "if righteousness comes through law, then Christ died needlessly" (Galatians 2:21). "Man is not justified by the works of law. ... by the works of law shall no flesh be justified" (Galatians 2:16). Instead, as this same verse declares, we are justified through the faith of Christ Jesus, a justification and imputed righteousness we obtain by means of believing in Him and what He accomplished for us.
"So then, as through one transgression there resulted condemnation to all men, even so through one act of righteousness there resulted justification of life to all men. For as through the one man's disobedience the many were made sinners, even so through the obedience of the One the many will be made righteous" (Romans 5:18-19). Paul makes it clear that neither circumcision nor uncircumcision "means anything;" what is important is our faith evidencing itself in love (Galatians 5:6). Indeed, "you have been severed from Christ, you who are seeking to be justified by law; you have fallen from grace" (Galatians 5:4). Our example of this principle, says Paul, is Abraham. This man was reckoned by God as righteous. "How then was it reckoned? While he was circumcised, or uncircumcised?" (Romans 4:10). The answer, which Paul gives in that same verse, is: "Not while circumcised, but while uncircumcised." This was a jaw-dropping revelation to those steeped in Jewish law and tradition! Yes, circumcision was a command of God Himself, yet the purpose of this act was never intended to justify or make one righteous in the sight of God. Rather, circumcision was simply a "sign" and "seal of the righteousness of the faith which Abraham had while uncircumcised" (Romans 4:11). Thus, we are all called to "follow in the steps of the faith of our father Abraham which he had while uncircumcised" (Romans 4:12). We are all justified and regarded by God as righteous "by faith in accordance with grace" (vs. 16).
Paul is seeking to convey an important divine principle here, a principle that transcends any particular outward religious act (even if that act had the power of divine command behind it). The principle is: we are all sinners; there are none who are righteous; we are fallen creatures deserving of death, and we ourselves are powerless to alter that situation or its outcome. Thus, justification, salvation, sanctification, righteousness are all unattainable by our own effort. Therefore, a loving, merciful, gracious God acted while we were yet sinners, ungodly, and in a state of enmity with Him. He dealt fully, once for all, with the sin problem, and He offered this FREE GIFT of grace to anyone who was willing to accept it BY FAITH. This free gift was not tied to any outward act that man might perform, for if it were then this blessing "could not be reckoned as a favor, but as what is due" (Romans 4:4). God owes us nothing, but He has freely given us everything pertaining to the abundant life secured by Christ Jesus. We were all "dead in our trespasses and sins," and we were "by nature children of wrath" (Ephesians 2:1, 3). His wrath was our "due." "But God, being rich in mercy, because of His great love with which He loved us, even when we were dead in our transgressions, made us alive together with Christ (by grace you have been saved), and raised us up with Him, and seated us with Him in the heavenly places, in Christ Jesus, in order that in the ages to come He might show the surpassing riches of His grace in kindness toward us in Christ Jesus. For by grace you have been saved through faith; and that not of yourselves, it is the gift of God; not as a result of works, that no one should boast" (Ephesians 2:4-9).
"To demonstrate that the doctrine of justification by grace through faith is not new at all, Paul draws on two familiar icons of Jewish faith and practice: Abraham (Romans 4:1-8) and the rite of circumcision (Romans 4:9-12)" [Charles Swindoll, Swindoll's NT Insights: Romans, p. 92]. God's desire for mankind has always been that they would reflect His own nature in their daily lives and in their interactions with one another. However, as fallen creatures with a nature prone to sinful attitudes and actions, we find ourselves incapable of reflecting perfectly the flawless nature of our God. Thus, anything we ourselves offer to Him will always come short of achieving His favor. If we are to be counted as righteous and declared justified in His sight, that must come from Him as a gift of grace, for not a one of us can ever earn such a standing. The Jews of Paul's day, however, felt that such divine favor could be had by performing certain religious rites and rituals, with physical circumcision being high on that list. Paul sought to show them, via the example of Abraham, that circumcision did not have that purpose or power. It was a sign and seal, a mere symbol, but it was never designed to be a sacrament (an act by which a grace or blessing was conferred). If, Paul reasons, one is declared righteous and justified (and even saved) by a certain religious act (circumcision), then how do these religionists explain that Abraham was declared justified by God, and seen as righteous by God, fourteen years before he was circumcised?! "Then Abraham believed in the Lord; and He reckoned it to him as righteousness" (Genesis 15:6). Paul quoted this very verse in Galatians, and then stated, "Therefore, be sure that it is those who are of faith who are sons of Abraham. And the Scripture, foreseeing that God would justify the Gentiles by faith, preached the Gospel beforehand to Abraham, saying, 'All the nations shall be blessed in you.' So then, those who are of faith are blessed with Abraham, the believer" (Galatians 3:6-9).
Circumcision, therefore, had absolutely nothing to do with Abraham's standing with God. That standing was by grace through faith, just as it is with us today! Paul posed this very question in his epistle to the Romans. "'Is the bestowal of a righteous standing before God connected with the observance of ordinances or apart entirely from such things?' Paul answers his question by citing the case of Abraham who was declared righteous in answer to his faith, fourteen years before he was circumcised" [Dr. Kenneth S. Wuest, Wuest's Word Studies from the Greek New Testament, vol. 1 - Romans, p. 69]. "Abraham's justification is narrated in Genesis 15, his circumcision not until Genesis 17, some fourteen years later: hence, it was not his circumcision on which he depended for acceptance with God. ... The Divine method of justification was to be inaugurated and illustrated in him, as it should hold good for all who were to be justified: accordingly the whole process took place antecedent to his circumcision, and in no circumstances has circumcision any essential relation to this great blessing" [Dr. W. Robertson Nicoll, The Expositor's Greek Testament, vol. 2, p. 617]. This methodology and process "has been the same through all history" [ibid]; it is just as applicable to us today. Our justification, our salvation, our being reckoned as righteous in the sight of God is by grace through faith, and absolutely NO religious rite or ritual is required in addition to that divine process! We can even go back as far as Noah and perceive the same principle: "Noah became an heir of the righteousness which is according to faith" (Hebrews 11:7). Like Abraham, Noah's righteousness was not works-based, it was faith-based. Yes, they showed their faith (James 2), but their standing with God was not based on these works; rather, their standing was based on their FAITH which then motivated their actions. In Ephesians 2:10 we are informed that God desires His redeemed ones to engage in good works. Yet, these good works are not designed to save us, they are simply designed to give us ways to show the depth and genuineness of our faith in and love for Him.
Even David Lipscomb (1831-1917), a leader in our own Stone-Campbell Movement, saw the validity of Paul's reasoning in Romans 4. "Abraham became partaker of the blessing when he was justified by faith. He was so justified while yet in uncircumcision. ... His faith secured that state of blessedness. ... Abraham attained this state of blessedness while he was uncircumcised as a sign and seal of the faith he possessed before he was circumcised. ... This was a fearful blow to those who claimed that there could be no salvation (Acts 15:1) without circumcision, for the father of the Israelites was justified thirteen or more years before he was circumcised" [David Lipscomb, A Commentary on the NT Epistles, vol. 1 - Romans, p. 84]. "The Lord wanted something more than an obedience-in-exchange-for-blessing business arrangement. He wanted a relationship" [Swindoll, p. 94]. Laws, works, rules, regulations, rites, rituals, ceremonies, traditions, etc. were never designed to facilitate an intimate relationship with anyone, much less God Almighty; faith and love, however, were! Thus, it is the latter that achieves that blessed state with our Father. "God, out of grace, determines to make righteousness available to those who will humbly accept it by faith. ... Far from being the cause of his acceptance with God, Abraham's lifestyle was the result of his acceptance. God did not declare him righteous because he was so good, but rather Abraham lived a good life because God had freely justified him by faith" [Dr. D. Stuart Briscoe, The Communicator's Commentary - Romans, p. 98-99]. "These truths, when applied, lead to the discovery that there is one thing God is looking for in the confused and convoluted world of human religion, tradition, and culture." And what is that? It is simply this: "Is a man, living in the midst of all the accumulated weight of religious tradition, a humble believer in a God who justifies the ungodly" by grace through faith? [ibid]. God's grace transcends religious rites and rituals, it transcends ceremony and tradition, it transcends rigid rules and regulations! God's grace is for those who have a heart of faith, and who then, in love for God and their fellow man, evidence that love and faith in their daily lives.
Lipscomb rightly observed, as do most biblical scholars and commentators, that Abraham's circumcision was both a "sign" and a "seal" (Romans 4:11) of the righteousness that had already (14 years earlier) been imparted to him by virtue of his faith! "The sign of circumcision was merely the evidence of that which already existed, ... and the seal represented and confirmed something that already existed. What already existed in Abraham was the 'righteousness of faith,'" a reality affirmed by God when Abraham believed [G. E. Mansfield, A Verse-by-Verse Exposition of the Scriptures - Romans, p. 125]. "Abraham's benefit was not on the grounds of ritual performance; ... circumcision and deeds of law were not necessary for his justification!" [ibid]. "How tragic that the Judaizers, instead of recognizing circumcision as a 'seal' upon faith, saw it as providing an inalienable right to a special standing before Yahweh" [ibid, p. 126]. "Divine ordinances like circumcision have nothing to do with righteousness. ... Just so, baptism today is an outward sign that we are Christ's in faith and identification; but how deadly is the delusion that baptism in itself amounts to anything before God! ... God justifies NOT those observing ordinances, but sinners who believe. If you are still regarding baptism, or the Lord's Supper, or 'the Mass,' or 'Christening,' or 'Confirmation,' as having anything whatever to do with God's declaring you righteous, then you do not understand!! Neither baptism nor the Lord's Supper (upon both of which thousands have trusted as 'sacraments' commending them unto God) has power to give any standing whatever before a righteous God. ... What serves well as a sign, is a miserable substitute for the thing signified. Circumcision will not serve for righteousness, nor baptism for regeneration" [A quote from the noted theologian Charles Hodge (1797-1878) by Dr. William R. Newell (1865-1956) in his book Romans Verse-by-Verse, p. 138-139].
The purpose of circumcision was never to impart righteousness or a right-standing of man before God, but merely to serve as a token or sign or seal of that righteousness and right-standing. The renowned biblical scholar Dr. F. F. Bruce (1910-1990) stated, "Circumcision is thus treated as a subsequent and external seal of that righteous status which Abraham already possessed as God's gift; it neither created nor enhanced that righteous status" [The Epistle of Paul to the Romans, p. 116]. "Circumcision, then, was really a sign of what Abraham previously had. It was a testimony to justifying faith" [The Expositor's Bible Commentary, vol. 10, p. 50]. "The nature of Abraham's faith was essentially the same as that of the NT believer, despite the difference in time: Abraham looked forward to something God would do, whereas the Christian looks back to what God has provided in Christ" [ibid, p. 48]. "Abraham's justification took place long before he was circumcised, and so could have no dependence upon that rite; nay, 'the sign of circumcision' was given to Abraham as 'a seal' (or 'token') of the righteousness which he had before he was circumcised; in order that he might stand forth to every age as the model man of justification by faith - after whose type all were to be molded, whether Jew or Gentile, who should thereafter believe unto life everlasting" [Drs. Jamieson, Fausset, and Brown, Commentary Practical and Explanatory on the Whole Bible, p. 1147].
The Pulpit Commentary rightly observes, "This was all that circumcision was - it was a visible sign and seal of the righteousness that is of faith, though not in itself conferring it" [vol. 18 - Romans, p. 109]. In other words, it was not a sacrament. "Abraham is the father of the faithful in that his faith was independent of external rites and privileges. St. Paul lays great stress upon the historical fact that the exercise of Abraham's faith in God preceded the institution of the symbolic rite of circumcision. This may seem to us an immaterial consideration; but from the point of view of the apostle it has great importance. He is arguing against an external, ceremonial view of religion, such as was too customary among the Jews, and indeed too customary among all people through all time. ... The fact that Abraham exercised faith in God whilst still uncircumcised is a proof that the essence of religion does not depend upon externals (even though they be of Divine appointment): A lesson which we need to learn today, even as did the contemporaries of St. Paul" [ibid, p. 111]. "The state of justification was attributed to Abraham himself before he was circumcised. Justification is the result of faith, not of circumcision. Circumcision is so far from superseding faith that it was only the sign or seal of it. It simply ratified a state of things already existing. ... Of the two things, faith itself and circumcision as the sign of faith, the first only was essential" [Dr. Charles Ellicott, Commentary on the Whole Bible, vol. 7, p. 220-221].
Why would Paul spend so much time on this topic when he, like we are today, was under a new covenant?! The reason was because too many disciples of Jesus Christ were making the very same mistake the Jews made when it came to some of their religious rites and rituals. They had come to place far more significance upon the signs, seals, and symbols than they did on the realities which they signified. We are saved by grace through faith, just as Abraham was. Yet, when signs and symbols become sacraments, we lose sight of the substance! Circumcision is not what saved Abraham, any more than baptism in water is what saves you or me!! "Paul declares that the grace Abraham received through faith is available to us as well. In the same way as God reckoned it as righteousness for the father of the Hebrews, He will reckon it to us" [Charles Swindoll, p. 95]. Tragically, and we see the effects of it to this day, "through the centuries after Abraham, God's covenant people placed greater and greater emphasis on the outward symbol of circumcision and virtually forgot the internal spiritual significance of their relationship with God. Unfortunately, that's a common occurrence in religion, even today" [ibid, p. 97]. Swindoll says that he "shudders to think of countless thousands submitting to baptism and observing Communion" who are falsely convinced that in the performing of these acts they secure for themselves salvation and "right-standing" before God. "The Lord intended the rite of circumcision to be a seal of authenticity on the covenant between a man and his God. ... Similarly, baptism follows one's decision to trust in Jesus Christ. It's a public declaration" of a decision and commitment of faith already established in one's heart. Thus, "one cannot be saved through the rite of baptism, nor must one be baptized in order to be saved" [ibid, p. 98]. That is simply not its purpose. I was raised to believe that baptism in water was THE precise split-second of salvation, and if a person who believed with all his heart in the Lord, and had repented, and had confessed Him as Lord, and had stepped into the water to be immersed, but died suddenly before being immersed, then that person went straight to hell to be tortured by God for zillions and zillions of years! Grace and faith couldn't save you; you had to get to the river, and quickly, and you had better pray you didn't have a fatal car wreck on the way. Brethren, such teaching is blasphemous, and I'm saddened and ashamed to say that for a number of years, in the early days of my ministry, I proclaimed that hurtful heresy. Never again!!
Baptism is a "sign" and "seal" of the reality of a sacred covenant, just as a wedding ceremony and a signed marriage certificate is a "sign" and "seal" of the reality of a sacred covenant between a loving couple. They didn't make a covenant with one another at the ceremony or when they returned the signed document to the county clerk. The ceremony and the document were a "sign" and "seal" of the reality of that covenant they had already made with one another in their hearts. They didn't "enter into covenant" with one another at the split-second they uttered the words "I do" -- those words were simply a public demonstration of and a verbal testimony to a life-commitment they had already made to one another. So also is baptism. The Jews had elevated circumcision to something it was never intended to be, just as too many Christians have done with baptism. Both were signs, seals, and symbols; neither were sacraments. God's relationship with men is not based on some ceremony or religious rite; our justification and salvation are not tied to a deed performed in compliance with some ordinance or law. We are justified and counted as righteous by faith! The biblical Greek scholar Dr. A. T. Robertson wrote, "Whatever parallel exists between baptism and circumcision as here stated by Paul argues for faith before baptism and for baptism as the sign and seal of the faith already had before baptism" [Word Pictures in the New Testament, e-Sword].
Consider the example of Cornelius, for his acceptance by God was quite similar to that of Abraham. When did God acknowledge Cornelius? Was it before he was baptized or after? It was before (Acts 10:44f - see my article titled "Cornelius and Balaam's Ass: Was this Godly Centurion as Damned as a Donkey prior to his Baptism?" - Reflections #472). Later, when Peter recounted this event to those assembled at the Jerusalem Conference, he said, "Brethren, you know that in the early days God made a choice among you, that by my mouth the Gentiles would hear the word of the Gospel and believe. And God, who knows the heart, testified to them giving them the Holy Spirit, just as He also did to us; and He made no distinction between us and them, cleansing their hearts by faith. Now therefore why do you put God to the test by placing upon the neck of the disciples a yoke which neither our fathers nor we have been able to bear? But we believe that we are saved through the grace of the Lord Jesus, in the same way as they also are" (Acts 15:7-11). No mention of baptism (see my article titled "Simon's Sect Silencing Speech: Reflective Study of Peter's Proclamation to the Jerusalem Council in Acts 15:7-11" - Reflections #587).
Yes, baptism served a purpose; it was important; but that purpose was not to impart salvation, justification, or righteousness. In Peter's second sermon, he shared again some of the main points of his first sermon on the day of Pentecost. However, he quite noticeably left out any mention of baptism. "Therefore, repent and return, so that your sins may be wiped away" (Acts 3:19 - see my article titled "Peter's Colonnade Sermon: Reflecting on an Apostolic Revision: Pentecost Sermon 2.0 and Acts 2:38" - Reflections #758). Most assuredly, baptism has its place in the doctrine and practice of the Lord's disciples, just as circumcision did among the Jews (see my book titled "Immersed by One Spirit: Rethinking the Purpose and Place of Baptism in NT Theology and Practice" in which I deal with this more extensively). Our problem is that, like the ancient Jews, we have elevated a symbol, sign, and seal to a sacrament, and we have given it a power that the Lord never intended for it to possess. Brethren, let's cease preaching and teaching tradition as though it were Truth, for in so doing we tend to invalidate the latter by our elevation of the former (Matthew 15:1-9). Perhaps the apostle Paul summed it up best when he informed the conflicted church in Corinth, "Christ did not send me to baptize, but to preach the Gospel, ... so that the cross of Christ would not be made void" (1 Corinthians 1:17). Paul clearly perceived an important distinction between the act of baptism in water and the "Good News" he was called to proclaim; the former being distinct from the latter ... a perception much needed today!
NOTE: For those who would like to pursue this line of reasoning a bit further, and the justification from the NT writings for it, please check out my following two recent studies: "Identifying the True Gospel: Abandoning 'Another Gospel' and Ascertaining Genuine Glad Tidings" (Reflections #848) and "Baptism Hath Enslaved Me: The Tyranny of an Elevated Tradition" (Reflections #847).
***************************
All of my materials (books, CDs, etc. - a full listing
of which can be found on my Web Site) may now
be ordered using PayPal. Just click the box above
and enter my account #: almaxey49@gmail.com

***************************
Readers' Reflections
NOTE: Differing views and understandings are always welcome here,
yet they do not necessarily reflect my own views and understandings.
They're opportunities for readers to voice what is on their hearts, with
a view toward greater dialogue among disciples with a Berean spirit.
From a Reader in California:

Dear EAM IV, Thank you very much for all your teachings!! It is because of you that I have tried to train myself to be more of a critical thinker in my approach to reading the Scriptures. Looking at old Scriptures through new eyes is exceptionally beneficial. I don't know what it is that leads one to seeing and perceiving the Scriptures the way you do (my guess is that it is the Holy Spirit), but you have positively affected me more than I can express in this writing. So, let me just say: Thank you so much EAM IV for your very scholarly approach to the Scriptures, and for making them very relatable for your many readers around the world.
For the sake of my readers, I probably need to explain the "EAM IV" term. This reader in California and I have known one another for decades, and we both have a sense of humor that probably leaves some observers with the impression, at times, that we have taken leave of our senses! (LOL) Anyway, "EAM" just means "Elder Al Maxey" (since, in addition to my other callings and duties, I have been an elder in the church for about 22 years now). The "IV" just refers to the fact that I am Al Maxey, 4th. My dad was Al Maxey, 3rd ... his dad was the 2nd, and my grandfather's grandfather was the 1st (yes, it skipped a generation). All four of us had/have the same first, middle, and last names. So, at some point in our relationship this dear friend of mine started calling me "EAM IV." I love having friends with whom I can "cut up" now and then. He is a true blessing! If I were to mention his name, or show his picture, some of you would recognize him, for he is an actor, writer, and producer in Hollywood. Love ya, brother!! -- Al Maxey
From a Reader in Nebraska:

Al, I wanted to share with you that I shared your story of being the chaplain at the last execution in your state ("Chaplain at an Execution: Reflecting on a Difficult Choice" - Reflections #554) with our Wednesday night Bible Class here in ------, Nebraska. Thank you for what you did in that awesome story of redemption, and the working of God before, during, and after this execution, that you revealed throughout your article, was of great encouragement to us. In my class, I related that story to the story of Philemon. What you wrote was a powerful testimony, and I just wanted you to know that, and to encourage you to keep on fighting the good fight. Al, you were a blessing tonight to people you have never met before, and we thank you!!
From a Reader in Ohio:

Al, I just finished reading your article "A Nest of Baby Serpents: A Question Regarding Psalm 51:5" (Reflections #851), and it fits in well with my current class titled "The Providence of God." Your analysis is spot on with the correct translation of this verse. I would also direct you to Wayne Grudem's book "Systematic Theology, Second Edition: An Introduction to Biblical Doctrine," page 496. He goes back to Psalm 51:1-4 to confirm that David is confessing his own personal sin. Too bad that Augustine did not understand this better when he embraced the idea of original sin. Al, I appreciate your studious approach to this and so many other subjects.
From a Reader in Georgia:

"Egg and sperm, fangs and venom" - Wow, I'll bet you grinned when you wrote that down!! "A Nest of Baby Serpents" is good stuff, Al. Yeah, I have always felt uncomfortable with ascribing sin to babies. First, because it suggests that without redemption these babies would be eternally condemned, and second, and perhaps even more importantly, because when I read Psalm 139 I find that it is God Himself who weaves us together in our mother's womb. I don't see the good Lord putting fangs and venom in a fetus! However, in my humble opinion, two-year-olds are a different beast (LOL). One might need to dunk them twice! Except for two-year-old grandkids. It's obviously the parents' fault that the child is acting that way, and of course any granddad knows that a little chocolate can fix most anything. Love ya, brother.
Shelly and I have a two-year-old granddaughter. She is an awesome little girl, but she is definitely going through the "terrible twos" phase, which, I have to admit, is far more fun to observe as a grandparent than as a dad! (LOL) -- Al Maxey
From an Elder in South Carolina:

Hello Al. It has been a long time since we corresponded. You have given me much to think about over the years, and I am indebted to God our Savior for leading you in paths of righteousness. During my working years as a physician, I had a couple of Presbyterian friends who were faithful to their Westminster Confession, and we had some good-natured discussions. I do not believe that this verse (Psalm 51:5, which you dealt with in your article "A Nest of Baby Serpents") supports "original sin," as the Calvinists explain it. My take has been a little different than what you presented in your article, though. As "a man after God's own heart," I have thought that David's sin affected him profoundly, and moreso after the baby died. When reading Psalm 51, I think of David as speaking beyond the grave for the deceased baby. "I was born in sin, conceived in iniquity" suggests to me that David is crying out as if he were the child, the product of an unholy relationship. I don't think David is referring to his own conception and birth. His mind is on the conception and birth of this poor, innocent baby. Wishing you God's continued blessings, brother.
From a Reader in Texas:

I love my children and grandchildren, but I never had to teach one of them to be selfish, or disobedient, or to tell lies. Those things come as "standard equipment." Children do not have to learn to be sinful from parents or others. In fact, those with the most godly parents still must be taught over and over again not to lie, or take things from others, or to be selfish, or to disrespect their parents. Here is an interesting article by John McArthur that you might find interesting: "The Age of Accountability."
From a Minister in New Zealand:

Al, my thought on your latest issue of Reflections ("A Nest of Baby Serpents") is "Yes!" to all that you wrote, plus this thought: we are all predestined to sin, in that sin was already in the world, and as Paul says in Romans 5, "...while we were yet sinners...". It was inevitable that we would sin, because of the pre-existence of sin from Adam in a fallen world. In Romans 7, Paul tells us, "It is no longer me doing it, but sin which indwells me." The problem of indwelling sin is only enhanced through the law, and until the Law, sin was still in the world. All of this is really frustrating for the legalist because there is no way back for them, except through the perfect sacrifice of Jesus Christ and the indwelling of the Holy Spirit (Romans 8). Thanks again for your article, Al. Love you!
********************
If you would like to be added to or removed from this
mailing list, Contact Me and I'll immediately comply.
If you are challenged by these Reflections, then feel
free to send them on to others and encourage them
to write for a free subscription. These articles may
all be obtained on a special CD. Check the Archives
for details and all past issues of these Reflections at:
https://www.zianet.com/maxey/Reflect2.htm