4 J Cattle Company
The 4J Cattle Co., located on the Chihenne Ranch, raises commercial cattle and registered quarter horses. 4J Cattle Co. has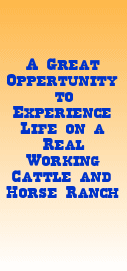 some of the finest riding horses anywhere Visit us and find out for yourself.
Things to Do
Horseback Riding
Visits to Indian Sites
Visits to Gold and Silver Mines
Cattle Roundups [conditions permitting]
Cattle Branding [conditions permitting]
Visits to a Ghost Town
Enjoy Panoramic Scenery
Enjoy General Exploring
Nature Study and Rock Collecting
This is also a great place for photographers and artists. Do as much as you like or as little as you like. Kick back and relax after a day of ranching.
Accommodations
Our lodge ranch house is rustic but can comfortably accommodate groups of up to 20. All rooms are bunk rooms with comfortable beds. Bathrooms are shared. The lodge has a beautiful living and dining area with a seven foot fireplace and a deck behind the lodge which is a great place to relax after a day in the saddle.
The 4J Cattle Co. operates all year round. We rarely get a lot of snow in the winter so you can plan your visit to the ranch at all seasons of the year.
Group Sizes
4J Cattle Co. can accommodate groups from 6 persons minimum to 20 persons maximum. Groups larger or smaller may be accommodated by special arrangement.
The 4J Cattle Co. is an ideal setting for business retreats, family trips, family reunions, youth groups, , those of you wanting to be cowboys or just anyone wanting to experience the old west.
Costs
4J Cattle Co. fees are all inclusive. They include lodging, all meals, horseback riding and all other offered programs. All costs are per day with a minimum stay of three days.
Adults, $150.00 per day
Children 8 to 12, $125.00 per day
Children 7 and under, $100.00 per day
Reservations
Reservation must be requested either by mail, telephone or email via the information at the bottom of this page. Email generates the fastest response. A 25% non-refundable deposit is required to hold your reservation.
How to Get Here
Chihenne Ranch is located 35 miles west of Truth or Consequences New Mexico off state highway 52 adjacent to the towns of Winston and Chloride.
Hope to See You in the Saddle