Black Range Cavalcade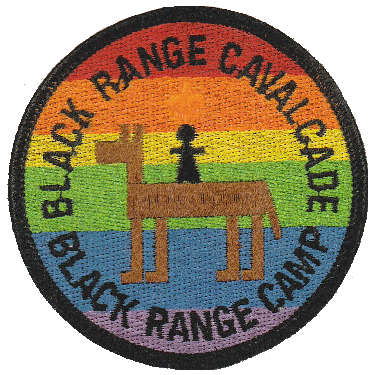 Don't do the traditional camp thing this summer, do something new, exciting and different. Join us and escape to the Cuchillo Mountains of the Black Range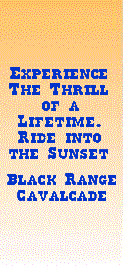 near Winston and Chloride New Mexico. This high adventure program is for participants 11 years old and up and is open to both male and female. Adults are encouraged to attend. A current medical form (copy provided) must be completed for each participant.
Program
The Black Range Cavalcade is a 5 day program usually running from Sunday evening though Friday night. Participants may stay over until Saturday morning if desired. Most church groups arrve on Monday and depart on Saturday. The program has numerous options which include:
Horseback riding (the average Cavalcade participant will ride about 50 miles over five days)

Cattle Roundup (if range conditions permit)

Cattle Branding (if range conditions permit)

Cattle Drive

Gold and Silver Mine Exploration

Visit a Ghost Town

Off Road Exploring

BSA horsemanship and Animal Science merit badges can be earned
Note: Not all options are always available depending upon your group and range and forest conditions.

Church groups have time available for church related discussions and testimony meetings.
Group Size
A full session holds 24 participants so please register early. A minimum session requires at least 12 participants. If you have less than 12 then your group may be added to another group to attend.
Dates
The Black Range Cavalcade is offered May through August so groups can schedule a time that is convenient with their summer plans. Custom Cavalcades can be set up at other times or for other group sizes by special request to fit your group needs.
Cost
A full 5 day Cavalcade is $500 per participant. Fees include all meals, horses, tack, trail and program staff and licenses. All food, supplies and equipment are provided. All you bring is your own personal gear. There is a $100 per person deposit at the time of registration to hold your spot. The deposit is non-refundable but is transferable within the Cavalcade program. To schedule a Black Range Cavalcade you must contact Greg Evans, Camp Director, via email (best way) mailto:4Jranch@zianet.com, mail using the information at that bottom of this page or phone the Ranch #- (575) 743-1602 or Cell #.(575) 740-1778.
When a Cavalcade date is approved by the Camp Director then send in the reservation form with the required deposit. This will assure your date. The form may be copied from your computer or you may request a form to be mailed to you.
To Print a Registration Form
Follow the above link and print the form using your browser's print function. When finished simply use your browser's back function to return here.