America is alive and well! -
and we celebrate that everyday!
Re-live history and build your own special moments with us.
Come to the Playground of the Southwest! - Ruidoso, New Mexico. Enjoy the Tall Cool Pines of Ruidoso from one of our sleighs or carriages.
Sleigh rides in the snow - carriage, pony and train rides in warmer weather.
Our beautiful blonde Belgian or grey Percheron horses will thrill you with their pleasant demeanor and massive strength.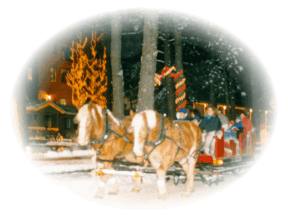 "Carl" and "Chris" touring the Christmas lights in the Upper Canyon