In Memory of Mr. Bob
A Poem -- written by some guy in Cleveland decades ago:

Cat ...

Sitting in grass ...

Looking
This is the page of Mickey Amadeus Bob, also known as Meow Baba.
Mr. Bob was the Head Cat around here for fifteen years, and a helluva nice guy.
He was the son of Parsley and Mushroom, and the brother of Jammers, who lives in South Dakota.
May 2, 2003 -- we are totally saddened to report that during the night
Mr. Bob was attacked and killed by canine terrorists. He was interred
this morning with flowers, herbs, and tears. Friends and fans may send
marbles or catnip to Mr. Bob, c/o Bear, PO Box 422, San Antonio NM 87832.
.
Click to download
The Bobulator
(Power Macintosh only)
A thingie that gives you a visual indication of how fast your Mac is

Bob as spunky little guy: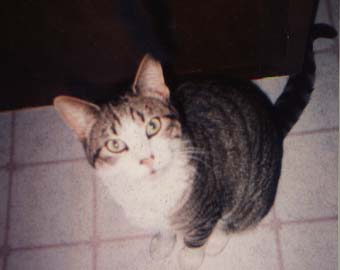 Frequently Asked Questions about Bob



Bob's Favorite Song:
Take Meow To The Ball Game
Bob's Favorite Teams:
Blue Jays
Cardinals
Orioles

---
---
---
Other Bobs
Bob Albrecht (Bear's Dad)
The Church of Bob
Dr. Robert C. Atkins 1930-2003, founder of the Atkins Diet

---
You can blame all this on my human, and get all the excruciating detail at Bear's home page.