Welcome to my web site!
Let me introduce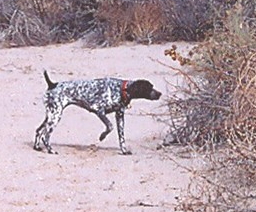 myself, my name is Heidi, sometimes referred to as "Birddog". I was born March 15, 2000 in Chaparral, New Mexico. I'm told my bloodline is good and I love to hunt here in the great southwest. On this website, I would like to share my adventures and experiences with my human, his wife, and 2 hunting daughters. Before I begin my adventures, let me tell you a little bit about myself. I live with a couple other bird dogs; one a Springer spaniel and the other is a Brittany spaniel, BUT I am the BIRD DOG!!!
I have 2 hunting buddies I go with on a regular basis, Ringo and Rascal. We work well as a team and hunt fairly, honoring each others points and birds. When I'm not out doing what I like to do best I have to have alternatives to pass the time until the next great hunt. I fill my time with water play, specifically playing with a spraying hose. I get so excited I forget myself and raise quite a ruckus in the process! I enjoy running in the desert or by the river to fine tune my hunting skills during the off season. I've been known to entertain the family girls with a quick game of fetch with the frisbee or the ball.
I'm not an early riser. I tend to get my sleep in a comfortable full sized bed next to a rather caring pre-teen human girl. But let the cammo's and guns come out of the closet and I'm up and at it with vim, vit and vigor!!! And finally, when you need a little loving at my house being petted is the number one joy in my life. Let me share my "pet me" strategy that works every time. First, you get real close to your human target. You give them that sad eye treatment. If you don't get results, you move in a little closer and remember, lick your nose, getting it good and wet. Move that nose under the elbow and give a quick lift upward, that'll get their attention. Continue moving other body parts with the nose until you have had enough petting. From there, move to a comfortable area of relaxation: personally, I like the carpet under the loveseat. Well enough of myself and my grand introduction. I hope you will enjoy my web page. I look forward to sharing my adventures with you in the following months.
Some of my most memorial hunts of 2002 were a Whitewing dove hunt near Las Cruces NM and a Pheasant hunt near Clovis NM
2003
On April 12th I gave birth to 11 beautiful puppies, 7 girls and 4 boys.