REFLECTIONS
by Al Maxey
Special Issue ------- February 8, 2005
**************************
Grace was in all her steps, Heav'n in her eye,
In every gesture dignity and love.
John Milton (1608-1674)
Paradise Lost

**************************
Dorothy Jean Cavasos
1932 - 2005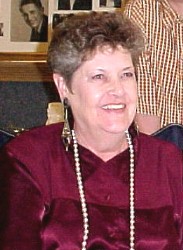 Now and then our heavenly Father creates a truly special soul and places that person directly in our pathway so they may impact our life in a positive manner. Such a precious soul was my mother-in-law. Don and Dorothy Cavasos, who treasured 55 years together in what was truly "wedded bliss," were the parents of eight children. My wife, Shelly, was the second oldest. They were devoted Christian parents and raised all their children "in the Lord." Don was an elder in the church for many years, and Dorothy stood faithfully by his side as his fellow heir of the grace of life. Their lives touched countless precious people the world over, and the impact of their influence will only truly be known in eternity.
Our family circle was broken this past week with the sudden death of this beloved woman. Last Tuesday (Feb. 1) Dorothy lost her balance and fell, hitting her head on a hard object nearby. This led to a massive cerebral hemorrhage. By the time she was transported to the neuro-trauma unit at the University of New Mexico Hospital, it was too late. She was placed on life-support and the family was summoned. The following morning (Wednesday, Feb. 2), Don, the children and their spouses, and many of the grandchildren surrounded her bed at the hospital and we sang several hymns to her. I led the family in prayer, and then the nurses disconnected her from the life-support. Five minutes later she passed quietly into the arms of our loving Father.
Her funeral, which was actually a celebration of her life, as well as her victory in Christ Jesus, was held Friday morning (Feb. 4) at the Riverside Church of Christ in Albuquerque, New Mexico, where Don had served many years as one of the elders. Mark McKenzie, who is the minister there, and also a long-time family friend, conducted the service. One of Dorothy's sons, Michael Cavasos, played the guitar and sang "You Are The Wind Beneath My Wings." It was a touching tribute to his mother that she would have dearly loved, and there wasn't a dry eye in the building. Mark spoke of the value of family, and the joy of close relationships, especially when those are solidified in Christ Jesus. That afternoon, at the National Cemetery in Santa Fe, New Mexico, I conducted the committal service and continued Mark's thoughts by focusing on 1 Cor. 13 -- in a time of loss, three things remain: faith, hope, love! Because of His grace and love for us, and our faith in and love for Him, we are a family with hope!! We shall all be together again one day in the new heavens and earth!
"An excellent wife, who can find? For her worth is far above jewels. The heart of her husband trusts in her, and he will have no lack of gain. She does him good and not evil all the days of her life. ... Strength and dignity are her clothing, and she smiles at the future. She opens her mouth in wisdom, and the teaching of kindness is on her tongue. She looks well to the ways of her household, and does not eat the bread of idleness. Her children rise up and bless her; her husband also, and he praises her, saying, 'Many daughters have done nobly, but you excel them all.' Charm is deceitful and beauty is vain, but a woman who fears the Lord, she shall be praised" (Prov. 31:10-12, 25-30).
There are several men and women in my life who have genuinely shaped me into the person I am. Without their influence I hesitate to even speculate where I might be in my journey through life. Dorothy was one of those powerful, precious souls who, through her quiet, loving spirit, helped me to become the man I am today. Thanks in large part to her, I have a precious wife, who, like her dear mother, is the spiritual strength of our family. Thank you, Dorothy, for touching my life and showing me the power of love! I look forward to seeing you again before the Throne! Until then, sleep well. We love you!
********************
If you would like to be removed from or added to this
mailing list, contact me and I will immediately comply.
If you are challenged by these Reflections, then feel
free to send them on to others and encourage them
to write for a free subscription. I would also welcome
any questions or comments from the readers. A CD
containing these articles may be purchased. Check the
ARCHIVES for details & past issues of Reflections:
http://www.zianet.com/maxey/Reflect2.htm